« Soros DA George Gascon Suddenly Decides The Science (TM) of Sentencing Pedophiles Has Changed as Even the LA Times and His Own Prosecutors Turn On Him
|
Main
|
Kamala Harris Explains the Ukraine Situation
Plus: The Great Nepot Meghan McCain Calls People Traitors Again »
March 01, 2022
Your Daily Dose of Karen
Content warning. She repeatedly shouts "My p*ssy matters!"

I will tell you, I do not know the context of this. I've search a little bit, and have come up empty.
It's up to you to speculate what this madness could mean. She's not wearing a mask, which makes me worry, slightly, she's "on our side." But only slightly.
Here's a slightly higher resolution video. Still no clue what this Karen is on about, though.
Speaking of dumpy lunatic Karens...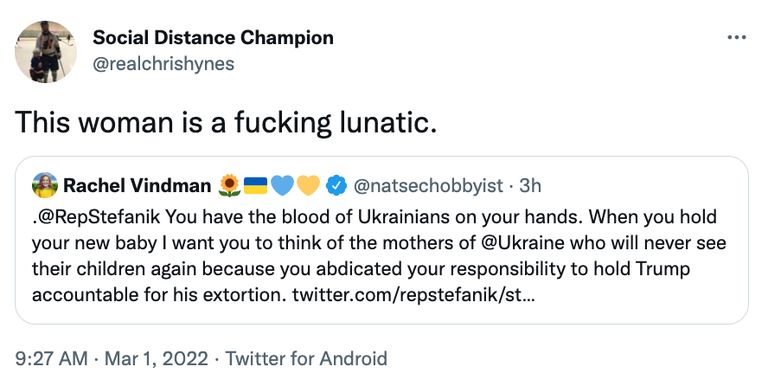 That's Rachel Vindman -- who you might know better as Mrs. Lt. Bearclaw -- responding to a heartfelt statement of support for the people of Ukraine by Elise Stefanik.
Remember, we based most of Trump's impeachment on the word of her and her Diabetic Derangement Syndrome* husband.
* I just made that up, like Lt. Bearclaw makes shit up.

posted by Ace at
05:30 PM
|
Access Comments