« CDC Stealthily Reduces Early Childhood Speech Development Benchmarks, So That Parents Aren't Alarmed By Their Children Missing The Benchmarks Due to the CDC's Masking Recommendations for Children
|
Main
|
NBC's Olympics Were a "Disaster," and They Fear Brand Might Be "Tainted" Forever »
February 23, 2022
Recalled San Francisco School Board Member: I Hope the Asians Who Voted Me Out of Office Are Happy They're Advancing the White Supremacist Cause
Gabriel Lopez was recalled by the extremely lopsided margin of 74% "Yes" to recall vs. 24% "No."
A major constituency for recalling her were Asian parents who were sick of being called "white supremacist" for favoring things like advanced math classes and magnet schools whose entry was based on merit, not a lottery system.
And they weren't just annoyed at the implication they were "white supremacist" for not agreeing to racial reparations education system that disadvantaged their children-- they were annoyed by the explicit claim that they were using "white supremacy" to "get ahead," as Gabriel Lopez's fellow recalled school board member Allison Collins averred. Below, Ss, Ts, and Ps mean students, teachers, and parents.
Behold, the power of "White Adjacency" in action: If the racial group you're attempting to bully is not white, just accuse them of being "white adjacent" and treat them as whites, using "white supremacy" to "get ahead."
So now Gabriel Lopez doubles down on, and says that the Asians who voted her ass out of office are just enablers of "white supremacy."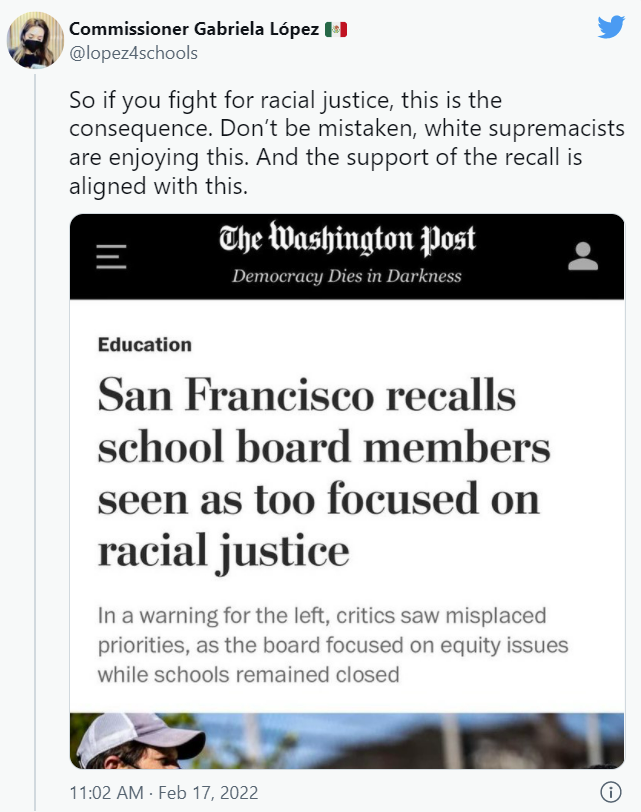 I see a lot of confusion about the term "BIPOC." It couldn't be more simple: It means "Black and Indigenous Persons of Color." By indigenous, they mean peoples descended from the Native American populations. So this means Hispanics with Indian lineage, but not European Hipanics.
And what it means, most of all, is: Not Jews or Asians or Indians. The "BI" in BIPOC is there to specify which persons of color should be advantaged, and by not mentioning Asians and Indians (and Jews, sometimes treated as a minority), they intend that to mean that these people are not to be given advantages. As they're not real minorities.
They're not "minority-minorities."
They are, in fact... white adjacent.
This Asian mom issues her own warning to the Democrat Party.
[T]he pandemic has made me realize that the decisions made by local elected officials do affect our actual lives!

During 18 months of online classes, my son was completely unengaged in school and wasted his time all day, every day, playing video games. But San Francisco Board of Education members Gabriela López, Alison Collins and Faauuga Moliga did not recognize or try to fix the problem -- instead they focused on renaming schools.

Then they ignored protests from the Asian American community and canceled the merit-based admissions system at Lowell HS. Adding fuel to the fire, Collins blatantly discriminated against Asians with her racist tweets. "Many" Asian Americans "use white supremacist thinking to assimilate and 'get ahead,' " she wrote, and added, "Being a house n---r is still being a n---r."

All of this made me and many Asian American parents extremely angry! These board members put politics above education, harming our children! We needed to recall them ASAP.

...

San Francisco has one of the highest concentrations of Chinese, about 26% of the population. If we all vote, then we can certainly influence the outcome of any election. And Tuesday's election results show that our community heard this call. We DID vote and achieved a landslide victory!

The main reason the San Francisco Chinese community got engaged for this recall election is because the topic is education, which is of paramount importance in the Chinese culture. Apart from gaining some personal freedom, most adults immigrate to America for our children. The school board decides everything related to our children's education, which affects their future competitiveness in school and in the workplace.

How can we as parents not care?
What I hear her saying is: "Asian moms are not going to roll over for this woke bullshit and sacrifice our children on the altar of Diversity, Inclusion, and Equity the way that soft-brained, wine-soaked suburban white Karen did."
Leftwing writer Lee Fang writes that the left is being given every warning there is that their woke agenda is absolute poison, but they seem intent on ignoring those warning signals:
Lee Fang @lhfang


Feb 16


It's easy to look at social media, NGOs or elite media/activists and assume wokeism is somehow popular. But every time it goes to a vote, a tsunami of opposition from regular people. Now from abolishing the police in Minneapolis to recalling the school board in SF.
Lee Fang
@lhfang
Feb 16


No one watches Fox News here. There's no real right wing influence. The leaders of the recall are nonwhite immigrants. The media will lie nonstop about this but the fact that an overwhelming majority of Democrats recalled San Francisco's ultra woke school board speaks volumes.
Lee Fang
@lhfang
Feb 16

This volunteer says he collected over 12,000 signatures for the successful recall of San Francisco's school board members. The backlash against woke bullshit in schools is a landslide.
We keep telling them "Life is not Twitter" and they keep answering, "OH YES LIFE IS TWITTER, AND EVEN IF LIFE IS NOT YET TWITTER, IT SHOULD BE MADE TO BE TWITTER."
Not only isn't America Twitter, but not even California is Twitter.
Biden is now underwater in the bluest big state -- 47% approving, 48% disapproving.
In California.
And Kamala Harris? California is her home state (well... after Canada, I mean), and her approval rating there is... 38%.
<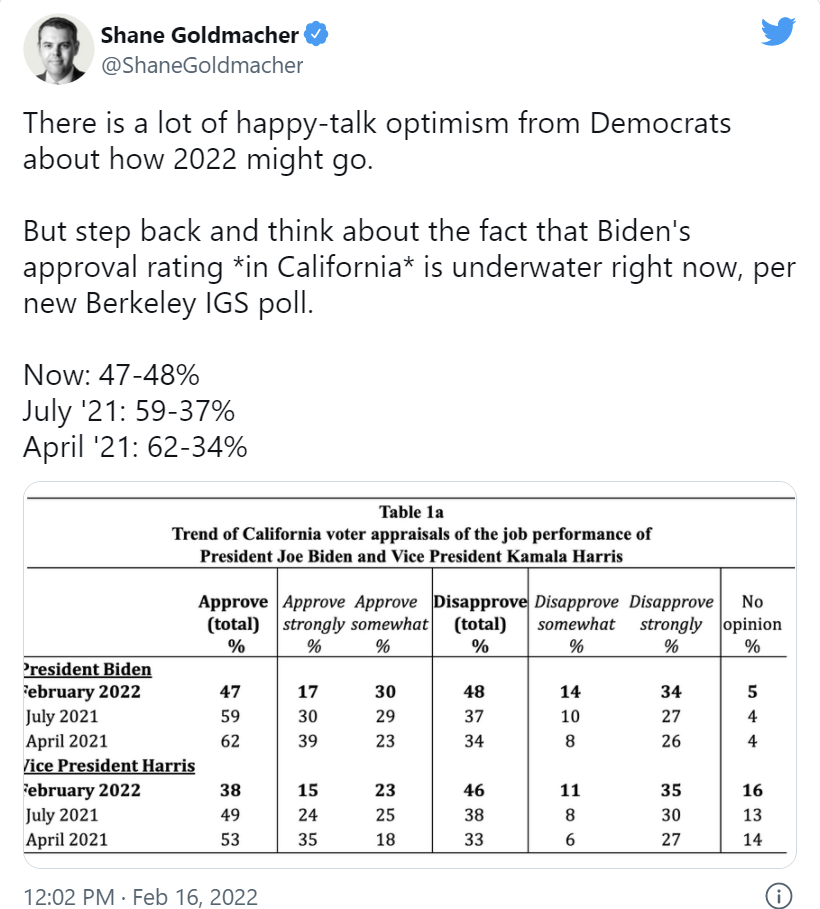 How unpopular is "this woke bullshit"?
The San Francisco Chronicle painted a different picture of the recall backers that gathered Tuesday night to celebrate their victory. One of the backers, David Thompson, who also reportedly goes by the name "Gaybraham" Lincoln, was described as being "dressed in head-to-toe rainbow drag and towering platform shoes."

"This is what happens when you try to rename the schools in the middle of a pandemic," Thompson said. "We wanted to show the diversity of the community behind his recall. I knew they were going to say, 'Oh, isn't it just a bunch of Republicans?' And I'm like, do I look like a Republican?"
As no one in history has ever said, until now: When you've lost Gaybraham Lincoln...
Oh, and I hate to be the bearer of bad news, but the Soros DAs and Defund the Police and "decarceration" woke bullshit isn't endearing you to the Asian "White Adjacent" communities, either.
A homeless career criminal with three open cases stalks a young woman, forces his way into her Chinatown apartment, stabs her to death -- and Democrats blame everything from Donald Trump to the end of child tax credits.

Everything except their anti-cop, soft-on-crime policies that have caused the inevitable breakdown of law and order that led to the gruesome death of Christina Yuna Lee.

Lee's murder is every woman's worst nightmare. Her screams brought the police, but by the time they managed to break down her reinforced steel door, she was dead in her bathtub, stabbed 40 times.

Surveillance footage shows suspected killer Assamad Nash loitering outside her apartment building when she returned home alone in a cab early Sunday, and then coolly pushing open the door behind her before following her upstairs.

He would never have been there that night if Albany lawmakers had not vandalized the bail laws in 2020. He should have been in jail.

Nash reportedly has been arrested seven times since 2017 and has three open cases in Manhattan Criminal Court. He was already out on bail for an alleged subway assault when he was arrested again last month and charged with 27 counts of criminal mischief, attempted escape and resisting arrest -- crimes that have been decriminalized by Alvin Bragg, our new progressive Manhattan DA.

You would think that Democratic women would show some empathy about Lee's tragedy.

But all White House press secretary Jen Psaki could do this week when asked about the rise in anti-Asian hate crime (up 339% nationwide last year) was fall back on her favorite scapegoat, ex-President Donald Trump.

"We've seen this rise, unfortunately, because of hate-filled rhetoric and language around the origins of the pandemic," said Psaki, echoing her previous comments when she blamed "the prior administration [for] calling COVID the 'Wuhan virus' [which] led to perceptions ... that have ... elevated threats against Asian Americans."

Her excuse is absurd since everyone has seen, whether in surveillance footage or mug shots, that most perpetrators of assaults against Asians are black males, not a demographic that traditionally takes its cues from Republican presidents.
I don't think Asians are going to believe that the people beating and murdering them are all Donald Trump in disguise.
But good luck with that, lunatic woke fukkos.
Democratic strategists took to the pages of Democrat Party House Organ the Washington Post to warn the party that it was marching towards disaster while lying to itself.
[T]he party is "in the grip of myths that block progress toward victory" and that too many Democrats are engaged in a "new politics of evasion, the refusal to confront the unyielding arithmetic of electoral success."

"Too many Democrats have evaded this truth and its implications for the party's agenda and strategy," the authors add. "They have been led astray by three persistent myths: that 'people of color' think and act in the same way; that economics always trumps culture; and that a progressive majority is emerging."

...

In their analysis of voters of color, Galston and Kamarck give special attention to Hispanics, a diverse community all its own and one that has shown signs of drifting away from the Democratic Party. Hispanic support for Democratic nominees dropped from 71 percent in 2012 to 66 percent in 2016 to 59 percent in 2020.

"Democrats," they write, "must consider the possibility that Hispanics will turn out to be the Italians of the 21st century -- family oriented, religious, patriotic, striving to succeed in their adopted country and supportive of public policies that expand economic opportunity without dictating results." They note that ultimately, "Italians became Republicans. Democrats must rethink their approach if they hope to retain majority support among Hispanics."

They also use the case of Hispanic voters to make a larger point. "The phrase 'people of color' assembles highly diverse groups under a single banner. The belief that they will march together depends on assumptions that are questionable at best."
The tactic employed by the Democrat Party seems to be 1, creating a "Person of Color" category, 2, assuming that all "Persons of Color" have the political priorities that black progressives do, and 3, use the most militant and extreme fringe of black progressivism to define black progressives.
Thus, the Democrat Party is selling a fringe ideology of decriminalizing crime and taking the education of out schools to Asians. And then saying, "You're Persons of Color. You like this."
But they don't like this.
In fact, most blacks don't like this. This isn't the politics of blacks. It's the politics of the Black Panther Party.
Which is then sold to Indian immigrants as somehow representing their interests.
More and more people, and more and more Democrat constituent groups, are waking up to the fact that Wokeness = Death. And that sacrificing your life, or your child's life, for Twitter Virtue Points is a bad deal.

posted by Ace at
02:30 PM
|
Access Comments