« Leftwing Media and NeverTrump -- But I Repeat Myself -- Declare Criticism of Biden Treasonous
|
Main
|
Recalled San Francisco School Board Member: I Hope the Asians Who Voted Me Out of Office Are Happy They're Advancing the White Supremacist Cause »
February 23, 2022
CDC Stealthily Reduces Early Childhood Speech Development Benchmarks, So That Parents Aren't Alarmed By Their Children Missing The Benchmarks Due to the CDC's Masking Recommendations for Children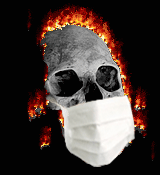 BowTiedRanger
@BowTiedRanger

The CDC just quietly lowered the standards for speech in early childhood development.

Now children should know ~50 words at 30mo rather than 24mo.

Instead of highlighting the harmful effects masks & lockdowns have had on children, the CDC just lowered the bar for milestones.


I've previously written about children being developmentally delayed in speaking due to mask-wearing.
Daniel Horowitz
@RMConservative

My sister who is a speech therapist in MD just texted me: "The speech issues I see with three and four year olds that have been masked I've never seen before in 22 years. So much low muscle tone, drooling, unusual articulation errors on early developing sounds..."


More from my speech therapist sister: "This kid's whole mouth area was chapped from the drool accumulated around the mask. She can't achieve lip closure for the B M and P sounds because her lips are so chapped."

"Even if the kids were not masked, all of the adults are masked, and the children can't see the oral motor movements made by the adults. They don't know that to produce a B sound the lips have to come together.

"One child today didn't realize that you have to put your tongue behind your teeth to produce a T sound. This is a typically developing child in all other areas.

"These types of articulation errors are usually seen with children who have neurological impairments or syndromes with associated speech and language impairments. I've never had so many referrals in my life for young healthy children with such severe articulation impairments."
Rather than admit that masking is causing speech problems -- and autism-type problems, as kids can't learn to read emotions on people's faces -- the CDC instead chooses to hide the evidence, by changing the milestones at which they say normal speech development should occur.
So that parents won't know their children are delayed in speech development.
Here's the corrupt bureaucrat ass-covering "Science (TM)" you were looking for.
The Centers for Disease Control and Prevention has quietly changed their standards for early childhood development, as the effects of pandemic policies on children's development, from speech to reading to other basics, becomes increasingly more apparent.

Earlier this month, the CDC announced that new checklist ages for its important milestone lists were added. These new ages added were 15 and 30 months.

...

One of the authors of this study, Jennifer M. Zubler, said that the changes were made to the guidelines ensure that it reflects milestones that at least 75 percent of children can reach. Since children are no longer able reach these previously attainable milestones, they have been lowered.

Before, the milestone guidelines said that at 24 months, or two years of age, a child should be able to say more than 50 words. This milestone has been pushed back to 30 months.

One Twitter user by the name of Karen Vaites, who has spoken out before regarding masking and how this affects children development in learning and speech, noted that the American Speech-Language-Hearing Association, or ASHA, still says that speaking less than 50 words by the age of two is cause for concern.

Vaites previously slammed the CDC for quietly updating its masking guidance to include clear masks as an allowable option for students.

Vaites noted that "masks have become so politicized" that "we are not allowed to talk about the downsides/risks of masking children. Even when they are in plain sight."
Rachel Walensky will change the development guidelines for children's speech development, but she has absolutely no plans at all to change masking guidelines for kids in school.
Those were ordered by the Highest Science Authority there is -- the teachers unions.
CDC director Rochelle Walensky stood by school mask guidance and offered no indication of plans in the near future to relax the rules, according to leaked audio reportedly from a closed-door congressional committee briefing.

"The CDC provides guidance," Walensky said in an audio recording of Tuesday's House Energy and Commerce Committee briefing obtained by Reason.

"Our guidance currently is that masking should happen in all schools right now."

She refused to offer a timeline for when the agency would lift its guidelines for masks in schools -- even after a number of states moved to lift their mandates within the next few weeks.

Walensky faced criticism from lawmakers after she suggested that local jurisdictions didn't have to follow the CDC's guidance.

"I will also say that guidance is just guidance, and all of these decisions, we've continued to say, have to be made at the local level," Walensky said. "As cases come down dramatically, we have deferred our guidance to the local jurisdictions."
The teachers unions want children in masks, and Walensky continues pushing a long-discredited, never-credible single "study" to justify recommending masks, just like her teachers unions constituents demand.
There is little evidence that masking students protects others. A study in Sweden which kept schools open without mask mandates found that teachers had no increased risk of severe COVID-19 infection as compared to other occupations.

Other studies primarily done before vaccine approval confirm that students are not causing transmission in schools. Staff-to-staff transmission is more common than transmission from students. The correlation between school outbreaks and COVID incidence in the community suggests that adults infected in the community pose a far greater risk to students and staff than students do.

It is no surprise that the European Centre for Disease Prevention and Control recommends against masks for children 12 and younger. It only recommends masks for older students and adults living in areas with high COVID community transmission.

Walensky has repeatedly cited an Arizona study that found schools without mask mandates were 3.5 times more likely to have COVID outbreaks than schools that required masks. Yet, as David Zweig showed in the Atlantic, multiple experts agree the study was so rife with methodological problems that its conclusions are worthless.

Compared to the purported tripling of protection attributed to masks in the Arizona study, an earlier CDC study of Georgia schools found only a statistically insignificant 21% lower incidence in schools that required mask use among students compared with schools where mask use was optional.


Rachel Walensky has been previously caught tailoring the CDC's allegedly "science-based" recommendations to suit the teachers unions.
As The Post reported nearly two weeks ago, emails between the AFT and CDC showed an intense lobbying effort by the union days before the agency halted the full in-person reopening of school classrooms in February.

The correspondence was only uncovered through a Freedom of Information Act filed by the conservative watchdog group Americans for Public Trust and shared with The Post.
So what are the odds, do you think, she's following Randi Weingartner's diktats again? 100%, or something in that range?
As the guys from the Ruthless podcast said on a recent episode of the Megyn Kelly podcast, it could be that Brandon has decided that his Dramatic News for his State of the Union will be announcing that The Science (TM) has suddenly changed just hours before the SOTU, and that he's therefore announcing the end of CDC "guidance" suggesting masking.
And of course we'll know then just how very scientific The Science (TM) truly is.
I think there's a good chance of that.
Meanwhile, kids will continue to having their speech and emotional development impaired because the political timing isn't optimal for the masks to come off just yet.