« Biden's Character
[Dave in Fla]
|
Main
|
White House Goes to Extraordinary Lengths to Protect Frail, Decrepit Husk of a "President," Including Refusing Beverages to Governors Meeting With Brandon, So That They Don't Lower Their Masks to Sip Water »
February 02, 2022
LOL: Whoopi Says She's "Humiliated," May Quit
Plus: Tater Doesn't Know Who to Suck Up to Keep His Job Now, So He Keeps Sucking Up to the Fired Jeff Zucker
The grotesque toads of The View, fresh off of vigorous campaigning to deplatform Joe Rogan from Spotify (and any other platform), are angry that Whoopi got a two week time-out.
[N]etwork insiders told the outlet that Goldberg's co-hosts -- Sunny Hostin, Joy Behar and Ana Navarro -- are furious that she was suspended.
Incredibly, Noted Witch-Featured Drag Performer Mika Brzezinsky, who was just calling for Joe Rogan to be #cancelled on Monday, is now shrieking that "cancel culture is out of control" now that a leftwing colleague of hers got a two week suspension for Holocaust revisionism!
Are you kidding me? Are you actually literally pulling my leg physically right now?
All you fucking do all day is call for people to be cancelled, and when one of your own gets a time out, you shriek that all of this censorship and cancel culture has gone too far?!?!
The absolute balls on this witch-faced man-in-drag.
But, it's not just the Yentas and Karens of morning and daytime television who are shocked, shocked to find cancel culture going on in their daily demands for cancel culture, it's Whoopi herself, whose "ego is bruised" at her "humiliation."
Here's how you can tell her "apology" is pure bullshit: She's mad that she gave ABC the apology they wanted, and they still suspended her.
So, she didn't mean it. She didn't feel like she had anything to apologize for; it was just to shut up the higher-ranking executives at ABC. (And you know who controls the media, right Whoopi?)
Whoopi Goldberg is "livid" after she was suspended from "The View" over her claim that the Holocaust was "not about race" -- and is telling co-workers she is going to quit the show, according to a source.

Goldberg, 66, feels "humiliated" at being disciplined by ABC execs after she followed their advice to apologize for the ill-conceived comments, a well-placed insider told The Post.

"She feels ABC executives mishandled this. She followed their playbook. She went on 'The Late Show With Steven Colbert' and then apologized again on 'The View' the next day," a source said.

The source added that while Goldberg is taking the suspension hard and says she wants to leave the show, insiders believe she's likely just sounding off.

"Her ego has been hurt and she's telling people she's going to quit," the source said. "Suspension from 'The View' is like getting suspended from Bravo. The bar is very low."
I don't know what that means. Sounds like they're saying that this is a token, fake punishment. Which, yeah, we know.
According to the NY Post, Whoopi is "livid" over her paid suspension and is threatening to quit The View. -----------

No. LIVID is just her weight in Roman Numerals.
Posted by: ...
Goldberg's co-hosts -- Sunny Hostin, Joy Behar and Ana Navarro -- are furious that she was suspended. -----------------

Notice there's no mention of a hunger strike.
Posted by: Deplorable Jay Guevara
Bonus Post:
Tater Is So Addicted to the Taste of Jeff Zucker's Ass That He's Still Sucking It Even After Zucker's Been Shitcanned
They say that if you take the chain off a dog that's been chained for ten years, it still won't walk more than a chain's length from the stake.
Tater's in a tizzy looking for the next boss to suck up to to keep his job despite his wretched ratings and embarrassing unprofessionalism.
He was Jeff Zucker's shameless, shameful attack dog.
What's his role at CNN now that Zucker is gone?
Many are pointing out that with the Discovery/Warner merger to be completed in April/May, CNN will have new owners and new leaders, and they will want to fire low-performing executives. Like Jeff Zucker, who has not only brought CNN to a state of absolute ratings disaster, but who has made the brand an absolute joke as well.
You can get by with low ratings if you have a prestige factor. Jeff Zucker did not give CNN a prestige factor; he took what prestige factor CNN may have once (undeservedly) have had, and turned it into Hot News with Jerry Springer, Bitches!
So they want him gone.
They could either admit that they're firing Zucker because CNN is a joke and a ratings disaster and they need a total re-do, a total gut-job ground-up walls-ripped-out renovation, or they could claim that the CNN brand is strong and proud and claim they're firing Zucker because they don't want the good name of CNN sullied by even so much as the whiff of scandal that an extramarital affair would bring it.
Easy call, huh?
Meanwhile, as various CNN liars, such as Tater, claim to be "stunned" and read press statements about the affair beginning in 2020, both Megyn Kelly and Soledad O'Brien's earpiece say that the Zucker affair was an open secret.
So what's alleged "journalist" Brian Stelter doing reading what he knows to be false statements about the affair beginning in 2020?
Here's Megyn Kelly snarking at Tater: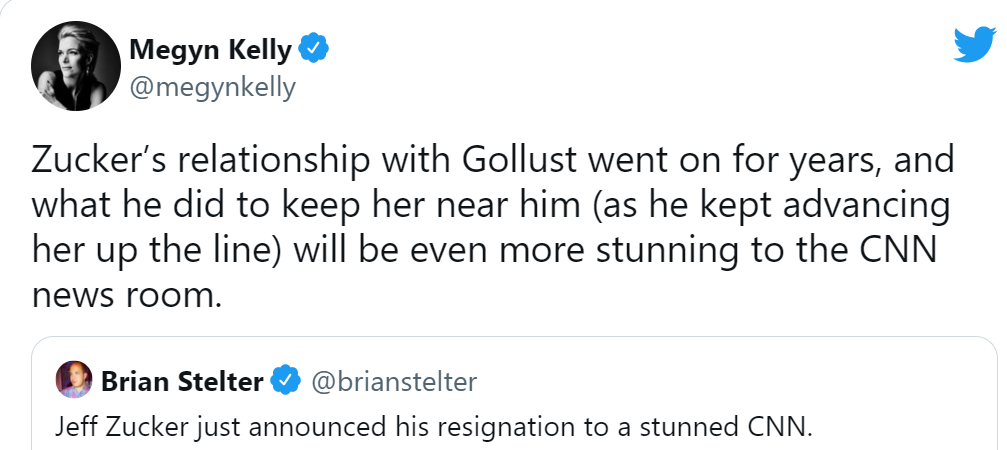 What she means is this:
Gollust started working with Zucker at NBC twenty years ago. Zucker moved heaven and earth to get her jobs at every place he took a new job at. That Radar article discussed that, trying to find her jobs in places where there was simply no room for her.
It was really, really important, for some reason, that Zucker have Gollust by his side.
Just a really good working relationship, maybe?
Ehhhh... Such a good working relationship that Zucker also wanted her living within 50 feet of him.
She noted that Zucker and Gollust not only worked together but their families lived a floor away from each other in the same apartment building while they were both married to their spouses.

Things got even weirder for Couric as she grew closer to Zucker's then-wife, Caryn.


"She and her husband and kids had moved into the apartment right above Jeff and Caryn's -- everyone who heard about their cozy arrangement thought it was super strange," Couric wrote. "By that point, Caryn had become a close friend and it made me really uncomfortable."

Couric added that Zucker insisted on hiring Gollust during his tenure at NBC even though her position was long filled.

"At a certain point, Jeff made a huge push to bring on Allison Gollust (at the 'Today Show')," Couric wrote. "I had to wonder why Jeff was angling so hard to bring Allison on board."

"They were joined at the hip," Couric continued.
Both hips joined, and then unjoined, intermittently, in a back and forth sort of way, and sometimes both hips facing in the same direction.
"The problem was, we'd already hired a PR person for the show. There really wasn't a role for Allison."

Couric writes that she resisted Zucker's attempts to get her hired as a flack for the "Today Show."

She speculates that her snub of Gollust cost her an opportunity to land a gig at CNN -- despite the fact that she endorsed Zucker to helm the network before he was named president.

"His first hire? Allison Gollust," Couric wrote of her former boss' stewardship of CNN.

"Oh, and I never did hear from him about that job."
So yes, I imagine CNN's impressive kennel of news-hounds will be "stunned" to learn all of this-- all of these easily-ascertained facts going on under their own roof.
Meanwhile, Soros-Funded Democrat Activist Bill Kristol engaged in some disgusting twitter flirtation with fellow leftwing internet activist Jane Coasten.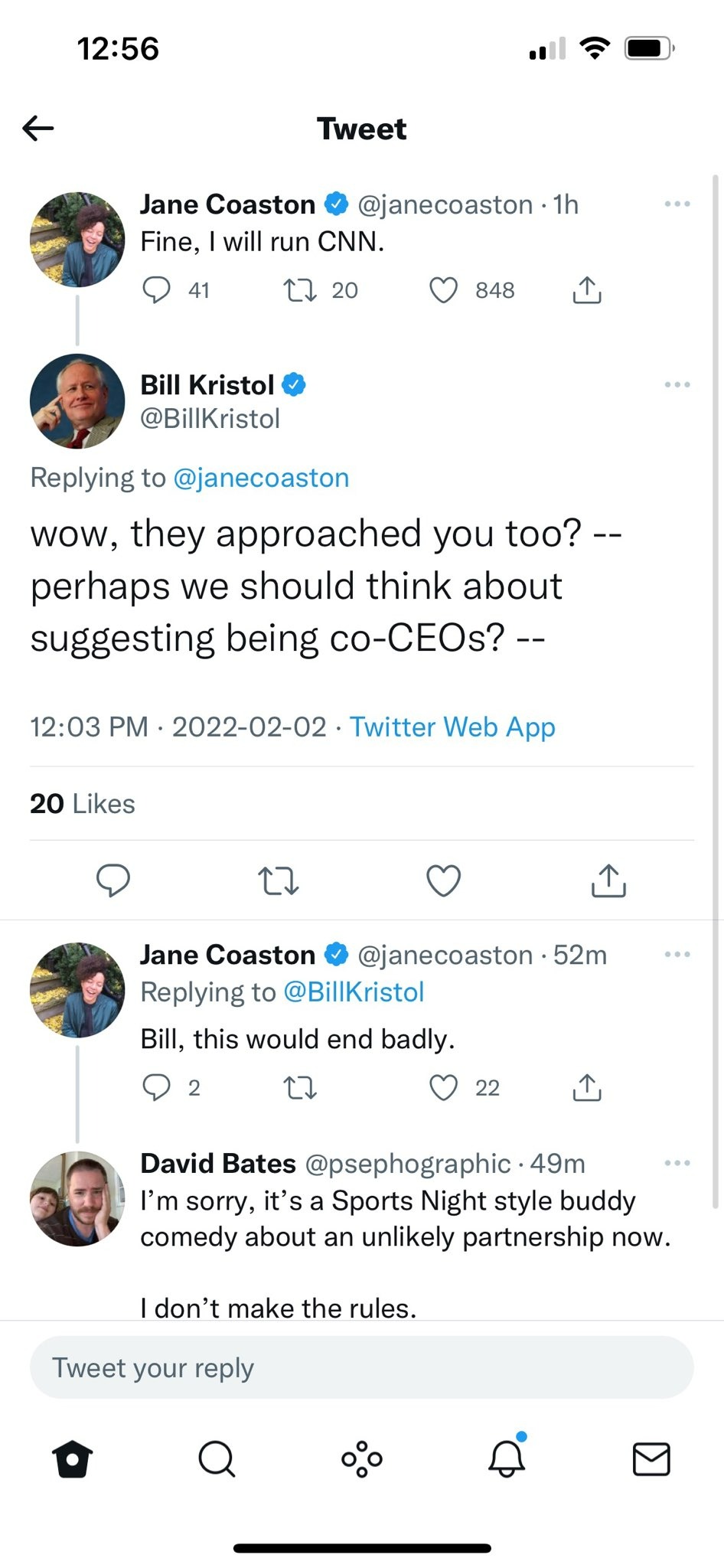 If you catch me doing that flirty, cutesy-poo sexting style of tweeting, publicly, so that others can enjoy my sexy banter, when I'm an ugly bloated 70 year old toad, please strangulate me slowly and painfully so that I have time to think about what I have done and understand why I need to die now.
Oh my Lord, imagine his sexts! They're like that, you know.
He uses --
these dashes --
to make you--
quiver --
with--
antici--
--
pation.
"Bill Kristol's dirty yet cloying sexts" are now in your head forever and you can't get them out. That's for making me go back to the lower-case "a."