« Vice: The Lincoln Project Only Admitted Their Role in the Charlottesville Race Hoax Because We Were About to Out Them
|
Main
|
Hillary's Minions Conspired to Push False Alfa Bank Story Even After Election In Order to Spitefully, Cynically Hobble a Duly-Elected President Fairly Chosen by the American People »
November 01, 2021
Washington Post Political Operative Whines That "Let's Go Brandon" is Incivil and Proof that The Deplorables Are Now "The Party of Thugs"
Different versions of "Let's Go Brandon" currently hold three of the top four spots on iTunes.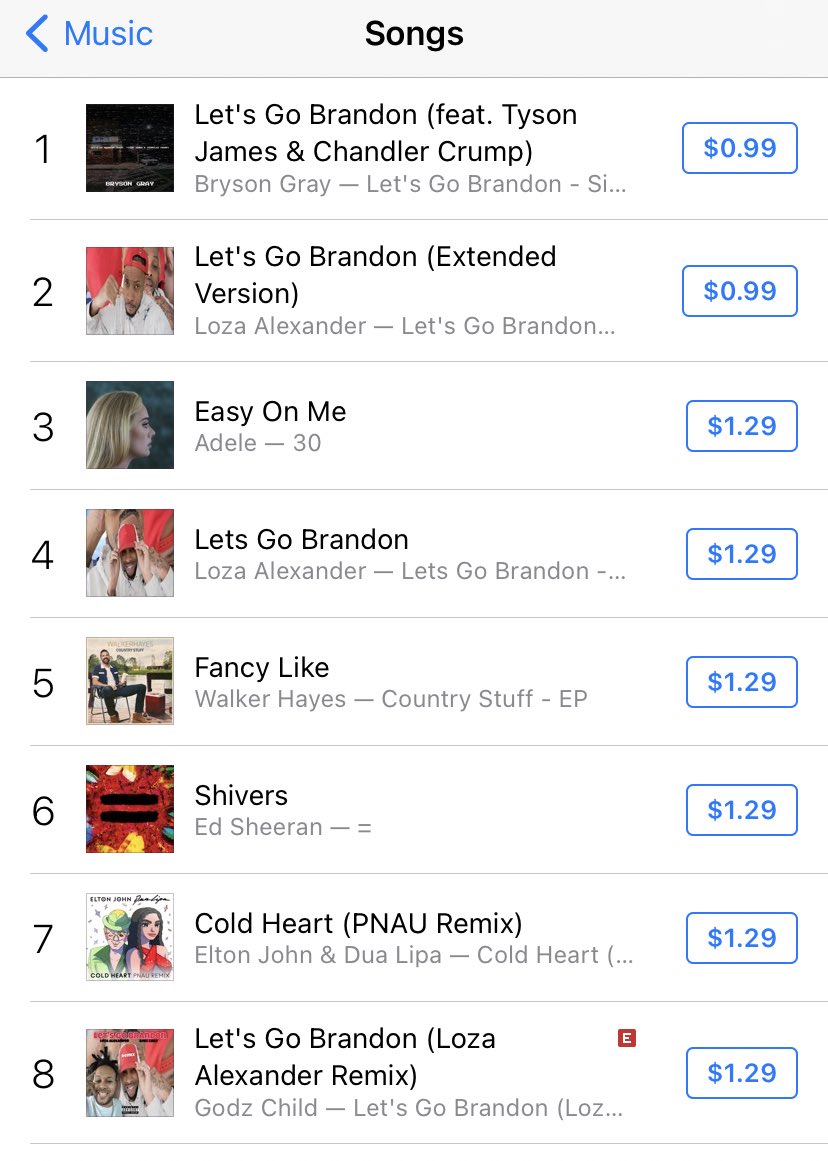 This news report claimed that at one point, there were five versions of Let's Go Brandon in the top ten.

Why, it's almost like the Beatles in 1964! When they held all five of the top five spots on April 4, 1964.
Strange that Joe Biden, supposedly the most vote-getting president in American history, should be so unpopular as to drive four or five anti-Biden songs into the iTunes top ten.
And in the category of rap, too -- not a category that has traditionally trended red!
The leftist media, made up exclusively of Very Stable Geniuses who are super-well-educated and voracious readers who read up to 10,000 tweets per year, informs us that this "Let's Go Brandon" phrase is actually code for "F*** Joe Biden," if you can believe that!
When Republican Rep. Bill Posey of Florida ended an Oct. 21 House floor speech with a fist pump and the phrase "Let's go, Brandon!" it may have seemed cryptic and weird to many who were listening. But the phrase was already growing in right-wing circles, and now the seemingly upbeat sentiment -- actually a stand-in for swearing at Joe Biden -- is everywhere.

South Carolina Republican Jeff Duncan wore a "Let's Go Brandon" face mask at the Capitol last week. Texas Sen. Ted Cruz posed with a "Let's Go Brandon" sign at the World Series. Sen. Mitch McConnell's press secretary retweeted a photo of the phrase on a construction sign in Virginia.

The line has become conservative code for something far more vulgar: "F--- Joe Biden." It's all the rage among Republicans wanting to prove their conservative credentials, a not-so-secret handshake that signals they're in sync with the party's base.
We done been found out!
I, Hypocrite collects up some other media headlines reporting the Unbelievable Truth that "Let's Go Brandon" is really just a polite way to say "F*** Joe Biden."
Well, conservatives are having fun and that means that puritanical, hateful leftist scolds have something to be righteously, spittle-spraying angry about.
And that makes these shrimpy troll happy.
An, ahem, "journalist" named Paul Waldman shrieks that he's never before seen such outrageous incivility in all of his years of furiously typing "DRUMPF!!!" on twitter.
Conservatives have now turned "Let's go Brandon" into a meme, something they can repeat with a giggle in contexts where swearing is still considered inappropriate...

...while people may be painting signs and leading chants of "F*** Joe Biden" (or "Let's go Brandon"), Biden himself is almost incidental. This is a means for conservatives to communicate with one another, and what's being communicated more than anything else is "I take pleasure in flouting norms of polite behavior."
The leftists stalking Krysten Sinema into the bathroom say "Hola."
This is now considered by many to be the way you establish your conservative bona fides. Your commitment to low taxes or light regulations is not nearly enough; you have to show that you're willing to be rude and crude...
All of us "Deplorables" and "teabaggers" say "Howdy!"
They create a phony "issue" such as critical race theory, work to get people as enraged as possible, then when that rage erupts in threats and intimidation of school personnel and board members, they defend it and celebrate its potential to yield them political benefits.
It's not a phony issue. The plague of cops shooting black suspects -- which actually happens no greater than the rate at which they shoot white suspects -- is a much phonier issue.
And we spent all of 2020 talking about that, while burning down cities.
This nasty troll didn't seem to mind when a rap song called "F*** Donald Trump" made the hip-hop charts in 2016.
Matt Taibbi points out that the leftwing media has previously been very fond of celebrities saying "F*** Trump" in big public fora.
The bigger part of the "Let's Go Brandon!" gag is that such outbursts during the Trump years were not only not condemned, they were celebrated, as pundits and reporters for the first time told us directly profane insults of presidents were okay. "Robert de Niro's Comments at the Tony Awards Go Viral," was CNN's bemused take, in a story quoting artist Ferrari Shepard saying, "Robert de Niro is my favorite rapper."
Your periodic reminder that "bemused" does not mean "puckishly amused" as virtually everyone on the planet thinks it means -- it means "confused or bewildered."
But then, if everyone thinks bemused means puckishly amused -- and I feel it means that too, and always used it that way until someone corrected me -- isn't that what it really means?
Anyway, avanti:
"Robert De Niro drops the f-bomb bashing Trump at the Tony Awards," was the headline over this USA Today account:

Meanwhile in the press room, Tony winners were surprised and amused by De Niro's comments, including Harry Potter and the Cursed Child director John Tiffany, who entered the press room immediately after the incident.

"Did Al Pacino just say (expletive) Trump?" Tiffany asked the press room, chuckling as the room corrected his mistake. "It was Robert De Niro? That's even worse!"

"Robert De Niro told the Tonys audience, F*ck Trump.' He got a standing ovation," was the Vox headline in a story that did include criticism of de Niro -- not for cursing out a president, but for overshadowing Angels in America winner Andrew Garfield, who "referenced the Supreme Court same-sex wedding cake decision in his acceptance speech, calling for more understanding and empathy for the LGBTQ community."

When Samantha Bee called Ivanka Trump a "feckless cunt" on TBS, she and the network did apologize, but the commentariat was far from unanimous in believing she should have. A New Yorker column that referenced Chaucer, Marvell, Donne, and Shakespeare said of Bee, "She should not have apologized," while Sally Field said Bee was wrong to use the word to describe Ivanka, because "cunts are beautiful, nurturing, and honest." The Daily Beast headline about the show was a visual high-five, complete with a "DAMN"...


The official canonization of the F-bomb came when Jim Gaffigan, the least potty-mouthed comedian on the planet, entered into a profanity-laden Twitter rant last summer. He said things like "I don't give a fuck if anyone thinks this is virtue signaling or whatever... We need to call Trump the con man and thief that he is."

Pundits reacted as if Trump had inspired Beethoven to the 9th symphony, or moved Gandhi to the Salt March. "Why Jim Gaffigan, The World's Nicest Man, Decided He'd Finally Had Enough Of Trump," was the Forbes headline, in a piece that explained how remarkable it was that a man who "literally" opened for the Pope, a "non-controversial pasty-white Catholic father of five" who admitted "loving bacon," had been forced to drastic action by Trump.

It was, Forbes said, a "fourth wall experience" revealing a man who "simply wants things to go back to normal." CNN added a solemn campaign think piece by Dean Obeidallah that said Gaffigan dropping his nice-guy veneer was genuinely predictive, a bad omen for Trump's chances with the "silent majority" voter. "Jim Gaffigan, arguably America's most wholesome comedian, has finally had enough of Donald Trump's shit," was Gizmodo's take.

I personally don't have a problem with comedians flipping off presidents, in fact I'm pretty sure that's part of their job description, but if you're going to imbue the presidentially-directed F-bomb with holy significance under Trump, you should probably avoid wigging out over "Let's Go Brandon." A huge part of the reason everyone is chanting it with such glee is precisely because it's not profanity, and sounds like the title of a Jim Gaffigan special.
And John Sexton reminds him the left has been incredibly incivil lately.
He points out that Luminaries of the Left such as Anderson Cooper giggled ximself silly over the "teabagger" insult, relishing using a sexual slur against his enemies. Note that his wasn't some random fan at an Eagles game; this is one of the Doyennes of the Democrat Media Complex.
And Sexton recalls a night in which Rachel Maddow and her has-been guest Anna Marie Cox had a giggle party over the insult:
But Rachel Maddow really set the bar on this. She and guest Ana Marie Cox used the word teabag more than 50 times in a 7-minute segment which was one long string of double entendre jokes.
Sexton responds to this sad little egg's worrying about Republicans being mean at school boards by noting the left's long history of stalking, harassment, and physical intimdation:
As for the rage erupting at school board members, Waldman also seems to have forgotten how the Indivisible movement made a habit of confronting conservative members of Congress at town hall events which, not surprisingly, coincided with a lot of death threats. Police showed up to a town hall held by Rep. Tom Garrett after he received calls describing how the callers planned to murder his wife and family. In Tennessee, a woman was charged for running Rep. David Kustoff's car off the road after one of his town hall events. And a man in Tucson was arrested for making threats against Rep. Martha McSally.
Read the rest of the article for more. I don't suppose anyone needs reminding about Antifa and BLM thugs attacking convention-goers at the RNC in August 2020, or of Rand Paul's neighbor beating him so badly that part of his lung had to be excised (and then leftwing media figures continue saying that they approve of his conduct!).
Nor the antifa "protests" of people's homes, frightening their wives and children.
Nor do I have to remind anyone of a Rachel Maddow fan who took her rantings and conspiracy theories seriously and decided to do something about it at a congressional softball game in 2017. I suppose he imagined he was "fighting the Russians" who were controlling the government, as Rachel Maddow instructed him to believe.
But yeah: "Let's Go Brandon" is the real act of thuggishness.
It's hard to say what I despise most about NeverTrump -- from their dishonesty, to their hackish partisanship, to their self-righteous bleating about Truth Above Party (while being hackishly partisan), to their cowardice -- but maybe what I hate about them the most is that every single Moral Panic that sweeps through the drunk-by-3:30pm Wealthy White Suburban Leftist Karen Wine Aunt Community is repeated by NeverTrump.
From RussiaGate conspiracy theories to mask fetishes, from meltdowns about Trump's tweets to vaccine virtue signalling, every twitchy hysteria, every frenetic daily twitter EST session, every shrieking panic, is repeated and amplified by the supposedly "conservative," largely "male" members of NeverTrump.
So it comes as small surprise that the current Karen Panic about people saying Let's Go Brandon -- and what a trivial thing to have a psychotic break over -- is of course being signal-boosted by The Bulwark's Second Assistant Swabbie Jim Swift:
Jim Swift-to-Take-the-Last-Piece-of-Pie was morally offended enough by his friends at the North American Man-Boy Lincoln Association's Nazi Tiki Torch March to turn down a podcast hit, though:
One wonders if the scrofulous degenerate Jim Swift is so deranged that he's really convinced himself that "Let's Go Brandon" is truly some kind of moral outrage to get sweatily huffy about, or if he's just trying to give the Bulwark's neurotic Karen Donors an exciting Twitter diversion to flick their well-worn beans to.
Below: Maybe the loudest "F*** Joe Biden" cheer yet.

posted by Ace at
04:05 PM
|
Access Comments