« First-World Problems...
|
Main
|
Gun Thread: Week After 3rd Anniversary Edition! »
September 05, 2021
Food Thread: Decapod Crustaceans With Butter!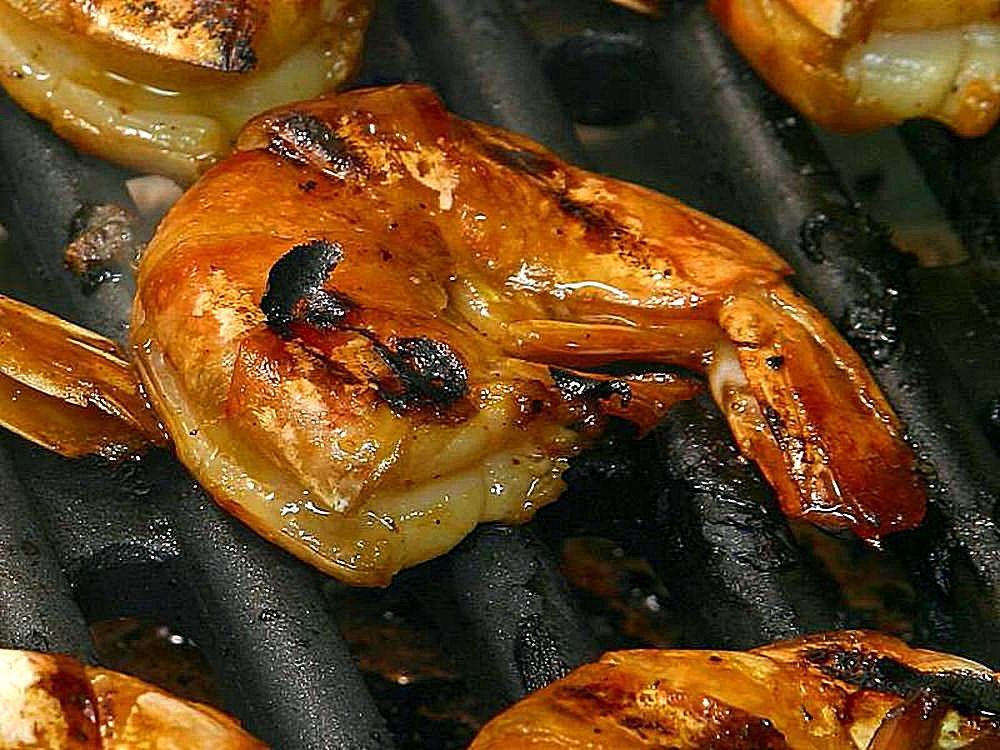 Anyway, like I was sayin', shrimp is the fruit of the sea. You can barbecue it, boil it, broil it, bake it, saute it. Dey's uh, shrimp-kabobs, shrimp creole, shrimp gumbo. Pan fried, deep fried, stir-fried. There's pineapple shrimp, lemon shrimp, coconut shrimp, pepper shrimp, shrimp soup, shrimp stew, shrimp salad, shrimp and potatoes, shrimp burger, shrimp sandwich. That- that's about it.
I love shrimp, and while I might not like them as much or in as many different ways as Bubba Blue from "Forrest Gump," they are in regular rotation here at stately Dildo Manor.
But I have come to realize two things about shrimp. The first and most obvious thing is that they are quite delicate and need a gentle hand at the stove or grill. It is so easy to overcook them, but undercooked is not nearly as unpleasant. The second thing is (and don't freak out!) that I prefer them cooked in a pan with butter than grilled or roasted. The grill is just too variable for them to come out perfect every time, and roasting takes too long. So a pan and butter it is!
Butter, garlic, a bit of parsley and I am a happy camper. Maybe swap the parsley for cilantro and add a squirt or two of lime juice and a dab of chipotle with adobo, and that is perfectly okay with me.
Anyone else feel this way, or am I the lone dissenter in a sea of shrimp grillers?
******
There is a vocal segment of the woke world, and even some people around here, who are vociferously opposed to what I will call "corporate farming." By that I mean large-scale industrial farming that seeks to maximize efficiency and output with a fanatical attention to the price point of the product, whether it is pork butts or strawberries or lettuce or wheat or cattle.
The arguments against are simple and can be boiled down to animal cruelty and destruction of the environment.
The ability to feed the world is one of the wonders of the modern age. We can do it effortlessly, and the only reason there is a single starving person on this planet is pure politics. It has nothing to do with agriculture. And the reason we can do it is the incredible advances that corporate farming has made in the last few generations, coupled with incredible people like Norman Baurlog.
Heirloom tomatoes and beautiful and perfectly ripe melons and pasture-raised pork are affectations of affluent societies such as ours. We can afford to pay $15 for a pound of pork or $4 for a single tomato, but most of the world can't, and penalizing them so that we can feel virtuous about Wilbur the pig leading a lovely life is an affront to humanity.
Yes, we should press corporate farms to treat their animals as well as they can, but not at the expense of a single life.
As for the destruction of the environment as a result of the agricultural revolution? Sure, there are excesses, but agriculture tends to be in it for the long haul, and there is not incentive to rape the land and then move on. Yes, it happens in some places around the world, but as those countries become richer, their land preservation becomes more sophisticated and more successful.
Remember, when we raise the price of food, people on the margins will die. Not in America, and not in Europe, but in other parts of the world that don't have the benefit of full refrigerators and supermarkets packed to the brim with every food we can imagine.

******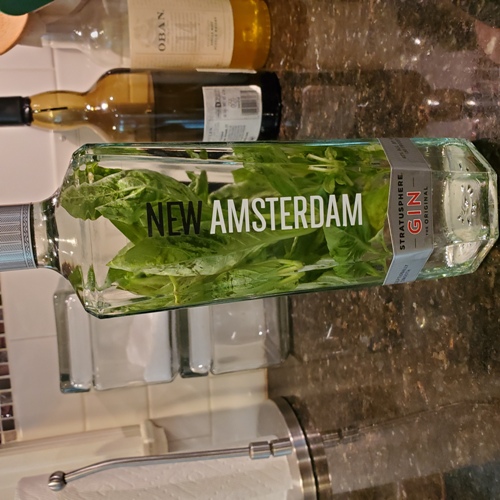 That will teach my four basil plants to control themselves! I made this for basil gimlets, and while it is a different flavor than making the gimlet with fresh basil leaves, it is very, very good indeed. Maybe a bit smoother, but either one will work.

******
This comes from "Marty," of Ukraine fame. He claims that chicken is an eight-pounder...something I have never seen. It's a damned pterodactyl! Sourced locally from a friend, which makes me jealous. I wish I had friends like that! He also tells me that it was incredibly tender! That skin looks spectacular, so I think I believe him.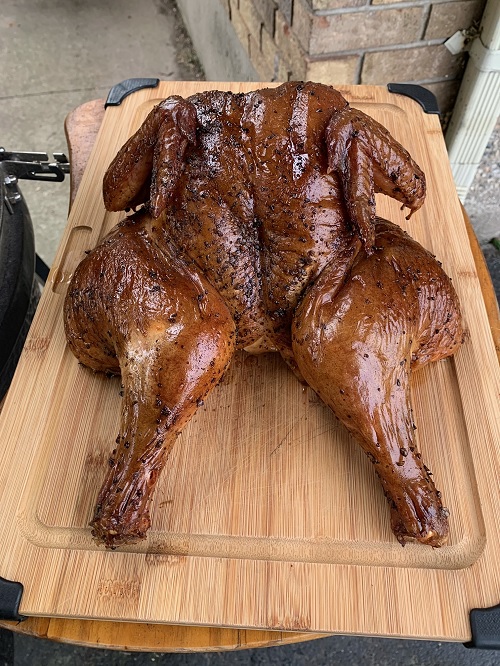 This is just weird. Horseradish vodka from Ukraine! Hell, I'd try it because I love horseradish, but I can imagine that it could be extremely pungent if they made it with fresh horseradish.
He served it with Salo -- cured pork belly from Ukraine -- rye bread and garlic.
Interesting!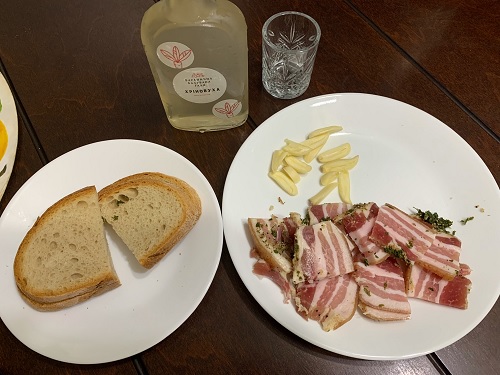 ******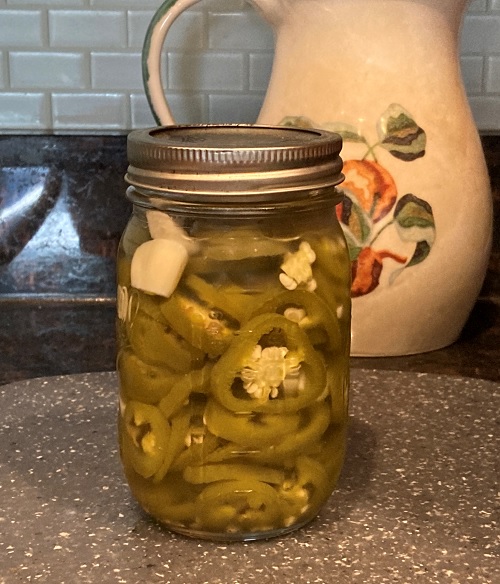 Apparently there was some discussion about pickling jalapeños in a recent thread, and as usual, the Horde came through with a recipe. It's a pretty standard one...I use something similar for carrots and red onions (I add caraway as well), and have made pickled jalapeños for smash burgers, so I can heartily recommend them.
Easy Homemade Pickled Jalapeños
Just be careful with these recipes; some of them are quite old and come from a time when many chefs and cook books did not use Kosher salt as frequently as today, so double-check!
[Hat Tip: Sharon (Willow's apprentice)]

******
I found this recipe while poking around the internet trying to perfect a recipe I wrote that attempts to duplicate a rather nice chicken dish from a local restaurant. I remember being puzzled why anyone would use a pressure cooker other than the obvious, "Oh SHIT! I have nothing to feed my family!"
Pressure-Cooker Chicken Cacciatore
One of the pleasures of cooking, at least for me, is the long (or not so long) process of cooking generic ingredients and knowing they are melding into a wonderful dish over a few hours lazily and gently cooking on the stove or oven. It seems like a civilized counterpoint to our sometimes hectic lives...
But getting it all done in under an hour seems nice too!

******
[Hat Tip: redc1c4]

******
Avocados sans thumbprints, beef short ribs that have meat on them (not the stupid little sliver of bone they sneak into the packages), carrots that don't taste like stalky chalk, spare bottles of Van Winkle Special Reserve 12 Year Old Bourbon, an herb garden that actually produces herbs (but no basil!), well-marbled NY strip steaks and elk backstrap to:
cbd dot aoshq at gmail dot com.
And don't think that you are off the hook with maple syrup and French Toast: I'm watching you...all of you! And I am watching you perverts who shake Manhattans and keeping a list for the Burning Times.

posted by CBD at
04:00 PM
|
Access Comments