« Food Thread: Decapod Crustaceans With Butter!
|
Main
|
Sunday Overnight Open Thread (9/5/21) Not Feeling It Tonight Edition »
September 05, 2021
Gun Thread: Week After 3rd Anniversary Edition!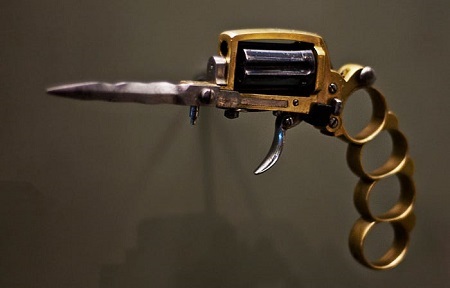 Howdy, Y'all! Welcome to the wondrously fabulous Gun Thread! As always, I want to thank all of our regulars for being here week in and week out, and also offer a bigly Gun Thread welcome to any newcomers who may be joining us tonight. Howdy and thank you for stopping by! I hope you find our wacky conversation on the subject of guns 'n shooting both enjoyable and informative. You are always welcome to lurk in the shadows of shame, but I'd like to invite you to jump into the conversation, say howdy, and tell us what kind of shooting you like to do!
Welp, we had a water and wind event along the mid-Atlantic this week. How did you fare? There were all sorts of dire predictions in the forecast here but we ended up with maybe an inch of rain and maybe an hour of mildly breezy conditions. That's it. I had taken the usual precautions of making sure the gutters were clear and rode out the storm with my homeowner's and flood insurance policies clutched tightly in hand. From the looks of it we were very lucky compared to others along the storm's path. How about where you are?
Enough jaw-jacking, Weasel! Let's get to the gun stuff below, shall we?
******
TXMoMe
The Mother of all MoMe's is just around the corner. That's right, the Texas Moron Meetup, or TXMoMe, is nearly upon us! If you haven't made arrangements to be in Corscicana on October 22nd and 23rd, you need to get busy by contacting Ben Had . I go on, and on, and on about this every year because it is an event you truly do not want to miss. Seriously, I know we have a lot of introverts, but I challenge you to find anyone who has attended a MoMe - any MoMe - who hasn't had an amazing time. As a matter of fact, one of my favorite things to do is simply watch the reaction of people attending their first MoMe and meeting their online friends in person for the first time. This amazing event is only possible through the hard work of Ben Had and our gracious hosts RancherBob and Cow Horse Queen. These are amazing people and I am honored to have them as such good friends.
So! What happens at the TXMoMe? Welp, it's like a big family reunion with lots of visiting and eating and drinking and shooting, just not in that order. Shooting? Shooting you say? Yup. There are rifle and handgun ranges available, and you're welcome to bring a weapon!
Q: Weasel, what do we do if we don't have a weapon?
A: Why, we consult our handy Gun Purchase Decision Flowchart!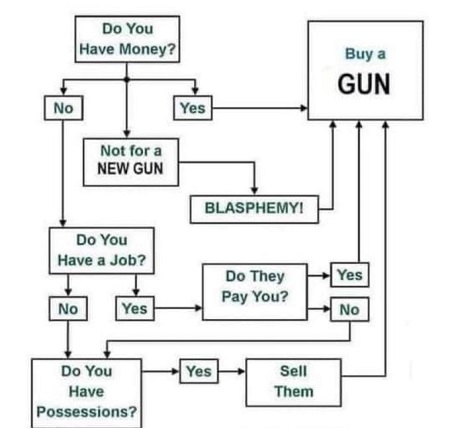 image courtesy Sharon (Willow's Apprentice)
Anyhoo, there will be plenty of shooting opportunities, on the dedicated handgun and rifle ranges. Many of our fellow Morons are coming from around the country and for logistical reasons, may not be bringing their own guns or ammunition. Rest assured, there will be plenty of guns there for everyone to try, so if you are driving, please consider bringing a box (or two) of your favorite caliber ammo to share.
As in prior years, there will be shooting clinics held Friday on both the handgun and rifle ranges. Stay tuned in the coming weeks for more details!
******
First up, our pal Washington Nearsider sends in a report on a very productive day at the range.
I took out three rifles today, and spent a significant time at the range in the CF Phelps Wildlife Management Area. Rifles are as follows:

Tikka T3x Compact Tactical Rifle (24") in 6.5 Creedmoor wearing a Vortex Viper PST II 5-25x
LaRue Predator (14.5") in 5.56 NATO wearing a Trijicon Accupoint 1-6x
Ruger Precision Rifle (18") in .22lr wearing a Vortex Diamondback 2-7x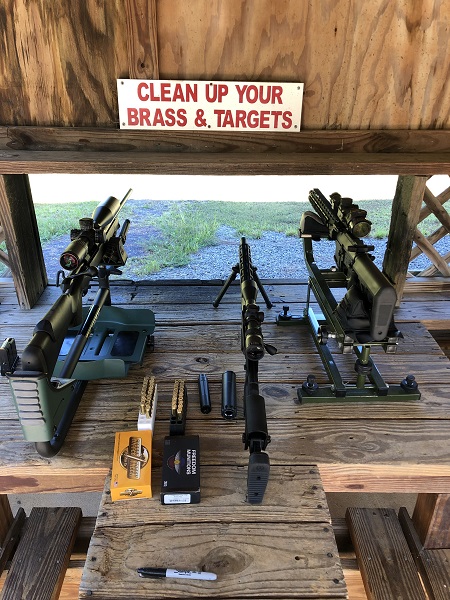 Left to right, it's the Tikka, RPR, and Larue
I used 'I want to zero the Viper on the Tikka' as my excuse to get down to the range and burnt what is (so far) irreplaceable ammo on a great day. I intended to use a laser boresight I picked up from Gander, but couldn't see the dot at 50m or 100m, so I just pulled the bolt and did the best I could with the rifle in the LeadSled. At 25m, I was on paper, and set an initial elevation there. I fired another 8 rounds at 50m getting myself close (note that my elevation was pretty close right out of the gate) before being happy enough to fire four rounds with intent at the top-right target.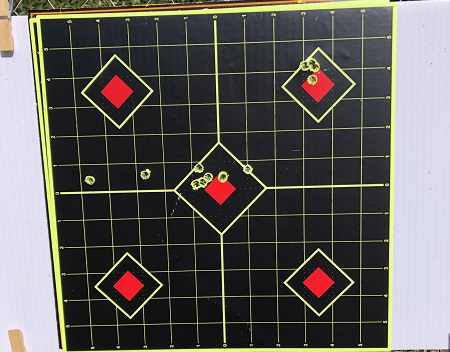 Satisfied with that, I went out to 100m and fired a few more until I was pleased enough to do something new: I experimented with ammo loads. I don't mean to imply I'm handloading - I'm not, but I've never set out to deliberately see what my rifle liked best. Today, I had two options: Hornady's 123gr ELD-M (Extremely Low Drag-Match) and MatchKing's 123gr HPBT (Hollow Point Boat Tail). I know they're the same weight, but stick with me on this, I'm new. I deliberately fired three rounds each (from the LeadSled) at each target on the Larue grid. Y is the ELD, B is the HPBT (Yellow v. Black boxes). I anticipated the ELD rounds to perform better because they've got this fancy Teflon tip, and I assumed the hollow point would spread a bit more as a function of its design. They worked out about the same in terms of spread, but being able to have two holes touching made me feel more confident in the HPBT. I don't know if confidence itself makes me shoot better, but I'm happy with it. On another visit, I'll get that elevation down a half-inch, but I wanted to leave myself something to do next time.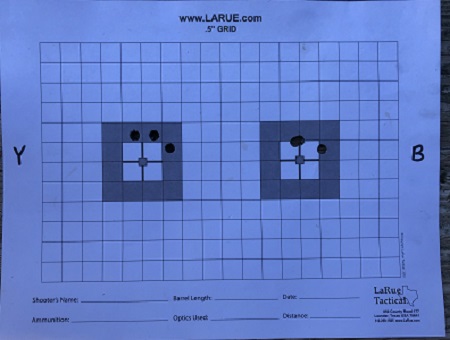 With the 5.56, I zeroed the scope at 50m. For me, this is a battle rifle. I don't shoot it much for fun, and keep it primarily as a defensive weapon. I just won't be reaching out to fire on human targets at 300m, so I figure 50m is enough to get me within a minute of man. Plus, I really want to hang on to as much 5.56 as I can.
*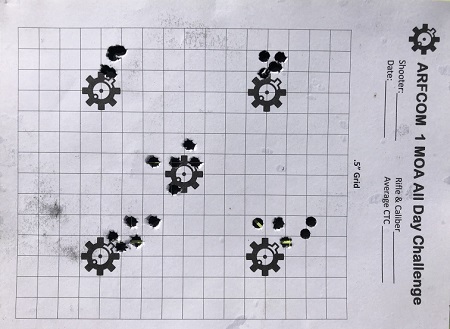 I had the most fun with the RPR. I plinked for a bit at 25m and 50m, but really had fun when I started firing at the berm (120m). The berm itself is about 50' high, very nearly sheer, and mostly dirt. I fired one .22lr round at a big rock (about 3" across) just to see how far the round fell over that range, and then decided I should try holding over enough to actually HIT the rock. I did this with about 10 similarly-sized rocks, having to hold for drop and wind, and feeling very proud of myself when the rock I targeted would get hit and tumble down the berm. I had a great time, achieved my pre-determined mission (to zero the Tikka), and got to spend my first significant time behind a weapon in God knows how long. I'm going to look around for different rounds for the Tikka and will continue the experiment at another date. My goal for myself is to be able to hit a torso-sized target at 1000m by the end of 2022.

Of note: I've got a new Trijicon Accupoint 5-20x50 with matching Trijicon 30mm QD mount that I simply don't prefer. It was on top of my Tikka for about 30 rounds, and as nice as it is, I prefer the Viper.
Nice report, Nearsider! I like to hear people going to the range with an objective and working towards it. Especially with the ammo situation such as it is, it makes sense to make every round count. Regarding getting out to 1,000 yards, let's discuss!
******
Thinking of complaining about your food? Think again. Our pal CBD takes his new Ruger Mark III 22/45 Lite out for a spin.
50 rounds and not a single jam, and reasonably accurate to boot! I fired the last 10 as fast as I could pull the trigger!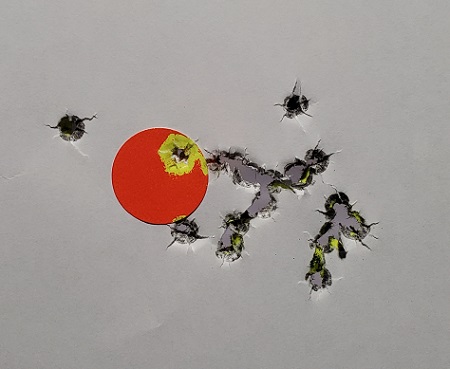 Nice work, amigo! That was about 250 yards, right?
******
Last week, or was it the week before, we had a discussion on how many guns to take to the range. This week our pal blasternaz weighs in with his thoughts on the matter.
It depends on how long the day will be! Hour or two? Maybe a couple. All day? Fill the truck!

Seriously, when I was still competing on a regular basis, I'd take at least two. The "serious" gun and a "fun" gun. Sometimes my gun box held 4 serious guns and the extra case had the plinkn' .22's. Sometimes it looked like was going to a gun show. Depended on time available, solo or with friends/students/family. And of course, the range itself sometimes limits how many different guns you can employ from your position. Caliber limits, for example. Standard velocity, no magnums, etc..

Friends used to do a campout, spread out a boat tarp, cover it with weapons and ammo and invite us to pick one up, shoot it, try another. Great memories and some funny stories!

Some of the more recent matches require multiple guns. 3Gun, Steel Challenge, USPSA, even ICDPA has the option to shoot more than one "class" of gun per day and of course, NRA 3 gun needs at least two. UIT/US shooting doesn't really have an aggregate but it does have Free, Rapid, Duel, Standard (.22) and Air. Can make for a long day! If I'm going to work on match rifles, I'm usually not going to do more than throw a couple of shots downrange from my carry gun, mag check, doncha know. Than again, I've been know to take 5 or more recently built match rifles to the range to check function, verify accuracy standards and zero sights/optics. Ah, those were the fun days!
Training for competition in a multi-gun discipline certainly adds to the complexity of your range day. How about you all? One or two guns? Five or six? All of the guns?
******
Barrel Length Comparison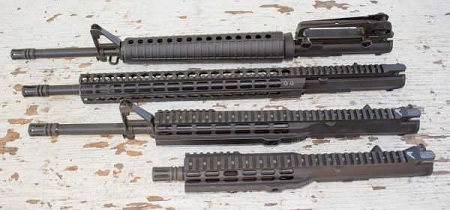 We've had a number of conversations recently on when it makes sense, or does not make sense, to upgrade gear. Our pal GWB sent along the following article from Ammoland on AR barrel lengths and an examination of the corresponding effect on accuracy. As a general rule, longer barrels will achieve greater velocities, but why is that so exactly, and does it make a difference at the target?
The biggest take away, IMHO, is you need to optimize your gear to your intended application. Also, while barely mentioned in the article, don't forget the bullet weight and barrel twist rate need to be compatible!
Good article, thanks GWB!
******
Good Idea? Bad Idea?
As I am sure is the case with many of you, but rarely does a day go by that I don't wonder What would happen if I stuck my head into a particle accelerator?
I mean, a particle accelerator is a sort of a big particle gun, right? Interestingly, George Soros gets a mention in the video. Big Picture Take Away: Do not stick your head into a particle accelerator.
******
Gun Basics 101
This week, our Gun Basics 101 comes from our pal AHL who shares a video on ammo selection.
I highly recommend the Horde check out Lucky Gunner's YouTube channel. I don't always agree with the host (Chris Baker), but he offers some great tutorials on all sorts of gun and self-defense topics. His latest is about how to buy the right kind of ammo and worth passing around.
******
Link-O-Rama
I'm really very seriously not kidding around anymore. Buy Ammo
AmmoSeek - online ammo search tool
GunBot - online ammo search tool
SG Ammo
Palmetto State Armory
Georgia Arms
AmmoMan
Target Sports USA
Bud's Gun Shop
***Mail Bag***
Our pal Oregon Muse included this in a post recently and it's too good not to steal and share again!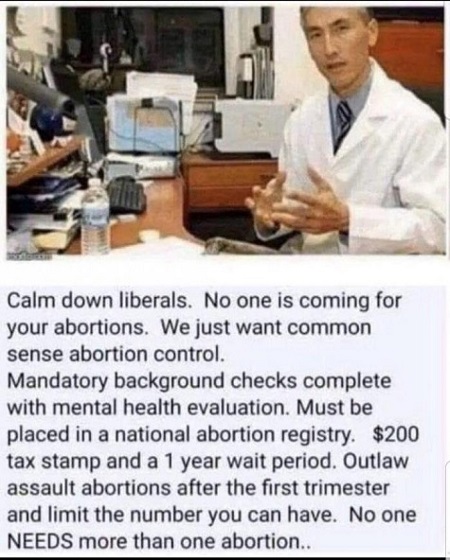 ******
Please note the new and improved protonmail account gunthread at protonmail dot com. An informal Gun Thread archive can be found HERE. Future expansion plans are in the works for the site Weasel Gun Thread. If you have a question you would like to ask Gun Thread Staff offline, just send us a note and we'll do our best to answer. If you care to share the story of your favorite firearm, send a picture with your nic and tell us what you sadly lost in the tragic canoe accident. If you would like to remain completely anonymous, just say so. Lurkers are always welcome!
That's it for this week - have you been to the range?

posted by Weasel at
07:00 PM
|
Access Comments