« REPORTS: BRITISH GOVERNMENT NOW REFERRING TO BIDEN AS MENTALLY INFIRM AND AS "SLEEPY JOE;"
ANONYMOUS WH SOURCES RESPOND BY THREATENING THE BRITISH BY REVOKING "THE SPECIAL RELATIONSHIP" BETWEEN THE UK AND US
|
Main
|
Monday Overnight Open Thread (8/30/21) »
August 30, 2021
Quick Hits: We Are All To Blame for Max Boot's Sinister Incompetence Edition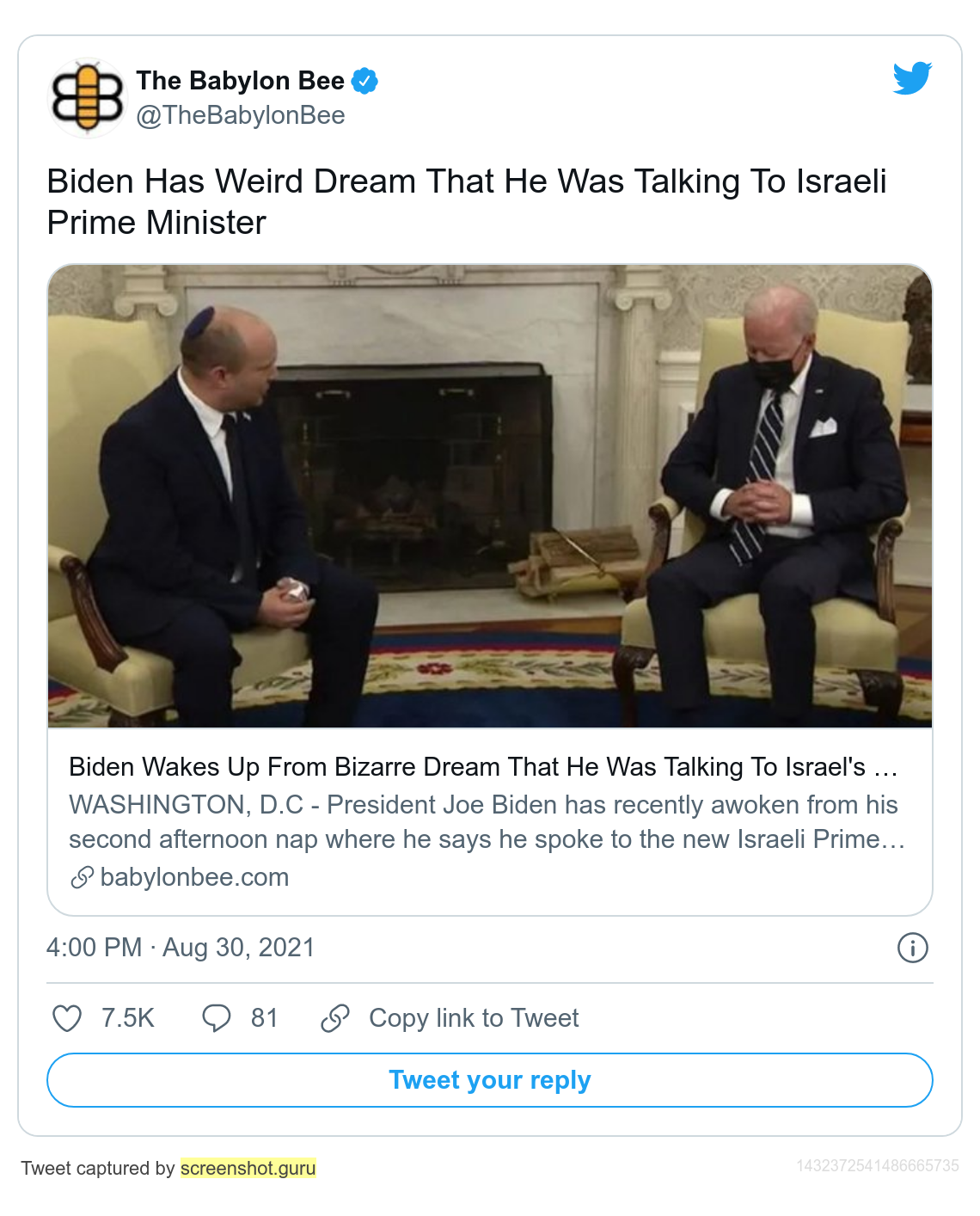 For reasons I'm not clear on, Biden bugged-out of Afghanistan a full day ahead of his already grabass August 31st deadline.
Here an American general admits Americans are left behind.
Don't worry though: The government which never lies says it's only 250 Americans trapped (trapped, not "stranded"!) in Afghanistan: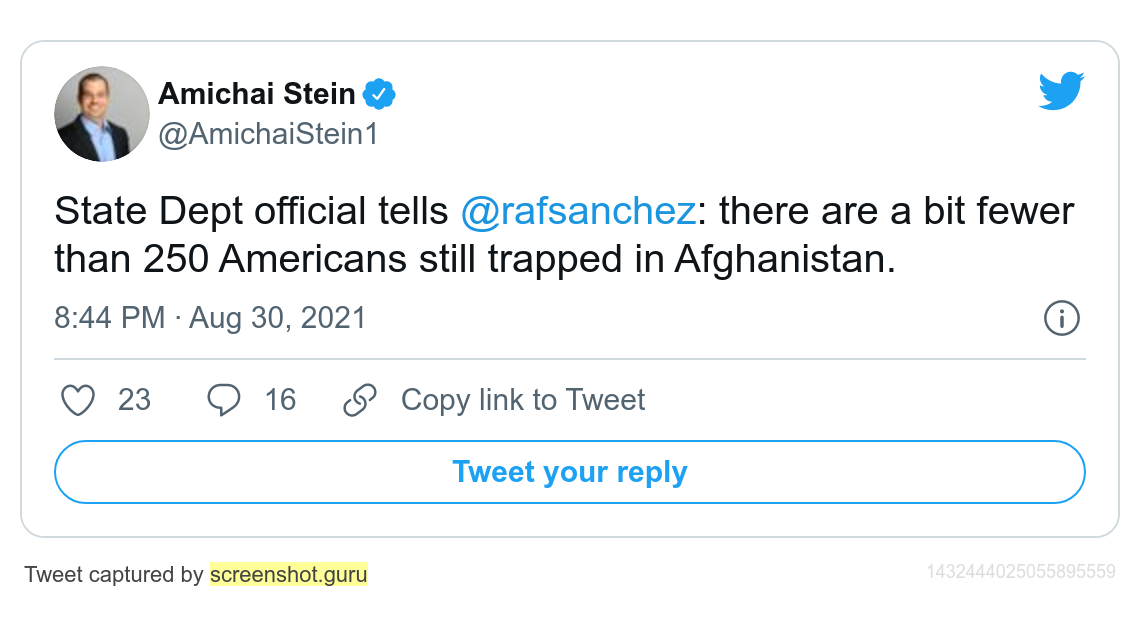 Here are Taliban fighters, dressed in American uniforms and sporting American night-vision goggles, taking over Kabul airport. Which we've abandoned.
Now begins the traditional firing of (American-made) automatic weapons into the air to celebrate another jihadist victory.
Here's Biden's statement, congratulating himself for being ahead of schedule in clearing out for his Taliban friends.
Afghan women and children pleading for Biden to get them out of the airport.
I don't know if this is real, but it's so awful it probably is:
That unverified story here.

Speaking of Sirhan Sirhan, one fake letter from the editor in National Lampoon that I still remember is this one:
Sirs:

Who killed the Kennedys? Well after all, it was you and me.

Faithfully,

Sirhan Siran
Now Noted War Theorist and Nation Building Enthusiast Max Boot has written up his own Letter From the Editors: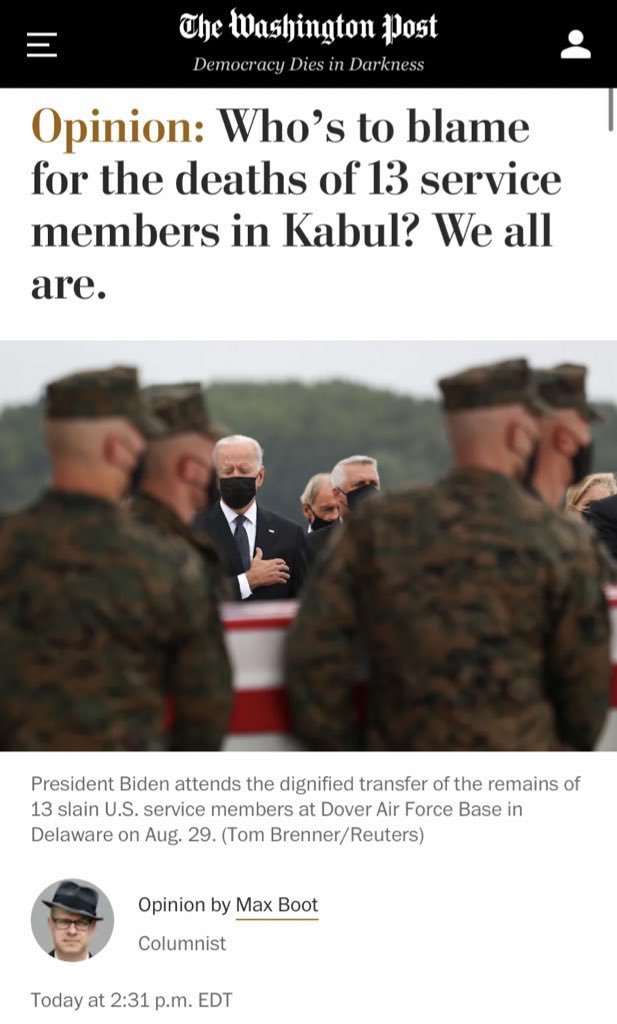 Max, I think the blame resides more with you than with most, both for propagandizing for this plan to nation-build Afghanistan into Luxembourg, and then for propagandizing on behalf of the stupidest man to ever be president.
Incredibly, the All-Purpose Dinner-Plate-Nipples Expert Tom Nichols, who spent the last six years telling us that literally everything Trump did was evil and everything about Joe Biden (and before that, Hillary Clinton) was just terrific, is now scolding people for... single-dimensional thinking.
Such as his own.
Oh, and Lt. Col. Bearclaw's bearclaw-loving wife Rachel Vindman agrees with him.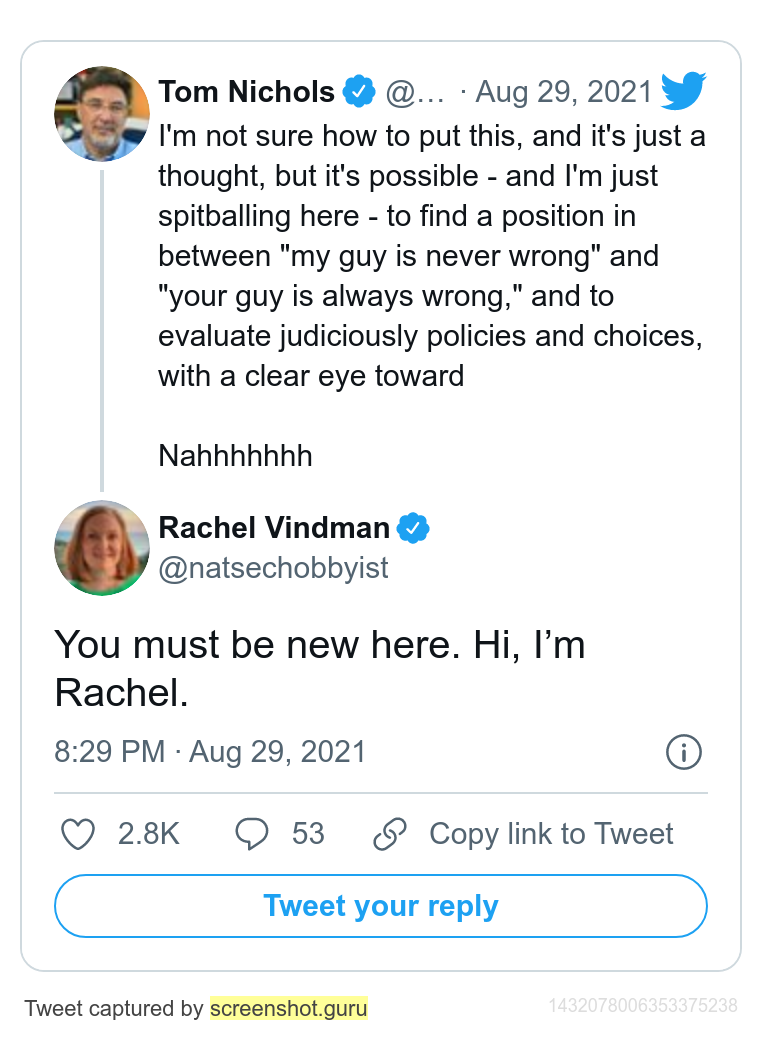 Everyone knows that narcissists never admit they're wrong, but only say stuff like "Let's just admit we all screwed up here, all right?"
We're at the Black Knight "All right, we'll call it a draw" phase.
Weak men never accept the burden of blame. As with any physical burden, weak men demand others share the load, and then hunch down so they're barely lifting anything at all.
And speaking of weak men: David French says we've been too soft on the Evangelical Christians we viscerally despise, now is the time for more stringent measures:
The Philistine Phrench is also making excuses over his endorsement of the "decent" Joe Biden. Last week, as the bodies were being counted, Phrench excused himself from his error of claiming Biden would restore our honor and norms, by whining that decency, and not just competence, ought to matter.
So he endorsed the Noted Decent Person and credibly-accused r@pist Joe Biden.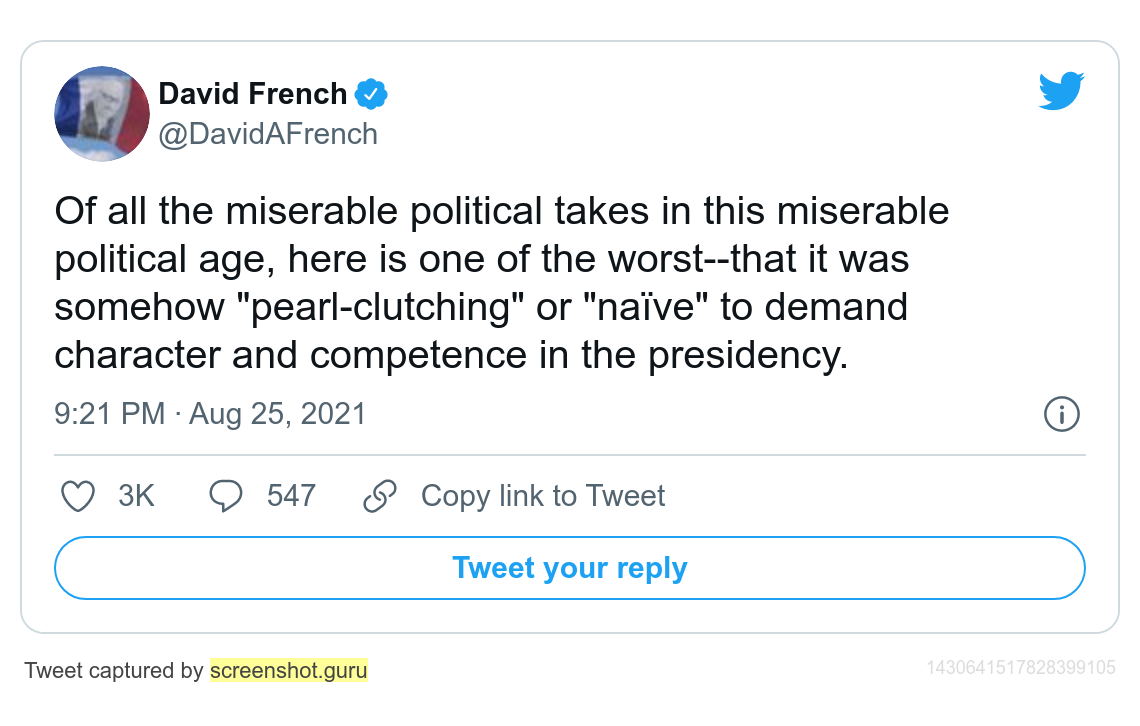 @MZHemingway

But seriously, WHO are the people who keep telling the President of the United States that he can't answer questions? And why do these people tell him that? Why is he so deferential to them? It's weird, right?
Corporate whore thinks she's cute: Here's Kristi Noem libsplaining to you why it's imperative we keep all the panoply of anti-discrimination laws for the protection of members of the leftist coalition in place, but if we pass a single one to protect a member of the conservative coalition, we're breaking our sacred vows as "constitutional conservatives" to always give the left everything they want.
Then she attacks Matt Walsh for pointing out that the only groups in America that the Constitution apparently says we must never protect are whites, males, and Christians:
@PartymanRandy

"Do we really want to go down the road where the government is telling private businesses what to do with their own internment camps?"

-Kristi Noem sitting on a buffalo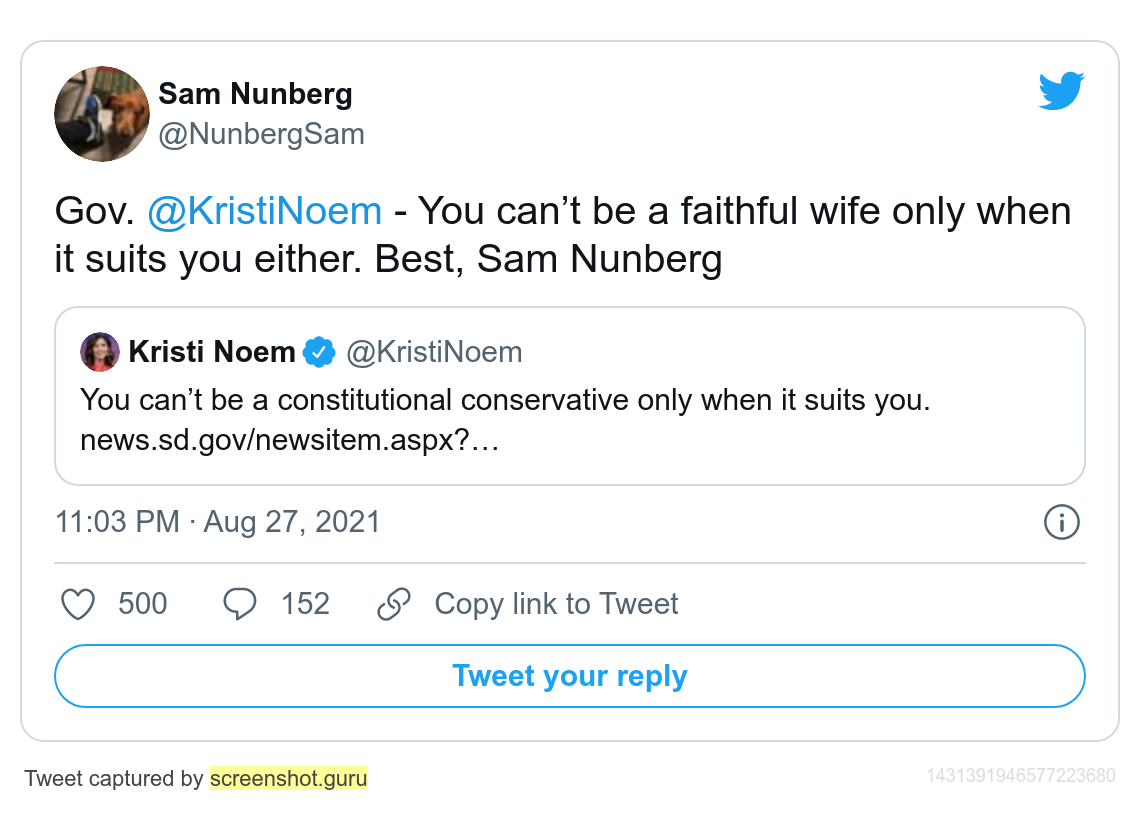 posted by Ace at
06:26 PM
|
Access Comments