« Daily Tech News 30 April 2021
|
Main
|
Mid-Morning Art Thread »
April 30, 2021
The Morning Report - 4/30/21 [J.J. Sefton]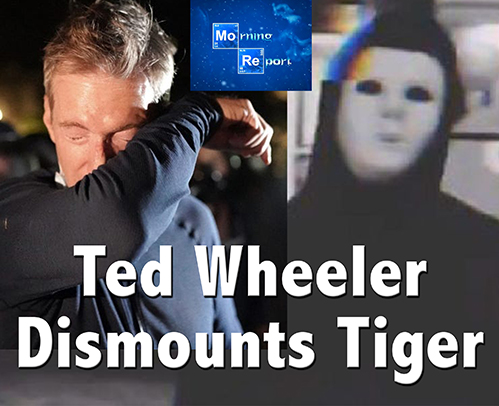 Good morning kids. Friday and the weekend is here. Rush Limbaugh PBUH used to say (paraphrasing), "There will always be an America. It just won't be an America you recognize." I had a nice dinner last night with a friend and afterwards, as we strolled through a half-empty, generally lifeless Greenwich Village, the preponderance of vacant storefronts along with the very few recognizable places from the old days somehow barely hanging on just depressed the hell out of me. Not only because none of this garbage vis a vis the phony plague lockdowns was necessary, but because it emphasized the feeling of living in some sort of alternate reality. Sure, it's my neighborhood, it's the same streets and things generally look the same. But something is drastically wrong.
Same goes for the nation. Between a combination biological/psychological weapon unleashed by the Chi-Coms and exploited by the Left, and then acts of mass domestic terrorism instigated by the latter to sow division and hatred, all to sabotage and overthrow a duly RE-ELECTED president, we now have an illegitimate junta in power that is going at warp speed - pun intended - to quite literally strip away our rights granted by G-d Almighty and amass for themselves absolute power.
Oh, it's still the United States but it's nowhere near anything that I recognize. Those in power occupy the same Capitol and White House. Faneuil Hall and Independence Hall are still standing (for now), and the actual Constitution and Bill of Rights are still extant. But they are for all intents and purposes mere brick and mortar and a sheet of parchment with some pretty calligraphy. Iowahawk Dave Burge might have devolved into a pitiful Never-Trump schmuck, but this gem of his has never been truer:
1 - Identify a respected institution,
2 - Kill it,
3 - Gut it,
4 - Wear its carcass as a skin suit while demanding respect
That has happened to every societal, political and business institution in the nation and as was demonstrated on January 20th and underscored with exclamation points on Wednesday night, the nation itself. It is way beyond my capacity to put into words just how hateful and sickening to see and hear individuals like Biden, Pelosi, Schumer and the scores of other malignant criminals spout out platitudes like "our sacred democracy" as they both wipe their asses with the Constitution in their left hand then use their far left hand to shove it in our face while declaring Gott Mit Uns and their stolen birthright as the real Americans.
Remember: Diversity-Inclusion-Equity = DIE. And that is exactly what they intend for us. Funny how the Left refers to the Constitution as "living and breathing." Despite that bastardization/mischaracterization, there is something to be said insofar as the "spirit" of the document. It may enshrine and enumerate our rights and freedom granted us by Almighty G-d, but the only way to secure that freedom rests with us. And just like that, Roy Jenson wearing a bearskin rug and declaring "E plebb neesta" just popped into my head. Is that where we're heading? No not Stage 3 at Desilu, but a bloodbath. It sure looks that way to me.
And yet so many pundits and politicians are just going on as if all of this is nothing unusual at all. "Wait until 2022! The Dems are going to get wiped out!" Or worse, "Trump caused this and now that he's gone we can get back to comity and decency and no mean tweets." If you believe that, I have an all expense cruise for two with Jonah Goldberg I can let you have cheap.
Remember, it's Andy McCarthy's precious FBI and DoJ that spied on Trump and his allies, protected Hilary, Obama and now the Biden gang, and is working feverishly to arrest, prosecute and imprison innocent people for the crime of merely showing up at the Capitol on January 6th. A word of warning though to the idiots on the Left who are enjoying us getting curb stomped and abused in the streets and in the courts:
Late last week Portland, Ore., Mayor Ted Wheeler took to video to plea for the community's help to "unmask" antifa. The violence-prone anarchist-fascist group has terrorized Portland with months of violent and destructive insurrectionist riots despite Joe Biden merely calling antifa an "idea."

Someone purporting to represent antifa has responded to Wheeler with a new video. In this video, the masked individual pushes anti-American themes and publishes Wheeler's home address. The individual finishes the disturbing presentation with a veiled threat to kill Mayor Wheeler.

"Ted, we are asking for the last time that you resign," the video's narrator says. "If you ignore this message outright, the destruction to your precious way of life is going to escalate. Blood is already on your hands, Ted. The next time, it may just be your own."

Those last words have Wheeler's clearly legible address superimposed over them.
I have absolutely zero love lost for Ted Wheeler. He is a manifestly irresponsible and criminally negligent mayor whose own leftist hatred for Trump and the concept of law and order led him to allow terrorists to take over and terrorize an American city for an entire summer, while handcuffing the police from protecting law abiding citizens. Yet again, the words of Winston Churchill are appropriate:
"Dictators ride to and fro upon tigers they dare not dismount. And the tigers are getting hungry."
That goes not just for Ted Wheeler but for the Junta occupying DC, every other blue city and state and every damn RINO stooge as well. And not just that they'll be eaten by their own either. Have a good weekend.
ABOVE THE FOLD, BREAKING, NOTEWORTHY

CIVIL WAR 2.0: LEFTIST PERSECUTIONS, CAPITOL HILL BLACK WEDNESDAY PROTEST AFTERMATH, DEMOCRAT PUTSCH, AMERICAN DISSOLUTION
NOTE: The opinions expressed in some links may or may not reflect my own. I include them because of their relevance to the discussion of a particular issue.
ALSO: The Morning Report is cross-posted at CutJibNewsletter.com if you want to continue the conversation all day.
Follow us on Twitter: @CutJibNews
Follow us on Instagram:@Cutjibnewsletter


posted by J.J. Sefton at
07:27 AM
|
Access Comments