« First-World Problems...Part I Have No Idea
|
Main
|
Gun Thread: We Be Back Edition! [Weasel] »
April 25, 2021
Food Thread:In The Chocolate Chip Cookie World, Sometimes Size Does Matter!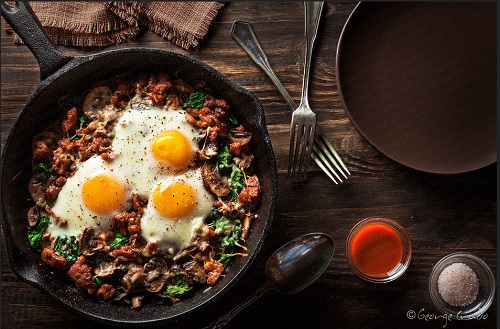 Food photography is one of the many categories of photography at which I stink, so I figured instead of plaguing you with one of my lousy photos I would grab an attractive one off the internet, and this one jumped out at me.
Not only is it a nicely done photo, it has one of my favorite food garnishes...the simple fried egg. I love them on pretty much everything, although I usually forget until it is too late. But that's okay...I'll use this post as a reminder to put a fried egg on my dinner tonight...whatever that may be!
[yeah..it isn't quite fried, but close enough]
******
The intersection of food and political philosophy is something that most people don't consider much, if at all. And that is as it should be, since most of us just want to be left alone at the supermarket and in the kitchen, and just buy and cook what we feel like eating without interference from government.
But the left has used food as a political weapon for a very long time, and to great and terrible effect. And jsut because we in America are blessed with the best and most efficient and productive farmers in the world doesn't mean that we are immune to their use of food as a cultural weapon. Just think of the mostly fraudulent "organic" food push, or the ersatz meat products that have appeared in the last few years, or the demonization of sugar and fat and most things that normal people find pleasurable.
I don't want to live in a country that treats beef as a luxury and sugar as a drug. Just imagine an all-too-realistic extension of the Wuhan flu passport idea to food...

No sir, you are not permitted that bottle of corn oil; your last blood test revealed a lipid profile that limits your fat purchases to 50 grams/week, and with this purchase you will have exceeded your quota. Thank you and please come back next week.
******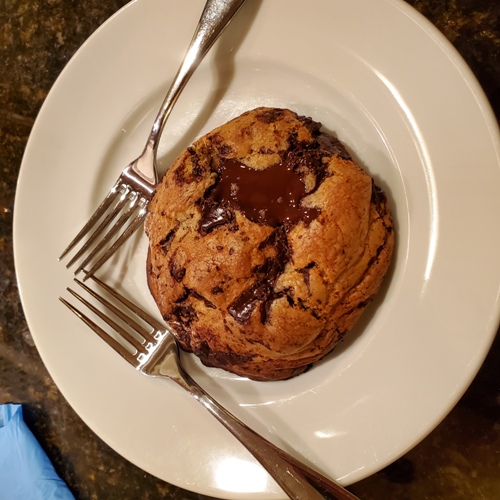 That's my first attempt at recreating the ridiculously large chocolate chip cookie from Levain bakery in NYC. Of course I left out the nuts, because nuts do not belong in chocolate chip cookies. It is known.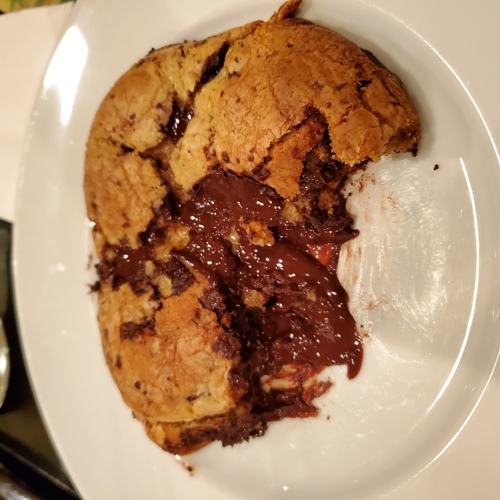 Yup...it worked. But was it worth the extra trouble compared to the excellent recipe on the back of the Nestles chocolate chip bag?
Yes, it is definitely worth it. The only big difference was using cake flour as well as all-purpose flour (I don't know whether it made much difference), and using big chunks of 70% chocolate. And that is an excellent idea and one that I will use again. Those monster chunks really added to the texture and flavor.

******
I made a very large brisket for Passover Seder, and I was poking around for recipes for the leftovers that actually never materialized because I ate them. But this recipe sounded really good, even though it uses an instant pot instead of a normal dutch oven like God intended.
Beef Brisket Soup
is from the always reliable DadCooksDinner, so it is probably worth a try.
******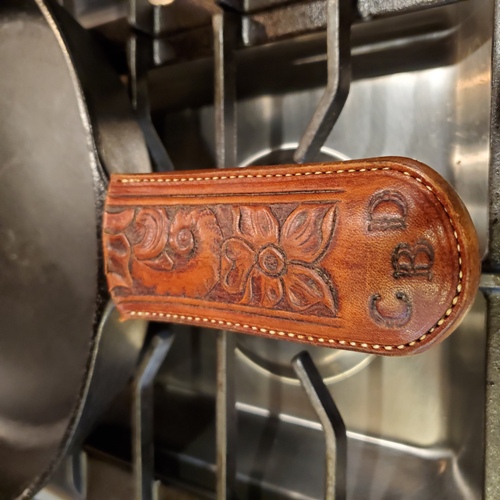 I am not a big fan of single-use tools for the kitchen, but this is just awesome! I use cast-iron a lot, especially in the oven at high temperatures, and having a slip-on holder like this makes it easy to maneuver once I put the pan back on the stove. Because I have been known to grab a blazing hot handle without the benefit of an oven mitt, because that's just how I roll...and I am stupid.
But mostly stupid.
It was a gift from a lovely and generous friend who one day will sit in my kitchen with a large glass of a good Highland Malt while I whip up something (hopefully) delicious in that cast-iron pan!

******
I haven't posted an entry in the World Famous Cheapo Holiday Banquet Contest in several weeks, but this one really jumped out at me. It sounds great. It's from a commenter called "Temple," and while I am not sure how inexpensive the ingredients are where he lives, they aren't tremendously pricey around here, so I will bet that with a bit of effort we can squeeze under the bar.
Appetizer: brandade de morue with toasted focaccia strips

Main course: braised pork belly with star anise

Sides: scalloped sweet potatoes and fennel; sauteed cavolo nero in olive oil with chili pepper and garlic

Dessert: red plum tarte tatin with creme fraiche
In case you haven't heard of Brandade de Morue, it's glorious...a sort of whipped cod dish that is just fantastic, and very rich so you can't really eat much.
And I had to look up cavolo nero!

******
I was pressed for time one day and couldn't use my usual Sous Vide technique on pork rib chops. It's a fantastic technique in part because it makes the chops incredibly juicy. But I had an epiphany...why not just add more fat to keep the chop as moist as possible? And what better fat to add to pork than bacon fat, in the form of bacon strips wrapped around the chop. I was cooking a mixed grill and had some chicken thighs cooking low and slow, so I tossed the chop onto the coolest part of the grill and pretty much forgot about it for an hour or so.
Yes...adding bacon to pork is an idea whose time has come!

***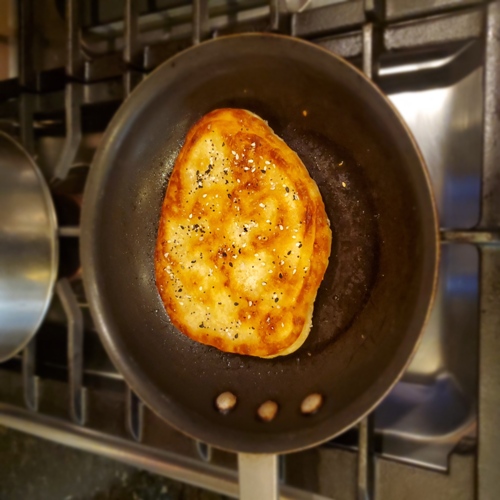 Sourdough bread requires sourdough starter, and feeding it regularly creates massive amounts of the stuff. And since I am a cheap bastard, I don't like throwing it away, so i will occasionally make a savory pancake with it. medium non-stick pan, olive oil, and instead of pouring the starter into the garbage pour it into the pan. I added bagel spices to this one, but minced scallions or caramelized onions work really well too. The texture is fun...crispy on the outside and sort of soft and tender on the inside, but with that wonderful sourdough tang!

******
Tender Broccoli Rabe that isn't bitter, beef short ribs that have meat on them (not the stupid little sliver of bone they sneak into the packages), Snap Peas (apparently they are no longer grown in quantity), spare bottles of Van Winkle Special Reserve 12 Year Old Bourbon, an herb garden that actually produces herbs, well-marbled NY strip steaks and elk backstrap to:
cbd dot aoshq at gmail dot com.
And don't think that you are off the hook with maple syrup and French Toast: I'm watching you...all of you! And I am watching you perverts who shake Manhattans and keeping a list for the Burning Times.

posted by CBD at
04:00 PM
|
Access Comments