« Tuesday Overnight Open Thread (3/30/31)
|
Main
|
Mid-Morning Art Thread »
March 31, 2021
The Morning Report - 3/31/21 [J.J. Sefton]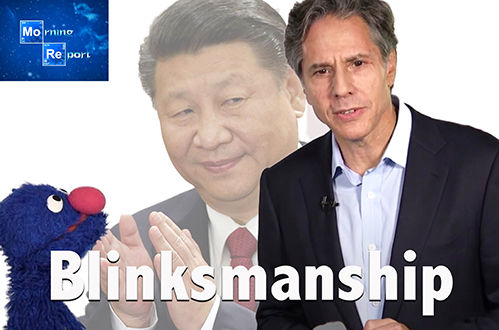 Good morning, kids. Wednesday and while my blood is already boiling about other crucial things that are turning the remains of this nation into a vast gulag with bits and bytes instead of barbed wire to seal us in (and there will no doubt be barbed wire and mass graves before we come out the other end of this nightmare, if we come out the other end of this nightmare), now we are confronted with an attempt to take out Rep. Matt Gaetz. In his own words:
"Over the past several weeks my family and I have been victims of an organized criminal extortion involving a former DOJ official seeking $25 million while threatening to smear my name," Gaetz's original statement reads. "We have been cooperating with federal authorities in this matter and my father has even been wearing a wire at the FBI's direction to catch these criminals."

"The planted leak to the FBI tonight was intended to thwart that investigation," he continued. "No part of the allegations against me are true, and the people pushing these lies are targets of the ongoing extortion investigation. I demand the DOJ immediately release the tapes, made at their direction, which implicate their former colleague in crimes against me based on false allegations."
Gaetz was on TuCa's show last night and actually named some ex-DOJ cancer, David McGee, as one of the stooges in the extortion scheme. Naturally, McGee denied the allegations by stating "This is a blatant attempt to distract from the fact that Matt Gaetz is apparently about to [be] indicted for sex trafficking underage girls."
I've already given this crap way more real estate than it deserves, but considering the parties involved, and considering the Biden Junta is hell bent on wiping us out at home while letting the Chi-Coms and Iranians take care of the rest of the world, they need a good distraction. Especially with Trump no longer the convenient Emanuel Goldstein. Matt Gaetz is young, good looking and over the past half year or so as has shown himself to be a well-spoken, Trumpist firebrand. He's also from Florida, which is becoming a thorn in the Junta's side, given the state prevented itself from having its election results stolen last November and is thriving after dumping the phony lockdown garbage. That clues you in as to who the next impending target will be: Ron DeSantis. Having leadership at the state level willing to invoke nullification of illegal, anti-Constitutional edicts from DC and, if need be, go right up to the line of secession (and cross over), is perhaps the only non-violent means of thwarting our enslavement and destruction. Can't have that now, can they?
Considering the nature of the GOP-e, I fully expect Kevin "Charlie" McCarthy, Liz-ard Cheney, Pee-Air Defecto, Mitch McChinless and the rest of the Potemkin patriots to have a case of the vapors and call for Gaetz to step down. I hope he doesn't, and I'll even say this. All things considered, if Gaetz is actually guilty of the charges, I wouldn't give a shit. Given how the FBI and DOJ have a history of acting as the Left's personal Gestapo to crush its rivals and protect its members, and how they have proven themselves to be utterly useless in preventing jihadists and other real criminals from inflicting pain and death on us, and how when Democrats screw every underage Dominican puta, Epstein teen sex slave, Barney Fagg catamite, or ugly Chinese Fang-Fang-Bang-Bang under the sun or in a House cloakroom, while screwing over the American people, I'd give Gaetz a pass. That is of course assuming he is actually guilty of an actual crime. And all things considered, I strongly doubt that.
Meanwhile in another part of the forest, the story that got me insane in the brain is our alleged Secretary of State Tony "Blinkered Ignoramus" Blinken blinking first to the Chi-Coms with an incredibly disastrous statement:
We will hear from some countries [such as China ], as we do other years, that we have no right to criticize them because we have our own challenges to deal with. Well, we know we have work to do at home that includes addressing profound inequities, including systemic racism.

We don't pretend these problems don't exist or try to sweep them under the rug. We don't ignore them. We deal with them in the daylight with full transparency.
As I stated, absolutely disastrous but one that is completely understandable given who he is and who his fellow travelers are. How could Blinken refute the charges that the country which he allegedly represents on the world stage is inherently racist, white supremacist and illegitimate when that blood libel is the basis for his party's existence and the pretext to rule? Spoiler alert: he can't. Had he not slimed his own country in front of these Mongoloids and the world, the entire Leftist narrative being rammed down our throats and up our keisters 25/8/366 would collapse. Totally understandable. Utterly despicable.
ABOVE THE FOLD, BREAKING, NOTEWORTHY
CIVIL WAR 2.0: LEFTIST PERSECUTIONS, CAPITOL HILL BLACK WEDNESDAY PROTEST AFTERMATH, DEMOCRAT PUTSCH, AMERICAN DISSOLUTION
NOTE: The opinions expressed in some links may or may not reflect my own. I include them because of their relevance to the discussion of a particular issue.
ALSO: The Morning Report is cross-posted at CutJibNewsletter.com if you want to continue the conversation all day.
Follow us on Twitter: @CutJibNews
Follow us on Instagram: @Cutjibnewsletter

posted by Open Blogger at
07:58 AM
|
Access Comments