« Monday Overnight Open Thread (3/29/21)
|
Main
|
Mid-Morning Art Thread »
March 30, 2021
The Morning Report - 3/30/21 [J.J. Sefton]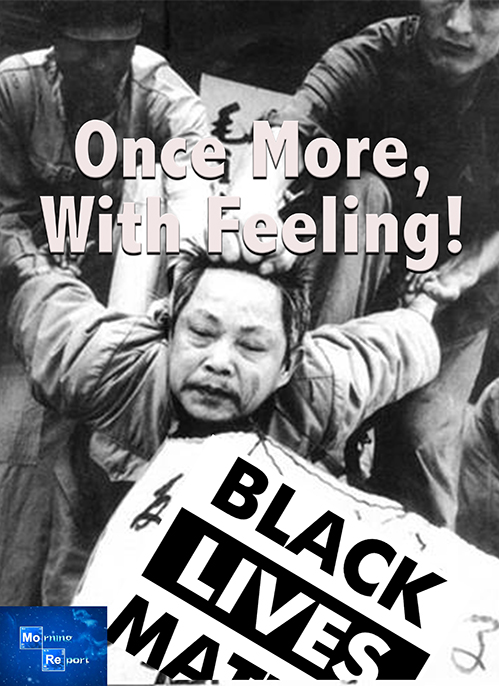 Good morning, kids. Tuesday and the purge of anyone and anything perceived as a threat to the rapidly-metastasizing power of the illegally installed Democrat junta in DC continues. I am guardedly optimistic that despite being utterly abandoned by the GOP, who really never represented us in the first place, we do have some political leaders who are willing to stand up to what is an existential threat to our freedom. Right now, Governor Ron DeSantis of Florida is a superstar:
"The flip side of that, though, with these vaccine passports, it's completely unacceptable for either the government or the private sector to impose upon you the requirement that you show proof of vaccine to just simply be able to participate in normal society. You want to go to a movie theater, should you have to show that? No. You want to go to a game? No. You want to go to a theme park? No. So, we're not supportive of that. I think it's something that people have certain freedoms and individual liberties to make decisions for themselves. I also wonder it's like, okay. You're going to do this and then what? Give all this information to some big corporation? You want the fox to guard the henhouse? I mean, give me a break."

Do you think a bank should be able to deny you a loan if you buy a car with a gas engine? Do you believe an insurance company should be able to deny coverage to a gun manufacturer engaged in a legal industry? Should a bank be able to require you to install solar panels on the home you would like to buy? All this and more is coming under ESG -- environmental, social, and government -- standards. You may be familiar with Operation Chokepoint, created under the Obama Justice Department. Global collaboration on ESG criteria from the world's leading financial institutions via the World Economic Forum is the next iteration. Merrill Lynch is already assigning customers an ESG score.

It is a social credit score by another name being implemented by private businesses. Government intervention is the only way it will stop. Global governments in liberal democracies are standing aside while private companies seek to interfere with your fundamental rights in a way the government simply cannot. And unless we demand that our government protect those rights, they will vanish. DeSantis should be lauded and emulated on this front.
You better believe that Ron DeSantis has a figurative, and all things considered from everything we have witnessed these past few years, perhaps a literal target on his back. It's a fair bet that if President-in-Exile Trump does not seek a third term in 2024, DeSantis is a (if not the) likely frontrunner. There is no mincing of words nor triangulation in standing up to what amounts to in-your-face fascistic totalitarianism. DeSantis gets it. Sadly, others like Kristi Noem do not. Of course, 2024 is an eternity from now and then again, there's the matter of having to cope with unbeatable Democrat political strategist Dao-Min Yen, but I digress.
In yesterday's comments, there was a back and forth about the motivations and sincerity of businesses that proclaim they support the Black Lives Matter terrorist organization. Appropriately enough, as we are in the midst of the Passover holiday, putting the hateful BLM logo in your window, like smearing the lambs blood on your door as a prophylaxis against the Angel of Death (Biblical, not Cuomo) slaying your first born is perhaps understandable. Although I recall a number of businesses in Kenosha and elsewhere that burned to the ground with, ironically, the only thing left intact being the BLM sign. In the early 70s, NYC crime family boss Joe Columbo started the Italian-American Anti-Defamation League to combat what he felt was hateful stereotyping of Italians as criminals. So, businesses forked over $100 and put the sign in their window -- or else they got their windows smashed.
With BLM and the closely-connected plague of cancel culture, fear is certainly a powerful motivating factor. Unfortunately, from Wall Street to corporate c-suites to Main Street USA (if it still exists [thanks Amazon]) far too many executives and business owners have been so thoroughly brainwashed courtesy of American academia that they are eager to utilize the collective power of our economy to subjugate the entire population in a way that even the most powerful totalitarian police state could only dream about. Nazi collaborator and convicted felon George Soros, his offspring and his entire network of shell corporations and his entire net worth (which sprang from the money looted off the Jews of Budapest in 1944) could disappear tomorrow, and it would still be a drop in the ocean compared to what we're really up against here.
When they've got us by the wallet, our hearts and minds will follow.


ABOVE THE FOLD, BREAKING, NOTEWORTHY
NOTE: The opinions expressed in some links may or may not reflect my own. I include them because of their relevance to the discussion of a particular issue.
ALSO: The Morning Report is cross-posted at CutJibNewsletter.com if you want to continue the conversation all day.
Follow us on Twitter: @CutJibNews
Follow us on Instagram: @Cutjibnewsletter


posted by Open Blogger at
07:55 AM
|
Access Comments