« New Thought Controls Emanating from California [KT]
|
Main
|
Ace of Spades Pet Thread »
January 09, 2021
Saturday Gardening and Puttering Thread, January 9, 2021 [KT]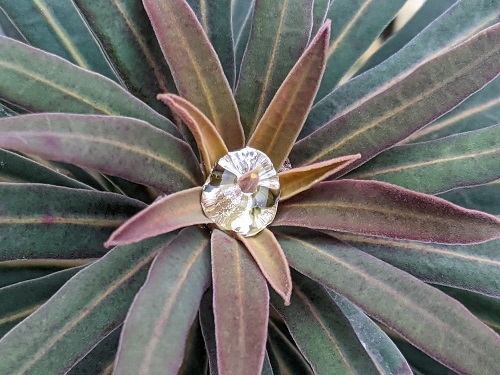 Hi, everybody! It's winter! And we're starting with a new photo contributor to the thread. What an interesting photo!
Hiya, My garden is on the roof of a garage in an alley a few blocks from Wrigley Field. Yes, I live in Chicago, but I'm not a preening wokester, just a regular mongrel American who loves freedom.

The photo is of a piece of ice lodged atop a plant whose name escapes me at the moment. It looks like a diamond in a setting.

For my 60th birthday this past year I got a Hartley Botanic patio greenhouse/coldframe. It's beautiful and I'll be setting out seedlings in it in the next few months.

Can't wait!

Whipsaw
Below, the greenhouse. Looks fun: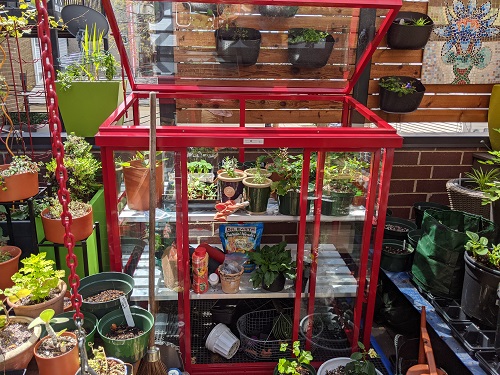 Edible Gardening
Wee Kreek Farm Girl is ahead of most of us:
Hey KT, I know that most people aren't harvesting anything right now so after I picked my dinner tonight I thought I would send it to you.

At the top we have dinosaur kale, then left to right, a little sorrel, some parsley, another kale I can't remember what it is called, some small poblano peppers, little cherry tomatoes, bok choy, chinese kale, purple bok choy and some arugula, perpetual spinach, leaf lettuce, some broccoli leaves and some small baby broccoli heads, bunching onions, another kind of kale who's name escapes me, some mizuna and some Chinese broccoli leaves.

I am going to go pick my second Lisbon lemon of the year and make an olive oil and lemon vinaigrette. Put in more onions and throw in some feta and have at it. I did have some Komatsuma mustard greens in the bowl but they were the first ones I have harvested and I ate them right there in the garden without washing them because I am like that. Have to keep the immune system up somehow in the days of all this hand washing...

Happy 2021 Horde!

Wee Kreek Farm Girl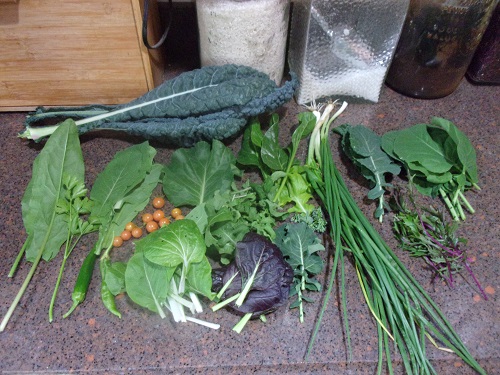 Winter
Farmer is growing ice crystals.
I'm sending along some pics of the hoarfrost we had here earlier this week. Seen it before, but nothing like this, it was quite remarkable. These are the front porch Christmas lights. Falls under puttering as I must get these down, LOL.
And a guardrail.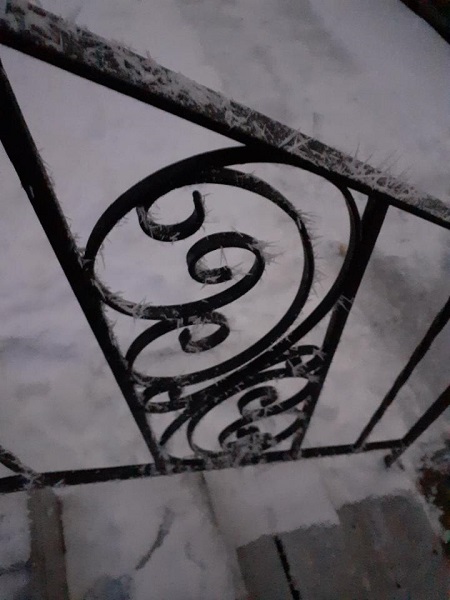 Music
From Don in Kansas, a little opera in the forest:
Gardens of and Puttering by The Horde
If you liked the great Nativity scene by Dr. Mabuse last week, here's the impressive story about its completion, again.
First crocus sighting!
And so the year begins. More pics to follow as they get established. Diogenes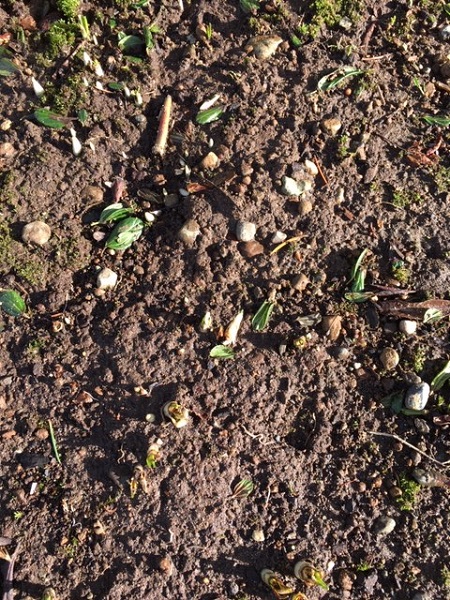 Hogmartinsmom asked Pat* for some details on how to winter-sow seedlings successfully.
Pat* wrote up an article for us:
"Winter sow for early and hardy seedlings"

This is based on an article of the same name, written by Kristina Seleshanko, appearing in the Winter 2020 issue (#19), of the magazine "Self-Reliance". I highly recommend it, and its parent publication "Backwoods Home" magazine. If you pass this information on, please give credit to the original author and magazine.

Best candidates for winter sowing: seeds whose packets mention "self-sows", "colonizes easily", "hardy", "needs pre-chilling", "may be direct sown in the garden". Also anything that implies it's adapted for cold climates, for example with Alaska or Siberia in its name. The original article lists artichokes, beans, beets, bok choi, broccoli, Brussels sprouts, cabbage, carrots, celery, chard, chives, collards, early types of corn, eggplant, kale, lettuce, onions, parsnips, peas, peppers, pumpkins, radishes, shallots, spinach, squash, and some tomatoes.

Suggested containers: The easier one is the type of plastic tub that salad mixes are sold in, with its lid. Poke or drill "about five holes" in the bottom for drainage. Make "two or three slashes" in the lid for air circulation.

The other suggested container is a gallon jug. Make it into a hinged container, by cutting nearly all the way around the container at the level of the base of the handle - but leave the handle area uncut! Put the holes in the bottom for drainage; leave the lid off for air circulation. You'll need duct tape to keep the container hinge closed most of the time.

Each container gets only one type of seed, and each should be labeled by whatever method you think will last.

Getting started: Fill each container with "a few inches" of clean potting soil. Get the soil thoroughly wet (including mixing the water and soil by hand if you have to), and let it drain. The article says at this point in the process, too soggy is better than too dry.

Plant the seeds at the recommended depth. Sprinkle a little extra soil on top, and press down so the seeds make good contact with their wet soil. Then add a little extra water.

Close the container (put the lid on the salad tub; or close the cut in the jug with duct tape).The container will fog up after a few minutes, which is good. If it doesn't, you have too much air circulation.

Put the container outdoors. It should be somewhere unsheltered, but not somewhere it's likely to be kicked around.

Check at least once a week. The container will freeze and thaw, but that's OK.
Once the sprouts show up, you'll be checking for moisture content, every one or two days. It's OK to open the container outdoors if it's cold, but do not do that when it's below freezing! If the soil in the container is always drying out, you'll have to block off some of the drainage holes in the bottom. If the soil is too wet, you can poke additional holes with an awl, or make an additional slit with a knife. Add water if the soil is dry, close the container, and replace it. As the seedlings grow, cut extra slashes in the lid for added air circulation.

Once the lid is more open space than plastic, you can transplant the seedlings. You don't need to harden them off because they're already used to outdoor conditions. Once the seedlings are planted out, keep them moist, but not too wet.

*****
Pat* adds: I plan to try this with Roma tomato seeds. Considering that the compost pile - which sits outside all through the winter - once produced a crazy number of tomato plants, this ought to work. And if it does, it will mean a big difference in how successful our paste tomato crop will be. We've had poor crops the last 2 years because the tomatoes didn't have time to ripen, so this should lengthen the season. I'm thinking the best place for the container, is sitting right by the raised beds I'll grow them in.

The article says it's OK to plant the seeds densely, and the seedlings won't mind being torn apart before planting because they're hardy - I plan to plant fewer seeds than that. The article doesn't give any specific advice about how big the seedlings should be, or how warm your outdoor temperatures should be, before you transplant them, so we're all on our own here. It does say to plant right after the winter solstice, so I'll be starting soon.
Thanks, Pat*! What great details!
We have talked about winter-sowing outdoors before, but it's been a while. Here's a photo of some lettuce I grew in deli containers:
I like to winter-sow baby leaf lettuce in domed deli containers which once held barbecued chickens. Holes are necessary in both the top and bottom of the container. After cutting off the baby leaves about an inch and a half above the soil line, I sometimes plant the roots out in the garden for a second harvest.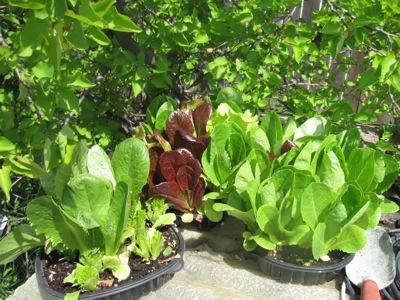 Baby leaf lettuce does not need much potting mix
Romaine types work out well in this kind of a container.
In our climate, it is essential that tomatoes get an early start. They go in about the same time that outdoor winter-sown seeds get planted. There are also some seeds that can go directly into the ground.
I've been kind of parceling out the cyclamen photos from Neal in Israel. Here is a classic type. Don't you love the leaves? Followed by a flower close-up.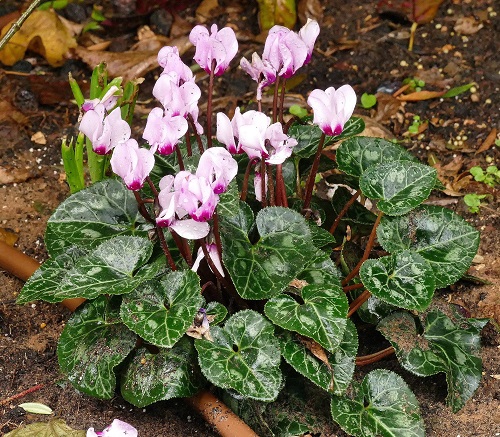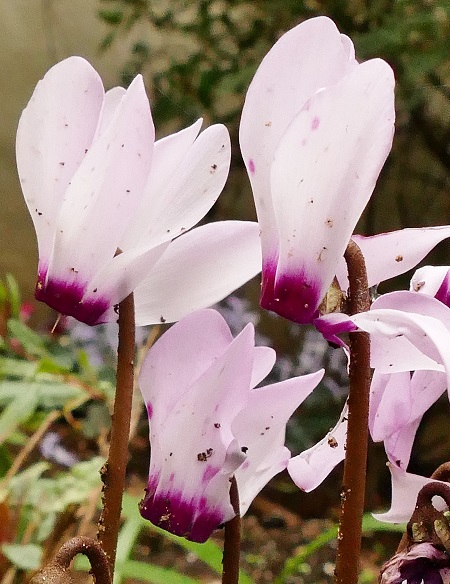 Anything going on in your garden?
If you would like to send information and/or photos for the Saturday Gardening Thread, the address is:
ktinthegarden
at that g mail dot com place
Include the nic by which you wish to be known when you comment at AoSHQ,
unless you want to remain a lurker.

posted by Open Blogger at
01:23 PM
|
Access Comments