« Saturday Gardening and Puttering Thread, January 9, 2021 [KT]
|
Main
|
Saturday Afternoon Chess thread 01-09-2021 »
January 09, 2021
Ace of Spades Pet Thread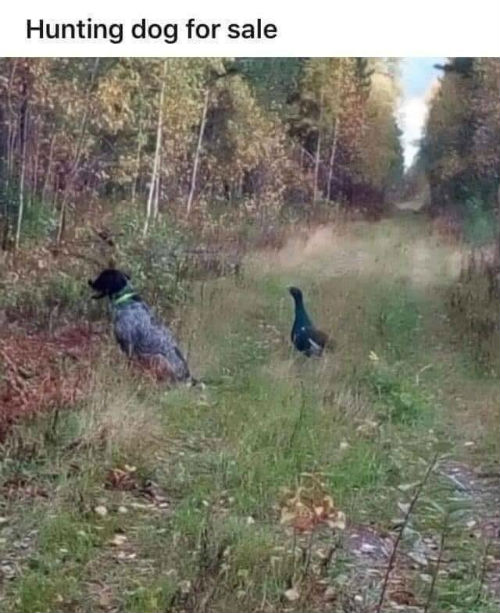 (H/T CBD)
***

Good afternoon and welcome to the almost world famous Ace of Spades Pet Thread. Please forget about current events and the world outside your door. Just enjoy the world of animals.
***
A Little of This. A Little of That.

A couple of cute videos from our pal Weasel.............
&&&

I normally hate Twitter. But this tweet sent in from Hrothgar is just so darn sweet. Thanks Conor's human.
***
This is a really neat video from KT..............
***
Meet The PetMorons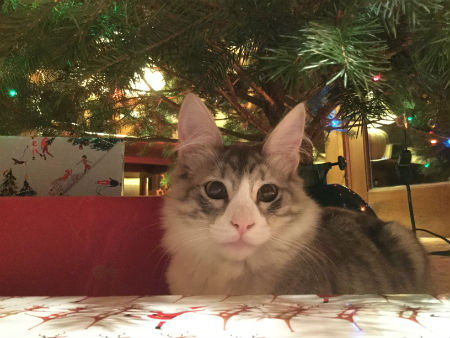 "Winston" the cat - Brendan (AKA "Serious Cat")

Oh my what a cute face. I suspect this little kitteh Winston gets away with a lot because of the cuteness. Thank you for your contribution.
***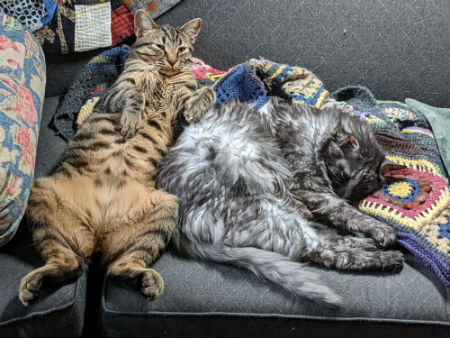 Hiya,
This is Frankie and Monty, sharing the sofa on a cold January day.
SNAB

Holy cow look at those abused kittehes. My what a life they have. Pretty cute photo, thanks for sharing.
***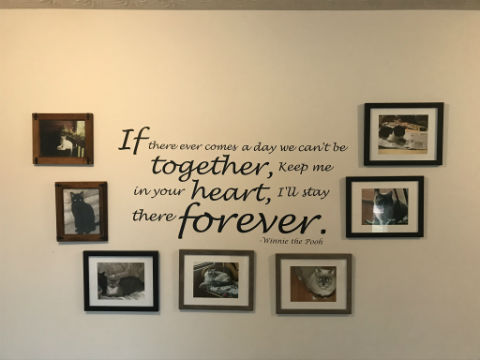 Mis. Hum.

I had a couple weeks off over the holidays and I put together this wall memorial for the 7 cats that have blessed my life and passed on. They are counterclockwise from the upper left, Max, Mookie, Miranda, MC Candy, MC Archie, Madison, and Marcus. Candy and Archie (MC for "Mom's Cat") came to me after my Mom died in 2019. They were older and not in great health, but they graced my life for about a year each. The others lived from 11 - 19 years, mostly on the high end of that number.

If you detect a naming pattern, you are correct. It was not intentional at first; I named Max and Mookie normally. Then I decided that all cats needed "M" names. My two current feline furballs are Marshall and Maggie, both 5. Hopefully they will not be on the wall for many years, even if Marshall is a little orange stinker who acts like he wants to be there!

I have dogs as well (and I've shared them before), but I've had cats for 30+ years now. They are fun and loving and make wonderful companions. Thanks for letting me share my horde with the Horde.

Mookie

(Yes, I took my cat's name as a nickname - for trivia. I loved him so dearly. The nickname stuck so I have used it since.)
What a wonderful tribute to your departed pets. A great looking group. Thanks for sharing today.
***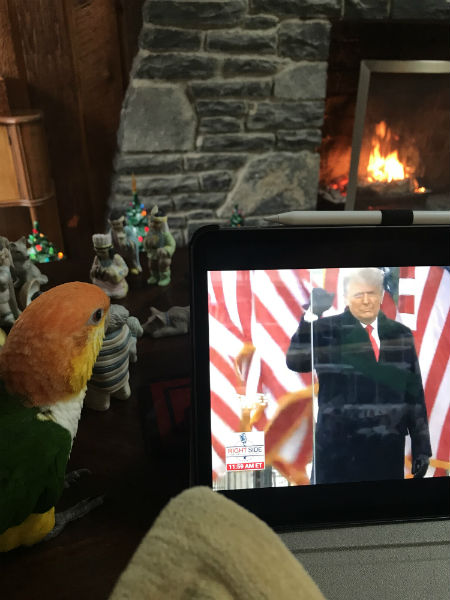 Here is the latest edition to our flock, Daisy Doodle. (You may remember Hugo Whistler, our conure and Bronwyn of beloved memory, our Senegal.) She was a gift from our delightful cousins who have ten companion parrots. Daisy is a Caique. She hoots and whistles but does not talk. She spends her time hiding in cabinets and sitting on the refrigerator while we cook. As you can see Daisy loves our President. - Crystal

A very colorful and intelligent pet. Quite the gift you received. Gorgeous bird. Thanks for your submission today.
***
This is Lee Reed doing the only thing he liked better than working cattle. - Ben Had
Sugar cubes aren't good enough? You need to caffeinate that poor horsey? J/K Ben Had gorgeous animal and a fun photo. Thanks.
***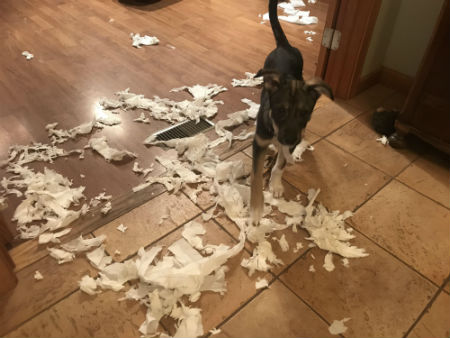 Ruby came to us from one of the remote villages so she is a sled dog mix, very fast and loves to run at the doggy park. She was born in late August. I included photos of her tiny puppyhood, her leggy AT-AT phase, and to show her paper shredding prowess. We are slowly breaking her of her dog yard skittishness and she cries when I leave now, so, sweet. - tcn in AK
So Ruby was caught in the act. I bet she didn't admit to it. Cute photo tcn. Good luck with breaking the skittishness. If you do please report back to us on your methods. Thanks for sharing.
***
&&&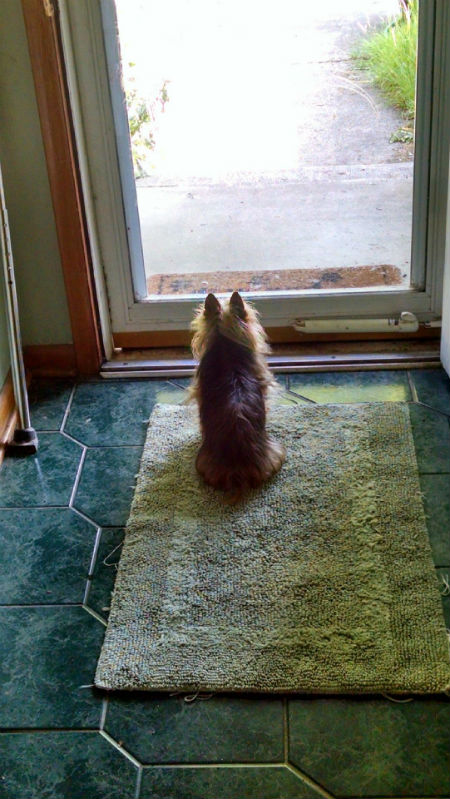 Greetings MisHum,

I've attached a couple of photos for the pet thread and another for the Saturday morning coffee thread.

Breccia was our kill shelter rescue Malinois who we lost last June. In her early years she was an escape artist and a fierce defender of her yard. She hated mail carriers with a passion since the first time she met one he maced her. People driving by the house would often shout out the car window what a great looking dog she was. As head of security at Beartooth manor she routinely deployed her personal body guard of cats as the security team.

Bo was Breccia's primary body gaurds as seen in the picture giving a sitrep to Breccia. Bo was a rescue we found emaciated at a house we were looking to buy. He was the king of the surrounding neighborhoods. Every afternoon school day he would sit at the end of the driveway. Kids walking home from school always stopped and petted him. He took long walks with Breccia and I on our nightly patrols.

The last one is Trooper, one of our five Yorkie puppy mill outcast rescues we brought back to Oregon from Kansas. All five were breeders that were to be shot because they were no longer "useful" when the rescue operation swooped in and saved them. Here Trooper is waiting for mom to return from babysitting the grandkids. He and Breccia were the alpha pair of the six dogs we had at the time. The other four Yorkies were runners but Trooper always stayed on the property.

Your efforts at ACE of SPADES HQ is appreciated more than you know.

Best Regards,
"Beartooth"
I'm not amazed by the heart of PetMoron "parents". Such great people to take on poor neglected creatures. Beautiful photos of your kids. So sorry to hear that Breccia has passed over the "rainbow bridge". Thank you for your story and your compliments. They were greatly appreciated.
***

Great submissions today. Wonderful links and fantastic pets and their stories. Everyone here appreciates that.
If you have something you wish to share please reach us at petmorons at gmail dot com.
Thanks and have a great week!!!

posted by Misanthropic Humanitarian at
03:27 PM
|
Access Comments