« College Football [Y-not filling in for Dave in Texas]
|
Main
|
'Tis The Season To Be Giving [OregonMuse] »
December 13, 2014
Saturday Gardening Thread: Winter Doldrums Edition [Y-not, Weirddave, and KT]
Theme?
We don't need no stinkin' theme!
(I'm moving the tweet below the fold because I think it's screwing up loading issues on the main page. Y-not)

*Typo fixed thanks to an alert commenter.
Those are some funny-looking cucumbers.
Before you know it, Christmas will be here!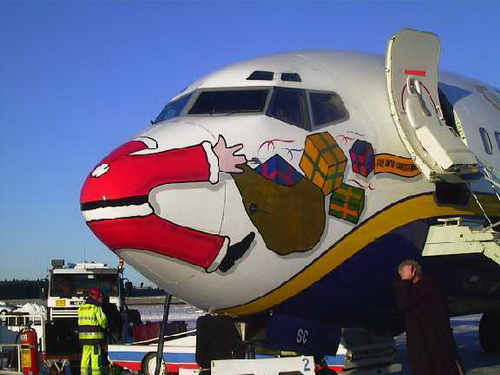 Don't let this happen to you!
Seems like a good time to gift ideas for the gardeners in our lives. Here are some ideas from A Way to Garden. Those soil-block makers look pretty hard-core.
And I liked this list of ideas from the blogger at You Grow Girl. (Cute name for a blog, too.)
Even if I'm not giving "gardening gifts" per se, I like going to our local garden centers at this time of year for inspiration and some shopping. Of course, I usually wind up seeing things that I want for myself!
A lot of us will give (and get) house plants this month. Here's a nice holiday plant guide that also includes some tips on how to care for the plants you receive this year.
Here's their section on amaryllis (I thought the last bit that I highlighted was interesting):
When you receive or purchase an amaryllis bulb, place the base and roots in lukewarm water for a few hours. If you cannot plant the bulbs immediately after receiving them, store them at a cool temperature between 40-50 degrees F. The bulb should be planted in a good quality potting soil up to the neck of the sprout, but be careful not to damage the roots or injure the bulb itself. Press down firmly on the soil around the bulb to set it securely in the pot.

The pot should be placed in a warm and sunny spot to encourage bulb growth. Water only sparingly until the sprout emerges, then water whenever the soil is dry. The plant will bloom for seven to ten weeks. If you wish to have the plant bloom again, follow these instructions:

After the blooms have faded, cut back the plant to the base of the stem. Continue to water and fertilize the plant throughout the summer (about five to six months). When the leaves are yellowing, cut them back to only 2″ from the top of the bulb, and remove the bulb from the soil. Clean it off and store in a cool, dry dark, place for at least six weeks.

If you plan to store it in the refrigerator, do not store with apples–this sterilizes the bulb and renders it from blooming again. After six weeks of storage prepare to plant your bulb again, and get ready for the next season of blooms.
This place seems to be a good place to go if you want a wide selection of amaryllis from which to choose. I like this one: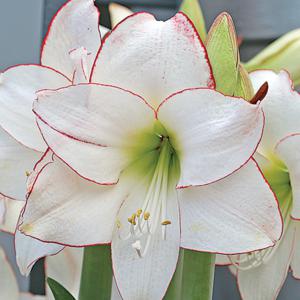 Dwarf Amaryllis "Picotee"
What are some of your favorite gardening-related gifts to give (or get)?

Now, here's KT with some actual, you know, content:
Winter-sown seeds
We have discussed winter-sowing here in the past. But I thought a little review and update might be helpful to some of us.
Featured blog: I especially like this explanation (with photos) of winter-sowing in gallon milk jugs.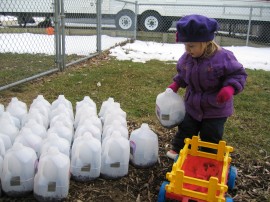 Darling kid. Watch out for child labor laws, there. Heh.
The Wintersown.org website has been re-done. The home page currently has sort of hippy-dippy instructions up for a Winter Solstice winter-sowing ceremony. But there are also several useful links on the home page.
On the left sidebar you will see "Free Seed Offers". The tomato seeds have long been popular. Sometimes you can pick up a variety that's hard to get elsewhere. But the seeds come from volunteer donors. There is a risk that some of the seeds could carry a seed-borne virus or fungus. You may want to isolate varieties in separate containers until you can tell whether or not the seedlings look healthy. Be aware that oxheart tomato seedlings may look sick even if they are OK.
In our climate, it is essential that tomatoes get an early start, so I will be starting tomato plants indoors. I may try winter-sowing some Chocolate Cherry tomato seeds, since I think they taste better in fall than during the summer here. I might also try winter-sowing some Pineapple Tomatillos.
Gardenweb now has a Winter Sowing Forum. This is their FAQ page. Morons and Moronettes who enjoy flowers may especially appreciate this list. I am starting some Eschschlotzia californica (California poppy) by a slightly different method because it resents transplanting.
I like to winter-sow baby leaf lettuce in domed deli containers which once held barbecued chickens. Holes are necessary in both the top and bottom of the container. After cutting off the baby leaves about an inch and a half above the soil line, I sometimes plant the roots out in the garden for a second harvest.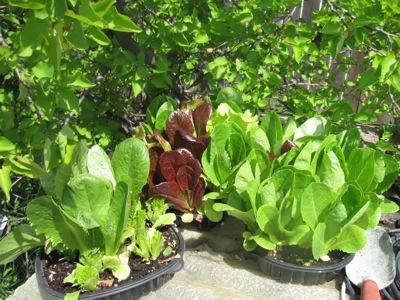 Baby leaf lettuce does not need much potting mix
If your source for seeds does not identify which lettuce varieties are good for winter or for baby leaf production, go with a romaine type.
Books on winter gardening
I haven't read any of these, but they sound interesting:
The Winter Garden: Create a Garden that Shines Through the Forgotten Season
Winter Gardening for Beginners: The Ultimate Guide to Planning, Planting & Growing Your Winter Flowers and Vegetables
Gardening Tips For Winter: The Food Growers Top Jobs For The Winter Season - Including Tasty Winter Soup Recipes!
Hot Bed Vegetable Gardening: Growing Early Veggies Using Traditional Hot Bed Gardening Techniques
Does anybody have a favorite winter gardening book?

WEIRDDAVE
Well, the only thing garden like this week has to do with my truck. A few weeks ago I mentioned that I bought a Ford Ranger that I wasn't completely happy with. This week I bought a 1999 Dodge Dakota and got the truck I should have gotten before, this one checked off all the boxes-club cab, 4WD, V8, heavy duty towing package, it's even got a quite sturdy fiberglass cover for the bed so I can haul stuff in all weather. The cover has a roof rack for more cargo space, and it's pretty easily removable if I need the open bed. For 3 grand, inspected, I'm pleased. Gingy is trepidatious, her family worships at the church of Ford, she's not sure how to tell her dad that the man she married drives a Dodge. Now I have to sell the Ranger, if I can get the $1500 out of it that I've got in I'll be happy. Any Morons in the Baltimore area need a truck?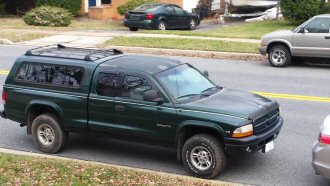 Ram Tough
Other than that, I got nuthin'. Thank goodness KT brought the content. Y-not?
Finally, here are a couple of holiday decoration pictures courtesy of moron, "old dog in mo" to brighten your day!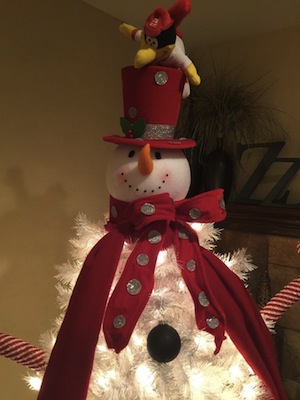 Snowman tree with Fred Bird on top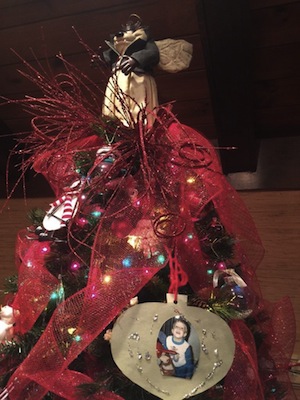 Tazmanian Devil "Angel" treetopper with school ornament made by son in 2nd grade. He was three y.o. in pic (around 1988.)

So, anything happening in your gardens this week, morons and moronettes?

posted by Open Blogger at
02:00 PM
|
Access Comments