« Food Thread:Eating Well And Eating Frugally Are Not Mutually Exclusive
|
Main
|
Sunday Overnight Open Thread (10/25/20) »
October 25, 2020
Gun Thread: Gone to Texas Edition! [Weasel]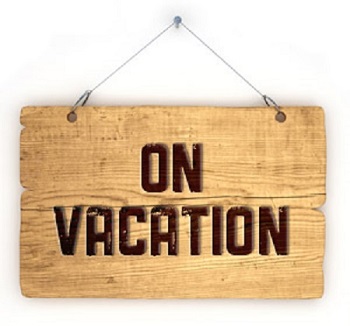 Welp, another Texas MoMe is in the books. Although I am writing this Wednesday pre-MoMe, I can already report it was a resounding success! Seriously, preparations are well underway in Corscicana, and all we're waiting on now is a Horde of Morons to show up. I am sure there will be a lot of after-action reports beginning Sunday and I will include a review in the next Gun Thread. As I mentioned last week, you're getting mostly re-runs of previous material this week, and maybe next, so please accept my apologies in advance.
Please feel free to discuss the TXMoMe this week, even the non-shooting parts!
So with that, let's take a look below, shall we?
******
Whoa! This is a blast from the past! This is the very first Gun Thread I wrote, from August 26, 2018. What do you think? The style for the thread has certainly changed over time, hasn't it? As I became more comfy writing, my tone certainly became more conversational which I think (hope) is a big improvement from this stilted and dorky effort!
******
Gun Thread (Special Guest Blogger Weasel) 08/26/2018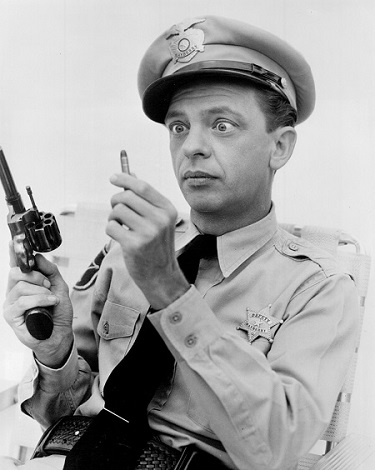 So what bullet did Barney keep in his pocket? Why it's none other than our old friend the .38 Special! Introduced in 1898 to replace the underperforming U.S. Service Cartridge in .38 Long Colt during the Philippine-American War, the .38 Special cartridge was for many years standard issue for military units and law enforcement agencies and to this day remains popular with with recreational shooters.
The name of the cartridge itself is somewhat misleading. With a bullet diameter of .357 inches or just over 9mm, the ".38" refers to the approximate diameter of the loaded cartridge including the case. A favorite of hand loaders, a common load sends a 158 gr lead or jacketed bullet towards the target at a muzzle velocity generally under 900 fps, thus falling somewhere between the .380 ACP and 9x19 Para in terms of energy. Higher velocity "+P" loads improve the cartridge terminal ballistic performance, but are not recommended for revolvers not rated for the higher pressures.
Whether using commercial ammunition or target handloads, the .38 is an absolute pleasure to shoot and the mild recoil makes it a great choice for newer shooters developing basic skills and experienced marksmen, alike. The simplicity and safety of revolvers continues to make the .38 Special a popular choice for self defense, as countless gun safes, sock drawers and bedside tables will attest.
Ford vs. Chevrolet
All major manufacturers have at one time or another produced revolvers chambered in .38 Special. By the turn of the 20th century, the already great Colt vs. Smith and Wesson rivalry hit full stride with Double Action/Single Action revolvers and the .38 Special cartridge. Throughout the years, Colt manufactured a variety of models including the Police Positive and Official Police; while Smith & Wesson offered the Military & Police (or M&P, later the Model 10), the K38 (later the Model 15), and others.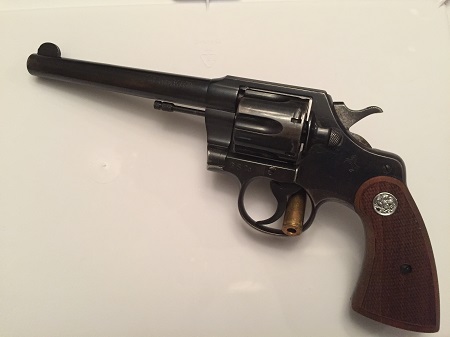 1942 Colt Official Police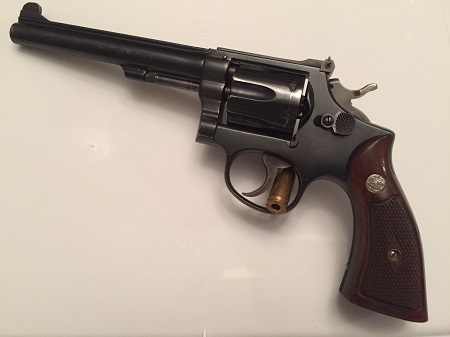 1948 S&W K38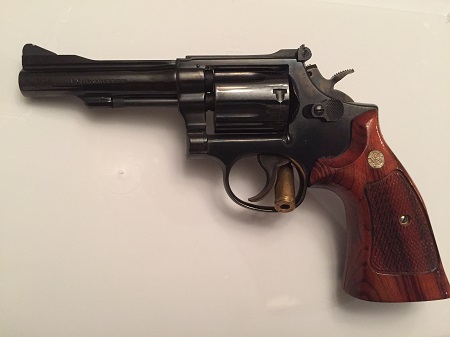 1977 S&W Model 15
Let's just say that Colt and S&W collectors are enthusiastic about their favorite brand with very elaborate conventions held around the country each year. If you aren't already spending enough time on the internet, both are represented by lively and civilized discussion forums with devoted contributors and are great places to browse and have questions answered.
Related Links
Colt Collectors Association
Colt Forum
Smith & Wesson Collectors Association
S&W Forum
So which one did Deputy Fife carry? Apparently both brands saw action in Mayberry. While the publicity photo above appears to show a Colt, it is reported that for some episodes of the Andy Griffith Show a Smith & Wesson was provided by the prop department.
Colt or S&W? Do you have a favorite?
This Old Gun
Firearms manufactured before the advent of computerized machining techniques are of particular interest to me. Made in an era when assembly was performed by an actual gunsmith or other highly experienced craftsmen, in many cases the final result was a hand-fitted weapon which could arguably be considered a custom firearm by today's manufacturing and production standards.
A big part of the fun in collecting and shooting these old guns, at least for me, is wondering where they have been over the years. A good example is the well used Colt Official Police pictured above. When purchased, I noted "BS Co." engraved on the frame. A little research revealed that BS Company was very likely Bethlehem Steel making it a company guard weapon. I sent to the Colt Archives for more information and learned my revolver was indeed one of a shipment of 25 sent to Bethlehem Steel Company in Lehigh Valley, PA one week after the Japanese attacked Pearl Harbor. Just imagine the activity at the steel plant as war was declared!
******
OK. So I told you guys you were getting ripped off this week! Thanks again for your patience!
******
Link-O-Rama
I'm really very seriously not kidding around anymore. Buy Ammo
AmmoSeek - online ammo search tool
GunBot - online ammo search tool
SG Ammo
Palmetto State Armory
Georgia Arms
AmmoMan
Target Sports USA
***Mail Bag***
This week's entry is from JT. Ain't it the truth?!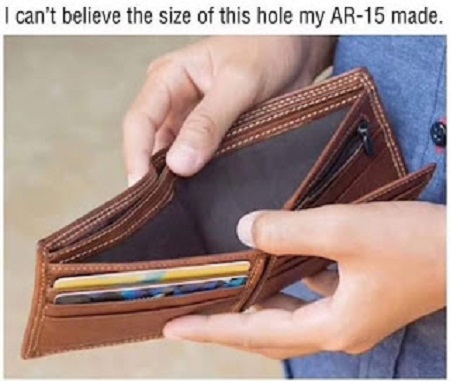 ******
Please note the new and improved gmail account morongunthread at gmail dot com. An informal Gun Thread archive can be found HERE. If you have a question you would like to ask Gun Thread Staff offline, just send us a note and we'll do our best to answer. If you care to share the story of your favorite firearm, send a picture with your nic and tell us what you sadly lost in the tragic canoe accident. If you would like to remain completely anonymous, just say so. Lurkers are always welcome!
That's it for this week - have you been to the range?


posted by Open Blogger at
07:00 PM
|
Access Comments