« First-World Problems...Part 11111
|
Main
|
Gun Thread: Gone to Texas Edition! [Weasel] »
October 25, 2020
Food Thread:Eating Well And Eating Frugally Are Not Mutually Exclusive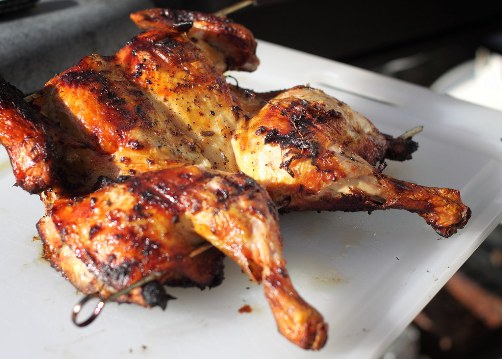 It's very easy to eat extremely well if you are a halfway-decent cook and have a generous food budget. Rack of lamb and halibut and fresh duck and heirloom pork and prime beef and gorgeous tomatoes flown in from south of the equator and fantastic fresh fruits and wonderful cakes from that great bakery everyone has heard about but nobody can afford and fantastic cured meats from stupidly expensive charcuteries and all the other things that a fat wallet can bring to the table.
And the flip side of those meals are simpler dishes made from ingredients that, while they may not peg the pompous meter, are equally delicious when prepared well. Yes, it is easy to eat like a king when you have his income, but it is also easy to eat very well on his butler's salary. We live in a country that is fabulously efficient at growing and raising food, and even more important, getting it to market in an amazingly efficient way.
A regional supermarket recently expanded into my area. I am not thrilled with their layout and most of their produce; the beef is just okay; and the fish counter is a disappointment. But their chickens are from Pennsylvania, are very inexpensive (usually on sale for about $1.59/lb.) and are excellent quality! Far better than the mass-market stuff from the big chains and just a tick behind my local poultry farm.
One of my favorite vegetables is the lowly cauliflower, but for some reason it has become relatively expensive; maybe the hipsters have discovered it! However, frozen cauliflower from Costco, or even the local chain supermarket is often just a fraction of the cost of fresh, and the quality is indistinguishable.
What's my point? Well, as usual, not much, but head below the fold and it will make a bit more sense.
******
Last week commenter Moki asked a good question that morphed into a bit of a
challenge: create a celebratory menu for eight people that is reasonably priced.
And what are the rules? Well, it could get very complicated, but for our purposes how about assuming a typical pantry; no fancy and weird herbs and spices and try to take into account all of the costs: that bag of semisweet chocolate chips wasn't free, so the cookies should take that cost into account.
Oh...and try to avoid slow-cookers and air fryers and such; many people have them, but many people don't.
Appetizer.
Main course.
Two sides (vegetable and starch or two vegetables: your choice).
Dessert (yeah...that's tough).
Try to keep the cost at $50-$80.
Winner (judged by Moki and me) will receive a copy of the world famous cookbook, b>The Deplorable Gourmet.
And there is no second place.
Send the entries to cbd dot aoshq at gee mail dot com.
Make the subject: "Menu Contest."
Results will be announced next week. Or the week after. Maybe. Vegan entries will be returned unopened and booby trapped.
Extra credit may be given for excellent sounding menus that are dairy-free or gluten-free.

***
Here's my entry:
Shrimp with ceci beans: $12
Grilled chicken with parsley/mustard glaze: $20
Mashed potatoes with garlic: $4
Sauteed green beans with shallots: $8.50
Flourless chocolate cake with ice cream: $12
Since I'm not in the running for the Grand Prize, I'm not giving the breakdown, but it should give you some idea of what we are looking for...
I'm assuming that I have the leisure time to plan the meal, so I can buy stuff on sale. For instance, that shrimp will be frozen American shrimp on sale for $10/lb.

******
This seems like a pretty solid recipe, very similar to Marcella Hazan's iconic version. But...the restaurant is in Brooklyn, not the West Village (that's in Manhattan). What else does this website get wrong?
One thing that's weird? Raisins. in meatballs. I'll probably try it -- once -- and then laugh ironically and twirl my mustache.

******
Busy, Busy, Busy!
Brown Sugar Maple Chocolate Pecan Pie Bars
Wow. That's a mouthful! But it does sound good.

******
I am overwhelmed by the choices in bourbon and rye. It's become ridiculous how many marginally different varieties there are. Luckily it is also quite easy to find a good one or two or nine.
A Guide to Kentucky Bourbon Distillery House Styles
is worth a read, although there still is nothing like trying them on for size at a friend's house, or if you are lucky, at the distilleries or the occasional tasting held in liquor stores.
No matter what anyone says, the best bourbon (or anything else) is the one you like the best, and yours is the only opinion that is worth a damn.

******
Food and cooking tips, Large-breasted Muscovy ducks, young wild pigs, bartenders who use vermouth in Martinis (but not too much), pork belly that doesn't have 5-spice, low-temperature-roast chicken, and good tomatoes that aren't square, pale pink and covered with Mestizo E.coli:
cbd dot aoshq at gmail dot com
. Any advocacy of French Toast with syrup will result in disciplinary action up to and including being
nuked from orbit.
And yes, shaking a Manhattan is blasphemy...it's in the Bible!

posted by CBD at
04:00 PM
|
Access Comments