« Suppressed House Intel Report: Analysts Believed That Russia Favored Hillary Clinton in 2016. But John Brennan, Ultra Clinton Partisan, Overruled This Conclusion and Inserted His Own Partisan Narrative.
|
Main
|
AP Poll: Americans Are Done With the "Mostly Peaceful Protests" »
September 25, 2020
Critical Race Theory and Totalitarianism [KT]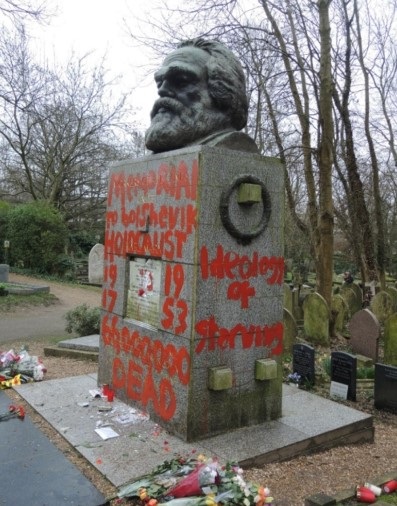 London, 2019
The President Extends his Actions against CRT
After President Trump's Constitution Day speech last week which blasted Critical Race Theory as "ideological poison", Christopher F. Rufo, who has revealed many of the poisonous effects of CRT training, took another victory lap this week. President Trump has extended his actions against CRT to contractors with the Federal Government.
Rufo was amazed by the President's new order. Some people have been very upset by the President's actions, others have been very pleased. Some have even had some fun:
If you follow Rufo's Tweet, it explains what the executive order does. I think this is key:
The executive order also opens the legal floodgates: the President instructs the Attorney General to assess whether critical race theory trainings create a "hostile work environment" and constitute a violation of Title VII of the Civil Rights Act.
Sue these people who make employees suffer because of their skin color, or who try to force employees into cadres of Critical Race Theory advocates!
Here is the Full Text of the President's Order.
Reaching Out to the Left
Many on the Left are characterizing the President's actions as "censorship" and as an appeal to culturally conservative white voters.
After the President's first Executive Order and his Constitution Day speech but before his latest Executive Order, the Left got this reminder:
And from James Lindsay, this invitation: "Instead of wishing Trump wasn't the person leading the fight against CRT, I call on politicians on the left to speak out against the falsehoods and dangers of CRT to our constitutional republic."
@JoeBiden
@AndrewYang
@KamalaHarris
@TulsiGabbard
@TheDemocrats
@AOC
@BernieSanders
Which of those in the list above do you think will be the first to speak out against Critical Race Theory?
Is Critical Race Theory Naturally Totalitarian?
James Lindsay (above) has just co-authored a book on Critical Race Theory and related "Woke" theories. It gets into the weeds of how these theories developed in academia, from Marxism through Postmodernism, etc. It is a thorough treatment. We've discussed it before. If you want a less complex way to explain CRT, you can probably find it here. This is a request from a professor and columnist at First Things shortly after the President's Constitution Day speech:
Define 'critical race theory' in a single tweet.
Got NEARLY A THOUSAND RESPONSES. Not many were really positive about CRT. Surprise!
People have been thinking about this issue.
I lost track of my favorite. Maybe it was deleted. Something like Marx and Hitler had a baby. Doesn't fit every CRT theorist, but fits the writings of some of them pretty well. Particularly in the sense that white people can never be redeemed from their racist natures, sort of like for Hitler, Jewish people could never be redeemed.
Keep reading.
Here's another:
Something almost, but not quite, entirely unlike original sin.
Do you have a favorite short definition of Critical Race Theory?
The guy below started his definition with a single tweet, but then extended it, including some disturbing quotes from the CRT book written by the woman who also introduced Intersectionality.
I thought this was an intriguing segment (with some emphasis added a little further down):
The Race Crits were a more racially-focused aspect of the Law Crits, and decided the focus of the state on human rights was actually the barrier to the change they want to see. Human rights protect property and white people, they are the very thing that prevents revolution.
Now, hold on just a dang minute! My woke friends are always chanting things like, "Women's rights are human rights". Now he's telling us that Critical Race Theory was deliberately devised to deprive people of human rights?
Impossible!
Not being racist is itself a form of racial consciousness (from white people), according to Critical Race Theory. Not being race conscious (and treating people as individuals) is therefore a form of racism.
The problem is that politicised "race consciousness" is actually exactly what made the Nazis do evil, and what we vowed would never happen again. We have various other aspects that bind us together in multiracial societies, we should adopt them, such as the American identity.

Our decision to not be racist is a political choice against Nazis and Critical Race Theorists, according to both of them.
Wait: when CRT activists tell us that being non-racist is bad and that we must be actively anti-racist, they're telling us to think about race all the time like the Nazis did? Only maybe with better motives and goals, defined by them?
Just trust them. Do what they tell you to do. Remember that they did some great things at CHAZ/CHOP. Chanted about a guillotine. Set up a white-free zone for People of Color, with borders enforced by white people. Two young black men killed and a few more shot. It was the fault of the police, because it was a police-free zone.
So if the liberal state refuses to be racist, with force, what are your options? Well, the most obvious choice is subversion, as Crenshaw (the lady who coined the term "intersectionality") tells us on page 1 of her foreword.

The CRTs literally want Nazism for non-white people, which I think will lead to a dramatic increase in the popularity of Nazism among white people. I think this would be a bad thing, so I advise against mainstreaming Nazism for any race.
Well, that's a bold statement.
But go ahead. Reject Nazism. Reject Marxism. Reject Critical Race Theory. Treat people like individuals. Don't think about race all the time. Sounds good to me.
Music
Something a little cross-cultural. They look pretty relaxed, but I think they have practiced.

posted by Open Blogger at
03:48 PM
|
Access Comments