« Quarantine Cafe: Playcalling Antifa's Antifailures
|
Main
|
The Morning Report - 9/9/20 »
September 08, 2020
Tuesday Overnight Open Thread, 8Sep20 [KT]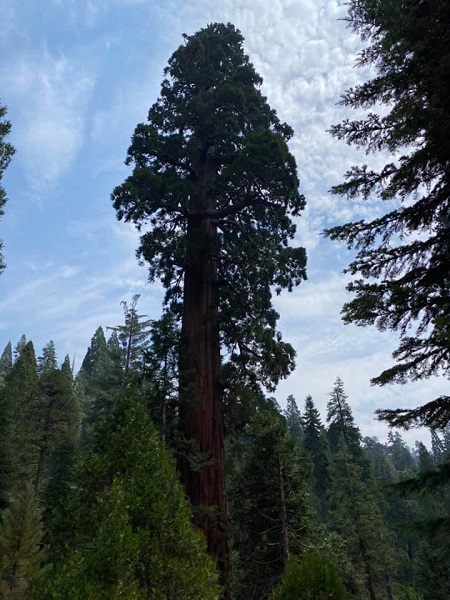 Good evening! Hard to predict what is going to happen next in 2020. Our Labor Day Weekend has been unusual. I am heartened by President Trump's executive order ending Critical Race Theory indoctrination in the Federal Government. But these fires are getting bad. I'm starting tonight with some photos from before the fire closest to us, taken by friends.
The photo above was taken a couple of weeks ago, when this area was above the smoke in the Valley, along the trail to Hidden Falls in the Mountain Demonstration Home State Forest. This park has some of the largest old growth Sequoias in California. It's in Tulare County, to the South of the current Creek Fire.
Waterfall along the Tule River
Two Sequoias dedicated to two firefighters who died fighting a forest fire. Pilot Willett and Battalion Chief Stone. The memorial said "Dedicated to these men not for how they lost their lives but how they lived their lives"
These areas are probably smoky today.
Fire!
Well, there sure are a lot of fires burning in the West. They are coming closer to home now. I know people who live in the little communities affected by the Creek Fire near Fresno. I have even been to Jackass Rock, in the high country, mentioned in recent fire reports.
Is California going up in flames? John Kobylt of the John and Ken Show. Very informative.
Regarding blackouts, a friend recommends the comments to the LA Mayor's Twitter Feed for comedy gold.
Concerning fire safety, years ago, "the authorities", on the recommendation of environmentalists, practically stopped doing controlled burns in California. Not to mention logging. And the 2018 Camp Fire that burned down Paradise was caused by hundred-year-old equipment. Typical of infrastructure in California.
Lightning was a big factor this year in the first round of fires. And one fire was caused by a pyrotechnic at a gender reveal party. That was just stupid.
We still have fireworks, really noisy ones, most weeks in our neighborhoods. Scares the dogs. It is the pandemic or something else driving people to do this?
You know things are bad when the Fresno Bee Editorial Board comes out in favor of selective logging.
This is how rich folks get emergency response:
BOULDER CREEK, Calif. -- Feeling abandoned by the state and federal government during an unparalleled conflagration of fires, volunteer firefighting units in two Santa Cruz mountain towns have been forced to tap an alternative: unofficial help from an elite network of the nation's finest emergency response units -- who quickly provided needed equipment and support.
"Unofficial". Hmmm. I guess that means "not government".
Stephen Green reported that the smoke has been bad in Northern Colorado even more than 100 miles from the Fort Collins fire.
We've already set a state record this year for California fires. AP reporting yesterday from Shaver Lake. A little too close to us for comfort. I heard the Fresno County Sheriff on the radio giving instructions before this report was put together. Tough situation. All those little foothill and mountain towns and ranches. "Rescuers in military helicopters airlifted more than 200 people to safety over the weekend after an explosive wildfire trapped them in a popular camping area. Some attempts to land helicopters were unsuccessful due to heavy smoke. You'll have to follow the links if you want fire porn. Conditions continue to change. It's a bad one. Smoke is hindering planes in fighting this fire, and some are being diverted to other fires.
One friend reports that both his parents and in-laws are under evacuation orders, in different states. Meanwhile, on the Wasatch Front in Utah, high winds took out a tree at my nephew's house. We hope the house is okay.
Anybody out there under evacuation orders or otherwise affected by fire or other weather? Let us know how you are doing.
Critical Race Theory
It's rage time on the Left since the President's Executive Order eliminating Critical Race Theory indoctrination in the Federal Government. Was this training ever legal? It's not "just sensitivity training."
So according to the nytimes, an EO which states that federal departments "must not teach that any race or ethnicity is inherently racist or evil," & that they must be "fully committed to the fair & equal treatment of all individuals," this is pandering to white grievance."
A book review
Helen Pluckrose and James Lindsay have written a book on Critical Race Theory and related theories called Cynical Theories. Below, some bits from an interesting, rather personal book review in "Britain's Newest Magazine", The Critic. Reality has been cancelled: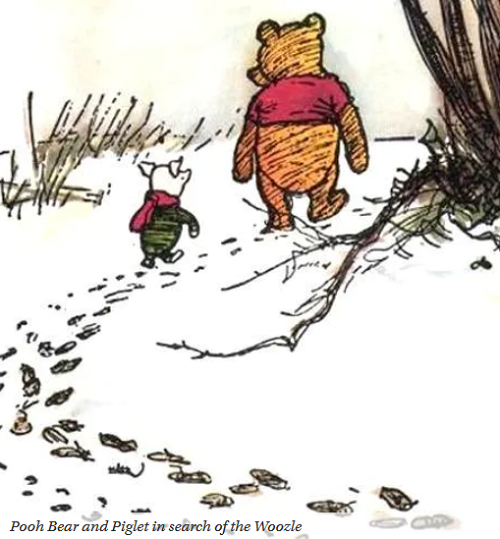 At one point in Winnie-The-Pooh, Pooh and Piglet start to follow footprints in the snow. The pair think they belong to a creature called a "Woozle". The tracks keep multiplying, and the two become increasingly confused, until -- finally -- Christopher Robin explains they've been following their own tracks in circles around a tree, and that Woozles aren't real.

These days, if you go to university to read humanities and some social sciences -- notably psychology and sociology -- you'll find yourself retracing Pooh and Piglet's steps, hunting for Woozles that aren't there.

You will encounter radical scepticism about whether objective knowledge or truth is obtainable, along with a commitment to the notion that real things -- like sex and race -- are culturally constructed. Your lecturers will impress upon you the idea that society is formed into identity-based hierarchies and knowledge is an effect of power. Your position on a league-table of oppressed identities determine what can be known and how it is known. If you disagree you will at least be marked down, and sometimes formally disciplined. Worse, there is no Christopher Robin to save you. It's Woozles all the way down, and don't you dare dissent.
BAM!!!!
Some bits of the postmodernism taught to me appealed. I liked the notion that language could construct reality. I was writing a novel at the time and every author wants access to a form of word-magic, one where storytellers can make the world. However, I thought this applied only to fiction, not the real world my Statistics II textbook delineated. Once again, I made the mistake of saying so; another argument ensued. . .
There are reasons (with examples) why it is so difficult to, ummm, reason with someone who follows one of these theories. You have encountered some of these maddening examples before, but may not have understood their relationship to academic theory. She wrote a book to falsify one of their claims, so they changed the rules.
Pluckrose and Lindsay make a compelling argument that this is a religion, and not in the glib, observational sense that its adherents are taking knees, engaging in call-and-response, or washing each other's feet. Rather, contemporary social justice asks us to believe things that aren't proven in the same way that "Muhammad ascended to heaven from the battlements of Jerusalem on a winged horse" or "Christ rose from the dead on the third day" aren't proven.

It's also a genuine case of what policy wonks have long called "The Woozle Effect" (yes, there's a reason for my Winnie-the-Pooh reference). In wonk-world, a Woozle occurs when frequent citation of previous publications not grounded in evidence misleads individuals, groups, and governments into believing there is proof for something. In this way, invented claims become accepted factlets and then feed into policy. . .
There may be a reason why Pluckrose and Lindsay cooperated in the "fake grievance studies" project before embarking on this book.
Other people have noticed the similarity of CRT training to religion. John McWhorter:
This brand of self-flagellation has become the new form of enlightenment on race issues. It qualifies as a kind of worship; the parallels with Christianity are almost uncannily rich. White privilege is the secular white person's Original Sin, present at birth and ultimately ineradicable. One does one's penance by endlessly attesting to this privilege in hope of some kind of forgiveness. After the black man I mentioned above spoke, the next speaker was a middle-aged white man who spoke of having a coach come to his office each week to talk to him about his white privilege. The audience, of course, applauded warmly at this man's description of having what an anthropologist observer would recognize not as a "coach" but as a pastor.

I have seen whites owning up to their white privilege using the hand-in-the-air-palm-out gesture typically associated with testifying in church. After the event I have been describing, all concerned deemed it "wonderful" even though nothing new had been learned. The purpose of the event was to remind the parishioners of the prevalence of the racist sin and its reflection in themselves, and to offer a kind of forgiveness, this latter being essentially the function of the black people on the panel and in the audience. Amen. . . . "
They want religion. But they don't actually want to be told to do anything they don't already want to do.
You notice that the white people who organize these meetings "confess", but never give their own jobs to "people of color", although they may give the jobs of lower-status white people to "people of color".
Interesting that Pluckrose and Lindsay think of themselves as liberal/progressive, yet they are still so staunchly against the "grievance studies" field. You can't say they haven't done their homework. If you have to recommend reading materials to earnest students, here they are, very well organized.
Cooking Tip for Morning
From Garden & Gun: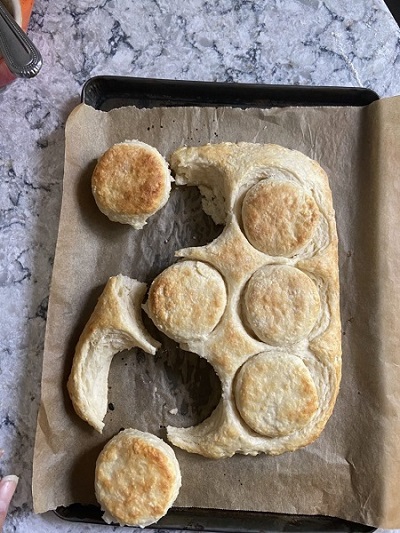 Music and Spectacle
I put up a video of Earl Scruggs playing with celebrities not long ago. This video featuring some non-celebrities was recommended in the comments. Good choice.
Are you up for some cross-over Bluegrass?
Or dare I say it, cultural appropriation?
Remember this Honesty Remix? Slightly fiery.
Same song, different setting.
Have a good night.

posted by Open Blogger at
10:00 PM
|
Access Comments