« The Morning Report - 8/26/20
|
Main
|
The Morning Rant »
August 26, 2020
Mid-Morning Art Thread [Kris]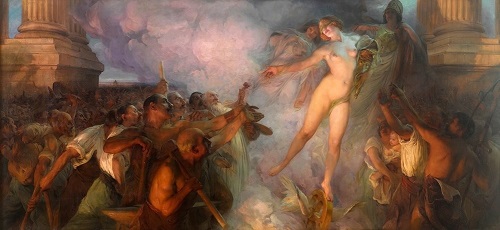 Fortune Passes
Paul Francois Quinsac
The fickle nature of fortune has been a common subject in art since the Classical era and in this work, she is depicted as flighty and apathetic. It uses perspective, line, and color to communicate its message.

Two groups of people crowd the lower half of the work. The groups are a mob of different individuals from many classes, ages, and vocations. Just in the front of the large group on the left are a blacksmith, an artist, a musician, and a guy that looks like he's holding a scroll or pole. Shovels are visible in the crowd, possibly representing farmers and peasants. This mass thrusts rightward toward the group of women emerging from the clouds. The glowing nude in front is Fortuna. She holds a cornucopia, a symbol of prosperity and abundance, and stands on her wheel. She is veiled meaning her vision is obscured or blocked; she cannot see clearly to whom she hands out her favors. It's similar to blind Justice, but different in that Fortune's vison is obscured, not blind, and leads to arbitrary or unclear blessings, not fairness. The wheel is winged, possibly representing how swift it turns. The Wheel of Fortune appears a lot in medieval art especially, and serves as a warning to those on top that Fortune is fickle and that she favors do not last.

Behind Fortuna are Minerva, goddess of wisdom, and (I think) Abundance, judging from her water jug. To me, these two figures seem to act as Fortuna's assistants and counselors, but it seems in this painting, she's listening to Abundance more. Fortuna's head bends towards Abundance like she's listening to some hushed advice. Minerva is in shadow and looks distressed. While wisdom can accompany fortune, fortune does not rely on wisdom and will bestow what she gives abundantly.

To the lower right is the second, smaller group of people. These are again pretty diverse, but also includes a mother and children. In many cases, a mother and child can symbolize innocence. This mother's face looks desperate. Unlike the others, she doesn't reach out to the goddess, but, instead, hangs on to her children, holding them close. She is in the front of the group, hoping to get some scatterings of blessing, but she cannot do more. She is unable to beg for it. "Fortune favors the bold" but not the desperate. Innocence is ignored.

While the large left group moves right, the small right group leans backward. The power of this group moves the entire work to the right. The shockwave of this movement threatens to blow Fortuna off her wheel. And because she blesses this group, it's seems to say that Fortune can be swayed by force. Compliance like this also ignores wisdom.

With some exceptions, the colors of the mortals are kept to earth tones, while Fortuna is white, ivory and pink. This separates the groups and anchors the people to the earth and highlights their status. Fortune, Abundance and Wisdom are not natural traits of Man. The two rows of columns on both sides of the painting tell the viewer that this is a classical, timeless Truth.

The colonnades also frame the work, corral the subjects, and provide prospective. Their lines converge at the exact middle of the work, exactly at the space between Fortuna's outstretched hand and the group on the right. If you zoom in, you can see small golden objects like wheat kernels falling from her fingers onto the crowd. They are tiny and accompanied by whiffs of smoke or cloud. There is not enough for everyone in that crowd either. They will fight for the scraps and many will miss out. Many more will be ignored completely. So the literal focus of the painting is the wispy, capricious nature of fortune's gifts.

***
I mentioned to Kris that while I thought the work was interesting, I wasn't thrilled with the technique. Her answer was illuminating! [CBD]
Yeah. I wasn't too thrilled with it when I first saw it either. This is probably my least favorite era of Traditionalism (turn of the 20th century Academicism). I wanted to challenge myself, to see if I could get something out of it. It revealed some interesting ideas after diving in a little, but it's not a very deep painting at all. The technique and composition are pretty cut-and-paste. The goddesses especially look "wrong."

I try to keep my overall opinions about the works out of the essays. I also like to keep the essays short.

posted by Open Blogger at
09:30 AM
|
Access Comments