« First-World Problems...Part Onze
|
Main
|
Gun Thread: Sunday Evening Edition! [Weasel] »
June 07, 2020
Food Thread: "Many's the long night I've dreamed of cheese--toasted mostly."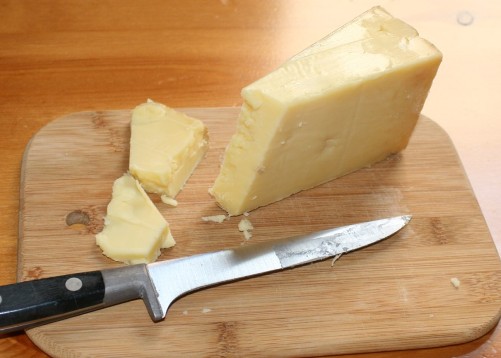 One of the many marvelous things about the American food industry is the quality of the cheese we produce. And not just the fancy boutique stuff...I mean the commodity Cheddar or "Swiss" from Wisconsin or New York. It's really solid stuff that is incredibly reasonably priced, especially in comparison to what we had just a generation ago.
But...I had forgotten just how good some of the smaller producers are, because my excellent local market had the commodity stuff all the time, so I, in my sloth and stupidity bought that. Alas, they have closed; a victim of the brutal competition in that part of the economy and their own amazing lack of management skill.
So I moved on to other places, that didn't carry the bulk stuff I was happy to put on my burgers and in my Macaroni & Cheese. And I stumbled into Nirvana! Wow...there is some incredible stuff out there! Sharp or sweet or tangy or mild or soft or crumbly; and all intensely flavored. And of course I then branched out into the English Cheddar world, and damn! They too make some great stuff.
Cheese is marvelous, and I would routinely try all sorts of weird stuff, knowing that it is probably going to be very good, or at least interesting. But it never clicked that because we were making great XYZ cheese, that the lowly Cheddar was going to be as good.
Nobody ever said I was quick on the uptake...
******
Those Frenched chops from last week turned out pretty well...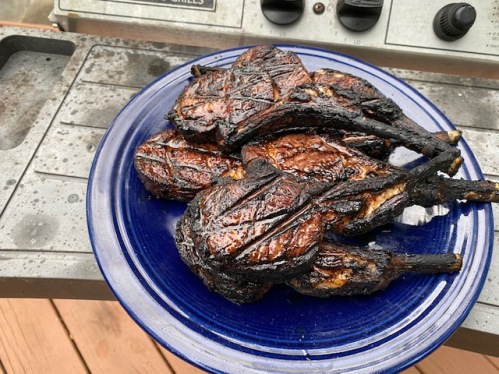 This however is not an endorsement of Frenching, which is a vile and probably unhealthy practice that causes all sorts of problems, first of which is lack of fat in one's diet. And we all know what that leads to...

******
Bluebell's recipe is here! Or at least a link to the authors of her cookbook.
The New Artisan Bread in Five Minutes a Day Master Recipe!
I have a second batch of this stuff merrily fermenting in the refrigerator. The first batch was nice. And so ridiculously easy that you will be surprised.
There is something to be said for simple recipes that yield solid results. As much as I enjoy multi-step bread recipes, each additional step increases the chances of failure, or at least a mediocre result. So when something comes along that is this simple and this robust...grab it!

******
Turning and turning in the widening gyre
The falcon cannot hear the falconer;
Things fall apart; the centre cannot hold;
Mere anarchy is loosed upon the world,
The blood-dimmed tide is loosed, and everywhere
The ceremony of innocence is drowned;
The best lack all conviction, while the worst
Are full of passionate intensity.
Oh man...so Chef John was made to bend the knee...
And now you see why I am reminded of Yeats and his second best poem.
The Left are masters at sucking the joy out of life. They revel in the destruction of our pleasures, at least in part because they have no true pleasure in their sordid and angry lives other than the perverse pleasure of making us bend the knee. Even cooking isn't exempt.
[Hat Tip: Butch]

***
And this is even worse, because it is unforced. Epicurious is one of many cooking/food sites, and one that I can discard without much thought. Why they must attempt to shove their weakness and fear down their readers' throats is beyond me. Simply staying out of the fray will work just fine.
But they must signal there progressive bona fides, and to that I say:
Please go fvck yourselves.
A Reading List For Learning About Anti-Black Racism and Food

Here are the books we're using to educate ourselves on racism in America as it relates to farming, cooking, grocery shopping, and beyond.
[Hat Tip: Misanthropic Humanitarian, who is clearly trying to drive me to an early grave]
******
Yes, David Lebovitz is an irritating little leftist expat who drips condescension and effete French superiority. But his photos are usually fun, and his recipe for croque monsieur is nice. I would use more ham, and...um...more cheese, but YMMV.
What I appreciate about his recipe is that it really isn't one. For fvck's sake...it's a sandwich. Roll with the punches. Go with the flow. Adapt...improvise!
I think the Béchamel sauce is vital to a great sandwich, so don't get lazy!

******
[Hat Tip: WitchDoktor]

******
Food and cooking tips, Large-breasted Muscovy ducks, young wild pigs, bartenders who use vermouth in Martinis (but not too much), pork belly that doesn't have 5-spice, low-temperature-roast chicken, and good tomatoes that aren't square, pale pink and covered with Mestizo E.coli:
cbd dot aoshq at gmail dot com
. Any advocacy of French Toast with syrup will result in disciplinary action up to and including being
nuked from orbit.
And yes, shaking a Manhattan is blasphemy...it's in the Bible!

posted by CBD at
04:00 PM
|
Access Comments