« Thread before the Gardening Thread, 5/16/20 [KT]
|
Main
|
Ace of Spades Pet Thread »
May 16, 2020
Saturday Gardening and Puttering Thread: May 16, 2020 [KT]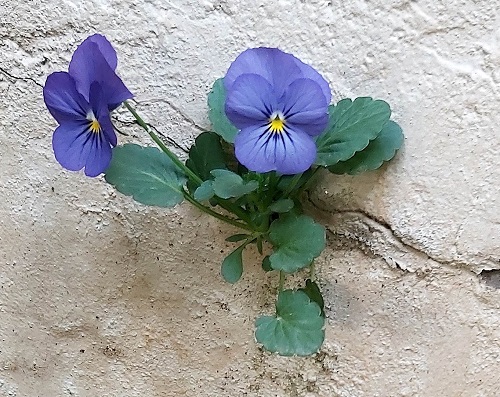 Hello, gardeners, putterers and dreamers! It's May! Today, though, were starting out with some photos from the April garden of Neal in Israel:
A couple of weeks back you published a photo of self-seeding violas, which reminded me of the small-flowered pansies which now self-seed all around our garden. Attached is a shot demonstrating the determination and resourcefulness of plants, with one of the pansies growing in a crack in the plaster of our garden wall.
Some stayed on the ground: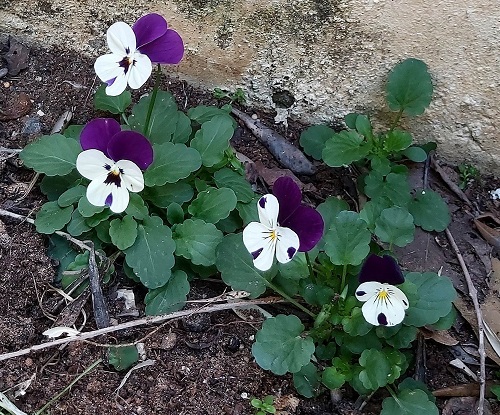 I noted with interest Larro's photo of his/her cousin's amaryllis beds. I'm jealous, too. I have a few stands of a variety which looks very much like the flowers pictured; but, even where they are doing well, they haven't expanded like the stands pictured.

Over the past year or two, I've been planting new amaryllis bulbs to add some variety. The nurseries sell them in bulk without full details, and so I've discovered that some have the usual 6-petal flowers, while others have more elaborate multilayered blooms. The flowers range from 15 to 20 cm across.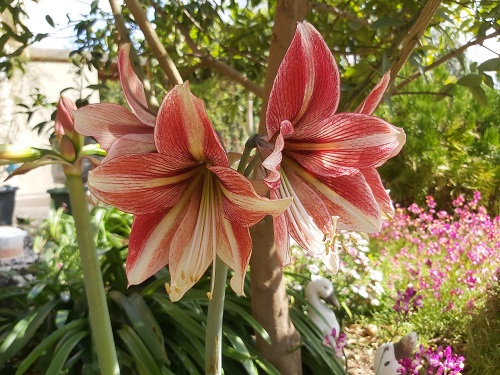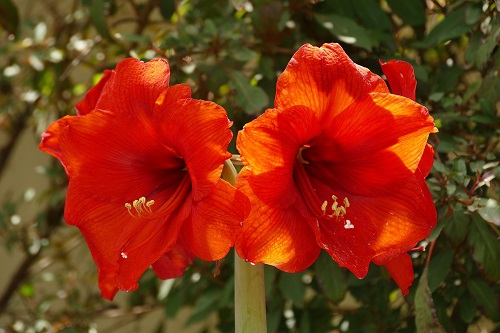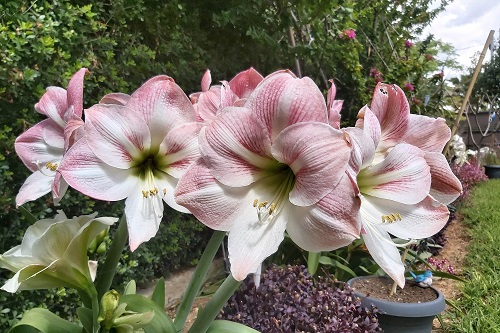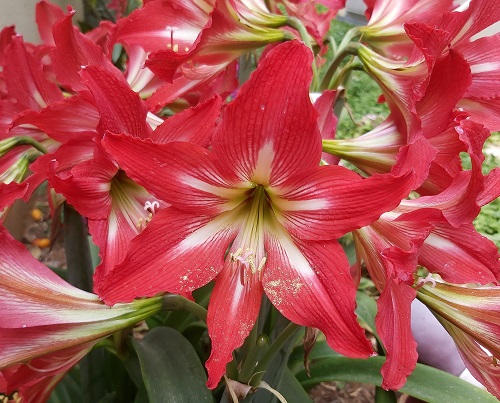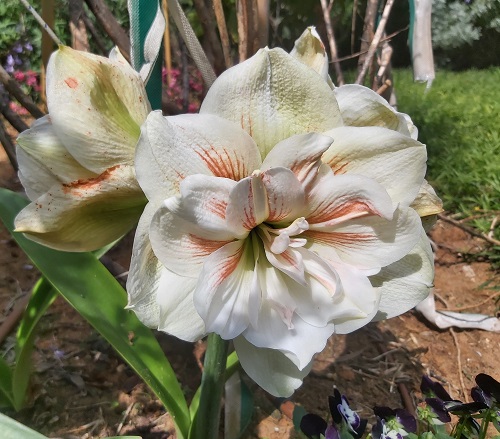 It's not everywhere that nurseries sell those amaryllis in bulk for the garden. Beautiful.
I've included a couple of shots of Arabian starflower (Ornithogalum arabicum). The flowers are nice enough, but I can't get enough of the bulbs in each stand to actually flower so as to give the right effect when I view the plants in the garden.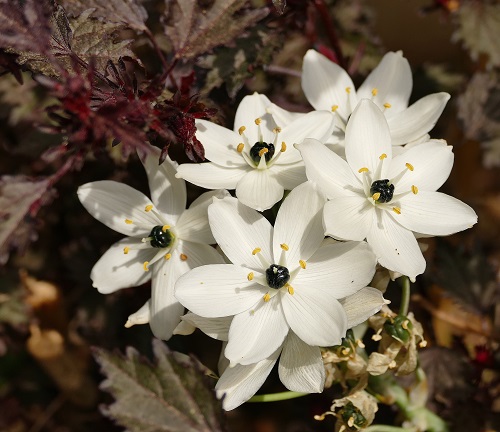 I'm thinking that the purple leaves in the shot above probably don't belong to the starflower. Anybody recognize the little flower in the background below?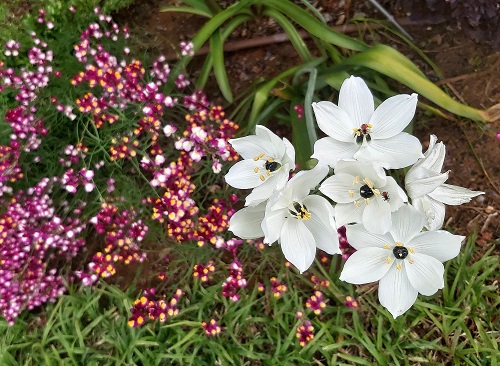 Finally wildlife: as I've already admitted to one case of jealously, I will also to admit to recurring jealously whenever you show photos from Illiniwek. What a great place he/she has! Here the largest bird we see in the bounds of our village/town is an occasional European jay, and the alpha predator in our garden is a 5-6 inch long jumpy lizard. So all I can offer in response to the impressive geese is the bee which dropped in when I was photographing my ice plant or a red dragon fly which we caught resting a a bamboo in one of our pots.

I have to say that thanks to my desire to take part in the exchange of photos and ideas which you curate, I have been learning the names of plants which have been in my garden for years without my taking the time to identify them properly. Writing to you is turning out to be an educational experience.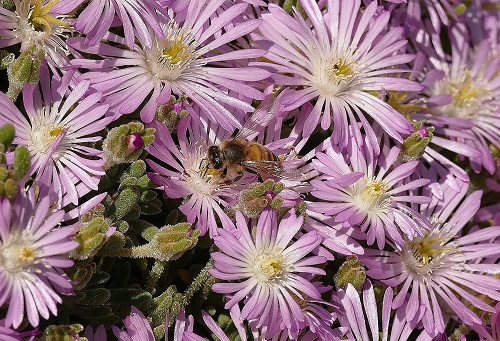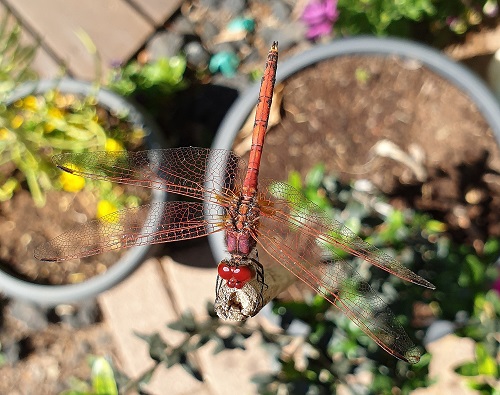 Thanks for the photos, Neal! The information you send with them is educational for us, too!
Farming, Tractors and Really Big Mowers
Around here, it is harvest time for early wheat and oats. We see a harvester followed into the field by a line of trucks if silage it the intended end product. There is hay or straw in the fields where grain is harvested by itself.
There is some acreage for sale if anybody is in the market. Some has just been planted into trees or grapes, with purty legume mixes between the rows. Your chance to be a farmer!
From Jim in Galveston, TX:
A thought/idea/proposal, that you might solicit pics and commentary from some Horde contributors? To wit: I know that some of the Horde operate "larger than riding mower" grade Tractors on their properties. Publius and Weasel come immediately to mind. Don't know of AOP has one up in Alberta, but I wouldn't be surprised.

Maybe we can get some pictures of their stuff, and some writing from them as to how they chose that equipment, what kind of work it does, what implements they hang off the front and/or rear, and more?

Acreage = Gardening Writ Large?
Great idea! How about some info on those big machines?
The Edible Garden
From Catherine:
Hi, KT! I planted rhubarb today, a large one and a little late to plant, but I'm hopeful. I wanted to know exactly when to separate it. I know I can harvest next year if it survives, but I'm confused on the every-third-year separation of the crowns. Does it need to come back a third spring and then you separate in the fall, or do you do it the third spring it comes back and then don't harvest that year? I actually harvested rhubarb a couple of years ago, but it did not survive the third year because of a nasty drought in MO. Anyone who would like to put me some knowledge is welcome!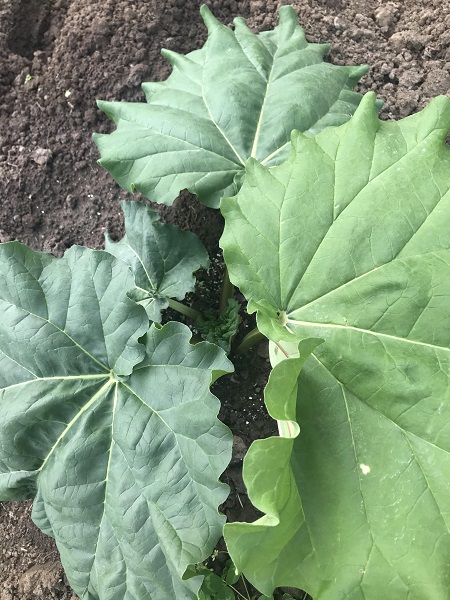 That plant looks healthy. Don't eat the leaves. Recipes welcome.
Catherine has also planted Rose of Sharon and would appreciate tips on care. Along with tips on the kind of hibiscus used for tea.
Gardens of The Horde
From the garden of Mr. and Mrs. Invisible Hand. He has been accepted into a new clinical trial if you would care to offer up a prayer or two for him.
Anybody want to identify this little plant?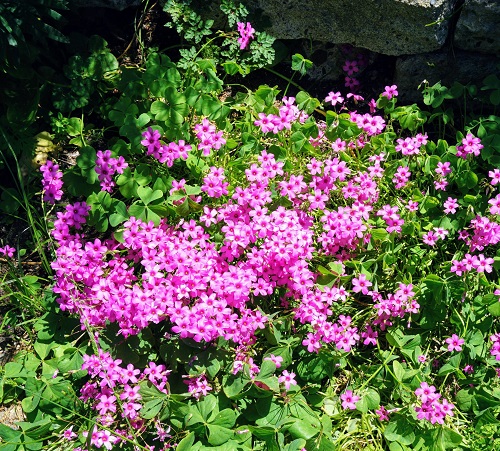 Harmonizes with this one.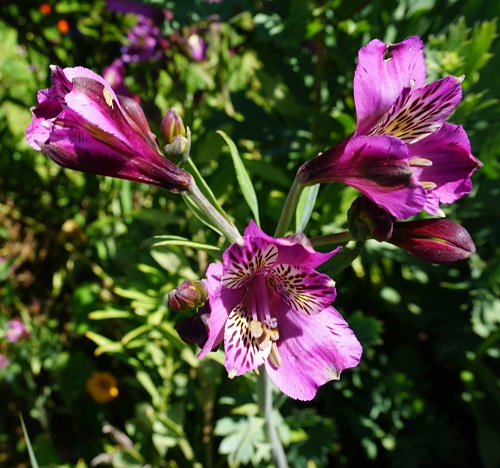 From Monday:
We are literally on the Monarch Butterfly annual path. There is actually a butterfly way station, between ocean and here in Dana Point.

All these cocoons are brand new as of last nite.

Life is So Grand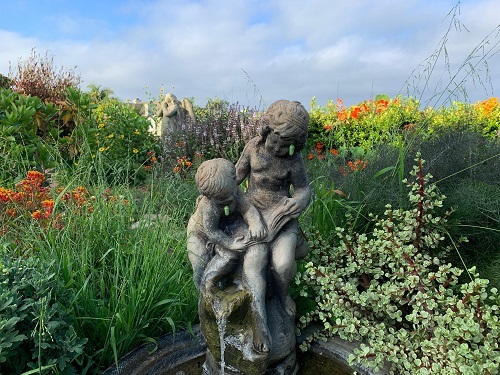 The yellow and red flowers to the left belong to Tropical Milkweed.
Update from Illiniwek:
hey KT,

Cool spring finally warming up here today.

The crimson clover is now putting on a nice show, as last year's random turnips had put up their yellow flowers this year, but they are fading.

Purple irises on the left at the end of a couple grape rows ... automatic chicken door has been very convenient, seen open here.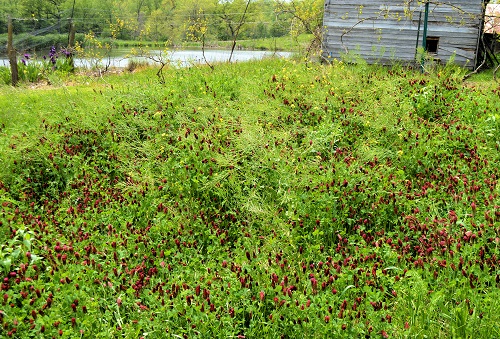 Lots of honey bees out there, but I didn't get a good picture of them. The big bumble bee is clearer. . .

The rest of my plantings are mostly waiting for warm weather which hit today, along with some warm rain ... hope your CA gardens are producing well by now.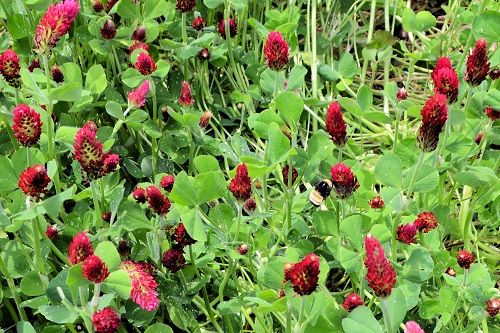 Thanks, Illiniwek. Our Apriums are almost ripe. Hope they don't get stolen this year.

If you would like to send information and/or photos for the Saturday Gardening Thread, the address is:
ktinthegarden
at g mail dot com
Include your nic unless you want to remain a lurker.

posted by Open Blogger at
01:09 PM
|
Access Comments