« Saturday Gardening and Puttering Thread: May 16, 2020 [KT]
|
Main
|
Saturday Afternoon Chess thread 05-16-2020 »
May 16, 2020
Ace of Spades Pet Thread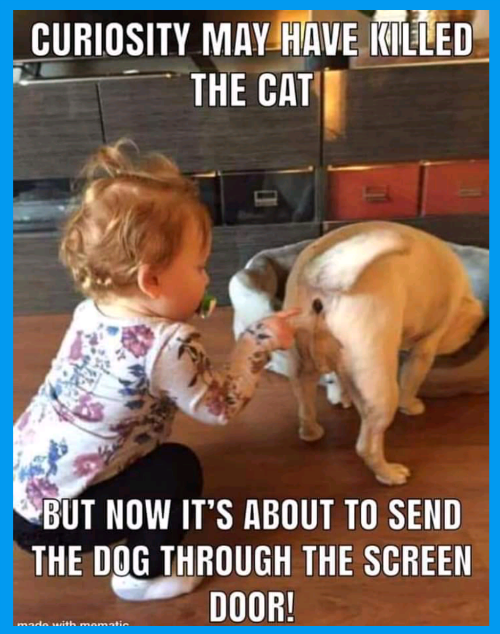 H/T CBD
***
Good afternoon and welcome to the almost world famous Ace of Spades Pet Thread. Sure it's a beautiful Saturday in May. Take the Pet Thread outside with you and enjoy!
Please leave current events at the front door. Thank you.
***
A Little of This. A Little of That.
From our friend Bitter Clinger comes Marley, the disappointed cat.
***
Boy, can I relate................

(Big thanks to Creeper for this video)
***

And finally from regular contributor Anonosaurus Wrecks. I've had a long week, this certainly brought a smile to my face. I hope it does for you as well.

***
But I found it really helpful, having just adopted 2 kitties back in December, after taking 3 years off from being a pet parent after losing my cat of 16 years in December 2016.

I had gotten lazy with my old cat, as she was an elderly cat and I had her for so long, so I didn't have to worry about her too much and usually knew what she wanted all the time.

But with these two new kitties, I am learning how to be a good pet parent all over again.

Some of these I knew already, but some I didn't. The slow blink was new to me. But I do notice my boy cat doing this. It was comforting to know it means that he's content.

And the tail held high in the air was new as well.

And I figured that the cat rolling over showing their bellies was a good sign too. But it meant a lot to confirm, because it has only been recently (going on 5 months with them now) that they have started doing that. So makes me feel good that they now trust me after the first month I had them where they seemed to be completely scared of me and not trust me at all.

And the whole thing about cats learning to meow in order to get things from their hoomans, yep. My boy cat doesn't meow at all, but the girl does constantly. For food, for me to clean their litter box, for me to pay her attention to either pet her or play fetch with her.

Anyway, just thought I would pass this on. Use (or not use) at your discretion.

Keep up the great work, sir.

("Clyde Shelton")

Thank you for an interesting video. Cat owners or potential cat owners should find this very fascinating.
***
Meet The PetMorons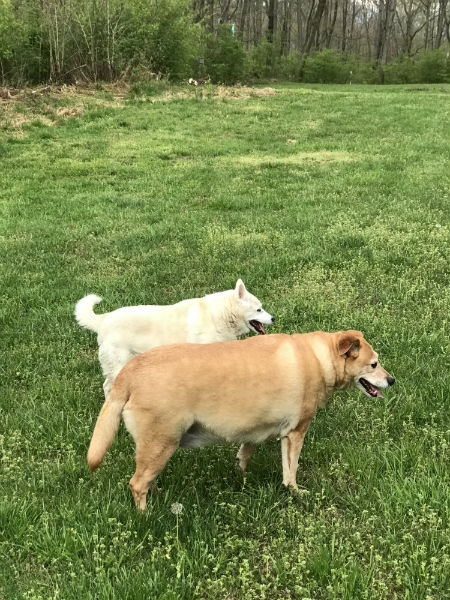 &&&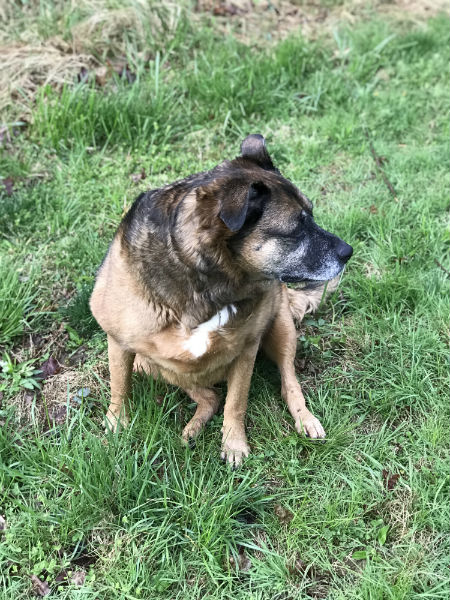 Last time I submitted was with the passing of our sweet girl, Katie.
This is our pack last Sunday at a gun club I belong to. It is a 160 acre
game preserve, my pack believes it's THEIR 160 acre club!!!!!. Wolfgang
(tan) and Jazz (white) are getting up there in years and it's starting
to show. Bear (tan/black) too, but she is not showing any signs of
slowing. I love taking them out for their pack walk and fulfilling their
doggie destinies. Never thought I could walk 3 dogs with no leashes, but
they just love it. I know they are getting slower as we came across a
deer and they all just started at each other. Normally they would have
chased, but I would like to think they are much wiser now. I do
appreciate the pet thread and seeing all the wonderful homes and lives
our pet's have.

Thanks for letting me share. - Chris
No need to thank us here at the Pet Thread it is folks like you and puppehs like your 3 that make this place rock. Thank you!
***
Hi
This is a photo of an old photo so not sure how it will come out. This is a photo of Corwin, a purebred lab, who sired four litters with my female, Amber. Both yellows so only had yellow puppies in every shade from pale yellow to dark gold. One litter was 11 puppies! He wa a lazy dog who loved nothinig better than to sit with his head on your feet. Amber on the other hand, was the huntress who was constantly bringing home chipmunks and turtles. We lived on 4 acres of which 2 acres was pond so dogs could pretty much roam free.This picture was taken with his favorite thing in the whole world, his dinner dish. You can tell the picture is old due to the rust colored shag carpet.

Sharon (willow's apprentice)

The photo came out fine. Thank you for your efforts to share Corwin with us. Looks like he was a great guard dog when it came to the dinner dish. Thank again.
***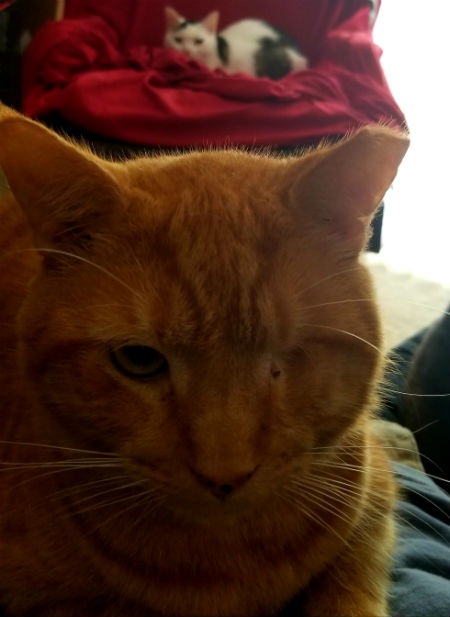 &&&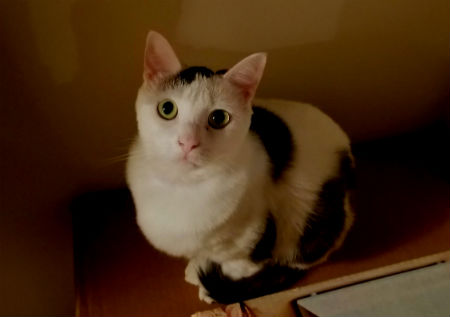 Foreground: Jack
Background: Jinx

They don't get along; she was here first and resents him but he don't care. Also convinced that Jinx, who was a sickly runt, is mildly retarded. Sweet but very, very dim, even for a cat. - Citizen

These 2 kittehs appear to be too sweet to be mean and retarded. Sounds like you have an interesting home. Thanks for the submission today.
***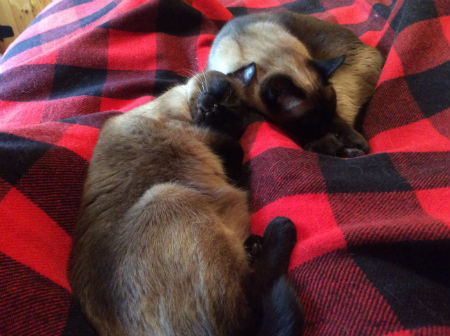 MisHum, just in case you run low on pix, here are Max and Mia enjoying the Saturday Morning Coffee thread. Their caffeine has worn off. - RI Red
Not only did the caffeine wear off, looks like the Ambien kicked in as well. Adorable photo. Thanks.
***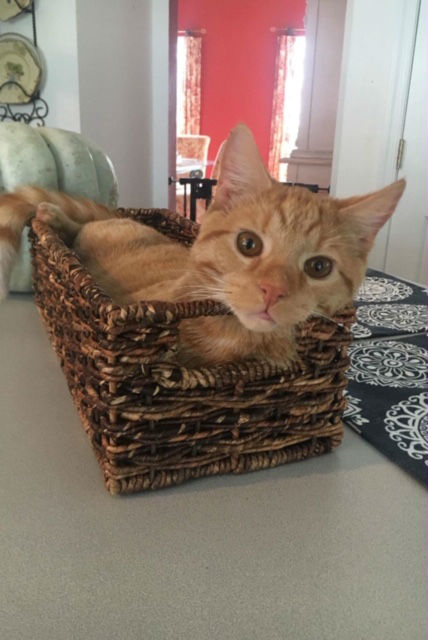 On April 17th, my little man unexpectedly passed away. My daughter saved Tate from a life on the street when she picked him up as a kitten in a bad area of our town. He was covered in fleas and weighed less than a pound. Her sister and her spent the next day removing the bugs using nothing but Dawn soap as he was too little to have chemical treatments. He never lost his street fighter persona, but most of the time he was a gentle love bug that purred when you rubbed his belly. He loved licking faces and sitting in the sun. Especially in the summer on his back porch. We always knew he was not long for this world as our vet told us he had a very bad heart murmur. But, he made the most of his time with us and went out a winner. RIP my friend. - Richard
What a cute photo and touching story. So sorry to hear of your loss. You brought as much joy to his life as he did to yours. Thank you for sharing.
***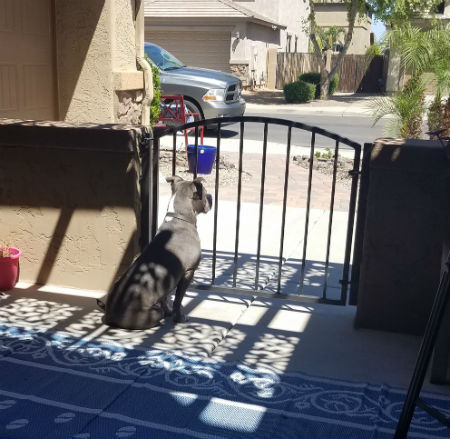 I had previously sent in a picture of our rescue pups Max (pit/lab mix) and Maya (5-6 years younger blue nose pit). Max has since gone ahead over the rainbow bridge, but Maya has discovered she prefers to be an only pup and has assumed (self-assigned) the duty of standing sentry. At the front door, she lets us know if someone is approaching (even if across the street). In the backyard, she protects us from lizards and low-flying birds. - Richard
Sorry to hear about Max's passing. It is nice to hear that Maya is ok with being an only "child". Awesome that she has started working as a watchdog. Thanks for sharing.
***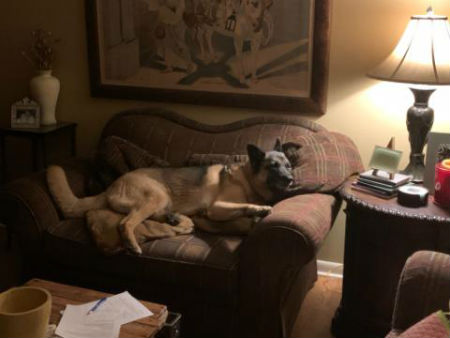 This is Greta. Half German Shepherd half Akita. She's not allowed on the couch Naughty dog - No name provided.
Well, that's your first problem. Couch's were designed to be laid upon by doggehs and kittehs too. We are glad you took a great snap shot before punishing her.
***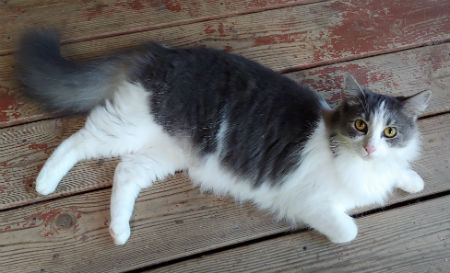 This is Polly, a rescue who was found alone five years ago very tiny, sick, and starving. The folks that found her said her face was filthy from trying to eat dirt and her tiny meow so hoarse she sounded like a parrot, hence the name. Despite her floof, she is still a very small cat (with an enormous tail), a tiny little meow, and is our spoiled little queen, very sweet, relaxed, and affectionate. I can hold her like a baby and she'll go limp, stretching out her legs and reverse arching her back like an upside down flying Supercat! We've had a lot of cats over the years but none we loved more or thought so pretty. I always enjoy the Pet thread. - Bilderback

You know for being a bunch of deplorables you sure know how to rescue pets. Polly is a perfect example of the size of Moron hearts. Great job and a wonderful looking cat. Thanks for sharing.
***
The staff and management wishes to thank all of you contributors. The in-box is rather full. We promise to get to everyone's photos and stories, just be patient.
We wish you all a great week!!


posted by Misanthropic Humanitarian at
03:00 PM
|
Access Comments