« Food Thread: Pop Goes The Cauliflower
|
Main
|
COVID Lunch Time [Bitter Clinger] »
March 22, 2020
Gun Thread: All Hunkered Down Edition [Weasel]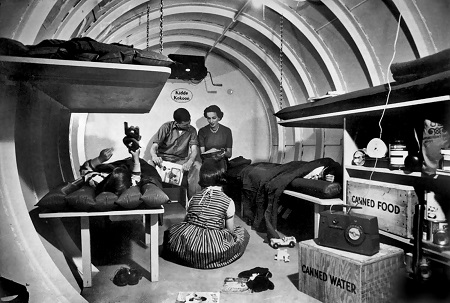 Howdy, Campers! We're closing out Week One of the Great Hunkering Down, and heading in to Week Two. How have you been? Are you staying busy, or do you have cabin fever? Let's discuss guns and how things are going in the age of the Chinese Flu, shall we?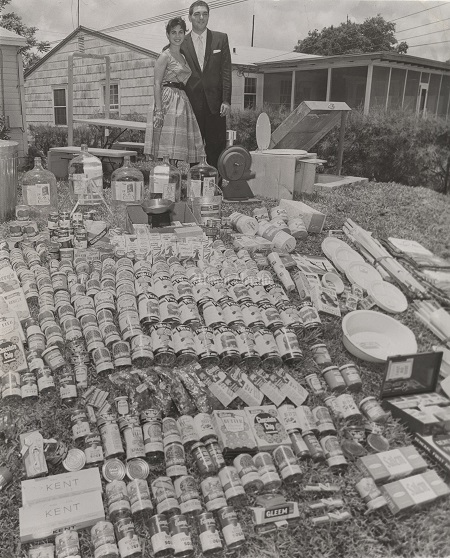 This couple is woefully unprepared from a tolet paper, guns and ammo perspective, aren't they? They seem to have soup and canned beans covered, though!
Buying Ammo
Well, um, did you? Because if you haven't, the easy to get, inexpensive ammo supply has largely dried up, seemingly overnight. Taking a look at the sources in the Link-O-Rama below we find notices of shipping delays, popular calibers out of stock, and in one case a website taken down altogether due to a lack of inventory. The first two ammo links are online search tools, and as I write this, there is still some ammo to be found but expect to pay a premium and do not expect quick service. Some suppliers are quoting delivery estimates in weeks.
I really, really hope none of you are in the predicament of being caught by surprise by this. If you were, now is probably not the time to try and buy a truckload to make up for it. However, now is a good time to take an inventory of what you have and concentrate on defensive rounds first and bulk or practice rounds second, if at all. At some point things will eventually return to normal and you can start to re-stock.
But what to do for range time until then? If you're low on practice rounds or cannot make it to the range for one reason or another, you still have some options.
******
Practicing at Home
We looked at some home target system solutions last year in the January 27th and December 1st editions of the Gun Thread. If you go back and take a look at these, please remember not to comment in old threads, or you will be Pixy banned. Don't get Pixy banned during the Great Hunkering Down! Some of these systems are elaborate and others are not, and I'm certain an internet search will turn up others.
Here's a short video on the classic "penny drill" which I'm sure you are all familiar with.

And still more dry fire drills are discussed at the Bigfoot Gunbelts and Locked Back Training websites.
Take a look at these and incorporate some or all of them into your day. It is worthwhile practice in addition to range time and especially worthwhile if you aren't able to go shooting at the range. I have to admit that early on I was at best skeptical of dry-firing as a training tool, but have since become a big believer. Have you ever noticed how smoothly and fluidly an experienced shooter draws, presents and re-holsters their weapon? It's the result of countless hours of practice, much of which is dry-firing. Practice, practice. practice. Then practice some more.
Are you going to the range? How are you practicing? Are you doing the same drills or have you had to adjust to the circumstances?
******
Gun Sales
All of a sudden, people are suddenly very interested in gun ownership. Could it have to do with the TP shortage I'm hearing about? Here is an article courtesy of the Virginia Shooting Sports Association and another from Breitbart on the surge in gun sales.
I wonder how many previously anti-2nd Amendment or otherwise gun-ambivalent people have recently decided to become radical and crazed gun owners? I haven't been to a brick and mortar store lately, but I have noticed many of the websites I frequent for both new and used firearms do not appear to have a lot to offer.
What are you all seeing at your local gun shop? Is your local gun shop and range open? If it's open, have you seen an uptick in business?
******
Never Let a Crisis Go to Waste
As soon as the Coronavirus panic hit full stride, sales and permit restrictions began to pop up. As this mess continues, I'd expect we'll see more of this sort of thing. Here are reports from Bearing Arms and Breitbart on sales and permit restrictions.
And who do you think this is going to affect? Street thugs or people who might otherwise become responsible and law abiding gun owners? How about where you are? Any new restrictions in place?
******
Still Bored?
Have you done all of your dry fire practice and still looking for something to do? How about a little maintenance and cleaning? I'm about the laziest person in the world when it comes to cleaning my daily shooters, so frankly I need to do a lot of maintenance and cleaning. Now is an excellent time to field strip, inspect and clean all your firearms. Look for signs of wear and function check everything in your gun safe. This has the added benefit of identifying potential signs of weakness in those cooped up at home with you by their reaction to the smell of Hoppes 9.
******
Virginia
Our retarded governor is too busy doing stupid shit regarding the virus to have much time for his radical leftist gun control dreams. Stay tuned.
******
Share Your Smartness
Here's your chance to be a suck-up and bitch-slap us all with your knowledge. Our pal CBD is looking to turn his AR-15 with an A2 upper into an AR-15 with an A4 upper, and would like your recommendations. So what would you suggest for a complete flattop upper? Any manufacturers you particularly like? Best value? Best fit and finish? How about all of those at the same time?
******
How About You?
How are you and your family holding up? What are your strategies for coping with staying home? Are you prepared with enough food and supplies in the event this continues for a while? If not, what are some of the things you need but don't have, and do you see yourself changing your attitude towards preparedness post-Chinese Flu?
I hope you are all doing as well as possible under the circumstances. Hang in there!
******
NoVaMoMe 2020!!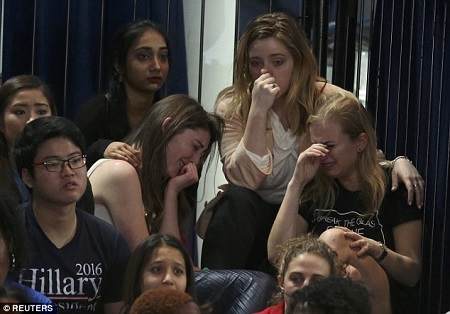 Sad, sad people who missed the registration window
Did you hesitate to sign up for the NoVaMoMe 2020? Did you ignore the frequent reminders to register? Did you think there would always be time to sign up later? Welp, if that's the case then I have some bad news... we've reached capacity and registration is now closed. For those who may still be interested we are starting a wait list in case there are any cancellations (HA!). To list your name, email us at NoVaMoMe2020 at gee mail dot com, beg for bluebell's forgiveness, and we'll put you on the list.
******
Link-O-Rama
I'm really very seriously not kidding around anymore. Buy Ammo
AmmoSeek - online ammo search tool
GunBot - online ammo search tool
SG Ammo
Palmetto State Armory
Georgia Arms
AmmoMan
Target Sports USA
***Mail Bag***
This week we have a great tactical cover solution using readily available materials from our pal redc1c4.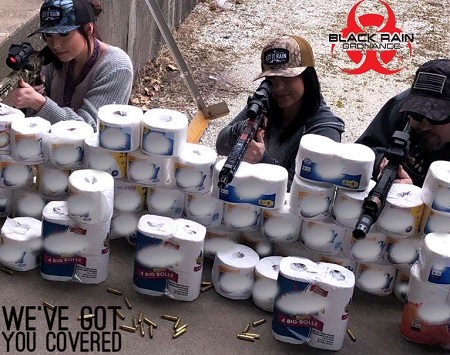 ******
Please note the new and improved gmail account morongunthread at gmail dot com. An informal Gun Thread archive can be found HERE. If you have a question you would like to ask Gun Thread Staff offline, just send us a note and we'll do our best to answer. If you care to share the story of your favorite firearm, send a picture with your nic and tell us what you sadly lost in the tragic canoe accident. If you would like to remain completely anonymous, just say so. Lurkers are always welcome!
That's it for this week - have you been to the range?


posted by Open Blogger at
07:00 PM
|
Access Comments