« First-World Problems...
|
Main
|
Gun Thread: All Hunkered Down Edition [Weasel] »
March 22, 2020
Food Thread: Pop Goes The Cauliflower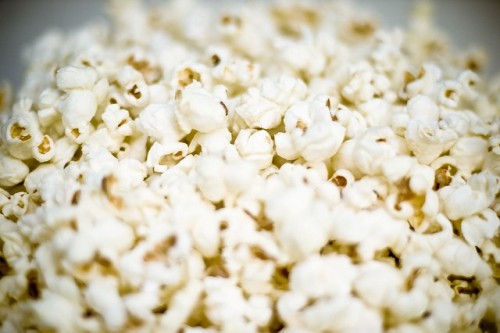 One of the many things that strikes me as odd is the proliferation of packaged popcorn. Take a stroll down the snack aisle of your local market and I'll bet you can find several different brands and packaging and flavors of pre-made popcorn.
But....why? It is incredibly simple to make, and the home kitchen version is miles better than the ridiculously expensive store stuff. I don't know how much the raw materials cost, but I wouldn't be surprised if the processing and packaging was many multiples of the cost of the corn.
And to top it off, making popcorn is fun! it sounds great, the house smells really good, and hell, you can flavor it with pretty much anything you want. In no particular order there is butter and Parmesan and black pepper and olive oil and sugar and chocolate and a host of other fun things, not to mention that old reliable...salt! I recall a fad a few years ago of restaurants serving truffled popcorn as a snack. And it was good. Because popcorn is good.
And it is miles better than when we were kids. I will often pop up a batch and discover no unpopped kernals, and that is a far cry from my youth, when the unpopped ones numbered in the dozens.
The horror...the horror.
******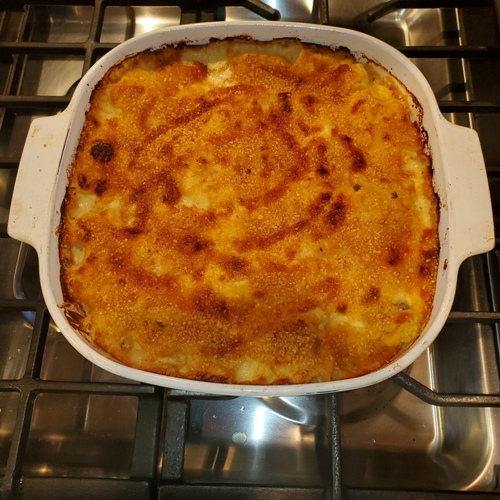 Cauliflower à la Bluebell
One of the ways I and I am sure many others are amusing themselves during this enforced homebody experiment is going spelunking in the freezer and refrigerator and cupboards.
I dug up a two-pound bag of cauliflower and various bits and pieces of cheese. Bechamel, grated cheese, salt, pepper, a pinch of nutmeg (mostly for tradition) and we are off to the races. Because I am stupid and can't remember a damned thing I forgot to add sauteed garlic, which I think will complete the dish.

******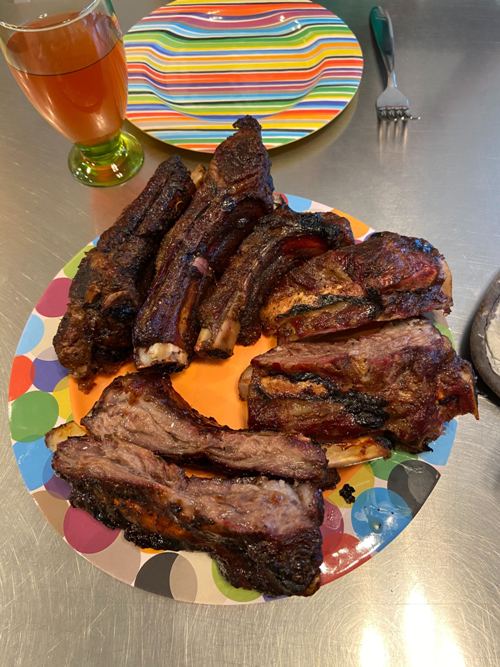 Oh man, I love beef ribs. These are commenter "SkinnerVic's" version, and they look great! I am jealous, because it is tough to find good and meaty ones around here. They are usually scraped clean by the butchers who are obviously trimming them off for boneless roasts.

******
Remember the dry-looking brisket from last week? Yeah...this isn't it.
From commenter '"Stacey0311" comes some delectable looking brisket that she quite rudely did not invite me over for!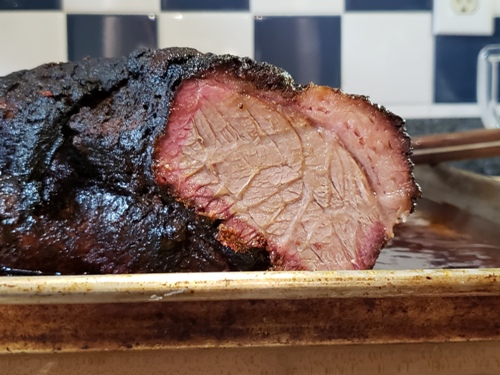 I've been doing brisket for about 20 years now.
It's always a learning experience.
Have only smoked, never baked, crockpot or other techniques.
Wood is critical to smoking. I used to use straight mesquite but have switched to pecan or post oak with mesquite added for flavor.
Used to do a multi spice rub but have switched to just salt and pepper.
All done in an offset smoker so not sure how it's done in a pellet of Green Egg type smoker.

******
From commenter "ibguy" comes a twitter link to a very strange person cooking some food that seems appropriate to a 3:00am dorm meal...
Behold...
Totwaffles!
******
This actually looks pretty good, in a profoundly disturbing way...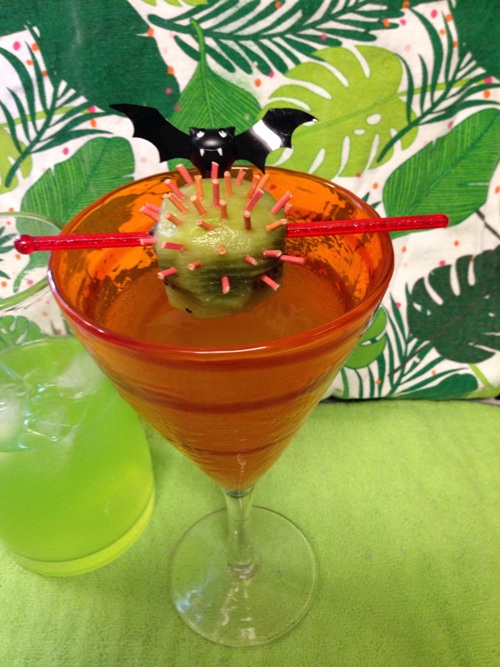 From long-time commenter "All Hail Eris" comes the "Bat Flu-zy."
2 oz vodka
1 oz Midori
Juice of one lime
1 can sparkling water (lime flavor)
1 packet Emergency-C
Stir with ice, pour into large glass
On second thought...

******
Judging by the number of emails I got on the subject,
Bacon Wrapped Shrimp
has occupied the minds of you lunatics for years.
Try this technique;

wrap the bacon in a coil and pierce it with a toothpick
Spread the coil out along the skewer so some of its outside coils are wider than the shrimps bite diameter. Those shrimp you have waiting in a
nearby colander.
Bacon coil is now tight to loose at outer circumference.
The tighter inner part should cook slower making it easier to remove.
Bake the bacon coils until just shy of desired doneness. Outer edge doneness is the important spot.
Remove from oven and let rest in a closed plastic bag until cool.
Cooling in bag should prevent fat from getting too crispy for next step.
Remove from bag and snip the inside bacon coil making space for the shrimp.
Swear at bacon coil like old drill sergeant telling it to get its act together.
You want to see hospital corners on that shrimp
Combine shrimp, bacon coil and toothpick in same general hole as before...Pray...cook shrimp and bacon wrap together for couple minutes, gingerly turning wraps.

good luck,

shane
******
Keep it light folks. There is plenty of time and there will be plenty of threads in the weeks to come to talk about Mu Goo Gai Pandemic, so please stick to more pleasant topics....
******
Food and cooking tips, Large-breasted Muscovy ducks, young wild pigs, bartenders who use vermouth in Martinis, crisp bacon (although I am moving toward less crisp), low-temperature-roast chicken, and good tomatoes that aren't square, pale pink and covered with Mestizo E.coli:
cbd dot aoshq at gmail dot com
. Any advocacy of French Toast with syrup will result in disciplinary action up to and including being
nuked from orbit.
And yes, shaking a Manhattan is blasphemy...it's in the Bible!
&topic=world_news">

posted by CBD at
04:00 PM
|
Access Comments