« Saturday Morning Coffee Break
|
Main
|
Saturday Gardening and Puttering Thread 3/21/20 [KT] »
March 21, 2020
Local News [KT]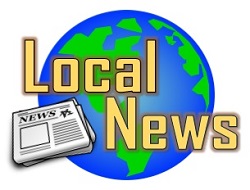 Good morning. Are you stuck in the house today? What is the news in you town or neighborhood?
Has your local newspaper disappeared?
Our local weekly is still being published. Annual subscription. Mailed. Or you can pick it up locally at stores. The ones that are still open.
Regional dailies are hurting.
So how do you get your local news now? From Facebook? News of local school closures went out on Facebook here. I don't know what other means were used to spread that news.
This local news issue is sorta personal to me because my best friend created newspaper copy for many years, until her job was cut. Despite seeing the creep of leftist viewpoints in the newsroom, she loved her job. The intricacies and time pressures of publishing a newspaper, especially before the fully digital age, are amazing. One of our regulars sent me the following on changes he had experienced and witnessed in the business, after a particularly egregious example of stupidity in national news:
My family has been in newspapers for about 100 years. We used to own a town daily, but we're down to 3 weekly papers now, plus a couple of giveaway ad papers. I started out doing darkroom work when I was 15 in 1975, moved on to sports writing, then picked up layout and editing skills, and at various times, was the city editor of a daily newspaper when I was 17, because the regular gal was on vacation. Yes, it helped that I was family of the owners, but I knew how to do the work, too, and I could knock out 20 inches of copy in half an hour.

There really wasn't room for both my brother and I, and he was older, so I went off to do other things.

But back then, most of the folks who worked for newspapers, and radio and TV news also, had started elsewhere. Journalism as a major was just starting to happen. Most reporters had some other real world experience, in other words.

As the low kid on the pole, it fell to me to deal with the interns from the local college journalism program. They would be seniors, and believe me, the last thing they wanted was some teenager telling them how to write, and leading them around by the hand, showing them how to cover a school board meeting, or get the information from city hall for the police news.
The thing was, none of these graduates of a third tier J school were going to be hired by the New York Times. They'd get hired by a small town paper, and work their way up, if they had the chops. So they needed what I had to teach, as much as it galled them to hear it from me. At that small town paper they'd need to know how to use a pica pole and how to develop film and make prints, and how to talk to the right sheriff's deputy to get more information.

Anyway, all of the folks I learned from are long gone now. Everyone has been replaced, if the job still exists, by some J school grad who, as Ben Rhodes pointed out, is 27 and knows nothing. The old hand who could give good advice and keep them on an even keel got chopped so they could hire a cheap kid.
Craigslist, man! The Minneapolis Star Tribune used to have 120 pages of nothing but help wanted ads on Sunday. Now there's perhaps 8 pages of classifieds in total. And Dayton's, which is now Macy's, used to buy 8 or 12 pages in section a every Wednesday. The Strib sold for a billion in 2001. In 2009 it was bankrupt.
During that same 40 or so years, the universities went from perhaps 60-40 Dems to Rs on the staff, to 95-5, and those guys are all in the engineering department. So it's not like they learn any idea of balance in class.

So yeah, journalism changed, a lot. It's not like the NYT wasn't warned by many historians that the 1619 propaganda was simply wrong in so many ways, They were, and it didn't matter. It wasn't about facts.

Cheers, Gordon
Gordon's family is persisting in the business in very hard circumstances, it appears.
Quillette published a piece on journalists looking for alternative ways to cover local news.
According to a recent Pew Research Center study, the number of newsroom employees at U.S. newspapers declined by nearly half between 2008 and 2018, from about 71,000 to 38,000. In some cases, contractions or shutdowns at major-market outlets (such as the Chicago Tribune) receive coverage in other publications. But the situation is even more troubling in smaller markets that are served by few local media. Newspapers such as the Star in Indianapolis are facing challenges because the traditional business model they relied on for much of the last two centuries--advertising, paid-classifieds and subscriptions--has collapsed.
The same Pew report detailing a 47% decline in newspaper editorial employees between 2008 and 2018, from 71,000 to 38,000, also found a large uptick in employment in "digital-native" newsrooms, from 7,000 to 13,000.
Have you encountered one of these? Do you see a viable business model emerging?
How DO you get your local news now?
Music and Dance
Thought about taking up tap dancing while you are at home? This is John Bubbles, backed up by Duke Ellington.
Tappin' with castanets:
If you don't feel up to learning how to tap dance, how about learning a fandango?
Even Boccherini, most famous for a minuet, wrote one. I think you could do a fandango without special clothes. Special clothes sort of go with minuets.
Luigi Boccherini did not lead a carefree life. He was born in Lucca, Italy. Near Pisa. Not too far from Italy's epicenter for the beginning of the current pandemic.
Boccherini is sometimes referred to as the 'wife of Haydn', because much of his chamber music closely resembles the Austrian master's. However, Boccherini is often credited with improving Haydn's model of the string quartet by bringing the cello to prominence, whereas Haydn had always relegated it to an accompaniment role.

A virtuoso cellist of the first caliber, Boccherini often played violin repertoire on the cello, at pitch, a skill he developed by substituting for ailing violonists while touring. This supreme command of the instrument brought him much praise from his contemporaries (notably Baillot, Rode, and Romberg), and is evident in the cello parts of his compositions (particularly in the quintets for two cellos, treated oftentimes as cello concertos with string quartet accompaniment).

He wrote a large amount of chamber music, including over a hundred string quintets for two violins, viola and two cellos (a type which he pioneered, in contrast with the then common scoring for two violins, two violas and one cello), nearly a hundred string quartets, and a number of string trios and sonatas (including at least 19 for the cello), as well as a series of guitar quintets. His orchestral music includes around 30 symphonies and 12 virtuoso cello concertos. . .
Boccherini did not lead an easy life. Lost family in an epidemic.
Born on February 19, 1743, Boccherini was the son of a professional musician who was the first double bassist to perform solo concerts. The elder Boccherini started to give his son cello lessons when the boy was five years old.
A cello seems like a big instrument for a 5 year old. But then, his father was a double bassist.
Boccherini's compositions were first published when he was 17 years old. In 1765 Boccherini and his father went to Milan, which at the time was a magnet for talented musicians. It was there that he wrote his first string quartet. In the same year, the ill health that would plague Boccherini all his life began to take its toll. The composer endured a further blow in 1766 when his father died.
He started touring with a friend. Ended up in Spain.
In 1769 Boccherini and Manfredi journeyed to Spain, where the composer enjoyed great acclaim. Boccherini then took up another new genre, the string quintet. He in fact became best known for these works, written for string quartet with an additional cello. Now enjoying the benefits of a steady job, Boccherini married in 1771.

Boccherini's wife died of a stroke in 1785. That year his Spanish patron, Archbishop Don Luis, also died, leaving Boccherini without a position. He petitioned King Charles, asking to be retained in some musical position.
The king later fired him for refusing to remove a passage from a piece of music. He found other patrons, including Friedrich Wilhelm, soon to be King of Prussia. But he stayed in Spain. He liked Spain. An early remote worker for the King of Prussia.
In 1787 Boccherini remarried. In 1796 he entered into an arrangement with publisher, composer, and piano manufacturer Ignaz Pleyel, who both praised and published Boccherini's works while cheating him of income. In February 1803, Boccherini was reported as living in "distress," but this is as likely from emotional depression as financial hardship, for in 1802 two of his daughters died from an epidemic within a few days of each other. In 1804 both his wife and his only living daughter died. It seems clear that Boccherini, although he continued to compose up to the end, had little interest in living, and died on May 28, 1805 of what was described as "pulmonary suffocation."
Boccherini Fandango, performed in Switzerland. Sound like Haydn to you?
This is the Thread before the Gardening Thread.
Serving your mid-day open thread needs

posted by Open Blogger at
11:21 AM
|
Access Comments