« Food Thread: Vegetables Can Be Good. Really! Preferably With Bacon And Steak...
|
Main
|
Sunday Overnight Open Thread (3/8/20) My Dog Hamster Ate The ONT Edition »
March 08, 2020
Gun Thread: Can You Identify This Mysterious Symbol? [Weasel]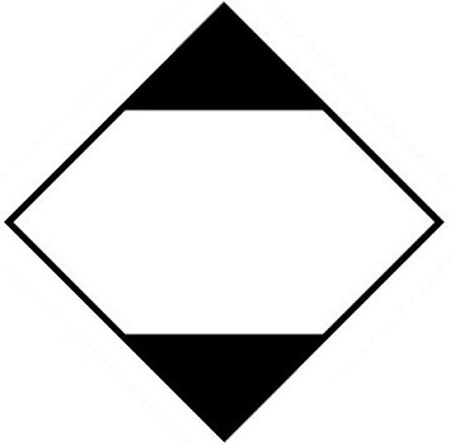 Can you identify this mysterious symbol? Well can you? Hmmm? I hope you all have answered yes, because you have seen it many, many times on your doorstep. It's a happy symbol and we should all be glad to receive packages displaying it. What is the symbol, you ask? Let's find out below, shall we?

The symbol is the "limited quantity" label required to ship small arms ammunition under 49 C.F.R. § 172 - Hazardous Materials. While I strenuously object on religious and other grounds to any purchase of ammunition in limited quantities, truth is you can ship packages up to 66 pounds containing 50 cal or smaller cartridges in packages displaying the symbol. For you shotgunners, 8 ga and above (smaller) shells are allowed too. UPS seems to be everyone's preferred shipper for ammo, and they don't act like it's radioactive when you drop it off.
Why am I talking about this? Well for starters, I took my own outstanding advice and ordered another 920 rounds of the 7.62x51mm PMC surplus from SG Ammo featured here last week, so I had the joyous occasion of seeing the box on my doorstep when I got home from work on Friday. And believe me when I say it weighed every bit of 66 pounds.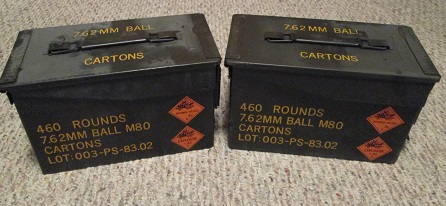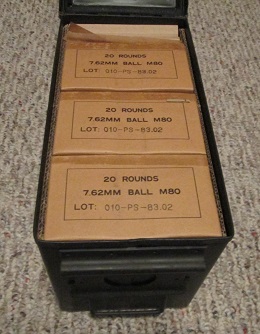 Anyhow, I'm a happy camper and will have lots more ammo to shoot this summer at the farm. For those of you interested in shipping and not only receiving, here is good information from Accurate Shooter and UPS on the subject of shipping ammunition.
Ammo Test Pt. Deux
Speaking of last week's ammo test, besides my embarrasing error in converting velocity to elevation, we talked about chronographing loads to determine consistency, and I made the following statement.
I realize this isn't a statistically significant sample, I didn't conduct the test in a controlled laboratory environment wearing a lab coat and writing results on a clipboard, and a bunch of other things I either didn't think of, or otherwise didn't feel like doing. It was a simple little test to see if anything interesting was observed regarding the consistency of old ammo versus new ammo. How about you all? Do you chronograph your loads, and how do you use the data?
And I included the following spiffy chart: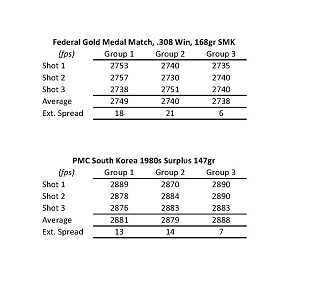 Well no sooner had the thread ended when I had an email from or pal IronDave who should really be going by the name RocketSurgeonDave.
I go by IronDave in the AoSHQ comments and I usually just lurk. I do statistics work for a living, so I decided to summarize your velocity measurements in various ways, just for fun and to refresh my memory on a few methods. The results can be found HERE
Damn, Dude! Look at you go with graphs and everything! And here I was all happy that I had my three little columns of numbers lined up. Very cool, IronDave, and thanks for sending in your analysis!
******
Virginia
The bullshit marches along. VSSA legislative update here.
******
This week we received this email from our pal
Washington Nearsider
:
I've opened up a bulk box (1k rounds) of Federal 5.56 NATO and fired around 100 rounds through my Larue. There is an intense ammonia smell coming from the powder. The rounds in the box don't smell, but once fired, the propellant absolutely puts off ammonia (or something smelling very similar).

1: What causes this?
II: Are these rounds safe to fire?
d: Is performance affected by whatever the answer to 1 is?

In my experience, all gunpowder's have a characteristic smell. The odor of ammonia is concerning because it's a classic sign of powder that's going (or gone) bad by being stored improperly before ammunition is loaded. I have always heard this of unfired powder though, not necessarily an odor after firing, but suspect the root problem could be the same.
Whether or not it's safe to fire is a good question. I'd be concerned you could potentially see pressure problems - either too high or two low in powder that is potentially unstable. At a minimum this could cause erratic velocities and affect performance. So my first question is, how did it shoot, and my second question is, have you called the supplier to tell them what you have observed and ask for their opinion?
Well Washington Nearsider made a call and received this response from the distributor:
The explosion in the chamber generates heat and gas which break the nitrogen bonds in the powder itself. Some of that nitrogen bonds to the hydrogen, which necessarily creates ammonia. It's far more noticeable in some powder formulations, and you'll notice it far more shooting suppressed (which WS was), as that puts a lot more of the gas back into your face.
Regarding accuracy and function WS went on to say:
Mechanically and functionally, not a problem, and I didn't notice anything off with accuracy. The rounds went where I sent them (even my fliers).
So what do you all think? I try not to be Nervous-Nellie, but I've always heard to look out for the ammonia smell. Is this me falling victim to internet wisdom, or would you be concerned?
******
Our pal RI Red is a happy caballero, and for good reason!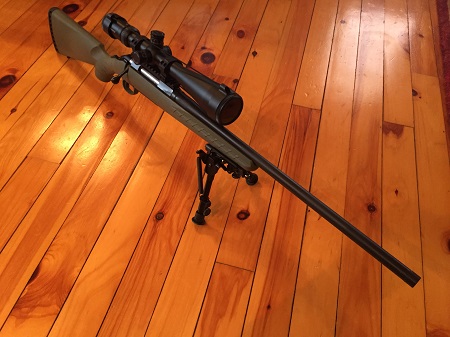 Here is my new Ruger American Predator 6.5 creedmoor. Scope is Vortex viper 6-24X50 HS-T. Ammo is Federal Premium Gold Medal Berger 130 grain hybrid open tip match. I just got a chance to take her out for a test drive. Range conditions were as expected: 20 degrees, left to right gusty crosswinds at 7-10; I had the range to myself. On the splatter target, the 11 and 3 o'clocks were getting the scope on paper. The vertical string was first good adjustment test. On the squares target, it looks like 1 moa at 100 yds. Right out of the box! Can't wait to shoot on a good day. Life is good!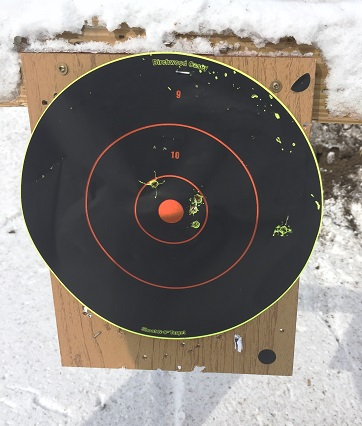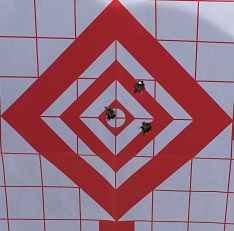 You go, brother! Nice! Get out there on a nice spring day and work up a hand load. You'll be amazed!
******
Our pal daddybb has been to the range too!


Shooting a Sig Sauer P320 and a Taurus G3 from 30 feet. The G3 fits my hand better, most groups pull left a bit, the Sig seems more accurate but feels "brickish" at least in my hand. Practice lets us adjust for accuracy with different guns. I almost always have to alter sight picture to get just right. Notice that one shot right in the middle of the X! First one of those I ever shot with a pistol, that was the Sig 320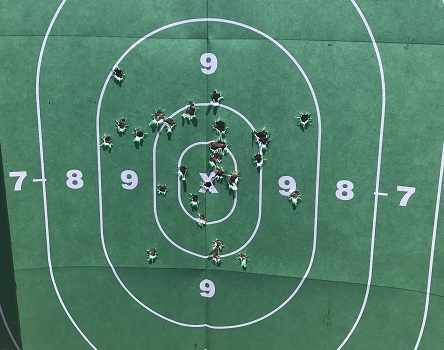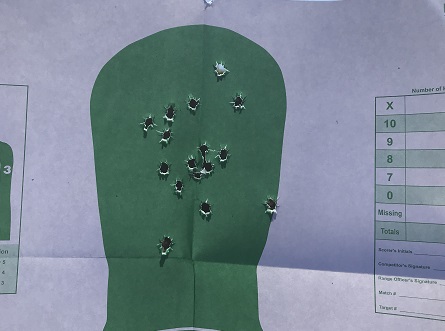 Nice shooting daddybb! Keep up the good work!
******
NoVaMoMe 2020!!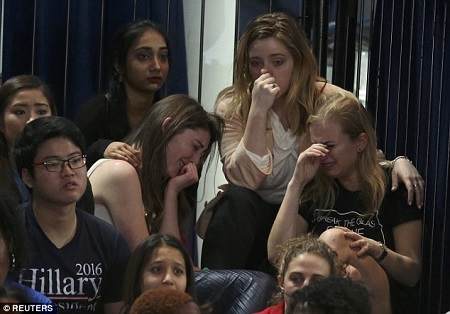 Sad, sad people who missed the registration window
Did you hesitate to sign up for the NoVaMoMe 2020? Did you ignore the frequent reminders to register? Did you think there would always be time to sign up later? Welp, if that's the case then I have some bad news... we've reached capacity and registration is now closed. For those who may still be interested we are starting a wait list in case there are any cancellations (HA!). To list your name, email us at NoVaMoMe2020 at gee mail dot com, beg for bluebell's forgiveness, and we'll put you on the list.
******
Link-O-Rama
I'm really very seriously not kidding around anymore. Buy Ammo
AmmoSeek - online ammo search tool
GunBot - online ammo search tool
SG Ammo
Palmetto State Armory
Georgia Arms
AmmoMan
Target Sports USA
***Mail Bag***
This week we have a more serious gun safety topic sent in by our pal ERF: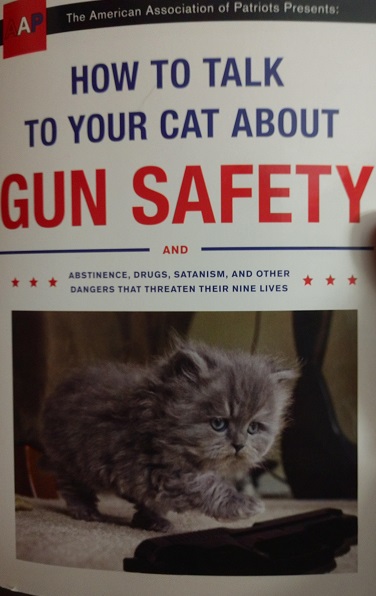 ******
Please note the new and improved gmail account morongunthread at gmail dot com. An informal Gun Thread archive can be found HERE. If you have a question you would like to ask Gun Thread Staff offline, just send us a note and we'll do our best to answer. If you care to share the story of your favorite firearm, send a picture with your nic and tell us what you sadly lost in the tragic canoe accident. If you would like to remain completely anonymous, just say so. Lurkers are always welcome!
That's it for this week - have you been to the range?


posted by Open Blogger at
07:00 PM
|
Access Comments