« Didn't The Mainstream Media Mock President Trump For Saying Exactly This? That COVID-19 Mortality May Be Significantly Lower Than Originally Reported?
|
Main
|
Gun Thread: Can You Identify This Mysterious Symbol? [Weasel] »
March 08, 2020
Food Thread: Vegetables Can Be Good. Really! Preferably With Bacon And Steak...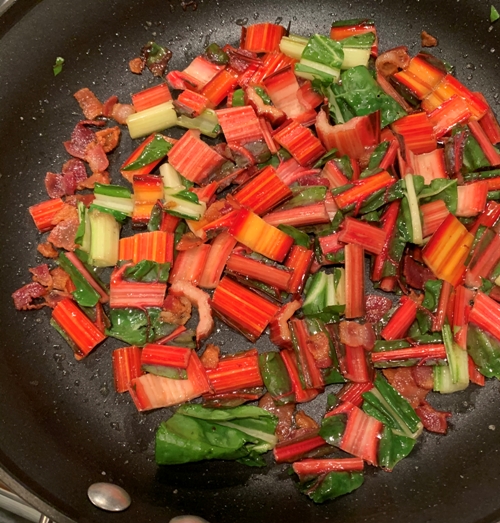 As much as I make fun of the slim-hipped hipsters and their food fetishes, I am perfectly happy to try new stuff on my own terms. And with rainbow chard those terms are simple. Cooked in bacon, and cut so the stems aren't stupidly tough.
There is no virtue in undercooked food, just as there is no virtue in overcooked food. And since there are no rules governing the size of the pieces we cook, why not make them correspond to the amount of cooking needed? So I cut the stems into small pieces and left the leaves a bit larger, figuring that would equalize the required cooking times.
And it worked pretty well. The bacon helped, and while I am not rushing to the store to buy more, it was an interesting little experiment. I think chard is more appropriate in the background instead of the main event, so next time I might try to make a main dish with the chard as a textural contrast.
The point being that while one shouldn't be driven by fads...food or otherwise...if something interesting turns up there is no reason not to give it a shot.
Kale enemas excepted.
******
Sometimes I write down stuff that interests me so I have somewhere to start when I sit down in front of my computer to write the Food Thread
TM
. So...today I have two notes that are a bit cryptic, even for me.
"It's awful! I can't believe you drink that!,"
and,
"gristle."
Damned if I know where the drink thought came from. But it does resonate with me, because all too often I see people drinking stuff that I find vile beyond compare. Campari tops the list, and its analogs are just as disgusting. And no, the argument that I should like them because I put bitters in my cocktails is just silly. I put a few drops of bitters in my cocktails...I don't chug the bottle. But as usual, while I will mock you for drinking that shit, in the end it is perfectly fine with me, just as long as you don't make me join you! Like dipping fries into milkshakes! I asked my wife if she ever did that, and she said, "of course," with a look like she thought I was a retard for asking.
When I make NY strip steaks I trim the strip of gristle on the outside of the steak. it is just underneath the fat, and since the cut is well marbled it doesn't lose anything in the way of richness. Why do I trim it? Well, I think it cooks more evenly, and some people don't like the texture of the gristle.
But a few weeks ago it was pouring rain, so I had to cook on the stove-top (and then into the broiler). Even I don't like grilling in the cold and wet. But that gave me the opportunity to play around a bit, and I took the two pieces of gristle with the attached fat and just plunked them into my cast-iron pan on low heat for awhile. That did two things...it rendered some fat so the pan was nicely lubricated, and it began to brown and caramelize the remaining fat and that gristle.
I left them in the pan when I cooked the steaks, and I was left with some glorious, almost crunchy, rich and chewy fat and gristle that was just as good as the steaks!

******
From a regular commenter comes an interesting couple of questions...and his own answers.
1) Are there any foods that you "willed" yourself to like because you saw others enjoying that food and you wanted to enjoy it too? (Excluding the obvious one for everybody - beer.)

2) Are there any foods you realize you were trying to like but one day you had to be honest with yourself and acknowledge that you just don't like it?

I grew up hating oysters. Oyster casserole was a holiday staple in my family and fried oysters were my parents favorite seafood, but I hated everything about oysters. In my early 20s some buddies decided to go to an oyster bar. I wanted to enjoy the "oyster bar experience" they and others were enjoying, even though the oysters grossed me out. I ate some, hated them, but faked liking them. We went back periodically and I learned to like them., and eventually to love them - fried, raw, baked, or in casserole.

Honey was another one. I grew up hating honey. (Why eat honey if chocolate syrup is just as sweet and tastes so much better?) But in college I'd watch the other guys wolfing down biscuits with honey and it looked so good. I forced myself to eat honey to try to learn to like it - and I eventually did. Nowadays, biscuits (or toast) with honey is a weekend treat for me.

On the flip side, well into my adulthood I wanted to believe I was a guy who loved all cheeses - the sharper or stronger the better. One day I realized that I really didn't care that much for goat cheese. And once I acknowledged that - I realized that I strongly dislike goat cheese. Now, nothing will ruin a salad for me faster than encountering goat cheese.
I can't think of any foods I willed myself to like, but raw fish was certainly something I didn't enjoy until adulthood. My parents often took us brats to Japanese restaurants, and I would carefully avoid the raw stuff and just eat fried shrimp, which is never a bad thing!
As for the second question? Nope! If it doesn't taste good I'm not going to eat it, and nobody can make me!

******
As the commenter who sent this to me asked: "Ummm...why?"
I'll Take My Pizza Ohio Valley Style…
Now it was my turn. "I'll take one regular and a Mountain Dew." For about a buck (yes, a BUCK) they handed me a box folded in half with a rubber band around it and a can of Mountain Dew. When I got to the table I could not open that box quick enough. There it was. A square piece of pizza with a mound of unmelted cheese and uncooked pepperoni on it.

"Wait a minute, they didn't cook this?" I looked at my buddy with some confusion. His reply to my obvious reluctance to take a bite was "Just eat it dude."
Why..indeed?
Pizza is wonderful, and the joys of some styles are the hot gooey rich cheese and the oily, spicy pop of the pepperoni. So why do this? Is it some Ohio Valley perversion? HAs anyone else seen this?
[Hat Tip: hcurmudgeon]

******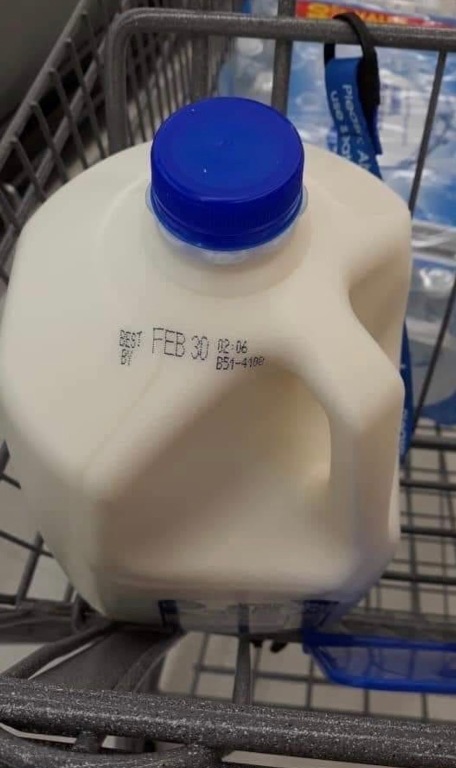 [Hat Tip: jsg]

******
I have written extensively on the importance of valuing human life over the lives of animals. It is imperative that we have a strong sense of the superior value of Man. But that does not mean that we can treat the animals we use in a cavalier or cruel way.
Why would anyone do this?
This is disgusting. There is no reason why this is done other than savagery. It represents a backward culture that revels in food experiences over other considerations....like disease and propriety and humanity.
[Hat Tip: Misanthropic Humanitarian]

******
I like bacon. And I like shrimp. But I don't like under-cooked bacon and I don't like over-cooked shrimp, so this dish, while it looks scrumptious, is more difficult to execute correctly than it might seem.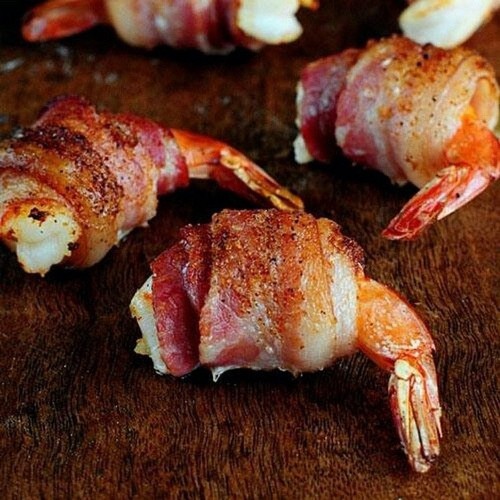 Maybe precook the baconuntil it begins to render but hasn't crisped yet, then wrap it around the raw shrimp?
Any thoughts?

******
I am not a huge fan of cakes, but the skill and talent necessary to create these is just amazing.
amazing cakes
. Wow!
******
I buy fresh parsley, then use about 25% of the bunch before it gets too long in the tooth to enjoy. I hate that. So one day while playing around with a marinade for chicken (spatchcocked of course) I decided to use the massive amount of parsley sitting in the refrigerator a s a base. Lots of parsley, some honey, Dijon mustard, chopped fresh onion, salt and pepper, and a splash of balsamic vinegar. Then emulsified with olive oil, and the result is great! Easy, flavorful and a bit different than the norm in the kitchens of Chez Dildo.
The sugar really helps caramelization (the sugar doesn't burn because I cook chicken at 300 degrees until the breast hits 155 degrees), and the bird comes out of the oven beautifully golden brown and amazingly juicy because of the moderate temperatures.
Give it a try...you won't be disappointed.

******
Food and cooking tips, Large-breasted Muscovy ducks, well-marbled NY strips, bartenders who use vermouth in Martinis, crisp bacon (although I am moving toward less crisp), thick and fluffy pita, and good tomatoes that aren't square, pale pink and covered with Mestizo E.coli:
cbd dot aoshq at gmail dot com
. Any advocacy of French Toast with syrup will result in disciplinary action up to and including being
nuked from orbit.
And yes, shaking a Manhattan is blasphemy...it's in the Bible!
&topic=world_news">

posted by CBD at
04:00 PM
|
Access Comments