« Food Thread: I Say Roast Beef; I Cook Scallops! Let's Call The Whole Thing Off...
|
Main
|
Sunday Overnight Open Thread (1/5/20) »
January 05, 2020
Gun Thread: Happy New Year Edition [Weasel]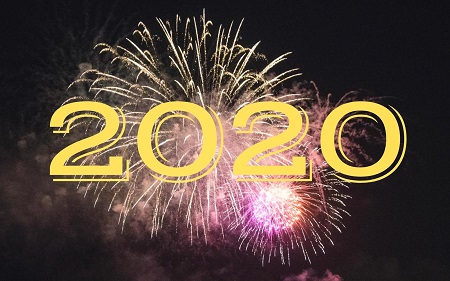 Welp, it's 2020, and has been for a few days now in case you're not keeping track of these things. Hopefully most of you have at least partially recovered from your wacky New Years Eve antics, and for those that haven't, take a couple aspirin and drink plenty of water next time. Unless of course you're operating under the delusion there won't be a next time - HA!. Anyhoo, the new year holds lots of promise and that certainly extends to guns 'n shooting. Lets find out what I'm talking about below, shall we?

Exactly how in the ever-loving Hell did it get to be 2020?
I don't know about you all, but the speed with which the years are passing has become a little alarming. Why, just a few years ago, I was... well, never mind what I was doing. Suffice it to say I was having a good time and generally wasting my youth. As I get older, I spend more time reflecting on the things I should be doing, which leads us to...
New Year's Resolutions
Five days into the new year is about the time for light and transient New Year's resolutions to start falling by the wayside. I count among these exercise and becoming physically fit, saving money and investing for the future, being a better person or parent, saving the world... you know, the sort of things you earnestly commit to doing at the beginning of the year, but in reality have little chance of following through on. Why make things difficult? I'll make it easier for you.
Your resolutions as a gun owner should be:
Buy ammo
Go to the range regularly and train to a reasonable level of profiency
Obtain a permit and carry your weapon
Buy Ammo
Perhaps the easiest of the three, having ammo to shoot is a no-brainer. I'm talking to those of you who have one or two 50 round boxes of cartridges on your closet shelf and think you're good. Individual circumstances will vary, but you need to be shooting at about that much on your weekly range trip. We're fortunate that ammo is in plentiful supply right now but trust me when I say that's not always going to be the case.
Range Time and Training
Again, individual circumstances will vary, but commit to shooting once per week if possible. If you can't manage a trip every week, try and make it every other week. Even if it's only 50 rounds per trip, the repitition will do wonders for your muscle memory and accuracy and you will see progress. Pick a reasonable level of accurate consistency, say six rounds on a man sized target at 25 feet, then train to that objective. Once you're consistently operating within that standard, make it harder by moving the target farther away if you like. Do not forget to practice shooting with your non-dominant hand and drawing from a holster if it's allowed at your range. Start slowly and practice.
Carry the Weapon
The gun you left at home in your sock drawer isn't going to do you much good when you need it in a hurry. Know the laws in your state, get a concealed carry permit if you can, the carry the damn weapon. Buy a copy of Andrew Branca's excellent book The Law of Self Defense and read it so you will know how to act if, God forbid, you have to use your weapon.
See? Easy peasy! I know you can do it!
******
Why am I beating what should by now be a dead horse? Good Question. We live in a troubled world full of bad people who mean to do you harm. Every time you hear of a shooting in a public place, you need to understand the shooter was targeting you. Indiscriminate shooters have no particular target in mind and it could have just as easily been you in the line of fire. That should make you both mad and determined to protect yourself and others if possible.
I'm encouraged by those who read my bullshit every week (thank you!) and mention they are taking the steps to defend themselves, and I'm particularly happy to hear the congregants in places of worship are organizing and training for the unthinkable. These people understand the reality we live in and are refusing to be easy victims. Barely a week ago, incidents in New York and Texas unfortunately illustrate my point. In New York, five people were stabbed while the unarmed victims waited for the police to respond, while in Texas, a prepared congregation put a nearly instantaneous stop to a maniac on a rampage. Although two people tragically died in the latter example, it would have been much, much worse had not several of those present been ready to take immediate action.
Think about that. I'm not sure I could live with myself knowing I could have stopped a tragedy but didn't have the tools necessary to act. Carry your gun.
******
Guess who has been paying attention and has been to the range? Why, it's our pal Scuba_Dude, that's who! S_D has taken the initiative to get a firearms permit in NYC of all places, goes to the range, and has signed up for handgun training later this year at the Sig Sauer Academy in Epping, NH. While S_D isn't going to be able to carry his weapon in the city, he's doing everything else I've been ranting about for months. Let's peek in on S_D and check his progress.
After over a month of not being able to get to the range due to either obligations or illness I finally made it!!!

I only put 120 rounds downrange but I think I did pretty good. I started with 60 rounds at 7 yards then ended with another 60 rounds at 10 yards. My drill was mainly 2 shots to center mass followed by 1 shot to the head. Near the end I was shooting at the smaller targets moving from one to the other.

I feel I am getting really comfortable with the Sig. I have yet to use the red dot. Makes me think I made a poor choice getting the RX Sig and not a regular iron sights.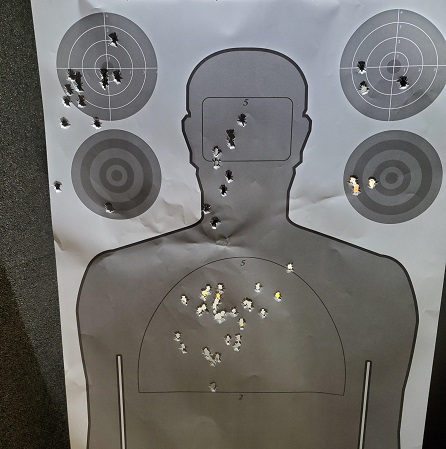 7 yard target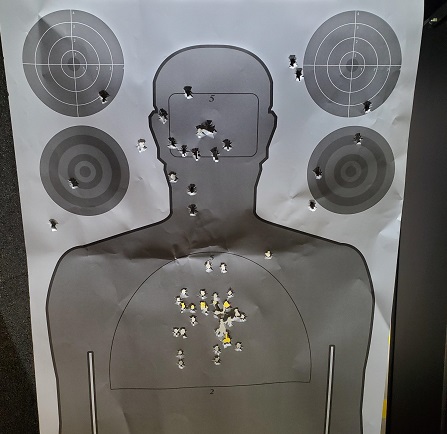 10 yard target

Nice work, Scuba_Dude! Your diligent work is really paying off!
******
Virginia and the NRA
For those following the situation in Virginia, The National Rifle Association has entered the fight by encouraging members to attend it's January 13th Lobby Day in Richmond. This is not to be confused with the Virginia Citizens Defense League Lobby Day which is January 20th also to be held at the Virginia State Capitol.
These are Lobby Days and not "Protest" or "Start Some Shit" days. The purpose is to meet with legislators and otherwise make known the opposition to proposed anti-gun laws in the Commonwealth. Those attending should keep in mind the media will be there waiting to cast gun owners in a disparaging light, so be aware and behave accordingly.
Stay tuned...
******
Link-O-Rama

I'm really seriously not kidding around anymore. Buy Ammo
AmmoSeek - online ammo search tool
GunBot - online ammo search tool
Palmetto State Armory
SG Ammo
Georgia Arms
AmmoMan
***Mail Bag***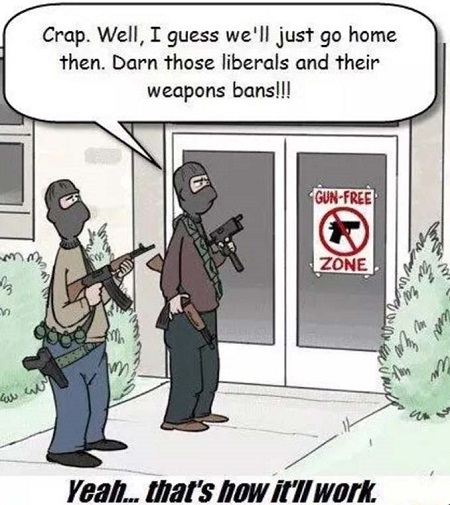 ******
Please note the new and improved gmail account morongunthread at gmail dot com. An informal Gun Thread archive can be found HERE. If you have a question you would like to ask Gun Thread Staff offline, just send us a note and we'll do our best to answer. If you care to share the story of your favorite firearm, send a picture with your nic and tell us what you sadly lost in the tragic canoe accident. If you would like to remain completely anonymous, just say so. Lurkers are always welcome!
That's it for this week - have you been to the range?


posted by Open Blogger at
07:00 PM
|
Access Comments