« Dollar Stores: Whitey's Secret Plan To Keep POC Fat and In The Ghetto!
|
Main
|
Gun Thread: Happy New Year Edition [Weasel] »
January 05, 2020
Food Thread: I Say Roast Beef; I Cook Scallops! Let's Call The Whole Thing Off...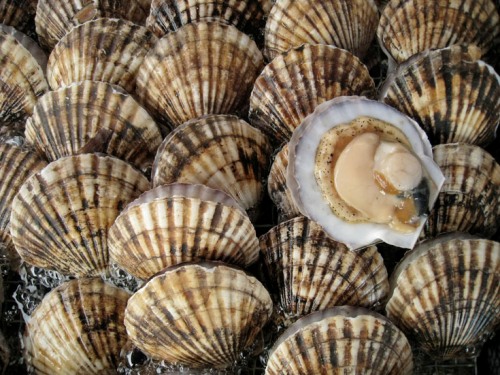 After weeks of pounding you with links about great hunks of flesh and monstrous beasts slow-roasting over an open fire built in the living room, what did I make for the huge New Year's Eve celebration (two people) at Chez Dildo?
Scallops.
Cape Cod bay scallops to be precise, and they were the best scallops I have ever eaten. Oh, we had a few other things like crab cakes I made from fresh blue crab, and some huge and great shrimp I sauteed in butter to munch on so I wouldn't collapse from hunger while I cooked.
But the scallops were the star of the show. Unbelievably sweet and tender, and according to the fishmonger they were eating them in the back all morning for breakfast. Raw. Don't scoff. Raw scallops are great, but I cooked mine in butter and a bit of salt, and that's it! The butter thickened and browned very quickly, which makes me suspect that the scallops had lots and lots of glycogen in them.
I wandered into the fish store to pick up the crab meat, and since it was rather crowded I had some time on my hands to look at the various offerings. My eyes fell on sea scallops, and they looked great! Big and fat and nicely trimmed, but the fishmonger told me to get the bay scallops, and I am forever in his debt.
Too bad Cape Cod is in the Boston area...ground zero for Red Sox Nation. Otherwise I would seriously consider moving there just for the seafood.
******
You want a food rant? Fine...I'll give you a (sort of) food rant. The retail-heavy city next to my village decided, in its infinite, elitist, economically ignorant wisdom to ban plastic shopping bags as of the first of the year. Aside from the fact that the stated goals of "promoting sustainability and reducing litter" are unreachable with this ordinance, it is a huge pain in the ass. Plastic bags are great because they have built-in handles, so shoppers can carry all of their stuff without clutching large paper bags (most of which either don't have handles or have flimsy ones) that are much less convenient to carry.
But let us return to "sustainability," shall we? What am I sustaining by using paper bags which are manufactured using trees that must be harvested with petroleum vehicles, and must be transported (and they are heavier so they require more transport) with petroleum vehicles, and must be recycled using petroleum vehicles? Because I don't have a clue.
And litter? Give me a break. Enforce the littering laws already on the books and everyone will be happy. But that will fall disproportionately on the litterers, and we can't have that! Regular folk who would be mortified to litter have to bear the brunt of this overbearing bit of social engineering.

******
One of my casual goals is to avoid diabetes, so I won't be drinking one of the things anytime soon. Or ever.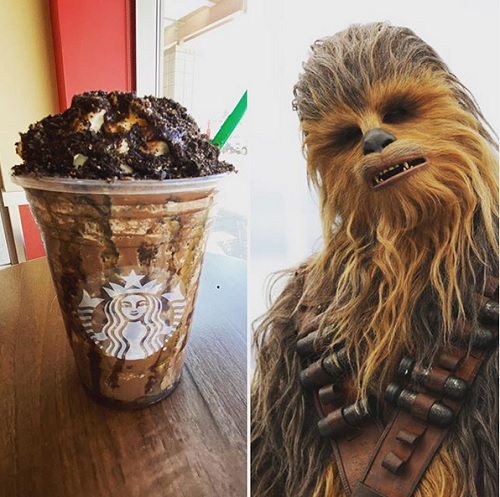 A Chewbacca Frappacino Exists, and It Looks Just Like Your Favorite Wookiee
There is a misspelling in a one sentence title. How seriously should we take this article?
[Hat Tip: Bluebell]

******
There are lots of different salts, and I have written about a few of them, but this really does take the cake. If the cake is a virtue-signalling mess of foody bullshit, SJW environmental nonsense, ignorance of the chemistry of salt, and absurd romanticizing of a pretty basic ingredient.
It's also marvelous to laugh at, and for that I thank them!
Why This 100% Sustainable Icelandic Sea Salt Based on Historic Production Methods Is Becoming a Chef Favorite
Salt is, obviously, salty, but there are a few simple characteristics that differentiate the various types, texture being the predominant one. Large crystals dissolve slower, and in some foods their hint of a crunch is appealing (at least to me). But I think most of us would be hard pressed to tell the difference between salts within the broad category of size of crystal. I think the colored salts (salts of color?) are pretty neat, and I use a black one for my cilantro margarita because it looks cool. But could I tell the difference in a blind test? Nope.
Jónsson and his team learned the process by researching historic techniques and using trial and error, and the resulting mineral-rich salt is clean, flaky little pyramids that embody the essence of the Nordic region.
Spare me this bullshit! What is the essence of the Nordic countries as expressed in salt? Please...illuminate us!
[Hat Tip: Misanthropic Humanitarian]

******
It's an 11:53 long video, which is about 11 minutes too long for the subject, but it is oddly amusing.
What Happens When You Dry Age SPAM?
And they threw in aging hot dogs, so I guess there is a bonus!
[Hat Tip: Curmudgeon]

******
I'm not surprised that the end of a decade spawned a bunch of click-bait articles, but I am surprised that they did such shoddy work. If you do click on the link, click through the slide show quickly, otherwise you are going to get angry at me for wasting your time.
10 Recipes That Defined the Decade
The bacon-jalapeno poppers are a keeper, but that's about it. As for any of the foods listed being connected in any way to the second decade of the 21st century? No idea what the hell they are jabbering about.
[Hat Tip: Bluebell]

******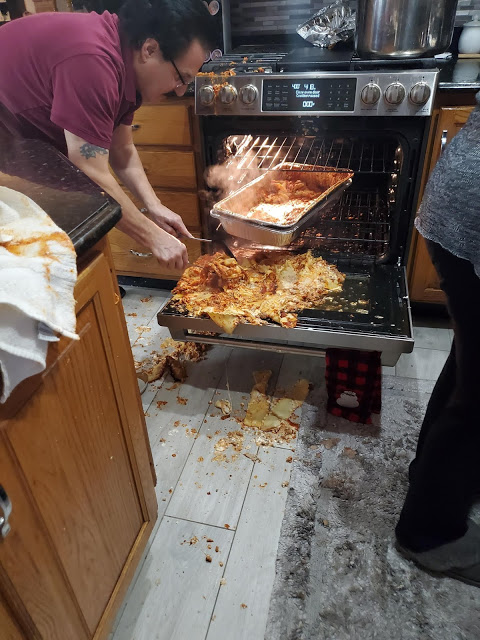 From:
IT AINT HOLY WATER
What was your biggest kitchen mess? I can think of a few, including shaking a large container of vinaigrette and having the top fly off. Cleaning oil and mustard off the ceiling was...interesting.
[Hat Tip: redc1c4]

******
Food and cooking tips, Large-breasted Muscovy ducks, well-marbled NY strips, crisp bacon (although I am moving toward less crisp), thick and fluffy pita, and good tomatoes that aren't square, pale pink and covered with Mestizo E.coli:
cbd dot aoshq at gmail dot com
. Any advocacy of French Toast with syrup will result in disciplinary action up to and including being
nuked from orbit.
And yes, shaking a Manhattan is blasphemy...it's in the Bible!
&topic=world_news">

posted by CBD at
04:00 PM
|
Access Comments