« Gun Thread: Happy New Year Edition [Weasel]
|
Main
|
The Morning Report - 1/6/20 »
January 05, 2020
Sunday Overnight Open Thread (1/5/20)
***
The Quotes of The Day
Quote I

"These are my scars on full display in 2019. I'm proud of my scars and love my body just the way it is. I call them my battle wounds because they signify the strength and perseverance it took to finally complete my transition." Jazz Jennings

Quote II

"And that may be true, I wasn't there and I don't know the facts that somebody in the congregation had their own gun and killed the person who murdered two other people, but it is the job of law enforcement to have guns and to decide when to shoot. You just do not want the average citizen carrying a gun in a crowded place." Former NYC Mayor, Michael Bloomberg, Candidate for POTUS

Quote III

We forget that knowledge can be found at all ages, and in all places. And ethics has nothing to do with degrees or pedigrees.Victor Davis Hanson

Quote IV

'I feel for that Greta. She has been brainwashed into thinking that there is climate change and there isn't.

'She hasn't done anything wrong but she's been forced into thinking that what she is saying is true.' Meat Loaf

Quote V


"Further data collection is not legally permissible. Both internally and externally, any classification that could be used to depreciate human beings must be avoided. In this respect, the use of the term 'family clan' (Familienclan) is forbidden from the police point of view."NRW Interior Minister Ralf Jäger

Quote VI

Tonight is the Golden Globe Awards. I don't have enough f*cks to give. I really don't. Misanthropic Humanitarian

***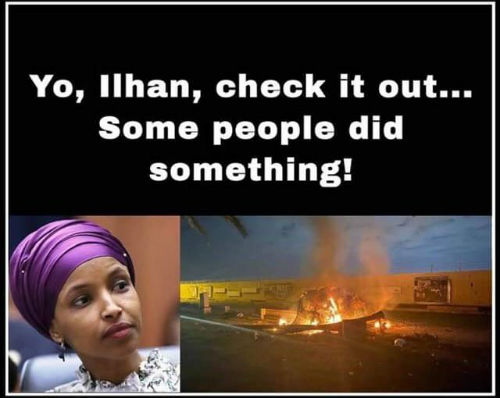 Maybe our favorite homely adulteress will check this out.
Top 10 atrocities of dead guy Soleimani.
***

Former VP Joe Biden is one creepy SOB.
***

They spent years fighting one another. Times have changed. If Iraq wants to be governed by Iran. So be it. The parliament of Iraq wants U.S. troops out.

BAGHDAD — Iraq's Parliament called for the expulsion of U.S. troops from the country Sunday in reaction to the American drone attack that killed a top Iranian general, raising the prospect of a withdrawal that could allow a resurgence by Islamic State extremists.

Lawmakers approved a resolution asking the Iraqi government to end the agreement under which Washington sent forces more than four years ago to help in the fight against ISIS.

The bill is subject to approval by the Iraqi government. Even then, canceling the U.S.-Iraq agreement requires giving the Americans a one-year notice for withdrawal.

We took out a bad guy and can leave that f*cking hell hole. I'm OK with that. Wonder who Captain Bill and all of his faculty lounge warmongers are going to hate and want American treasure to die for next.
***

Don't worry, I will remain the Misanthropic Humanitarian not the "Naked Philanthropist".

A woman on Instagram just pulled off a massive, and rather nontraditional, fundraising campaign.

Kaylen, who calls herself the "naked philanthropist" online, had a clever idea when she heard of the damage the fires in Australia are wreaking. On Jan. 3, Kaylen made a new post to her Instagram, promising an exchange with any users who were willing to donate. As long as at least $10 went to the cause, Kaylen would reward donors with a nude. Simple, sweet, and—as it turns out—massively effective. Over the course of the next several days, Kaylen managed to rack up more than $300,000 in donations.
***
And.
***

My Semester With the Snowflakes - At 52, I was accepted to Yale as a freshman. The students I met there surprised me.

Now back to that bridge. I need to figure out how to actually build one. Good thing I've found a place where I can get help. If this place is peopled by "snowflakes" I'm proudly one of them. I'm a snowflake with a purple heart.

Peace.
***
Happy National Whipped Cream Day.

***

I can't wait to pull this prank...............

(H/T CBD)
***

Jeez, I have no idea why the MSM is despised. No clue whatsoever.

The media has a less than stellar track record when it comes to their assessments of heinous, murderous leaders. Such was the case in 2017, when Time magazine referred to the now-deceased Iranian terrorist leader Qasem Soleimani as "James Bond, Erwin Rommel and Lady Gaga rolled into one."

Your eyes do not deceive you. Yes, this is an actual quote derived from Time's 100 Most Influential list in which Soleimani was included. The introductory sentence written by former CIA analyst Kenneth M. Pollack is a quintessential example of the tone- deaf mentality those in the media possess: "To Middle Eastern Shi'ites, he is James Bond, Erwin Rommel and Lady Gaga rolled into one."
***
Brexit in a song. NSFW-Language You've been warned..........

***

Elections have consequences. Every day water usage might make you a "criminal".

The blue governments that Californians continually vote in may have finally crossed the line, at least so it seems to these KTLA news anchors.

A video of the show titled "KTLA 5 Morning News Anchors Get Redpilled," shows the anchors discussing the matter at hand, specifically regarding California's 55 gallon-of-water-per-day.

"I'm not sure how I feel about this," said anchor Jessica Holmes to her co-anchors. "You're not going to be allowed to shower and do a load of laundry in the same day."

While that may sound insane, what California Attorney Richard Lee breaks down the hypothetical figures.

I believe there is a bar of soap and a shower joke to be made.
***

Tomorrow, January 6th is #JewishandProud Day. If you are going to celebrate, keep your head on a swivel.
"Whether you have a kippah, a necklace with a Jewish symbol, a t-shirt written in Hebrew, or anything else identifiably Jewish, wear your Jewishness publicly and proudly, in the United States or abroad, in cities big and small," said the AJC. "Even if you don't have something identifiably Jewish to wear, print our #JewishandProud sign or make your own image featuring the #JewishandProud slogan and post a photo of yourself with the image and hashtag on social media."

Those who are not Jewish are invited to use the hashtag online or submit a message at AJC.org/JewishandProud about what they will be doing in 2020 to support the Jewish community.
***
The ONT Musical Interlude
On this day: 5 Jan 1998
American singer, producer, and politician Sonny Bono was killed in a skiing accident at a resort near Lake Tahoe, aged 62. Bono who was one half on Sonny and Cher scored the 1965 UK & US No.1 single 'I Got You Babe' and had become a US Congressman. The United States Sonny Bono Copyright Term Extension Act of 1998, which extended the term of copyright by 20 years, was named in honor of Bono when it was passed by Congress nine months after his death. via thisdayinmusic
&&&
On this day: 5 Jan 2004
Kinks singer Ray Davies was shot in the leg while on holiday in New Orleans. The 59-year-old singer-songwriter was shot when running after two men who stole his girlfriend's purse at gunpoint. Davies was admitted to the Medical Centre of Louisiana but his injuries were not considered serious. New Orleans police said one person had been arrested, and police were still searching for the second. via thisdayinmusic.com
***

I hope the dog doesn't contract rabies. Genius Award Winner.

A Florida man is facing several charges after police say he assaulted an officer and bit the ear of a K-9 dog while naked and high on methamphetamines last week.

Donald Watts, 38, was arrested Saturday for multiple charges including simple battery, two counts of resisting an officer/ arrest and one count of aggravated battery on a service dog, inmate records online showed.
***

Who knew that spare change could make such a difference. Tonight's Feel Good Story of The Day.

Back in 2016, a determined Irishman began collecting spare change to help sick children—and he is now on track to buy an MRI machine for a local hospital.

Liam Duggan first started pursuing his dream of building a children's hospital by standing outside of a local cafe with a cardboard sign so he could gather spare change from generous passerby.
***

Tonight's ONT has been brought to you by Good Advice.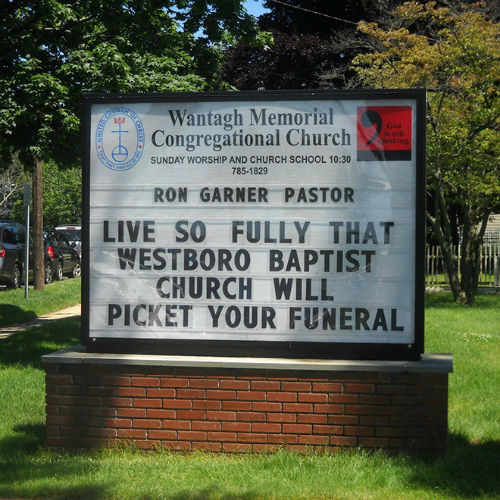 Notice: Posted with implied permission from the Ace Media Empire & AceCorp, LLC. Order your Ampersand privileges before midnight and for extra postage and handling charges you too can have a get out of the barrel free card. Not valid in CA, Puerto Rico or the Virgin Islands.

posted by Misanthropic Humanitarian at
09:35 PM
|
Access Comments