« Saturday Afternoon Chess Thread 08-24-2019
|
Main
|
Saturday Overnight Open Thread (8/24/19) »
August 24, 2019
The Occasional Fishing Thread: [Bandersnatch]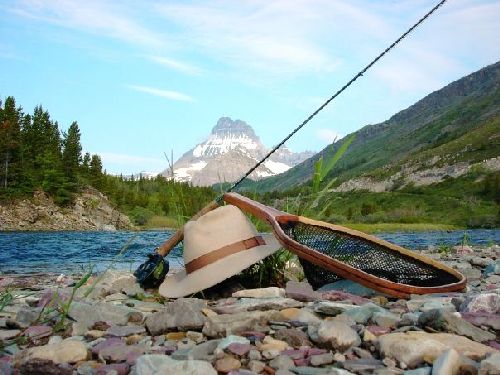 Welcome Piscators and Piscatrixes to the current installment of the occasional fishing thread. As usual, my musings, memories, biases, rants, brags, and outright lies are just a jumping off point. All things fishy are on topic.
First, a preview. I think the next occasional thread will be a Hunting and Fishing Thread. Fishing writers who scoff at the magazine genre (looking at you, Gierach) call it the "hook and bullet press", but there's a reason the magazines are called Field and Stream and Sports Afield. They're about guys going into Nature to pester things. Also, although I've done some minor hunting I don't know some basics, like even if you learn to field dress a deer by watching YouTube videos what do you do with the gut pile? So please be ready to contribute if you know anything.
I've been thinking about the bodies of water people like to fish in. The past couple of weeks I've been househunting in an area that has oodles of lakes which don't interest me and some clear cold streams which do. The freshwater world roughly divides between coldwater fish – trout, char, salmon – and warmwater fish – bass and panfish. I've never fished the northern midwest, so I don't know where pike and walleye fit in.
For a variety of reasons bass annoy me these days. They were exotic when I was a kid, because there were only bluegills and hornpout to catch, but now not so much. I'm put off by the fact that all of the fishing on TV these days is guys in NASCAR suits running around in sparkle boats. Also, years ago I was fishing the Rangely Lakes region of Maine where the pristine water is supposed to be home to native brook trout and landlocked salmon. Well, they're there up the rivers, but someone had decided to add smallmouths. (Not the state, when an individual improvises like that it's called bucket biology). The smallies thrived so well in the lake that there were blitzes – that's where schools of fish force pods of baitfish to the surface and the whole of the topwater explodes in splashes – which I'd only ever seen in saltwater.
My preferred water is salt. For today's purposes that's inshore, offshore is its own tax bracket and may be the subject of a later discussion. A tidal shoreline is an infinitely changing place. On a coast like Scituate, MA, for one example, the tide averages ten feet. There are nearly two full tides a day, so the water rushes in twice, rushes out twice, and hovers precariously at slack four times. Fish come in with the rising tide and move onto the flats to root out crabs and worms. Fish lay back on the outgoing tides to ambush baitfish being swept off the marshes and into channels. And with the tide being basically one hour off the solar clock, you'll never face the same conditions twice.
You do really well at dawn two hours into the incoming. Well, tomorrow dawn will be one hour into the incoming. It will be two full weeks before the tide and time of day align in the same way and in that two weeks the bait will have matured two weeks worth, the migration of migratory fish will be two weeks further on. You can't step on the same estuary twice.
Also, in a lake or a stream you will only find what belongs there. Or got there, I guess Asian carp don't belong. But it's finite. The ocean is infinite, anything can happen. A few years ago a guy caught a sailfish in the Cape Cod Canal. There shouldn't be sailfish in the Canal, but an eddy can break off the gulf stream and carry a pelagic fish inshore.
So, these are my declared prejudices. What kind of waters do you like?
**********************
Onward and upward to the fish brag pics.
Diogenes offers us our second dinosaur in the fish brag pics. Maud'dib's kid had one a few weeks ago. Sturgeon are truly ancient. Now we need someone to step up and catch a coelacanth.
Here is my brag fish. Caught near the mouth of the Columbia just east of the Astoria Bridge. Sigh...of the 11 caught that day, mine was the smallest. The largest what a monster coming in at about 12 feet. An incredible creature and very humbling.
Speaking of Muad'dib: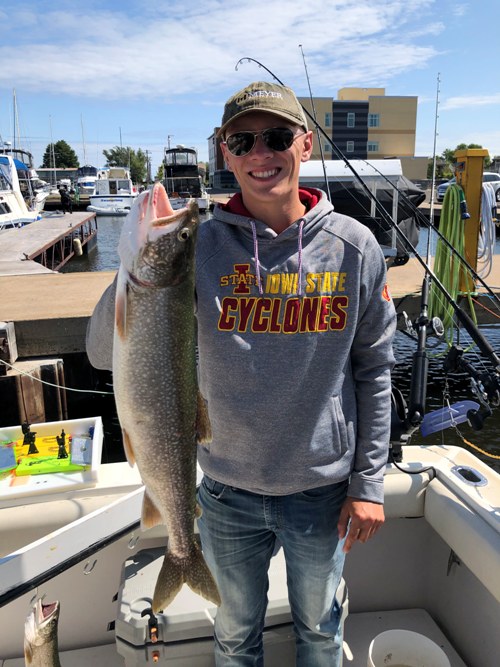 My youngest and I went lake trout fishing yesterday in Lake Superior, out of Duluth, MN. The most effective method is down rigger trolling. We trolled spoons, bucktails, and flies from 70-95 feet of water. Water depth was 115-125 feet. Besides lake trout, people regularly catch Coho and King salmon. We were all Lakers yesterday. One fish short of limiting out. Pic attached of my son and a 6 pound trout. Meat quality is fantastic. These fish come out of 40 degree water.
Today's trivia: lake trout and brook trout are not true trout, the are char. The difference is that trout have dark spots on a lighter background and char have light spots on a darker background. Also something about volmer teeth, but I don't know what volmer teeth are.

Fritz weighs in: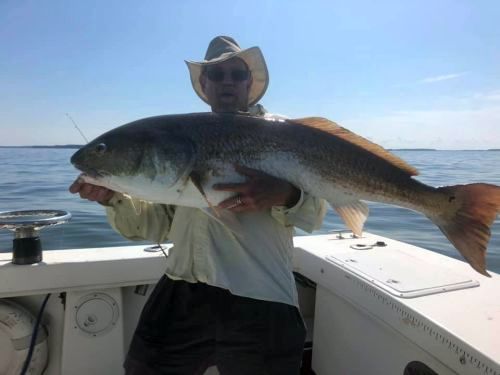 Fritz: 50 inch, 50+ lb Red Drum caught in Chesapeake Bay on Aug. 1, 2019
And oh heck I'll get in on this: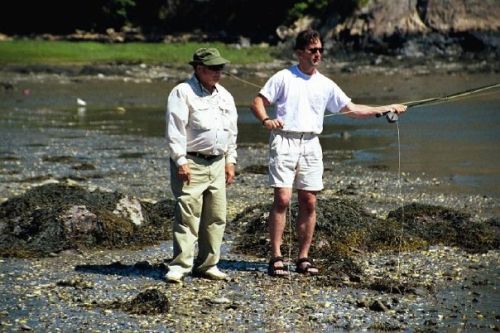 This is twenty years ago Bander. I found a little gnome on the shoreline who went by the name Lefty, so I offered to teach him the hook cast, which is a sidearm trick cast that lets you put the fly on the far side of a rock.
These two are utterly gratuitous. Sue me.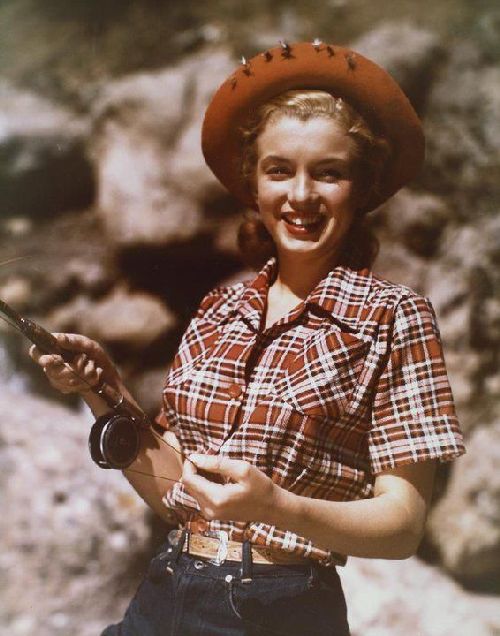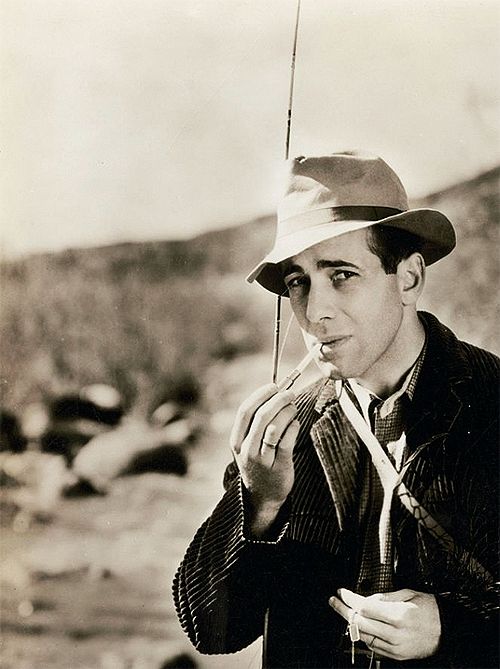 And with that we move on to the raison d'etre of this here HQ, the comments section. Brickbats, praise, and fish brag pics are welcome at aoshqfish at sign gmail thing.

posted by CBD at
07:30 PM
|
Access Comments