« Is This The New Military Paradigm? Preemptive Strikes as A Tactical, Rather Than Strategic Plan?
|
Main
|
Gun Thread: Time Flies! [Weasel] »
August 25, 2019
Food Thread: Eat Every Carrot And Pea...And Unidentified Protein From 2014 On Your Plate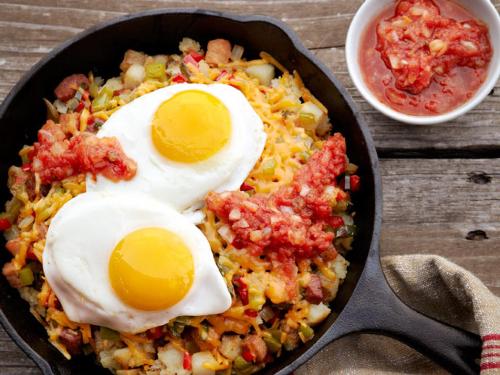 I have a sneaking suspicion that dishes such as the admittedly drool-inducing one above are designed not so much for culinary pop but to empty out the refrigerator in preparation for next week's column or show.
Because that's what I do! And those meals can be immensely satisfying, not just for their gustatory pleasures but also for the simple pleasures of winging it in the kitchen. Nothing complicated, no recipes, no huge pile of pots and pans in the sink.
I used to make pots of whatever I had in the refrigerator when I was young and poor and had to be frugal. And I don't recall suffering for it. Nowadays I still do it. mostly because I am a cheap bastard and don't like wasting food. But if I am eating solo, then more often than not it will be something like this, usually with huge dollops of some spicy chili paste or hot sauce or chopped jalapenos or whatever fiery concoction I can conjure.
So...what's your go-to refrigerator-clearing dish?
******
We live in marvelous times, in which technology seems to be able to make everything better. This is a big deal for food, because heat, the traditional and effective way to destroy pathogens, also changes the taste and texture of the food. Even Pasteurization, which is a simply marvelous technique to make milk safe, changes it a bit. I have had unpasteurized milk, and it was different and, to my uneducated palate, a bit better. By the way, that is not a recommendation that you run out and buy raw milk...that's nuts!
Fraunhofer works on disinfection using UV light
Killing the microbes that make food spoil or make us sick is one of the fundamental advances in society, yet we do an imperfect job of it. This budding technology may fizzle, and it may be a transformational change in the food industry. Maybe it can be extrapolated to produce in the fields and livestock in the slaughterhouses.
Who knows! But its possibilities are brought to you by Free MarketsTM.

******
Pizza.
Pepperoni pizza.
Detroit-style (sort of) pepperoni pizza.
Detroit-Style (sort of) pepperoni pizza with a bit of honey drizzled into the center of each pepperoni slice.
Yeah. it was stupendously good. And in NYC. So it was also obscenely expensive (don't ask), but damn! And the olives (side dish) were superb Castelveltranos with some chili flakes sprinkled on them that raised them to hitherto untouched heights. The martini wasn't bad either.
And...the meatballs were better than mine, which really pissed me off.

******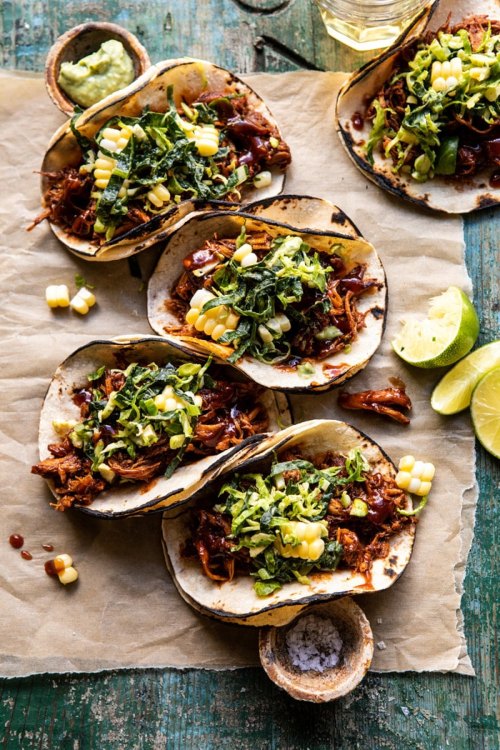 Instant Pot BBQ Beer Pulled Chicken Tacos with Ranch Corn Slaw
I don't have an instant pot, but that's not necessary for this recipe. What caught my eye was the slaw...that sounds good! I love corn in salsa, but never thought about it in a cabbage slaw. But I will soon remedy that oversight.

******
Ah...summer! And that means tomatoes. Lots of 'em. You can tell by the large container of blended grilled tomatoes in my refrigerator, because I bought way too many of them at my local farm and had to do something. Maybe a roasted tomato soup, or a base for gazpacho, or....
Bu that doesn't mean I won't stop buying them, at least until they mutate one horrible weekend from the glories of a summer tomato to the pallid, hard, mealy grotesques that pass for tomatoes for about 10 months of the year.
Maybe I will try this Tomato Tart. It looks good, although I will probably buy a pie crust the first time I make it. Unlike many of you, I am not one of those "I'll just whip up a pie crust" kind of guy. Mine look a bit lopsided and lumpy and often have strategically placed holes in them.

******
Six Spiked Seltzers We'd Actually Drink This Summer
Not me!

******
Speaking of corn...
Corn Fritters with Cheddar & Scallions
I love, love, love corn fritters. Hell, I like all fritters (ever had a conch fritter? They're great!).
******
I have posted this recipe before, but I have been making it frequently this summer and have adjusted it slightly. I discovered that it needs more salt than the original recipe called for, and definitely a bit more time in the pan. Oh, use as much olive oil as you want...the more the merrier!
Ratatouille
Ingredients
• 1/4 cup olive oil, plus more as needed
• 2 cups small diced onion
• 1 ½ teaspoon minced garlic
• 2 cups peeled medium diced eggplant,
• 1½ teaspoon fresh thyme leaves
• 1 ½ cup diced yellow bell peppers
• 1 ½ cup diced red bell peppers
• 2 cups diced zucchini squash
• 2 cups diced yellow squash
• 2 ½ cups peeled, seeded and chopped tomatoes, or equivalent good canned tomatoes
• 1 ½ tablespoon thinly sliced fresh basil leaves
• 1 ½ tablespoon chopped fresh parsley leaves
• Salt and freshly ground black pepper
Directions
Set a large 12-inch sauté pan over medium heat and add the olive oil. Once hot, add the onions and garlic to the pan. Cook the onions, stirring occasionally, until they are wilted and lightly caramelized, about 7 minutes.
Add the eggplant and thyme to the pan and continue to cook, stirring occasionally, until the eggplant is partially cooked, about 7 minutes. Salt lightly and add more oil as needed.
Add the yellow and red peppers, zucchini, and squash and continue to cook for an additional 7 minutes. Salt lightly and add more oil as needed.
Add the tomatoes, basil, parsley, and salt and pepper, to taste, and cook for a final 7 minutes.
Stir well to blend and serve either hot or at room temperature.
And a few points: I peel the eggplant, but if you enjoy the sharpness of the skin then don't bother. And I also don't bother with fresh tomatoes; there are enough good canned tomatoes out there that it isn't worth the trouble to use fresh unless you feel like it. I also simmer it for a bit longer than the final 7 minutes because I really like this dish to be thick and stew-like.

******
Food and cooking tips, Castelvetrano olives with a sprinkle of chili flakes, young wild pigs, crisp bacon (although I am moving toward less crisp), thick and fluffy pita, and good tomatoes that aren't square, pale pink and covered with Mestizo E.coli:
cbd dot aoshq at gmail dot com
. Any advocacy of French Toast with syrup will result in disciplinary action up to and including being
nuked from orbit.
And yes, shaking a Manhattan is blasphemy...it's in the Bible!
&topic=world_news">

posted by CBD at
04:00 PM
|
Access Comments