« Food Thread: Eat Every Carrot And Pea...And Unidentified Protein From 2014 On Your Plate
|
Main
|
Sunday Overnight Open Thread (8/25/19) »
August 25, 2019
Gun Thread: Time Flies! [Weasel]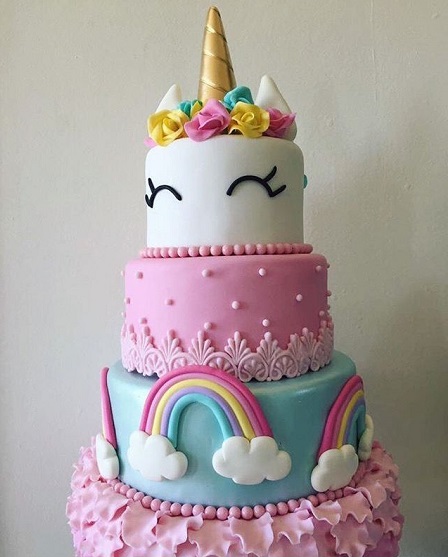 Happy Gun Thread Birthday!
Would you believe it's been a year? Yep, that's right, this is the 52nd Gun Thread by yours truly, so Happy Birthday, or Anniversary (or whatever) to you all! August 26, 2018 will forever be known as a date of infamy in literary and shooting history. Oh, we've laughed, we've cried, and argued nicely among ourselves, but we have also had a generally good time too, I think. I always try and say this in the comments, but thank you all for tuning in each week and making this what I hope is a fun place to hang out and discuss gun matters large and small. I really do appreciate all the kind words and encouragement, but most importantly, I appreciate the time you decide to spend here each week. No shit. And a special thanks to Mr. Of Spades for allowing us the space to destroy, and to Mr. Dildo for only charging me the discounted fee of $25 per thread. This week's check is in the mail, Amigo.
Now let's get to the gun stuff, shall we?
Last week we talked about flying with guns, and the additional steps necessary to check a weapon with your baggage. Towards the end of the post I referred to something which, all kidding aside, is actually a potentially serious matter. What if, through no fault of your own, you find yourself behind enemy lines in a jurisdiction which doesn't appreciate your 2nd Amendment rights as much as you do?
From last week:

Q: What happens if my flight is diverted to a hostile jurisdiction such as New York or New Jersey - will I go to jail?
A: I don't know, it's never happened to me.

Here's a skerry article from the NRA-ILA which states in part:

Special advisory for New York & New Jersey airports: Despite federal law that protects travelers, authorities at JFK, La Guardia, Newark, and Albany airports have been known to enforce state and local firearm laws against airline travelers who are passing through their jurisdictions. In some cases, even persons traveling in full compliance with federal law have been arrested or threatened with arrest. FOPA's protections have been substantially narrowed by court decisions in certain parts of the country, particularly in the Northeast. Persons traveling through New York and New Jersey airports may want to consider shipping their firearms to their final destinations rather than bringing them through airports in these jurisdictions.

I think the risk of an inadvertent stop in one of these jurisdictions is probably small, but if it's more likely based on your circumstances and itinerary, you may want to consider making other arrangements, or bring your attorney with you on the trip.
This part of the thread elicited a couple of great replies, which I think are important enough to repeat here rather than being lost in the comments. This first was from Village Idiot's Apprentice who said:
The New York/New Jersey part applies in particular to a passenger traveling lawfully through any of those airports, and their connecting flight is delayed, requiring the passenger to take temporary possession of their luggage, usually for overnight.

You take your checked baggage, and go to hotel, even on the airport property, and you now are illegally in possession of a prohibited firearm.

If delayed in NY/NJ... do NOT take possession of your luggage containing your firearm. Require the airline to retain possession of it, overnight if need be, and have them place it on your connecting flight without it ever being back in your physical possession during your delay.
And the next, towards the end of the evening, was from none other than Andrew Branca of The Law of Self Defense:
Q: What happens if my flight is diverted to a hostile jurisdiction such as New York or New Jersey - will I go to jail?

Correct Answer: Do not under any circumstances so much as touch the bag with the gun in it. The moment you do, you're in unlawful possession of the firearm, and the authorities will be more than happy to prosecute accordingly. Inform the airline that they are to remain in possession of the bag until it reaches a destination where it is lawful for you to possess a gun, presumably your final destination. An airline, as a "common carrier" can get in no trouble for having the gun in NY or NJ or CA or wherever, but YOU certainly CAN. For this reason it is best to NOT pack your gun along with other stuff you will desperately need when you land, such as medications, travel documents, etc.
Very useful advice to file away for when you need it. Mucho thanks to you both for bitch-slapping us with that knowledge!
*******
Here's a great idea for a thread, but I need your help. Thanks to
Tonypete
for sending this in!
An idea for a possible gun thread: CCW insurance programs and the pluses and minuses of those we are familiar with. I know there are a dozen or so to choose from, but how does one choose one that is right for the individual Moron?
To tell you the truth, this is something I've thought about personally for a long time, but have never acted on. I'd like to hear from you all on the ones you might have chosen, and why. I'll take the most popular and do a side by side comparison and try and come up with a top pick. Sound bueno? Either tell us all in the comments or drop me a note if you prefer to remain anonymous. Thanks!
*******
You will recall
NeonMadMan
had cateract surgery a couple of weeks ago, and agreed to share updates on how it's affected his shooting.
I had cataract surgery, which did a remarkable job of correcting my distance vision, but my near vision was blurry - because cataract surgery essentially implants new lenses fixed for distance vision only. My doctor worked up a prescription for progressive bifocals, essentially +2.5 readers in the bottom for near work (like the tablet and books), fading to near-clear glass in the top with a very slight correction for astigmatism. These work well - I can easily use my handgun sights again, as well as see the target clearly, with just minor adjustments in my viewing angle. Anyone else out there using bifocals will know exactly what I mean. I am very pleased with the glasses. And yes, I have been to the range - attached is a sample target - 25 feet, two handed hold, shooting an old S&W K-38 in single action mode.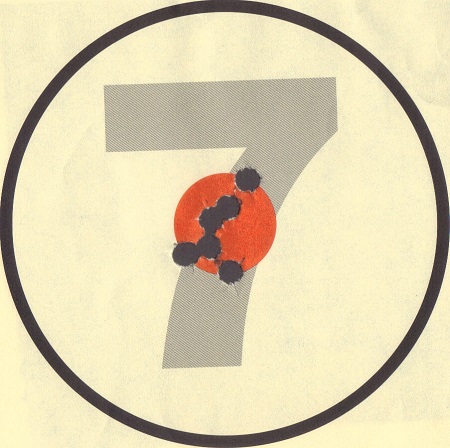 NeonMadMan is Back!
Damn, dude! This is some nice shooting! I think we'll all agree we'd be pleased with this result under any conditions!
*******
Link-O-Rama
Euro Optic is Having a Big Sale! [H/T redc1c4]
VIDEO: Jerry Miculek on Pistols (25+ min)
Lucky Gunner Article: Handgun Grip Fundamentals
Springfield Armory: Shooting Tips
NSSF VIDEO: Semi-Auto Pistol Grip
VIDEO: Jerry Miculek on Revolver Grip (30+ min)
wtf NASCAR?
***Mail Bag***
OK, so I've been harping on practice and one handed shooting and just getting out of your comfort zone and trying something different during your range time. Well guess who took me seriously and did her homework? Our pal and delightdul 'ette Satrose that's who!
I have had some non life threatening medical issues this last year, which involve severe bouts of vertigo. Not conducive to going to the range to shoot, nor actually safe to shoot. (This is my excuse for the crappy shooting you will see in a minute.) But this week I am able to walk in a straight line so I went to the range. And I started thinking of the "practice like you will do in reality " adage - and how it relates to us ladies and our jewelry. I never go to the range with my rings on. I shoot tournaments with a silicon band only, if that. But if I have to defend myself, chances are I will have jewelry on. "Hold on while I take my rings off" is not really an option. (The same reality applies to high heels and tight skirts/jeans/dresses, but thats another whole issue.)

So….. I decided to shoot with my rings on, cold, no warm up, after having not shot in … well awhile. Like a month or two? I used my home defense gun, a Springfield Armory XD -9. I went in, and loaded five rounds in several magazines. Then I shot (no warm ups, no "mental thinking" time) from a low ready. The distances were 3 yards, 7 yards, 10 yards and 15 yards. I would shoot, pull the target back in, put black sticky dots over the holes, then send out to the next distance. Low ready, shoot, repeat. Steady firing pace, not slow but not "Youtube five shots in two seconds" either.

What I discovered:

1. I need to get to the range more! Well duh on that one.
2. The rings I had on actually made me really grip tighter, surprisingly, and that was a good thing. It was not comfortable at all but it was doable.
3. I realized what I had to fix grip wise with rings on, which was the purpose of the exercise.

A Range Officier came by and gave me a hug. (I am the honorary grandmother of all the guys) He commented that I should consider doing this for about 50 rounds and then take the rings off to concentrate on other shooting mechanics. His rationale was that "you will only unload one magazine with your rings on in a real life situation". Huh. Okay, I see the sense in that because after awhile my fingers did start to swell a little.

So that was my adventure at the range. I will definitely repeat with my concealed carry, a Sig Saur P238.
So here are the results at 7 yards with rings on: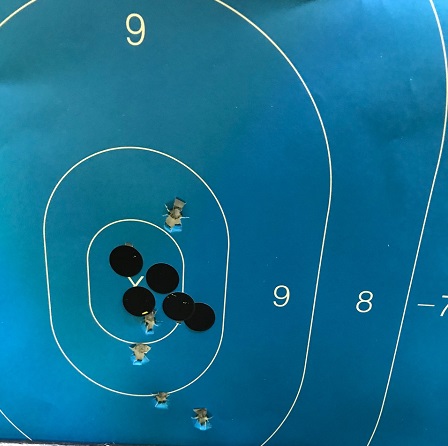 7 yards with rings on
and here's a look at 15 yards with rings off: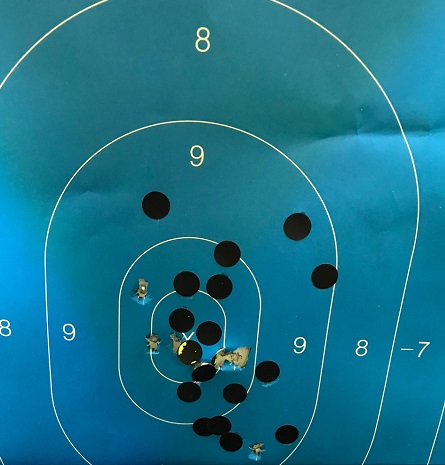 15 yards with rings off
Great job, Satrose! I'd take either set, and you're very smart to be thinking about how external factors might influence your shooting. It's the same logic as practicing single and off-hand shooting. Also, hope you're feeling better. Very nice and thanks for sending these in!
******
Please note the new and improved gmail account morongunthread at gmail dot com. An informal Gun Thread archive can be found HERE. If you have a question you would like to ask Gun Thread Staff offline, just send us a note and we'll do our best to answer. If you care to share the story of your favorite firearm, send a picture with your nic and tell us what you sadly lost in the tragic canoe accident. If you would like to remain completely anonymous, just say so. Lurkers are always welcome!
That's it for this week - have you been to the range?

posted by Open Blogger at
07:00 PM
|
Access Comments