« The Left, Books and Culture [KT]
|
Main
|
Ace of Spades Pet Thread »
July 13, 2019
Saturday Gardening Thread: Berry Delicious [KT]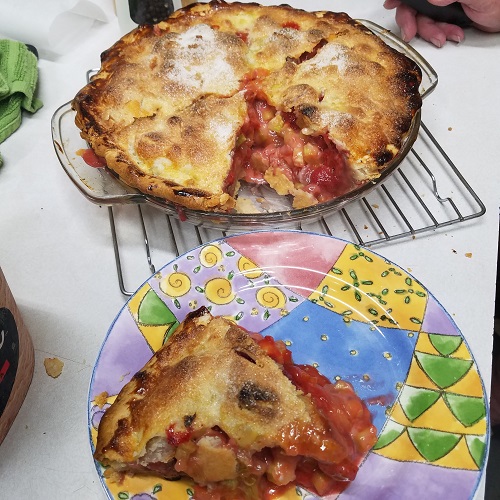 Hello, gardeners and friends who like garden produce! Today we have a bumper crop of berries, perhaps inspired earlier by Cumberland Astro.
From Gordon in Minnesota:
The pie is strawberry rhubarb. This is the first year we had enough strawberries ripe at the same time to make one. We always have enough rhubarb.
Looks delicious. And the color of your mutant berry is very appealing, too:
I don't know about the mutant. It tasted good. There is another similar one ripening on the same plant.
I think we all know that it's Climate Change.
Gordon also sent in some photos from Amber in Central Massachusetts:
Black Raspberries:
These grow wild in her yard and nearby.

Green to red, red to purple and then black when ripe.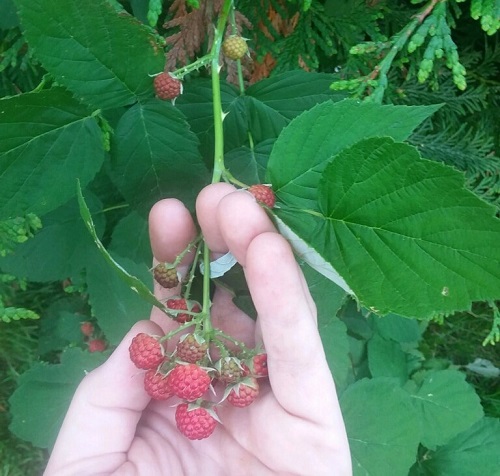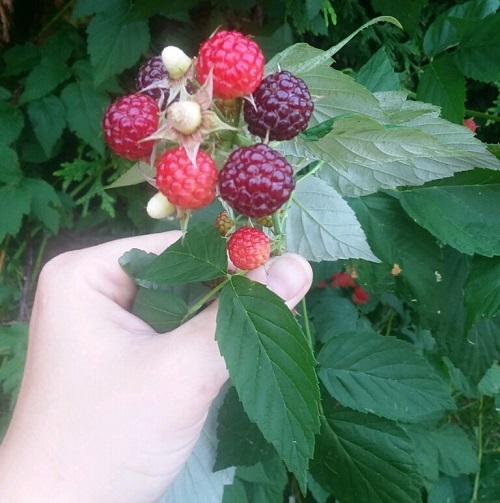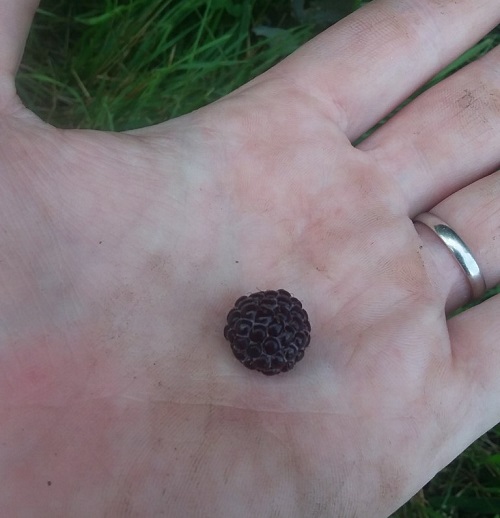 I love those berries. Seedier that red raspberries, but with a wonderful flavor.
But she wonders what kind of invasive climber this is. It grows very quickly.
Any help for Amber?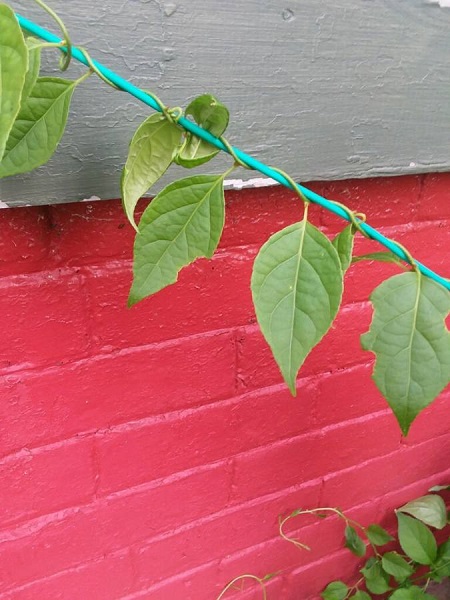 Meanwhile,
S. Lynne
has been busy with berries: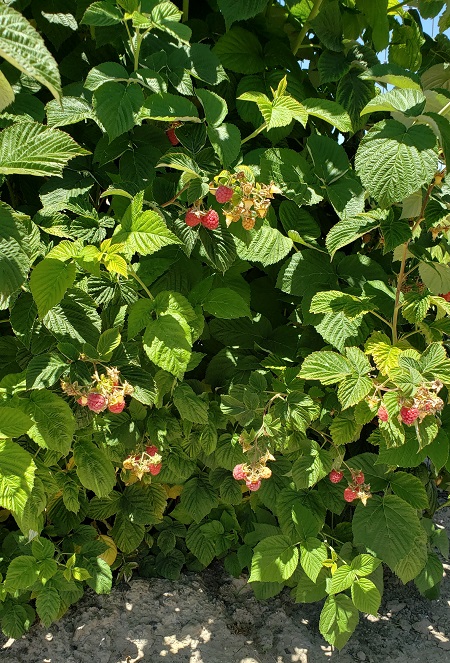 We have six raspberry plants. We've been getting almost a gallon baggie full every day. More if we didn't eat so many. The neighbors are thankful, too.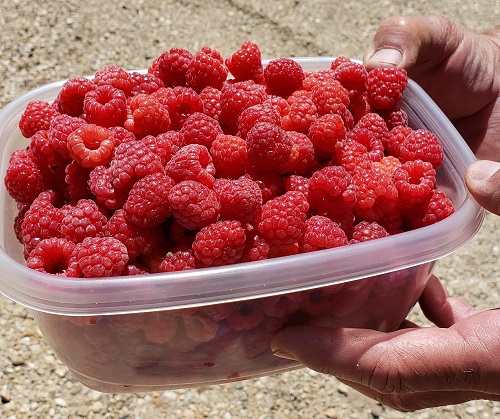 She also has blueberries!
Almost time to pick blueberries. We have six 3 year old plants and six new plants. Next year our cup will runneth over.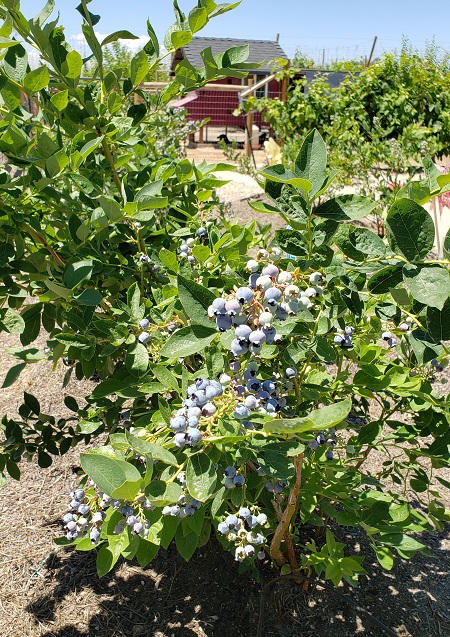 And a recipe!
Mixed Berry Sorbet
Recipe adapted from Richard Leach in Sweet Seasons:
Makes 4 cups
3 cups fresh or frozen mixed berries of your choice
1 cup sugar (or to your taste)
2 cups water
Zest and juice of one lemon
Splash or two of chambord liqueur or gran marnier (optional)
In medium saucepan on medium high heat add all but liqueur and bring to a quick boil. Reduce heat to low, add liqueur and simmer 10 minutes. Remove from heat and let cool completely.
Puree in blender then strain through a fine mesh strainer or chinois. Process in your ice cream maker according to manufacturers instructions.
If you don't eat it all you can use it as a base for berry daiquiries. Yum!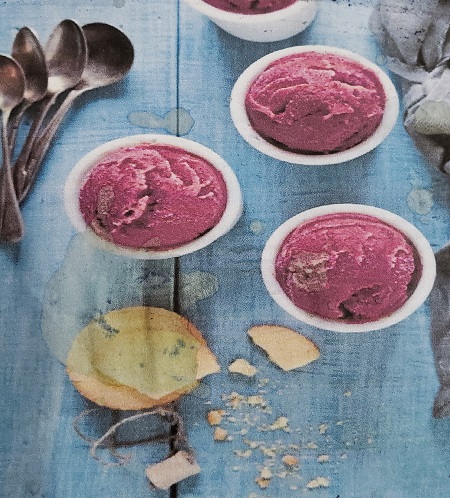 I also have a recipe for Blueberry Zucchini Bread. Did someone here provide it? Is anyone interested?
My Clove Currants are ripening. I think they are the only kind of edible currants that I can grow here. Quite sweet when ripe, but the berries in a bunch do not all ripen at the same time. They grow on the north side of the house, where they get morning and afternoon sun this time of year at our latitude.
Last Week
Last week's mystery plant was a Leonotis leonurus. Some people guessed the identity correctly, but one regular commenter thought it was an onion. Holy Moly is an onion. Yellow, seen below with a blue onion. Once used in witchcraft. There is some resemblance in the flowers. Sort of. Not in the foliage. It will be time to order bulbs soon.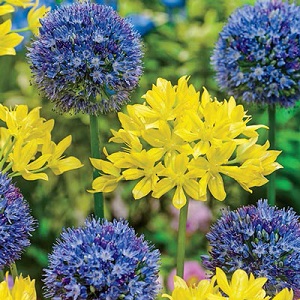 Back to our featured plant from last week, which is in the same family as mint:
The flowers are good in arrangements (stem bottom should be burned) and it is known to attract birds (a magnet for hummingbirds), bees and butterflies to the garden, yet deer seem to leave it alone. Though southern California gardeners have long called this plant Lion's Tail it is also known by some as Lion's Ear, Lion's Claw and Minaret Flower. The name Lion's Ear is a translation of the name given to the genus from the Greek words 'leon' meaning "lion" and 'otis' meaning "ear" in reference to the resemblance of the flower to a lion's ear. The specific epithet leonurus means "lion colored". It is also known as Wild Dagga (a name also used for the unrelated Cannabis sativa) because of its traditional medical uses in South Africa, where it is found growing naturally among rocks in the grasslands of the Cape district and the Transvaal.
It was called a "Cheeto Bush" in our last comment last week. What do you think?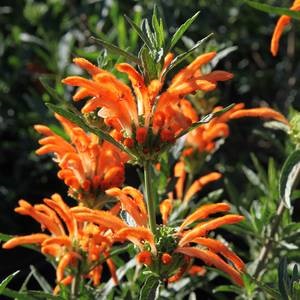 Here is some more information and some nice photos of this plant, which grows 4 - 6 feet tall but should be pruned back. It is treated as a perennial in the northern part of its range (rated down to Zone 8 for hardiness, heat zones 6 - 11). The foliage is fragrant. Maybe someone who has this plant in their yard can tell us if the fragrance is close to mint.
Gardens of The Horde
We will try to get back to more flowers and things, and a wider variety of edibles, next week.
Anything going on in your garden or yard? Or your neighbor's?
Do you have flooding?
If you would like to send information and/or photos for the Saturday Gardening Thread, the address is:
ktinthegarden
at g mail dot com
Include your nic unless you want to remain a lurker.

posted by Open Blogger at
01:20 PM
|
Access Comments