« 1968 [KT]
|
Main
|
Ace of Spades Pet Thread »
June 02, 2018
Saturday Gardening Thread: [KT]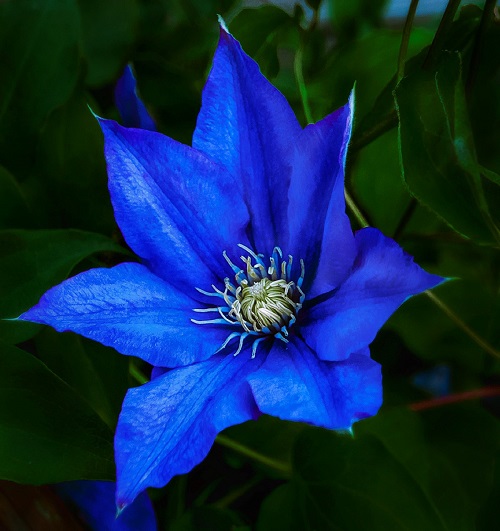 Happy June Saturday, Gardeners and Friends of Gardeners! Got the lovely photo above (plus another that Pixy doesn't like) from Dr No:
Oh HEY! I was at my daughter's this weekend, and she had some terrific clematis in bloom. Funny - when I grew up in New Orleans, we had a 'Clematis Street' there. I had no clue about what a 'clematis' is, but thought it was a cool word. 'Course, when y' have other streets named 'Orange,' 'Race,' and 'Grand Route St. John,' y' get used to linguistic oddity. It's kinda the norm. Same with the voodoo shops where y' can buy 'Gettin' & Havin' Oil,' 'LAW! Stay Away!' candles, and 'House Blessing Spray' in aerosol cans. Y' can also get a 'Black John the Conqueroo' ('Black John the Conqueror Root') which is just a mandrake root with a 'kinda-sorta' human shape to it. . . .
I must say that I have never thought of "Clematis" and "New Orleans" together before. But gardening is full of surprises. . .
Volunteers in the Garden
NaughtyPine sent in something fun:
The gardening Morons probably have great stories about "volunteers," those plants that unexpectedly show up to make the garden better. I'm sending you a photo of my favorite - narrowly edging out the compost-pile pumpkin patch that took over my backyard several years ago.

I had a stump- and root-filled area between two oaks. Friends of mine brought me daylillies from their wooded lot. A year later, a tiny little clover-looking thing came up, too. Wild columbine.

Everyone warned me that wild columbine doesn't take well to transplanting or fussing. So I kept the weed killer away, didn't deadhead it, and gave it a chance to establish itself. The columbine in the photo are the offspring of the original.

Now I have a cheery display each spring.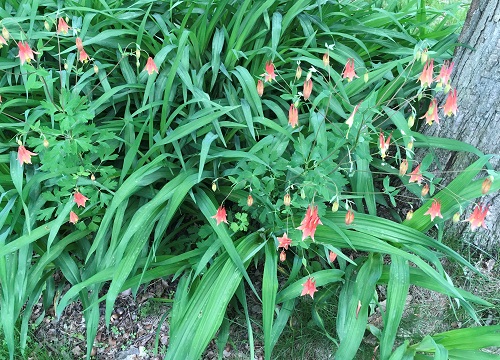 Wow. They have to be persistent to live among daylilies. Impressive for such a delicate-looking plant.
Last week we discussed salvias and hummingbirds, but many salvias are not winter-hardy as perennials in the North. NaughtyPine's wild columbine (Aquilegia canadensis) was first among this group of (mostly winter-hardy) perennials to plant for hummingbirds. Some interesting details about this plant are included at the link. And the article also includes tips for attracting hummingbirds, like setting up a mister at the birdbath, or having a sprinkler timed to go off at the same time each day.
Here's a close-up of the Wild Columbine (AKA Eastern Red Columbine). Note that the color of the flowers is variable. There are some flowers that are pure yellow. This species is also a parent of several of our fine garden strains on columbine. Those little hummingbird tongues can reach up to the nectar.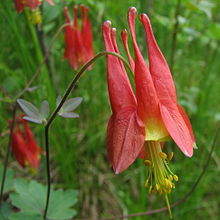 My favorite volunteer plant while living at my current address was Blue Pimpernel, the blue variant of a showy, small-flwoered weed, Scarlet Pimpernel. (Don't comment on old threads) But it only volunteered once. I guess I should put down some seed for more reliable "volunteers". I can count on hollyhocks volunteering with no help.
Do you have a favorite garden volunteer?
Mechanical and Hardware Corner
Weasel has sent in some exciting footage featuring his new ummm . . . lawnmower. Thanks to CBD for formatting it for us.
Unfortunately, Gordon has run into some technical difficulty:
When you replace a leaking connector with a $8 fancy pants slip on connector with a 7 year warranty that cannot be removed.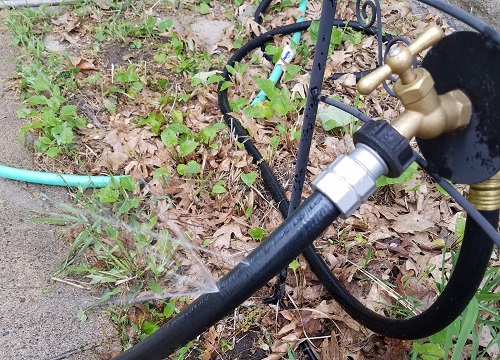 The Kitchen Garden
Cumberland Astro has a report on his strawberries. You may recall that he has been establishing other landscaping around his home, too:
My strawberries ("Tribute" strawberries) are in their 2nd year and doing great. I had covered them with pine straw after the first hard freeze, and despite a really cold winter with temps often below 5 degrees they came back strong this spring.

I'm picking about 20 to 25 strawberries per day from my little 4' x 4' strawberry patch, and unlike last year when I lost about half of the berries to rot, I am not suffering any loss due to rot or bugs this year. At least not yet.
Attractive plants. On the tall side for strawberries. Looks that there are maybe some tomatoes behind them. Does that fencing deter critters?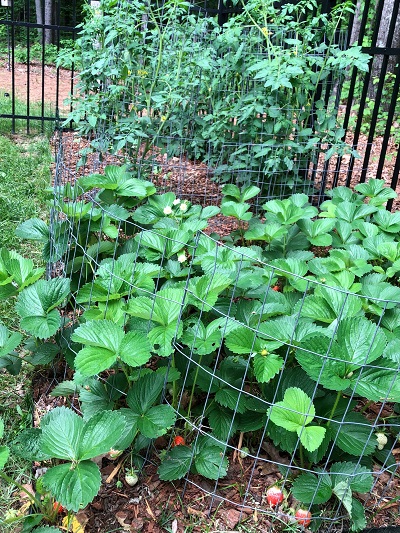 The bed is raised a little above lawn level. Tribute is one of the "day-neutral" strawberries. It bears for a longer season than the "June-bearing" strawberries.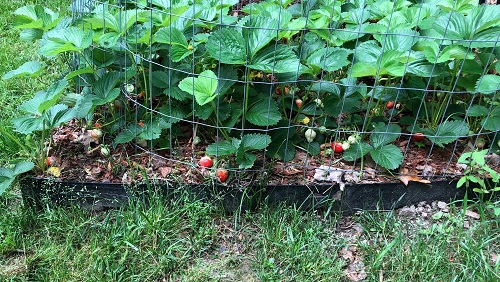 Thinking of growing some strawberries yourself now? Here's an argument for allowing the plants to just establish themselves, without harvesting berries, the first year. Especially in the case of the June-bearing berries. Plus links to recipes. I once mentioned here a salad that featured strawberries and radishes together. Here's the one from Fine Cooking. This one features chives (attention Pat*), blanched asparagus, romaine and thinly sliced watermelon radishes. Mine featured Diakon radishes in large matchsticks and mild onion. Both recipes included orange or tangerine juice. If you look around, you will also find a recipe for individual Pavlovas on the Fine Cooking site. Attractive idea for home berry growers. Here's their most recent spring salad with strawberries: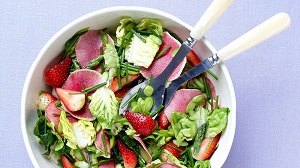 This very simple recipe for Key Lim Pie Stuffed Strawberries looks kind of familiar. If you want to make strawberry blossoms instead (my late mother-in-law used regular cream cheese, lemon juice and less sugar), you may have to cut down on the liquid a bit.
And here's a short summary on how to keep your berries going for several years. I recommend starting with virus-free plants if you can. Choose a variety or varieties known to do well in your area.
Gardens of The Horde
Got this from Illiniwek. Heat has its advantages:
tomatoes, and a volunteer summer squash getting ready to run. pulled the plastic off as cold April became hot May.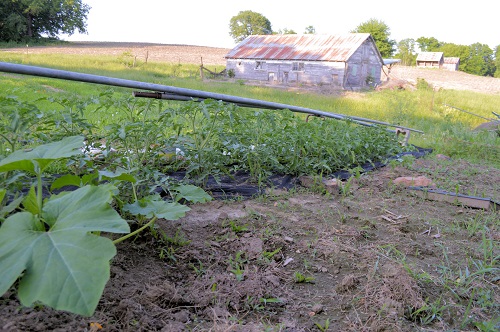 Bonecrusher's Mandevilla is making progress: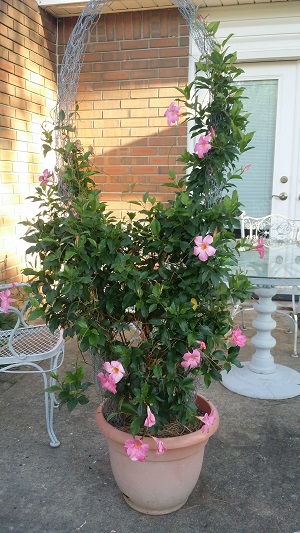 And he calls this cactus "exuberant". I agree.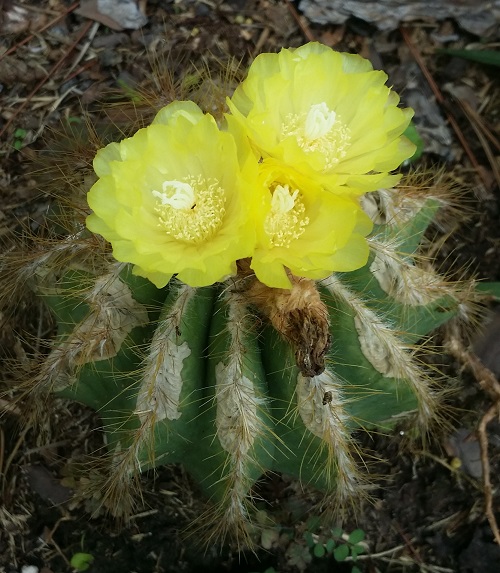 If you would like to send information and/or photos for the Saturday Gardening Thread, the address is:
ktinthegarden
at g mail dot com
Include your nic unless you just want to be a lurker.

posted by Open Blogger at
12:52 PM
|
Access Comments