« Saturday Gardening Thread: [KT]
|
Main
|
Chess Thread 06-02-2018 »
June 02, 2018
Ace of Spades Pet Thread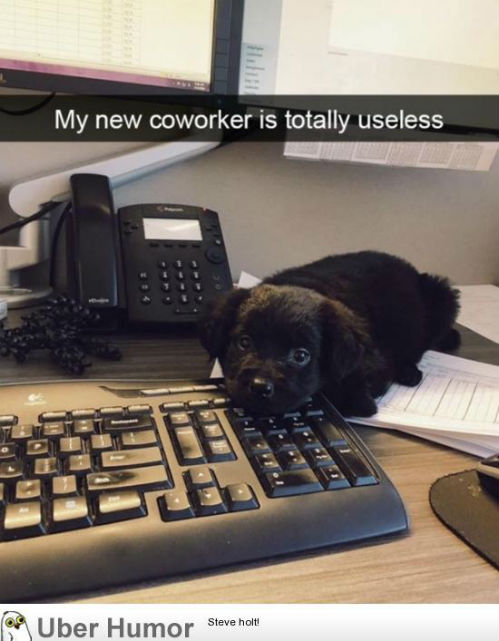 ***

Good afternoon and welcome to the almost world famous Ace of Spades Pet Thread. Kick back, perhaps with your "co-worker" and enjoy the world of animals.

***
A Little of This. A Little of That.

Well, that was quite the surprise.

A little humor from Moron Keith.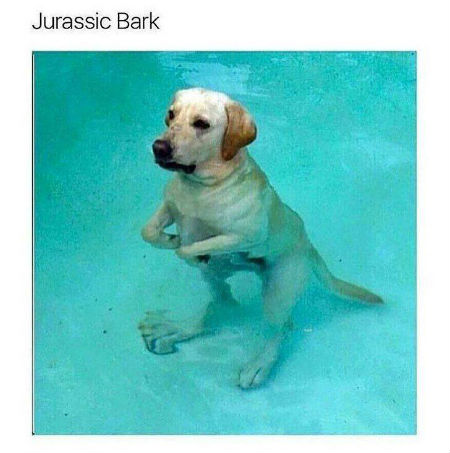 ***
A yellow Lab in a pool. Funny. Big alligator in a pool. Not funny.
***

In this situation, Man is pet's best friend.
***
Meet The PetMorons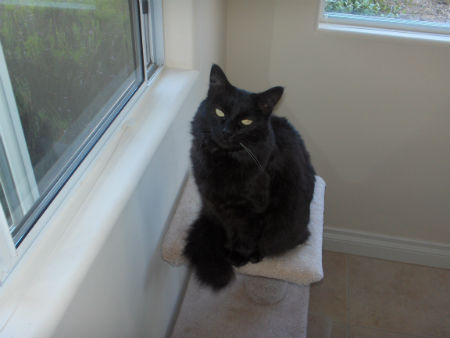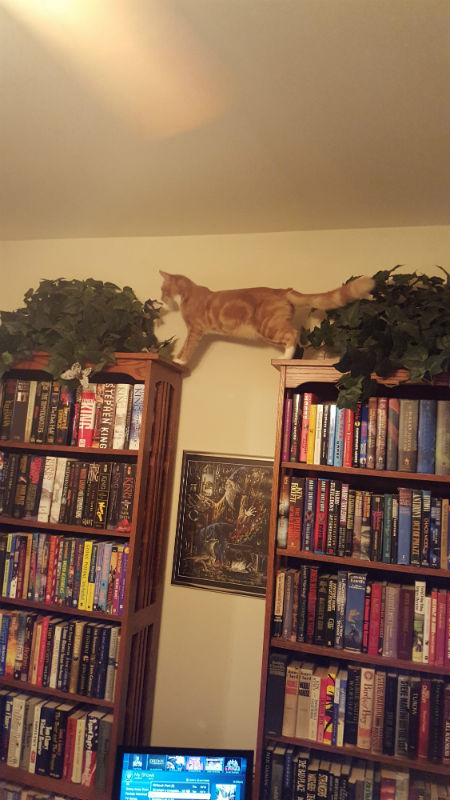 Hi, long, long-time reader and occasional poster.

The black cat is Friday. She was the most affectionate cat I've ever known. I would hold her against my shoulder like a baby, while I was at my computer, reading Ace of Spades. Her only goal in life was to sit in someone's lap and purr. She died a few years ago, at the ripe old age of 16, from a kitty lymphoma.

The next cat is the opposite of Friday. The tabby is named Rowdy. It is a very fitting name for this cat. He is 18lbs. of muscle, and will only allow you to hold him for a few seconds. But he is big on belly rubs and chin-scratching. He is 3 years old. No roll of paper towels is safe from him. Luckily he hasn't discovered the toilet paper, yet. If you hold your hand out at waist-height and tell him to 'give me 5', he will jump and bump your hand with his head, especially if he is hungry. Which is always.

These pictures show off his distinctive markings. Plus one shows some of my library, so pet thread and book thread! - Aeric
Thank you for being a long time supporter. And thank you for the photo submission. It's nice to have a pet reach the top shelf stuff for you.
***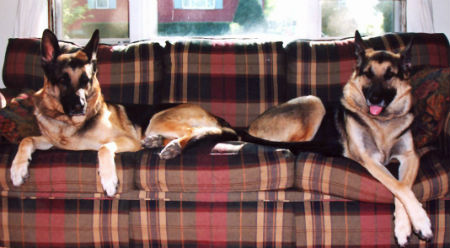 My two German Shepherds. On the left Prince, on the right Ryder lying on their couch, formerly our couch. They both went about 110 lbs and we never had any worries about home security. We got Prince as a pup to keep my girlfriend, (later my wife) company when I wasn't around. She later would say that sometimes she thought that the only reason I was still around was because of the dog. We lost him to cancer, had him cremated and he's still keeping her company, as I had him buried with her. It's nice to know that he's still watching over her. He was always her boy.
The other guy is my buddy Ryder. He was a rescue, actually a rescue from a rescue. A friend of my brother's got him from the pound and brought him home to his eight month pregnant wife who was having none of that. My brother found out, knew we were looking for another dog, and grabbed him for us. -tu3031
What a sweet story. Thank you for sharing.
*****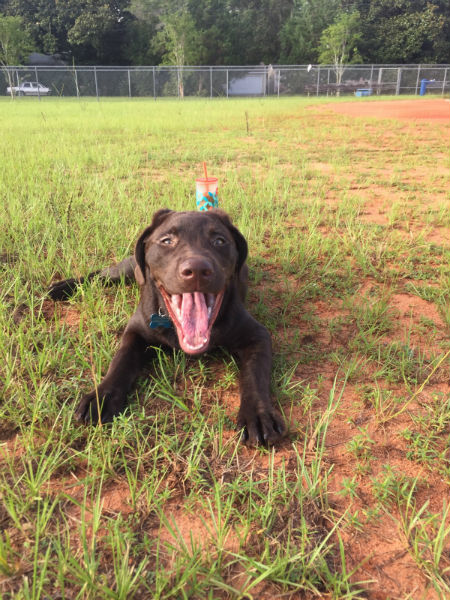 This is my daughter's dog name Chesterfield they live in Pensacola Florida and he identifies as an alligator! -Charlotte
Cute photo!!!
***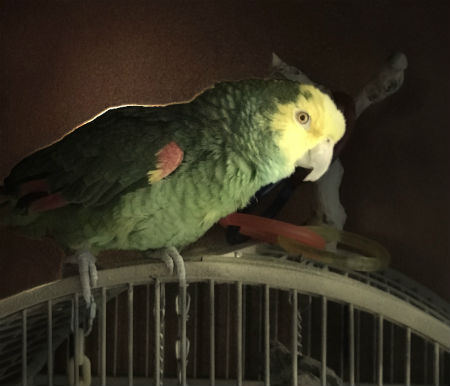 Winnie is our Double Yellowheaded Amazon. She's 22 years old, has a very sweet and engaging personality, and has a vocabulary of about 40 words (no cuss words, thankfully!). She keeps us entertained with her antics and whenever she hears me grab the car keys she says "Bye bye, I love you."

I read AOSHQ everyday and post occasionally in the Comments as "budman."
Thanks budman. Wow, a pet that talks back which you can understand.
***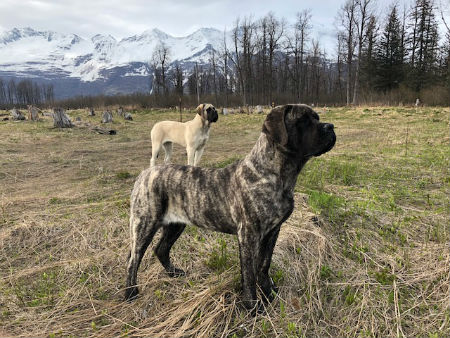 Hello,
These are our girls Stella (brindle) and Elsa (fawn) out on one of their daily walks! They are English Mastiff litter mates and just turned 9 months old. We love them and they are spoiled rotten! I love the Pet Thread and wanted to share!

Thanks,

Erin
What a gorgeous photo. Thanks Erin, that is quite the pose of the pups. Curious if you found raising two pups of the same age problematic.
***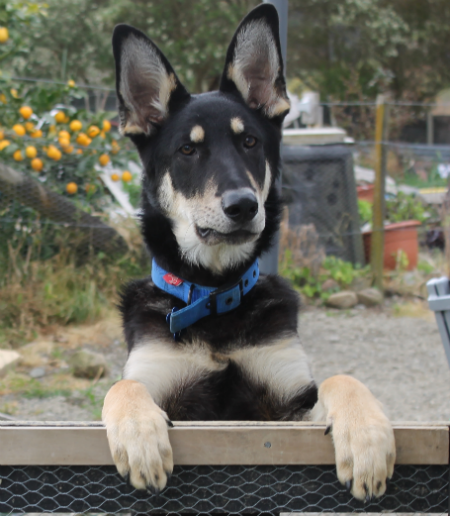 Hello Petmorons Thread

Meet Max, one of my GSDs. He will run after a ball until the cows come home, runs like a crazy critter up and down flooded drains, and sniffs out possums. And, at just six months, as you can see, he is already on guard. Happy days……….

Ivan
GSD puppies are so cute!! This one is no exception. Thanks Ivan.
***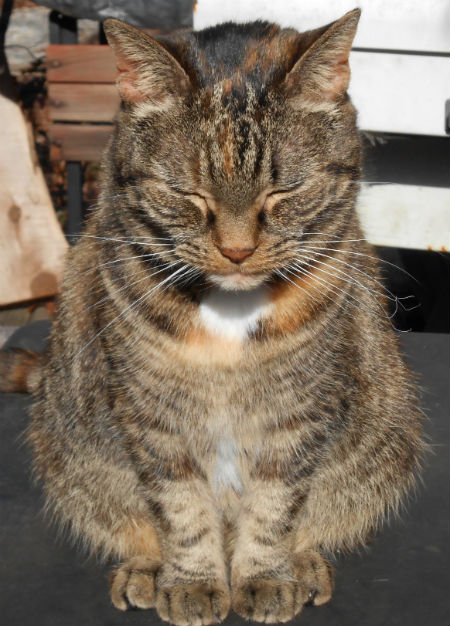 Chainman Mao leader of the critters new revolution. She came out of the woods with no explanation and adopted me. We plotted world domination for 15 years, then she went MIA. The squirrels told me where to find her. A coyote did her in they said. A few days later the coyote came wandering into the compound with half of his face shredded off and I knew that my Mao went down swinging. - Brent
Tough loss, sorry to hear about this Brent.
***
As usual a great bunch of pets and pet owners. Thank you so much for taking the time and submitting their stories and photos.
If you have something you wish to share with us here, you can contact us at petmorons at gmail dot com.
Have a great week!!!

posted by Misanthropic Humanitarian at
03:00 PM
|
Access Comments