« Thread below the Gardening Thread: Hereditary Privilege [KT]
|
Main
|
Ace of Spades Pet Thread »
April 29, 2017
Saturday Gardening Thread: Little Blue Flowers [KT]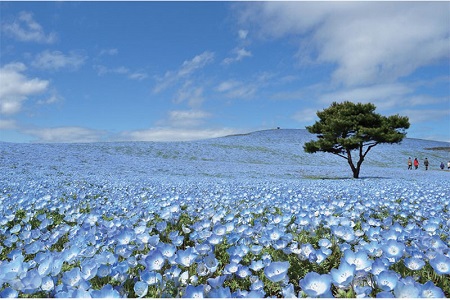 Happy Saturday, gardeners and wildflower watchers!
Well, #TrackTheBloom is moving north in California, and into the mountains. One of the plants blooming there now is Baby Blue Eyes. Little blue flowers harmonize with a lot of other flower colors, but they can also be used alone.
The Hitachi Seaside Park in Japan features an entire hillside planted in Baby Blue Eyes. "In spring, 4.5 million nemophilas (baby blue eyes) paint the 3.5-hectare Miharashi Hills light blue. The nemophilas are stunning under the blue sky against the backdrop of the Pacific Ocean."
Finding Nemo (and friends)
Interesting that an American wildflower is so prominently featured in a Japanese park. Simple, yet extravagant. This park has a totally different feeling from Japanese botanical gardens where they put straw hats over peonies (last video here). Don't comment on old threads.
The Nemophilas are blooming at that Seaside Park right now, not far from the Giant Ferris Wheel. This is the park's flower calendar for the year so you can get an idea what they do when those little blue flowers fade.
If you are not into wildflower monoculture but you plan to sow wildflower seeds in the fall, Baby Blue Eyes look great under Tidy Tips (scroll down) or with California Poppies, though the latter two will probably last longer into warm weather in the spring, especially if dead-headed. Nemophila is also charming with other delicate pastel wildflowers.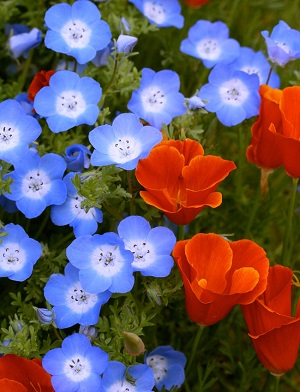 Baby Blue Eyes with 'Red Chief' California Poppies
In part shade, try it in front of Purple Chinese Houses or Phacelia viscida, another native little blue flower.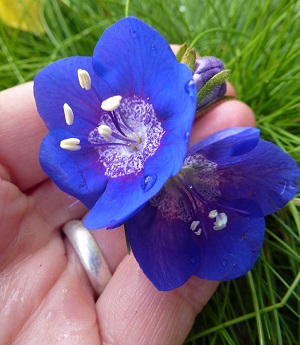 You can actually buy seeds for Baby blue and purple and black and white eyes.
What's so good about nemophila (baby blue eyes) in the first place? Well, it's one of the few hardy annual flowers that enjoys shade and also enjoys damp soil. The name comes from the Greek meaning, more or less, liking woodland.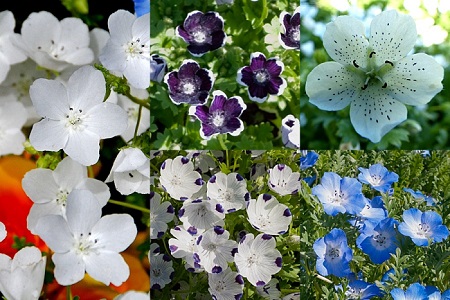 The bottom center photo above is 'Five Spot', which is a different species from the others, N. maculata.
A couple of notes on Nemophila species that haven't made it into garden culture: A hiker and photographer took photos of both Eastwood's Baby Blue-Byes (Nemophila pulchella) and regular Baby Blue-Eyes near the Carmel River in (or near) the Ventana Wilderness. (There are some great flower photos elsewhere on his site, too). I know Clint Eastwood was the mayor of Carmel and all, but I am not convinced that the common name of the wild flower is related to his fame.
Nemophila phacelioides is native to Texas, Oklahoma, Louisiana, and Alabama. The flower is known commonly as Texas baby blue eyes, largeflower baby blue eyes, or flannel breeches. Anybody have a clue where the flannel breeches name came from?
Places to Visit in the USA
Can't make it to Japan? Springs Preserve in Las Vegas has kind of a Vegas vibe, with a Boomtown 1905 exhibit and other museum exhibits. Not typical for a botanical garden. Weekends through May there is an Extreme Parrots show. And a Ripley's Believe It or Not thing going through May 7. And more!
Oops. Name of preserve changed above based on an update from cthulhu:
I was there recently. The 10 is part of the logo for their tenth anniversary -- it's just "Springs Preserve" and not "10 Springs Preserve."

There is a lot to see there, so budget sufficient time.
Thanks!
There are also 110 acres of demonstration gardens, wildlife habitat and natural gardens. The "desert wetland" was developed in an existing storm water retention basin. The butterfly habitat is open spring and fall (probably through May, "as temperatures permit". Closes early on May 27 for a Blues and Brews Festival.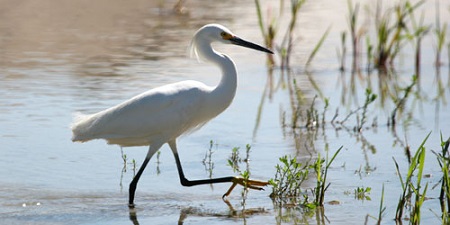 Las Vegas Tourist
Their Garden Resources include a search tool which allows you to find, for example, desert plants that take reflected heat. Or you can email an expert desert gardener. I think the climate in Las Vegas is even more challenging for gardeners than that of Phoenix, because of harder winter freezes. So some of these resources could be useful to members of The Horde in the desert.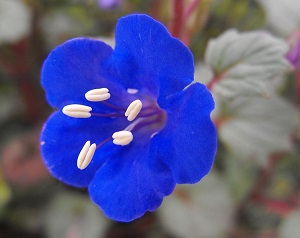 Desert Bluebells
NOTICE: Tomorrow (April 30) is the last day to enter to win a Botanic Garden Getaway to an American botanical garden. Which one would you recommend to a winning member of The Horde (and guest)?
Gardens of The Horde or their neighbors
Do you have Pimpernels?
California Girl (not CaliGirl) sent in another nice photo.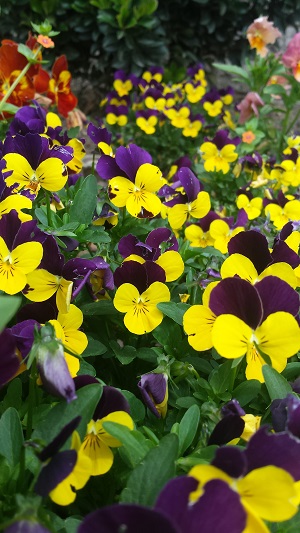 These are lovely Johnny jumpups in my friend's flowerbed. She always has gorgeous flowers. There's a little peach-colored flower from a weed poking its head through, but it's pretty, too.
Look for the peach-colored flower toward the top of the photo. It is Scarlet Pimpernel. Doesn't look very scarlet, does it? I have never seen a really "scarlet" Scarlet Pimpernel. Flower color is variable. These days, the flower is often seen along the sides of roads that were salted during winter, forming ribbons of color in spring (usually a peachy color in the USA, I think).
Johnny Jump-ups are not particularly large flowers, but a Scarlet Pimpernel is much smaller. Still, it is pretty for a weed. Below is a magnification of one in a more saturated color. It's from a review of the first novel about the famous Scarlet Pimpernel at Goodreads. The tiny flower was his symbol. "Baroness Orczy, who lived from 1865 to 1947, wrote fifteen Scarlet Pimpernel books altogether."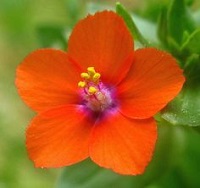 Scarlet Pimpernel was once used for medical treatments from skin discoloration to the bite of a mad dog. Its genus name (Anagalis) may have once reflected its reputation for relieving depression following liver troubles, causing people "to laugh" again.
No heart can think, no tongue can tell
The virtues of the Pimpernel.
Is there nothing it can't do?
The Herb Pimpernel is good to prevent witchcraft, as Mother Bumby doth affirm.
That was then, this is now. This plant is apparently quite toxic in quantity, including to livestock. Fortunately, it tastes nasty. Do not mistake it for chickweed when feeding birds or poultry. The seeds are toxic, too. The plant looks a lot like chickweed before (or after) it blooms. Common names include red chickweed, poor man's barometer, poor man's weather-glass, shepherd's weather glass or shepherd's clock. Flowers open only during daylight hours when sun is sufficiently strong. They close on overcast days.
As noted at the link above, the Scarlet Pimpernel and its blue variation were studied by Darwin and other early genetic scientists. Teams of scientists are still studying why Pimpernels are mostly scarlet in the UK and mostly blue in Spain. Go ahead, follow the link. It's not all genetics.
Once I grew Blue Pimpernel. One of the bluest little flowers available. Thompson and Morgan sells 'Skylover' as a plant in the UK. An alternative to lobelia for hanging baskets. In the USA, Swallowtail Seeds sells 'Blue Lights' as seed. Here are Scarlet and Blue Pimpernel together.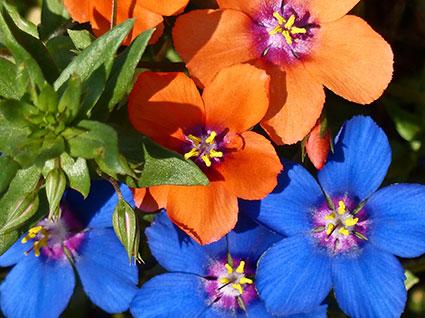 Wild Mock Orange
Not all wildflowers are annuals. Kindltot likes fragrant flowers. He wrote this a while ago:
I am lucky because in my front yard I have a Mock Orange, Philidelphus lewisii. It is nice yard shrub, as long as you keep it under control. Mine is not. Here, in my front yard it is strangling the rhododendron while in turn being strangled by the grape.

The branches are very tough and won't splinter but they tend to shatter if you pull them, especially when they get old, and this one I think I will get back under control with the chainsaw next month.

The flowers are so fragrant though, and I hate to cut it back and lose a year of flowers. I can leave the windows open and I get the perfume in my bedroom.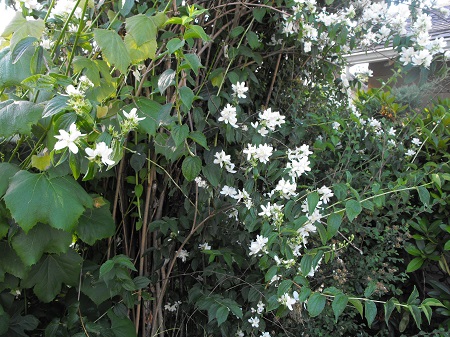 There are several wonderful species and cultivars of mock orange, from very hardy ones to a vining species from Mexico. Philadelphus lewisii is sometimes known as Syringa, which is confusing because that is the genus name of lilacs, which are not closely related. It is the State Flower of Idaho. There is a drought-tolerant cultivar developed in Canada called 'Waterton'. It reaches 4 to 6 feet. The taller, looser wild form west of the Cascades where Kindltot lives is sometimes called P gordoniansus.
So, did you take a chainsaw to your Mock Orange, Kindltot?
If plants are that exuberant in Kindltot's yard, maybe he shouldn't plant a Chinese or Japanese Wisteria.
What's going on in your garden?
Here in the San Joaquin Valley, it has been pretty windy, but still cool (for here). We have been replacing our drip system. Anything going on in your garden? Planted any veggies? Harvested any veggies?
The Telegraph has some tips on planting a meadow, including what might be called an eco-lawn here. I think preparation is key to establishing a permanent wildflower display. Weed control should come before planting. Maybe even solarization this summer.
Have a great week.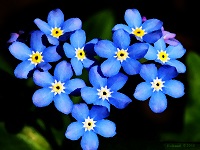 Forget Me Nots
If you would like to send information and/or photos for the Saturday Gardening Thread, the address is:
ktinthegarden
at g mail dot com
Include your nic unless you want to be a lurker.

posted by Open Blogger at
12:06 PM
|
Access Comments