« Saturday Morning Weird News Dump
|
Main
|
Saturday Gardening Thread: Little Blue Flowers [KT] »
April 29, 2017
Thread below the Gardening Thread: Hereditary Privilege [KT]
Serving your mid-day open thread needs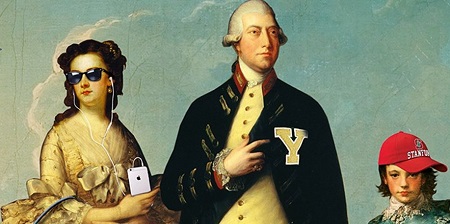 The New Aristocracy?
How is class status determined in American society today? As suggested at the link above, is education the primary factor? Or are there other forces in play?
Sarah Hoyt has written up some interesting musings on hereditary slavery, hereditary aristocracy, feudalism, class systems and today's left. (Via David Foster, who has recommended some related reading.)

In societies with slaves, at least since Rome, at some point there evolved a rule that said something like "Such the womb, such the child's condition" meaning that -- because humans are promiscuous apes, and the legal "condition" of the father (or his identity) was often hard to ascertain -- if you were born to a free mother you were free. If you were born to a slave mother, you were a slave. This applied regardless of color of skin and any qualities of the child. You were born to a slave mother, you were a slave. In fact much the same applied to all "classes" that were inherent at birth, in European systems that required nobility (or serfdom) at birth.
But then some things changed. Finally,
. . . the injustice of geniuses being considered menials while morons were Lords became a turning point for systems of thought, which in turn -- informed by a lot of things, mostly Christianity -- largely ended the class system and definitely slavery.

Mostly because Europe still largely thinks in "Classes" -- I know, I was born and raised there -- and those of us in whose mind it doesn't fit easily always felt weird about it.

Guys, we're starting to feel weird about what the US is doing too.

Because this whole "social justice" thing and various set asides sound EXACTLY like "such the womb such the condition".

Yeah, I know it's all dressed up, all purty-like in "addressing historical injustices" and "making people more equal." With due respect (which is known) that is the greatest load of twaddle I've ever heard.
Load of twaddle?
Let's speak with no obfuscation: Mala Obama or a young boy growing up with a drug-addicted mother in the Appalachians? Which needs more help and bringing up to speed to make something of her/himself in life? And yet, by our laws, right now, she's assumed to need more than him.

Things have gotten so crazy that people talk of the "privilege" of concentration camp survivors.

On the same path, but a different league, middle-class parents are entreated not to read to their kids, lest they give them privilege (cooties) i.e. a head start on other kids. As though this were bad; as though it meant they're holding someone down by encouraging their KIDS to make the best they can of their circumstances. . . .
I suggest reading all the way to the end. There are some great sentences toward the end. Especially considering that the writer is writing in her third language.
I was going to write something here about "fame", which sometimes elevates people to a form of social aristocracy faster than talent, accomplishment or goodness. But then Ammo Grrrll reminded me of the increasingly irrational feedback loop between social aristocracy and fame.
Now (Hat tip: Ace of Spades) , a couple weeks ago, along comes a clickbait list from an outfit called Buzznet of the 30 Most Beautiful Women in the World. Yes! The whole world!

When I saw that Hillary Clinton had come in at #6 - in the world, remember! -- I excitedly checked the rest of the list to see if I was on it. If Hillary was #6, it seemed equally likely that I had also made the cut! What a day-maker THAT would have been!. . .

. . If you want to make a list of "insanely-driven" women, or "influential women" or more accurately, "women who peddle influence," then Hillary could be placed high on those lists. But beautiful? Come ON.
Do you have any thoughts today on slavery, hereditary aristocracy, feudalism, class struggle, equality or fame? I see an image of someone named Chelsea coming into my mind, for some reason.
If you need a break from topics like that, have you got anything fun or interesting planned for this weekend? Hope so.

posted by Open Blogger at
11:07 AM
|
Access Comments