« Fundamental Concepts - Winning at War [Weirddave]
|
Main
|
A Little of This...A Little of That [CBD] »
January 31, 2015
Saturday Gardening Thread: Minimalist Edition [Y-not, Weirddave, KT]
Good morning, gardeners!
Today's thread is brought to you by Wolffia, the world's smallest flowering plant: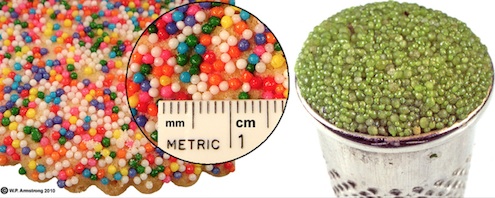 Candy sprinkles compared with a thimble filled with wolffia plants (mostly Wolffia columbiana). The average diameter of a globose wolffia plant body is about 1/25th of an inch (1 mm). To appreciate their minute size, wolffia plants are comparable in size to the multicolored candy sprinkles used for decorating cakes and cookies.
Many apologies from Weirddave and myself. Neither of us were able to generate much by way of content this week. Fortunately, our Better Third, KT, has delivered high quality content!
Take it away, KT:
Cold and Twisted - or not
I have been thinking about plants that can be used indoors or appreciated outdoors during winter. There was a recent question to The Horde in the comments about Ikebana flower arranging. That is generally an indoor activity.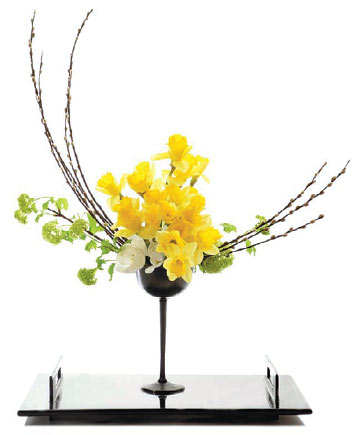 Ikebana reminded me of branches which can be brought inside for greenery and/or blossoms while the weather is still freezing outside. Some shrubs include cultivars with twisted or gnarled branches which are especially prized for flower arranging. These can make your first Ikebana arrangements look authentic to the uninformed even if you are not sure what you are doing, like me. This is one example of how professionals use these branches: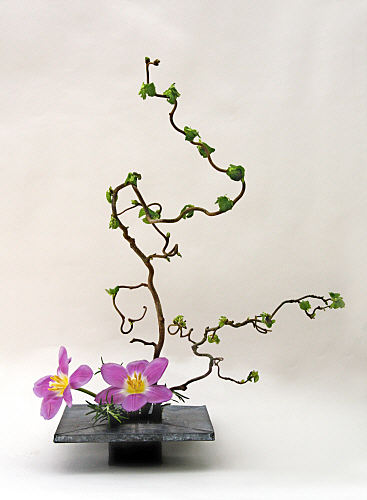 FEATURED BLOG: I found a great blog post on shrubs with a twist. It features striking photos of twisted stems covered in snow or coated with ice. Below is some additional information on these plants, and their relatives:

Flowering Quince
Flowering quinces are available as either low-growing or tall shrubs. Their early-season bloom makes them good candidates for mixed borders. The thorny ones are used as barrier plants. Taller flowering quinces can be trained up a wall.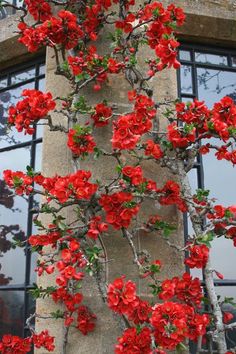 Cutting budded branches of flowering quince to watch them bloom indoors encourages new growth and more blooms the following year. The cultivars "Contorta" and "Contorta Red" have twisted branches which lend themselves to flower arrangements and to bonsai. Flowering quince can be grown as an outdoor bonsai and brought indoors for a few days at a time for display.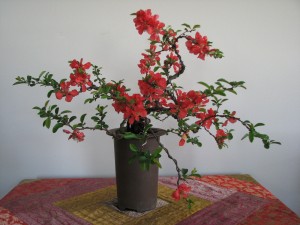 Fruit size and quality varies between cultivars, which derive from three species of Chaenomeles. Some are hybrids between the species. Thorns are prized by some flower arrangers and bonsai enthusiasts. Breeders of landscape cultivars may shoot for thornless, fruitless cultivars. I once had a peachy-pink "Cameo" flowering quince. It is an older compact, thornless cultivar that produces fruit.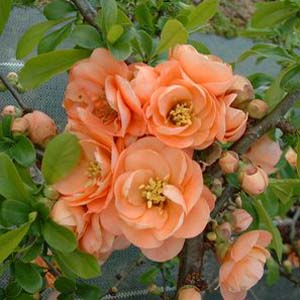 Dave's Garden has a nice summary on growing flowering quince. It includes a recipe for quince jelly. Flowering quince fruits can also be used to make a lemony syrup. It is high in pectin and has more vitamin C than lemons. Estonian recipes here. The fruit is less hard and astringent after frost, when it starts to soften. The softening process is called "bletting". Look for more information on bletting fruits in a future episode of the Saturday Gardening Thread.

Chinese Flowering Quince (Pseudocydonia) is one species that is thornless. The fruit gives off and intense, sweet smell while ripening. It is used medicinally and for beverages in China and Japan. I imagine that the astringency of the flowering quinces could be useful in some cider or perry blends.
Flying Dragon Bitter Orange
Flying Dragon it a remarkably hardy citrus (to Zone 6) that loses its leaves in the fall. The thorny stems are used in winter flower arranging. It is also used as a dwarfing rootstock for other citrus trees. It imparts a little cold resistance to the citrus grafted to it.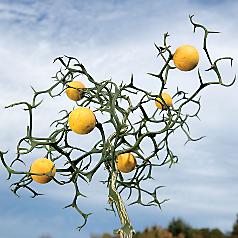 In warmer climes, many citrus trees are known for Winter Interest because they are covered with colorful fruit or fragrant blossoms in winter - and beautiful leaves, too. Incidentally, the California navel oranges and Texas grapefruits are really good about now.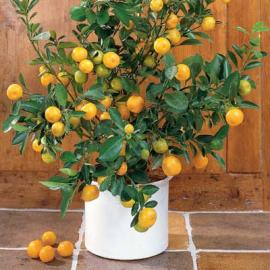 Hazel
Contorted Hazels are related to the typical filberts we see in nut mixes as Christmas approaches, which come from two species. If planted in the ground rather than in a container, Harry Lauder's Walking Stick can grow 8 to 10 feet tall.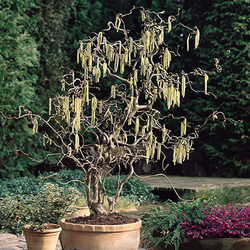 Filbert trees for nuts are typically a little taller, but have a similar shrubby shape. They are also prone to suckering. There is a native California hazel that has long catkins in late winter. It is good in partial shade. The Turkish Hazel is a tall, pyramidal tree with small nuts, used as a wildlife habitat tree. Hybrids with the more familiar filberts are called Trazels and have sweet nuts.
More
Thinking ahead a few months, here are some Halloween Twists. These include a houseplant and some non-woody plants as well as woody ones that could also be used in flower arranging, even in winter. I would keep the Curly Willow in a big pot unless I knew that invasive willow roots would not be a problem in a particular location.
Yard and Garden Planning Corner
Some members of The Horde, like Mr. and Mrs. JTB, are in the beginning stages of planning their future yard and garden. I came up with a couple of ideas for outdoor winter activities to help with garden planning.
Right on cue, a couple of challenges showed up in the comments to illustrate real-world applications.
1. Watch sun patterns
Start tracking the patterns of sun and shade in the morning, at noon and in the afternoon about once a month. Make notes. Take measurements if you need to. Your notes could help guide your choices for plant, tree and hardscaping placement later.
You might even want to put down some markers to show where the sun hits at the beginning of your growing season and at summer solstice. This is especially important on the north and south sides of the house. Watch how sun hits your windows, too.
Our challenge from last Saturday's comments is replacing a sad patch of grass near the front door of a home in Central Texas. The home faces north.

Central Texas has a demanding climate for plants. This location presents additional challenges. A lot of great suggestions have already come in from The Horde. We want that entryway to look great!
At our house, there is no sun on the north face of the house in winter, but there is morning and afternoon sun at summer solstice, with shade at noon. It's enough sun to grow Clove Currants, though the plants are kind of gangly. They're deciduous, so they don't need winter sun.
On the south side of the house, a little afternoon shade helps heirloom tomatoes set fruit in our hot summers. Or it did until we took in dogs that thought the tomato patch was a special dog habitat.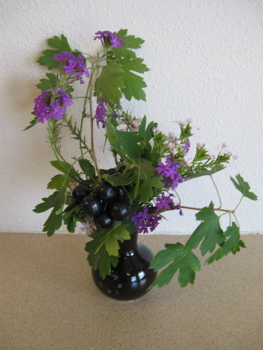 Clove Currants with Verbena
2. Watch water patterns
During storms or thaws, watch how water drains on your property and in your neighborhood. Think about how future hardscaping, etc., could affect drainage and possibly lead to (or help avoid) flooding or earth slippage. This could help you decide whether you need to engage a landscape architect or similar professional - an idea Y-not brought up. Your observations will also help with plant choice and placement.
Our challenge from last Saturday's comments is a new greenhouse in the Pacific Northwest. "Not so simple. On a hillside; we thus need to make this a major civil engineering project." Anybody else have similar building plans?
My mother once had to have some landscaping and drainage work done on a small rental property because water was draining into the neighboring yard after storms.
We'll be addressing the topic of greenhouses and similar structures in the future.
In Gardening and Agriculture News
Fluorescent bulbs for starting seedlings
Problems for citrus growers in Florida
FFA takes over California High School

Y-not: Thanks so much, KT!
As KT mentioned, Mr Y-not and I are toying around with hiring a landscape architect to plan out a multi-year project that we could tackle piecemeal. When we bought our first home (in Indiana) the seller included a landscape plan with the sale of the house. We weren't able to tackle it, but I recall at the time thinking of that as a nice plus, particularly in that house's case because it had an unusually shaped corner lot with a very tricky slope.
In the meantime, I have started to investigate what tools are available for the home gardener. This list from Gardenista provides brief descriptions (and reviews) of 10 Garden Design Apps. Most of them seem to focus on plant selection or vegetable/herb garden planning, which is not exactly what I had in mind. I want a tool for planning major landscaping projects, both tree and shrub planting as well as hardscape design.
Does anyone know of a good tool for this task?
I did stumble into this publication, Garden Design. Although it has topics of interest to me, it seems to be a better source of inspiration than of how-to guides.
To close things up, here's an Absolutely Fabulous video about minimalism:
What's happening in your gardens this week?
E.T.A. - Weirddave Content! I have actual content! Well, rdbrewer does, he sent me this link VIA Twitter. Also, it's about wolffia, which is Y-Not's content, not mine, but I am the one typing here, so I'm chalking it up as a win.

posted by Open Blogger at
11:45 AM
|
Access Comments