« Saturday Morning Coffee Break
|
Main
|
Saturday Gardening Thread: Berry Delicious [KT] »
July 13, 2019
The Left, Books and Culture [KT]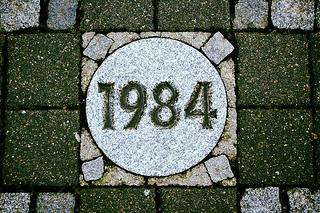 Are today's progressives actually totalitarians?
A piece worth reading, from 2014
Happy Saturday! I am seldom around to comment on the Book Thread on Sundays, but I still love it. Books are important. It's nice to see some discussion about which ones are worthwhile.
Some books have deeply shaped the way today's Left thinks and acts. They have had too little push-back for too long.
I'll say it again: look up "Cloward-Piven." Throw in Said's Orientaliism, Alinsky's Rules for Radicals, and Stalin's Soviet Constitution -- then run it all through critical race theory -- and here we are. The New Left, having hijacked D party, has spent 50 years waiting for this.
And there are complications today, with people reading fewer books. The ones they DO read take on added importance.
What distinguishes Fahrenheit 451 from other dystopian fiction is that it's less about censorship than it is about self-censorship. Bradbury imagines a future in which technology has lulled people into complacency with mindless entertainment and a barrage of endless trivia. As a result, citizens have become sheltered from the realities of life and desire only to perpetuate an anodyne existence of pleasure and comfort. They have developed an intolerance for unpleasant truths, politically incorrect ideas, and opinions that might knock them out of their safe-spaces. Hence the burning of books, those containers of ideas from thinkers from the past that preserve and perpetuate a free and liberal society. . .

It's a strange irony that, in the age of the Internet, which was supposed to encourage more transparency and debate, the open exchange of ideas is under threat. This was pointed out by another famous science fiction writer, Michael Crichton. "In the information society," says Ian Malcolm in Jurassic Park, "No one thinks. We expected to banish paper, but we actually banished thought."
I don't think that MLK could have formulated his ideas on civil rights if all he had to read in school were the things Colin Kaepernick read in school:
From the Birmingham jail cell where he was unjustly imprisoned, Martin Luther King Jr. could still write of his dream that the country would eventually recognize the real aim of the civil rights movement: "bringing our nation back to those great wells of democracy which were dug deep by the founding fathers in their formulation of the Constitution and the Declaration of Independence."
I doubt that many of his generation have read much about the background of the Constitution and the Declaration of Independence. No more civics classes. Now it's "social studies". Heck, it was "social studies" when I was growing up, and I'm considerably older than Kaepernick is. But they still taught some civics back then. And they didn't teach a lot of the toxic stuff that kids have been taught more recently.
The Barrister at Maggie's Farm picked up this quote from James Lileks, apparently set off by the New York Times and others trying to get us to feel guilty and hateful about miracles like air conditioning:
Free-floating, petty gripes are a result of Miserabilism as a world view, the idea that viewing Western Civ as a hellish, gruesome burden destined to collapse of its sins and conceits is the only possible worldview for a Serious Person. Hence the more fault you find, the deeper you are. It comes from being grounded in nothing but the shallow soil of the present, with no sense of history except for a series of pre-approved narratives intended to culminate in an argument against the recent past, which was bad because it prevented the wonderful possible Tomorrow from happening Today. It's a recipe for life-long alienation.
Push-back
In J.J. Sefton's Morning Report yesterday, there was a link to a piece concerning textbooks in public schools.
An existing struggle over the nature of culture and politics has been reenergized in recent years, in part due to the election of Donald Trump. At least if recent curricular changes for Texas K-12 social studies programs are any indication, that shift has also come to the rarefied world of state education politics.
Texas has long been a battleground of choice between conservative groups and an alliance of Islamist and progressive organizations. In 2013, conservatives gained support when Roy White founded Truth in Textbooks (TNT) to counter what he saw as indoctrination in the Texas school system. According to White,

"The idea has always been to diminish the significance of America, diminish its historical figures and its exceptionalism. They've won this by making the learning process about emotions rather than facts."

White's organization has now trained over 200 people to review state textbooks . . .
In the first year alone, White says TNT found over 1500 errors of fact in the history and social studies textbooks they reviewed, 60% of which were eventually corrected.

Now an organization called Florida Citizens Alliance has asked TNT to review textbooks in Florida for accuracy after the organization filed and won a lawsuit against a local Florida school system for inaccuracies in one of its course textbooks. Following that lawsuit, the state of Florida passed a law, which White describes as "having teeth," that allowed local residents to challenge school curriculum.
A worthy project. Hope it's not too late. Think something like this would fly in California?
And there is even a book written to counter some of the damage done by Howard Zinn:
He says he doesn't mean his new book as "some saccharine whitewash of American history." But he's seen too many students drawn to Zinn because the standard textbooks are visionless and tedious. "Just as nature abhors a vacuum," Mr. McClay says, "so a culture will find some kind of grand narrative of itself to feed upon, even a poisonous one."
I was struck by how awful history and social studies textbooks were during a stint as a substitute teacher years ago. To make up for their vapidity, the authors formulated inane "group learning" exercises for students which turned them off even more.
The decline in book reading is not too surprising to me. But maybe if we start reading more to kids ourselves . . . .
Music
Stars and Stripes Forever
Dallas Winds with 94 piccolos, 2017. Wait for it.

Yes, this is the Thread before the Gardening Thread.
Serving your mid-day open thread needs
It's the weekend! Hope yours turns out well. Let us know if you are affected by flooding and such. Got a book to read?

posted by Open Blogger at
11:18 AM
|
Access Comments