« The persistence of communist thought in America and the Democratic Debates [KT]
|
Main
|
Ace of Spades Pet Thread »
June 29, 2019
Saturday Gardening Thread: Summer [KT]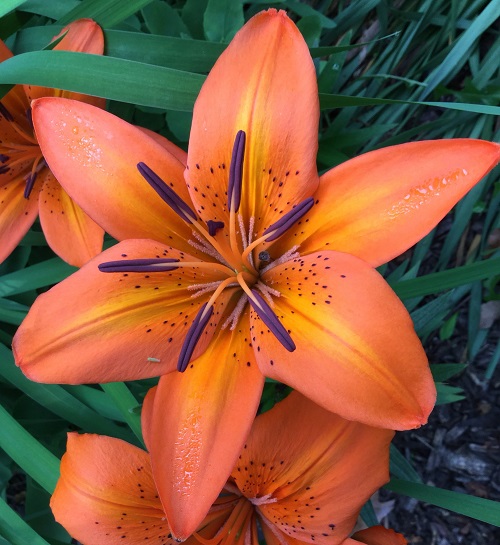 Hello, gardeners, garden admirers, nature lovers and hobbyists! Summer has really started now. As the Fourth of July approaches, perhaps we should take a few moments to celebrate. There are also a few things to watch out for in this post, though. I thought it might be fun to start with some photos of flowers that look something like fireworks, in one way or another.
We also have a bunch of critters today, some nice, some not so nice. A few recipes. Serving anything from the garden during your Independence Day Celebrations?

Flowers that look sort of like fireworks
Blake is growing some Tecoma 'Bells of Fire'. Not as big as some of the Tecomas which are trees.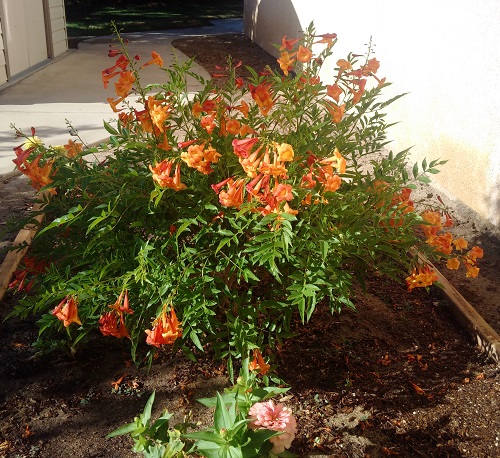 Tolerates clay soil, blooms year round, low moisture, grow to about 5' high and 5' long and fast growing. Also, heat tolerant, which is obviously a welcome feature in Bakersfield, where we live.

This particular one has doubled in size since I planted it in March.
Sunset does not rate it for Blake's zone, but rates it for Phoenix. It should be fine near the house even in a heavy frost year, though.
From Tony Litwin, a couple of carnivorous plants ready to celebrate by capturing some unwary insect. Or maybe something else in the case of Drosera filiformis tracyii: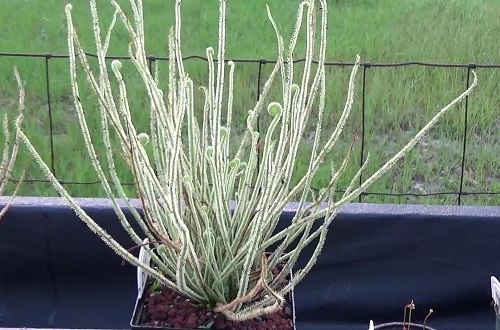 The largest of American Sundews is Drosera Filiformis Tracyii, while the smallest is Drosera Brevefolia which I don't have. Sundews are known for their dew like droplets which make the plants sparkle and the largest American Sundew Drosera Filiformis Tracyii has caught and digested such large prey as small Treefrogs and Lizards as well as insects.
Here is Drosera intermedia: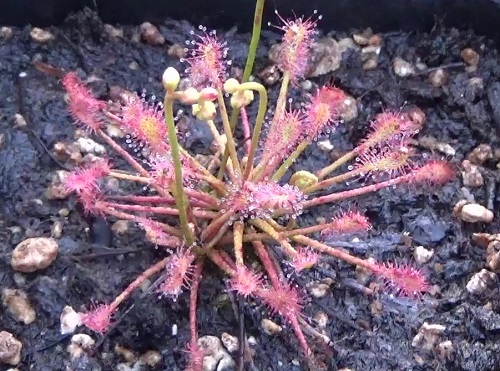 We posted photos of Reine's garden oasis a few weeks ago. Here is her Fuchsia, which looks pretty festive in red and purple.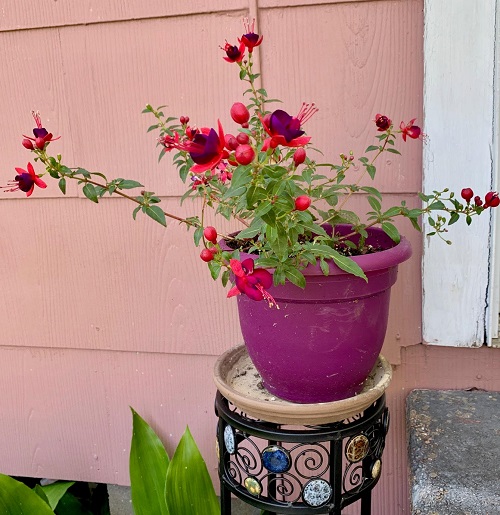 And a close-up.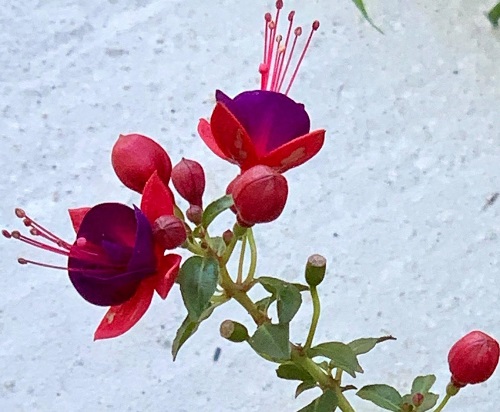 Here is a vase of peonies from our correspondents in Switzerland, rescued before a heavy rainfall.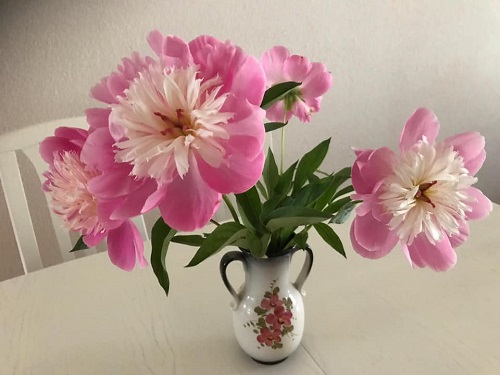 And an unidentified flower from crisis du jour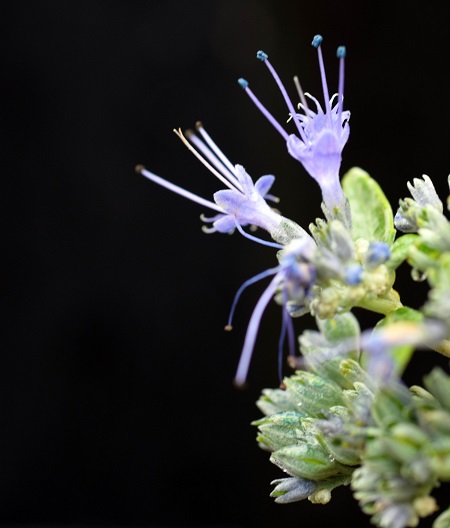 Recipes
Anybody serving something you grew in the garden for Independence Day? Using herbs? We'll mostly save the barbecue stuff for the Food Thread, but what about blueberries?
How many blue foods are there for red, white and blue desserts? Do you have a favorite blueberry dessert? Ever tried those honeyberries (one species of honeysuckle)?
I posted some detailed refrigerator pickle recipes (suitable for small quantities of garden produce) late last week in the comments, for Golfman, who had received a gift of garden cucumbers.
Critters
The Barrister at Maggie's Farm reports a dramatic reduction in Japanese Beetles over the past few years. From the comments, this seems to be a regional reduction. They are thriving in other places. How about where you are? Do you do anything to reduce their numbers?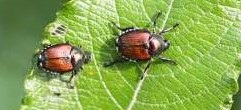 We have had some comments on the Spotted Lanternfly, a new invasive pest. Sounds like a bad one. They kill trees and other plants. They come in houses. Congregate on outdoor furniture. There are quarantines in some counties in some states, including Pennsylvania and Virginia. I haven't found a good list of quarantine areas. The bug seems to be threaten areas much more widespread than the quarantine areas I have seen so far. Truckers are being trained to spot the pests. Tests are underway to determine if native fungi might control them. But the fungi have not made it to the recommended list of controls for homeowners yet.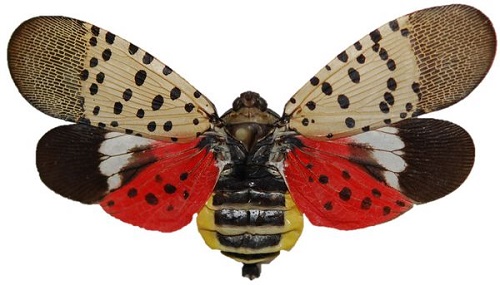 Traps for the lanternflys are also trapping woodpeckers, squirrels and other wildlife. There are always complications, aren't there? There is a video here showing the critters in motion, along with some control measures. The PennState Extension page on this pest (management for homeowners) has photos of the insect in various life phases: egg masses, the two nymph stages (one black and white, the second black, red and white) and adults with closed and open wings. This is the late nymph stage.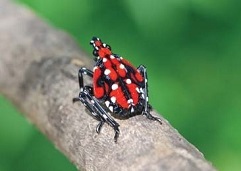 One recommended control is to take out the Tree of Heaven, another species from China that has become a problem due to its invasiveness. They are taking a proactive approach in California to protect the wine industry. Tests are underway with a Chinese wasp.
The County has placed some traps in our fruit trees, and in some ornamental plants at a church across the street. Wonder if there is a Lanternfly trap among them this year?
Here is a bit of click bait on Swimming tarantulas in Texas. Visit for the photos of various spiders, not for the science. Had any experience with swimming spiders?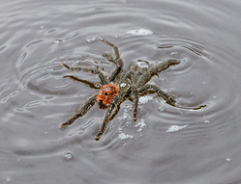 A moose recently spotted in Frisco, Colorado: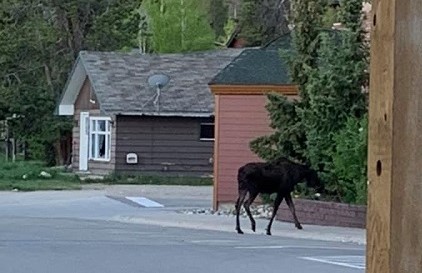 And a hummingbird from ByTor, just because I liked it.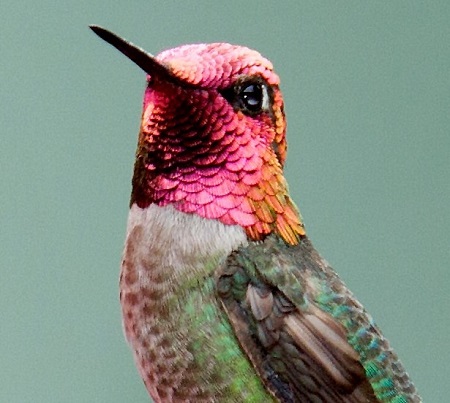 Gardens of The Horde
What's going on in your garden?
If you would like to send information and/or photos for the Saturday Gardening Thread, the address is:
ktinthegarden
at g mail dot com
Include your nic unless you want to remain a lurker.

posted by Open Blogger at
01:01 PM
|
Access Comments