« Saturday Gardening Thread: Summer [KT]
|
Main
|
Saturday Afternoon Chess Thread 06-29-2019 »
June 29, 2019
Ace of Spades Pet Thread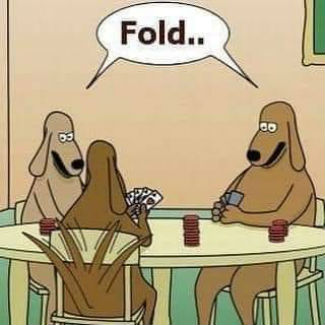 ***

Good afternoon everybody. Welcome to the almost world famous Ace of Spades Pet Thread. You know the routine, kick back, relax and enjoy the world of animals.
***
A Little of This. A Little of That.
***

Scamp the Tramp, the ugliest dog.
***
This video submission was from an individual who did not leave a name. I wish the video was longer and would answer the many questions I have.

***

A happy ending for a kitty with a rare condition. H/T Shibumi
***

Cats and battle vests? H/T Hank Curmudgeon
***

Wonder what a cat does all day? A day in the life of a cat. H/T Hank Curmdugeon
***
Meet The Pet Morons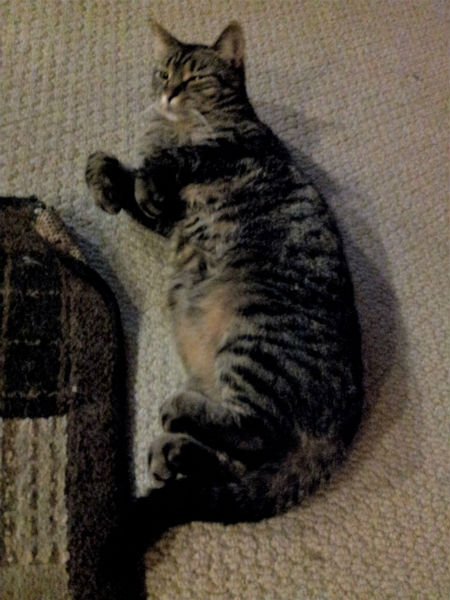 &&&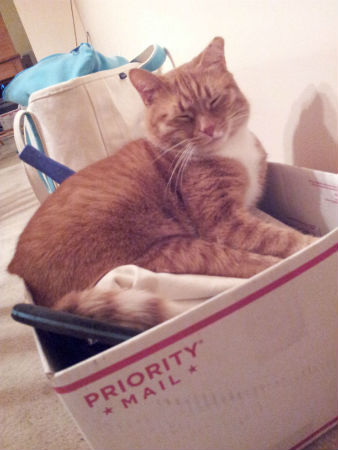 &&&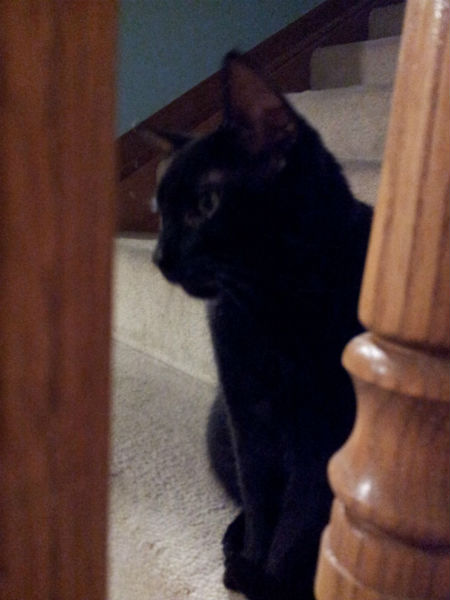 And now... attached are three pictures of Bozo Conservatives cats.

The tabby cat on the floor is Dora. Dora is short for Adorable. Yes, really. Dora is a bit of a flighty imp. One of the first times I met her, Bozo Conservative claims she looked up at me with a quizzical look as if to ask "Are you a god?"

The orange tabby cat in the box is Nugget; he's from a co-worker that couldn't keep him. I call him Dude, since he reminds me of Jeff Bridges in the Big Lebwoski and is chill. Except he doesn't particularly care for the new arrival in the house.

The black cat on the stairs is Cairo; he used to belong to Bozo Conservative's son's roommate. When you're petting him, he will outstretch his front paw and extend his claws as if he's trying to hypnotize you. "You WILL pet me more and buy me expensive foods." He is a Hypno-Cat. He's not fond of Nugget.

So there you have it. The three feline residents at Casa BC. - Shibumi & Bozo Conservative
***

Shortly after receiving the photos from Shibumi & BC I received the following from Shibumi.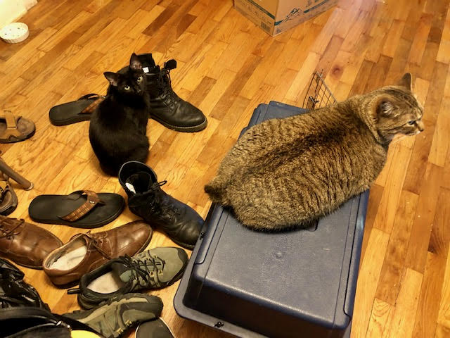 A while back, I wrote to you about Bozo Conservatives cats.

Well, the black cat was re-homed and is now living with... Hogmartin! He survived a 3+ hour car trip from Ohio and is now... a Spartan! Or at least a Michigan resident.

In other news... we have now had our first AOS cross-species adoption!

Here is a picture of Cairo (black cat) and Lydia (fluffy tabby.)

Hogmartin doesn't know I'm sending this over to you, so if you publish it, you might want to crop out some shoes, LOL.

In other news, I have now decided if there is reincarnation, I want to come back as someone's beloved house cat.

:) Shibumi

Congrats on your new edition Hogmartin. Everybody who is a regular here knows I'm not Mr. Computer so there was no chance that the shoes would be removed. Hogmartin, you know how to reach me in the event that you are pissed. :)
***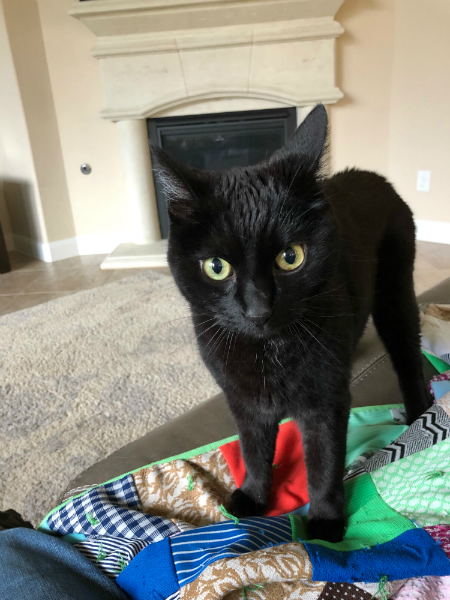 Yesterday Paulie was pestering me and obviously wanting me to follow him. Whenever I did follow him, he would go to one of the windows looking into the backyard and then look out the window and then at me and meow. He was obviously distressed about something but there was nothing outside I could see.... On the fifth go round I decided to go into the backyard and take a closer look. That's when I figured it out, the dog that lives behind my house to the north was very upset and crying.. I could not hear it from inside the house but Paulie could. I talked to the dog over the fence and he barked at me and seemed calm down.

Paulie did something similar with a crying baby at a neighbors when we lived in Auburn WA. I find it heartwarming that Paulie doesn't like people or animals being in distress and he expects that I can fix it.
Paulie is quite the handsome cat and full of ESP apparently. He certainly has great expectations of his human. We appreciate the story. Thanks.
***
These are my three fur buddies. Riley (Siberian Husky) has been with me for 12 years. Shasta (Alaskan Husky) is waiting on the rainbow bridge for three weeks, was part of our family for five short years. Dakota is the mix on the left and is my constant companion for the last 6 years. All are rescues.

The two huskies would start howling for their evening treat come 6:30. They won't stop until my wife gives in. She gives in, happily, I might add.

The mix is my McCullogh mini Mac and chews on just about anything. She once shredded a TV remote, has destroyed shoes, socks and even Kong toys don't last long. - Brian
The Three Amigos. Sorry to hear that Shasta has passed recently. This group looks like they could give you and your wife a run for your money. Thanks for sharing.
***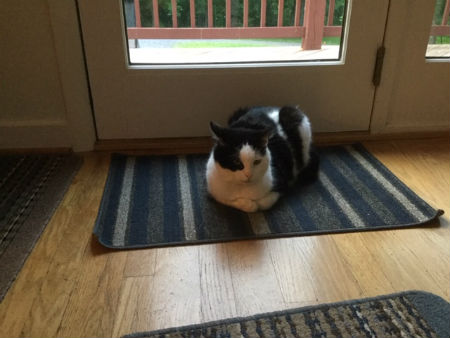 This is my cat Rex. The top picture is his "marble rye" pose and the other picture is his usual sleeping place under our bed in the box springs lining. I love your pet thread and look forward to it every week. - Sally
From all appearances Rex appears to lead a rough life there with you Sally. J/K, awesome critter. We appreciate your patronage here at the Pet Thread.
***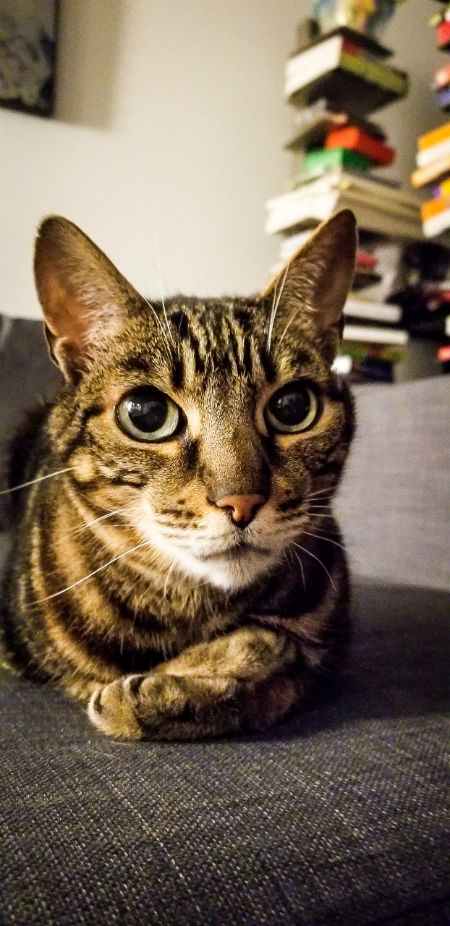 Loki, a Bengal now pushing 15, quickly earned his moniker, "The World's Angriest Cat" at an early age. He lived in sunny La Jolla for the first 10 years of his life, where he spent a good deal of his time roaming the rooftops and fighting, mostly unsuccessfully, with neighborhood cats Tyler Durden and Coaltrain. He is totally uninterested in catching mice, leaving that up to the dog (100 lb. yellow lab, Falco, previously seen on this thread). He preferred cadging tunafish from the gullible, unsuspecting neighbors. Despite his fierce and disapproving demeanor, he is a sucker for kids and moronettes. He moved to Chicago four years ago, where he is now resides in a modern high rise with a view of the city. He spends his days planning for world domination, absorbing warmth from the PlayStation, and critiquing his human's entertainment choices, of which he completely disapproves. His favorite hobbies include tunafish, sausage ravioli, plotting to take over the world, posing for deceptively cute PR photos, sharpening his murder mittens, shredding nerf darts, and singing the songs of his people at random hours of the day and night. Mostly at night. So angry. -Long-time lurker, sometime commentator. mazzman
We chose Loki, The Cute Photo. Appearance wise a stunning cat. Not sure if we are ready to be taken over by him and and his hobby of sausage ravioli. Great story, thanks!
***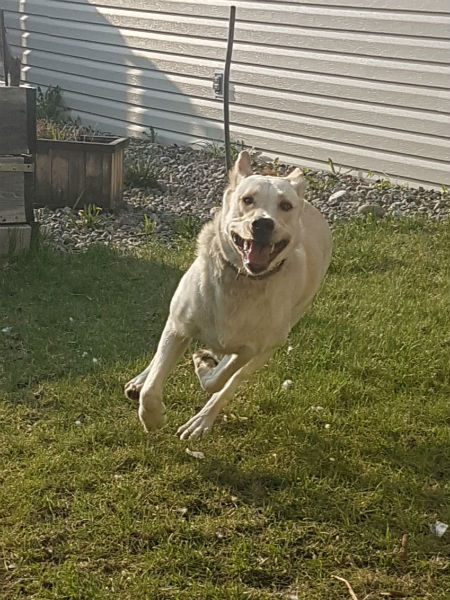 I know you've already run a photo of Paisley but here she is mid zoomie and destroying the back yard. - Northern Lurker
She certainly has made her self at home. It is quite apparent she really has a place in your heart as well. Thanks for sharing this great photo.
***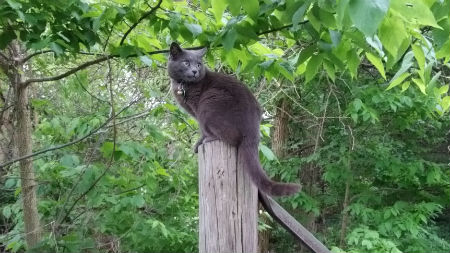 Meet Frankie, posing atop a fence post surveying her domain. She came from litter that a stray had under a rhubarb patch at my folk's house, she was the most un-afraid and friendly of the bunch. Now 7 years old she spends her days outside keeping the bunnies, moles and voles at bay.

Keep up the good work, I've lurked for years, this is my first contact with AoSHQ.

Lurker Jane

That is quite the pose of Frankie, a lovely photo and setting. She appears to earn her keep which is a good thing. I'm almost tempted to borrow her to keep the rabbits away from Mrs. Mis. Hum's flowers. Thanks for the photo and stepping out from the lurker shadows.
***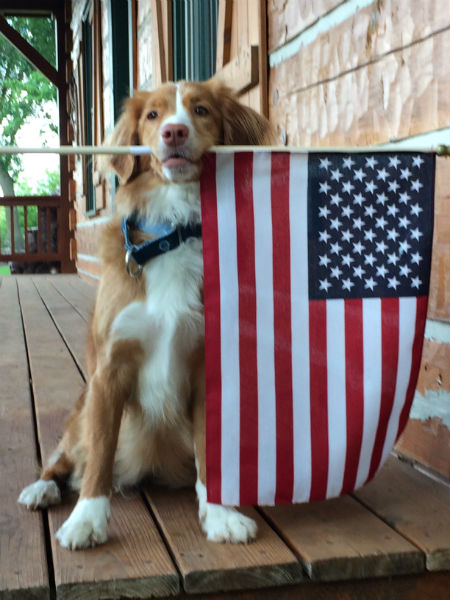 Dear Pet Morons-

Love your space. Our beautiful dog Zuzu is looking forward to the 4th to celebrate the greatest country in the world. I'm a gun dog so more fireworks please. My husband calls her ZuZu the Magnificent, a Nova Scotia Duck Tolling Retriever extraordinaire. Authors of dog books who say dogs sleep 18 hours a day have never met this one. No mountain too tall, no lake too deep, no stick too heavy or for her to find a child unkissed. Thank you Pet Thread. Happy 4th! - Deb R.

Sure, she can hold a flag, but can she retrieve a can of beer whole soda pop? Zuzu certainly is a distinguished looking pooch. Happy 4th to you folks as well.
***

A big thank you to all of those who have been submitting photos and links!! We really appreciate that around here.
Here's hoping you and your pets have a safe and happy Independence Day!!!
And if you are so inclined, you can forward photos/stories/links to us here at petmorons at gmail dot com.
Have a great week!!!!


posted by Misanthropic Humanitarian at
03:00 PM
|
Access Comments