« Open Thread, Plus: Game of Thrones is a Trash-Fire and Not Even the Shill Media Can White-Knight For It Any More
Question: Which TV Series Ended the Worst?
|
Main
|
The Morning Report - 5/15/19 »
May 14, 2019
Tuesday Overnight Open Thread (5/14/19)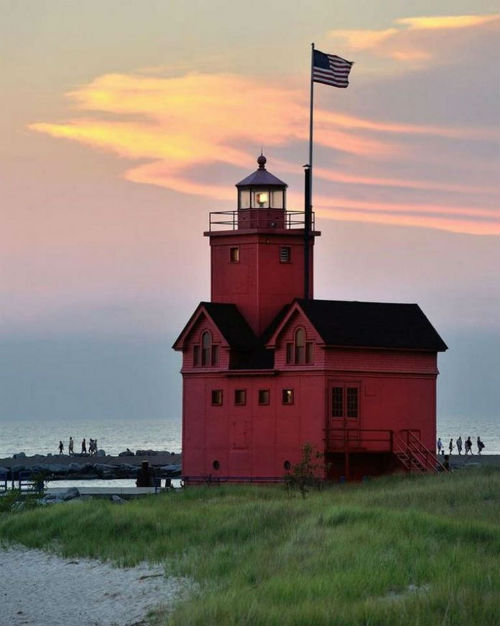 ***
The Quotes of The Day

Quote I

When no hill is worth dying on, eventually your enemy has all the high ground and you are surrounded. CDR Salamander

Quote II

"This oil field would not run without the Mexican nationals, God bless their souls. The majority doing the hard work are Mexican nationals. Are they legal? Do they have their paper work?" John Cantu

Quote III

But to my knowledge, Maya "Alec" McKinney is the first tranny accused of a school shooting, and for that I thank her in helping to make the world a more equal place. Jim Goad

Quote IV

See, the thing that kept the establishment in power was the veneer of legitimacy over our institutions which made us defer to them even when we felt they were wrong.

But maintaining that veneer got inconvenient, so they stopped trying to.

Now we won't obey.

Stupid ruling class
Col. Kurt Schlicther
***

Another day, Another lie from Anti-Semite Congresswoman Rashida Tlaib.

Seth Meyers Lets Rashida Tlaib Justify Her Comments, Insult People And Lie More About Israel

The sad infuriating thing is her story is so simple to check, but the Left doesn't even care to be a bit inquisitive.
***

Another reason to approve of PDT. 'Ending the Union Medicaid Skim. Organized labor has been dunning home health-care workers for years, without their consent—but now the Trump administration has stepped in.'

Even when the Supreme Court tells a government labor union that it can't do something, there's no guarantee that the union will comply. In its 2014 Harris v. Quinn decision, the Court ruled that an Illinois law forcing home health-care workers—paid with Medicaid funds—to shell out cash to labor unions was unconstitutional. That should have ended unions' ability to collect fees from these workers—many of whom were not really professionals but were receiving a small subsidy from Medicaid to care for disabled family members at home—unless the workers agreed to join the union.

In response, labor-friendly states crafted loopholes to keep the cash flowing to unions. Now the Trump administration has stepped in, moving to stop unions from skimming funds from paychecks. The Center for Medicaid Services has ruled that federal law does not allow the diversion of Medicaid funds to third parties, including unions. Caregivers can join a union if they wish, but unions must collect dues directly from their members.
***

Civilian parking enforcers, this should go over well in Washington, D.C.

Wherever a car parks too close to a crosswalk, a fire hydrant is blocked, or a bike lane is intruded upon, code enforcing vigilantes are quick to snap a photo and tag the relevant local department demanding action be taken against the offending motorist.

Soon enough these bike lane Batmen might get to play police for real under a proposed pilot program that would give citizens the ability to ticket each other for parking violations.
***

Fabulous, just fucking fabulous.

Remember cake-loving teacher Mr. Ratburn from the PBS Kids show Arthur? Well, he just got married to a man—and people on Twitter are absolutely elated.
***

OK, a serious question, if science is settled, why is there such a disagreement about coffee consumption?

In Australia, one in six people are affected by cardiovascular disease. It is a major cause of death with one person dying from the disease every 12 minutes. According to the World Health Organization, cardiovascular disease is the leading cause of death, yet one of the most preventable.

Investigating the association of long-term coffee consumption and cardiovascular disease, UniSA researchers Dr Ang Zhou and Professor Elina Hyppönen of the Australian Centre for Precision Health say their research confirms the point at which excess caffeine can cause high blood pressure, a precursor to heart disease.

This is the first time an upper limit has been placed on safe coffee consumption and cardiovascular health.
***

Transparency for thee, not for me. So says various governments. They don't care for their laws, rules and regulations being posted for all to see.

WASHINGTON — Carl Malamud believes in open access to government records, and he has spent more than a decade putting them online. You might think states would welcome the help.

But when Mr. Malamud's group posted the Official Code of Georgia Annotated, the state sued for copyright infringement. Providing public access to the state's laws and related legal materials, Georgia's lawyers said, was part of a "strategy of terrorism."

A federal appeals court ruled against the state, which has asked the Supreme Court to step in. On Friday, in an unusual move, Mr. Malamud's group, Public.Resource.Org, also urged the court to hear the dispute, saying that the question of who owns the law is an urgent one, as about 20 other states have claimed that parts of similar annotated codes are copyrighted.
***

What's been happening in Manitowoc? Let's take a look.
***

Is there a magic potion to parent successful children? 'I raised 2 successful CEOs and a doctor—here's one of the biggest mistakes I see parents making'

It's rather strange to be a "famous" parent and have your family profiled on the cover of magazines. I certainly don't claim all the credit for their successes, but all three have turned out to be accomplished, caring and capable people.
My .02? Stop treating your children as friends or peers. You're their parent act like it.
***

Want to keep unwanted guests including your mother in law from appearing at your home? Pet tarantula to the rescue.

In a desperate attempt to get a break from his nagging in-laws and regain his privacy, a Reddit user allegedly took advantage of his mother-in-law's severe arachnophobia by getting a tarantula as a pet.

Reddit user "ProbablyAssholeGuy" isn't really into tarantulas. He thinks they're cool and all, but he wouldn't have actually gotten one as a pet if weren't for the added bonus of keeping his wife's mother away from his house. In a post that recently went viral on the social network, the man said that his traditional Chinese in-laws had really been getting on his nerves with their unannounced visits and blatant breaches of privacy, but despite complaining to his wife about it for years, she just ignored his concerns. So when he notice his mother-in-law's reaction to simply seeing a spider sitting in the corner of the house, he got the idea to use her arachnophobia to keep her away.
***

Some days I miss Twitter. This probably would have gotten me booted anyway.
Just because you want something to be true doesn't make it so.
***

How long before the cry of "Crossbow Control"? H/T CBD

Three people were found dead from crossbow wounds in a hotel room near the southern German city of Passau, according to police.

Two other deaths, in the northern German state of Saxony, are possibly linked, police said Monday.

The revelations began on Saturday morning when an employee at a quiet inn on the river Ilz near the southern German town of Passau discovered the bodies of two women and one man after repeated knocks on the door of their hotel room failed to get a response, the Associated Press reported.
Quite the whodunit, two more bodies were found in the apartment of one of the women.
***

'A third of youth firearm deaths could be prevented without taking away a single gun. Locking up guns keeps kids safer'

In 2015, more than 1,100 young people died by suicide or by accident because of a gun. New research suggests that almost one-third of those deaths could be prevented by simply locking up guns in the home.

"The take-home message from the findings of the study is that even a relatively modest increase in the practice of safe storage by parents could result in substantial reductions in firearm suicides and unintentional fatalities among youth," says Michael Monuteaux, a Harvard Medical School professor of pediatrics and epidemiologist who is the first author of the new study.
***

Will Bayer be litigated out of business?

A Northern California jury on Monday awarded $2.055 billion to a Bay Area couple who say Bayer's Roundup weedkiller caused their cancer.

Alva and Alberta Pilliod are in their 70s, and said that after using Roundup for more than 35 years, they were diagnosed with non-Hodgkin lymphoma in 2011 and 2015; both are now in remission. Their attorneys argued that scientific studies show glyphosate, the primary ingredient in Roundup, is a carcinogenic. Bayer's lawyers retorted that the U.S. Environmental Protection Agency and other regulators have approved the product for use.
***
The ONT Musical Interlude

Twofer Tuesday Edition
Born on This Day: 14 May 1943
Scottish musician, singer and songwriter Jack Bruce who was a member of the Graham Bond Organization, John Mayall's Bluesbreakers, Manfred Mann and Cream, who had the 1967 UK No.11 single 'I Feel Free', and the 1968 US No.5 single 'Sunshine Of Your Love'. Their 1968 Wheels of Fire becoming the first platinum-selling double album. Also a member of West, Bruce and Laing. Bruce died on 25 October 2014 from liver disease in Suffolk, England, aged 71 via thisdayinmusic.com
&&&
***

It seems there are cameras everywhere. Just ask our Genius Award Winner.
Dashcam footage shows the refuse collector throwing himself onto the bonnet of the Audi and writhing on the ground in Teversham, Cambridgeshire.

He then continues to roll around in apparent pain as his colleague confronts the driver, Wayne Nightingale.

The trash collector then tries to stop chauffer Wayne driving off by holding onto the side of the car as it moves out of the junction.

Wayne, 58, told MailOnline: "As he stood there I decided to go around him and that's when he came towards my car and pretended that I hit him. But I knew I'd never touched him.

"The driver in front told me that he had the scene on video and we arranged for him to give it to me later on in the evening."
***

Speaking of cameras, Tonight's Feel Good Story of The Day.
It is a tad graphic. You have been warned.
***

Tonight's ONT has been brought to you by Loitering.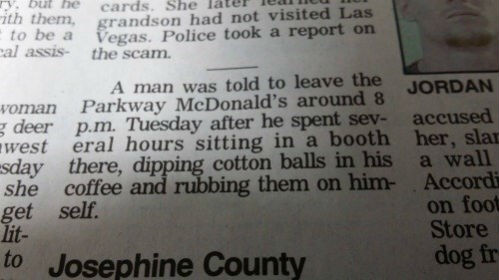 Notice: Posted with permission by the Ace Media Empire and AceCorp, LLC. All rights reserved.

posted by Misanthropic Humanitarian at
10:04 PM
|
Access Comments