« Tuesday Overnight Open Thread (5/14/19)
|
Main
|
Mid-Morning Open Thread »
May 15, 2019
The Morning Report - 5/15/19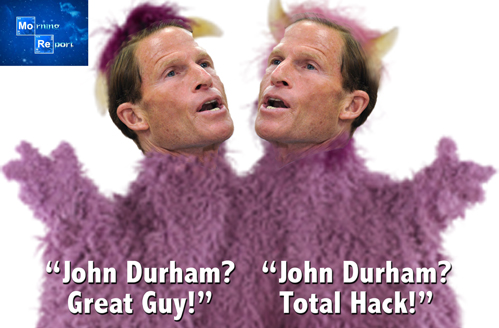 Good morning kids. Two big stories for this Wednesday lead the news, first, the appointment of Connecticut attorney John H. Durham to lead the investigation into the origins of the Russia collusion hoax and second, the escalation of tensions between the US and Iran. More on that later.
As to John Durham, his appointment affirms that AG Barr's promise to get to the bottom of this mess got started was not just empty rhetoric. Since the debasement of the Democrat hearings in the Senate, I am convinced that Barr fully intends to do whatever it takes to, for him, restore the integrity of the FBI, CIA and other Federal law enforcement and intelligence agencies by bringing to justice whoever was involved (and may still be involved) in the ongoing attempt to bring down Trump as well as cover up the crimes of Hillary Clinton. And by all accounts, Durham is a brilliant pick. Both Da Nang Dick Blumenthug and Chris Murphy, as well as the MFM heaped high praise on him at the time of his confirmation as unbiased, tough and dedicated. In the Phony Soldier's own words, "John Durham has earned immense respect as a no-nonsense, fierce, and fair prosecutor." But now, he's bitching that Durham's appointment is politically motivated, or something. Nice try, jag-off.
UPDATE: Commenter Tami states that Durham has already been at work behind the scenes for quite a while and this is just an official announcement.
Meanwhile, fraud Republican Richard Burr is backtracking on his subpoena stunt on Donald Trump Jr., agreeing to set strict limits on the length of the interview and scope of questions he will be asked. The sooner this boob and his twin tit Thom Tillis are dumped the better, but then again North Carolina's status as a haven for Democrat locusts fleeing blue northeast shit-hole states (that they created in the first place) means they get replaced by Dems before anything remotely resembling conservatives. Also, Rod Rosenstein unloaded on that lanky hunk of piss James Comey and finally digging deeper into Obama's hand in all of this in the waning days of his dying regime.
Speaking of waning days of a dying regime, in the wake of blaming Iran for the attacks on ships in the Arabian Gulf, the US is now reportedly put our forces on a high level of alert in Iraq as well as recalled all diplomatic and embassy personnel from that country. This on the heels of sending a carrier battle group, as well as strategic bombers, to the region. For 40 years, Iran has been the leading destabilizing force in the Middle East as well as state sponsor of global terrorism with the blood of thousands of innocent people on their hands, including many American soldiers and citizens. Aside from the fact that it was once an ally and a bulwark against communist Russia, the people are or were advanced, modern and western. Today they are oppressed under the iron grip of an insane death cult that views armageddon as a desirable political tool to bring about Islamic domination of the world, or the heap of ashes it will become if they ever get nukes. Short of that, both China and Iran see the destabilizing nature of that enslaved nation as a way to sabotage America and advance their geopolitical interests. It is obvious that the mullahs must go, and like yesterday. The question is how we go about achieving that outcome. Several good essays tackle that loaded question.
Down at the border, the President is set to unveil his immigration proposal, hopefully with as little influence of his son-in-law as possible, CBP agents in Texas reporting more than 5,000 illegals crossing in every day, House Dems look to block wall funding, and look out for Mariel 2, Migrant Invasion Boogaloo.
Official Democrat Anti-Semitism tops the scandal sheet where Nazis of a feather flock together as a Soros group is running defense for the Schutzstaffel Sisters, a pro-GOP PAC is going after vulnerable Dems who are silent about their party's Joo-hatred, and this Omar Suleiman who gave the benediction in the House the other day is a real piece of work... as in unreconstructed Dark Age throwback.
Politics: Despite the so-called trade war, the coup, sabotage by the GOP and the broader attempt by the Democrat-Media Complex to thwart him at every turn, President Trump's approval rating has skyrocketed to its highest level in over two years, Blotto Beto apologizes for being white on a magazine cover, Faux-Has-Been slimes Fox News rather than get an audience larger than she has had in years, a look at Joe Bidet's campaign through the lens of identity politics and the black vote, De Bolshevik's epic fail at Trump Tower, blue shit-hole mayors are lousy candidates, and one more lousy candidate jumps into the Dem Klown Kar; Montana governor Steve Bullock is candidate #23. They need one of those take-a-check deli counters.
First Amendment and Fake News Fakery: 32 times the agitprop media cried "doom" over the trade war, Google execs try plugging the leaks about their dirty laundry, Jeffrey Lord on the WaPo's lie about Trump and the Fourth of July, Twitter stammering on censoring the truth on transexual psychosis, and several good essays on how Big Tech helped the attempted and really still ongoing coup against Trump and their plans to silence all anti-Socialist pro-American voices.
Guns: Allen West calls out Wayne LaPierre and Carolyn Meadows for cronyism and other shenanigans at the NRA.
Abortion: Salena Zito on the thuggery of bearded clam Brian Sims and his ilk.
Foreign Desk: Besides the Iran situation, the Chi-Coms and Russkies are cozying up yet again (as is their wont), Pompeo's meeting with Vladdy highlights the restoration of sane policy, and Hamas pulls a #RedforEd with its terror-tykes to protest Joo-weather-controllers.
We-All-Slam-For-I-Slam: Daniel Greenfield examines a Kentucky imam who promotes delicate wife-beating. Just until you get soft peaks, I guess.
Domestic Affairs: California looks to implement a totally communist edict on housing, which no doubt is aimed at the hinterlands and not Beverly Hills or Pacific Heights, Mittelschmerz Romney stabs Trump in the back yet again, a call to disband the VA, and reigning in the rogue judiciary.
The Economy: Steve Scalise speaks the truth, Trump's tariffs will work and we don't need the Chinese to succeed, plus US oil production - which leads the world - is filling in the gap left by Venezuela and Iran.
Crime and Punishment: Kamala-Toe wants us to forget her truancy laws locked up parents as the Dems smear Trump for locking up kids at the border.
Healthcare: Measles cry "me so lonely" and Hepatitis "A" came a 'running with a major outbreak across the nation, cheap Chi-Com labs at the heart of the opioid crisis, and government controlling cancer treatment will go as well as you'd expect.
Red Greens: Joey Bidet defends his record on pimping the climate change fraud, and how to deal with the Tom Styrene's of this world who would turn us back 300 years and sit on top of the resulting dung heap.
Feminazi and Transgender Psychosis News: More on this Orwellian Democrat "Equality Act" and a further look at the war on masculinity.
Hither and Yon: Harvard Lampoon apologizes for p-shopping a bikini on Anne Frank, PBS cartoon Arthur comes out as homo and marries a man, Dave Reaboi bemoans not being the next Mort Meek, and two essays including Robert Stacy McCain on the state of the cultural vis a vis the current insane political landscape.
Anyway, links from around the world, across the nation and up your street. Have a better one and remain blessed.
NOTE: The opinions expressed in some links may or may not reflect my own. I include them because of their relevance to the discussion of a particular issue.
CONGRESSIONAL COUP, SPYGATE, DEEP STATE, THE MUELLER DECEPTION

posted by at
07:22 AM
|
Access Comments