« Those mesmerizing Russians [KT]
|
Main
|
Ace of Spades Pet Thread »
March 02, 2019
Saturday Gardening Thread, March Begins [KT]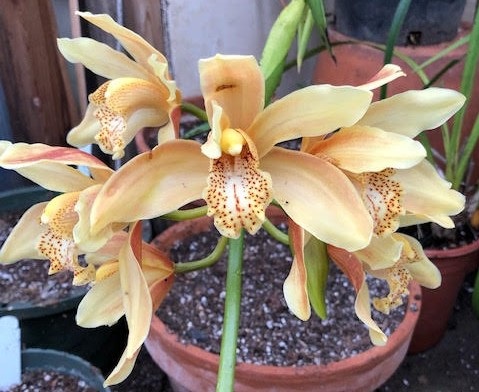 A Cymbidium Orchid
Hello, Gardeners and Garden Dreamers. Today we have some treats in store. Average Guy built a greenhouse, where he and his wife grew the orchid above. He suggests that other members of The Horde might like to share some greenhouse tips.
We also have some other nice photos and such from the Saturday Gardening Thread crew.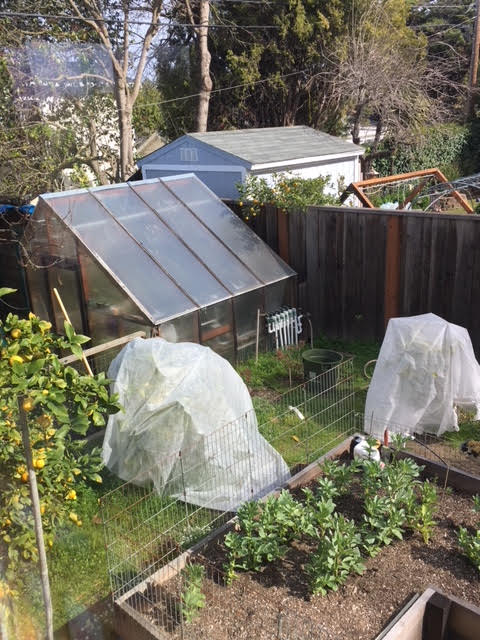 The old shed in our back yard was rotten and rat infested so I tore it down to the concrete slab. I built the greenhouse on the larger half of the slab, and built a smaller shed on the other half. Designed the project in Sketchup. Forgot the exact dimensions of the greenhouse, but about 9' x 8', I think. Sill plates are PT lumber, the rest is redwood. 7mm (IIRC) twin-wall polycarbonate glazing.

Automatic vent in the roof, plus a sash vent in the bottom half of the door. Heat provided by a little milk house heater on a thermostat. Couple of thrift store desk fans for air circulation. Lights from IKEA.

Benches made from PT lumber and pallet wood. Got some free travertine floor tiles so I put them on the wall opposite the large sloping roof for thermal mass. Mounted a couple of pieces of metal conduit across the rafters to hang plants from. Plants seem to like it, so does Average Wife.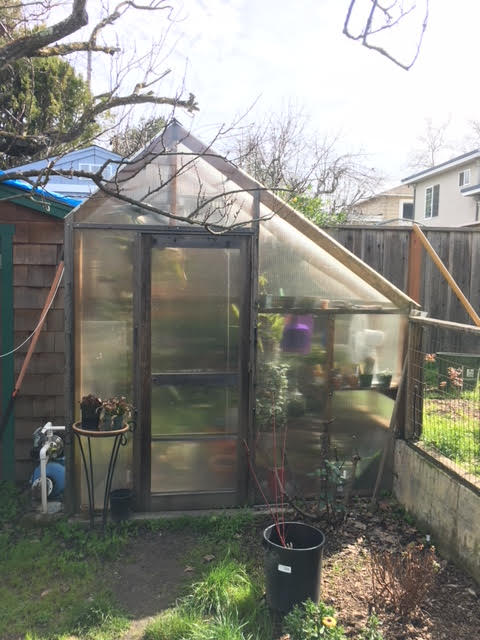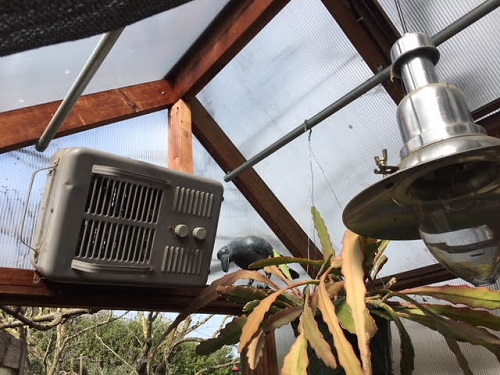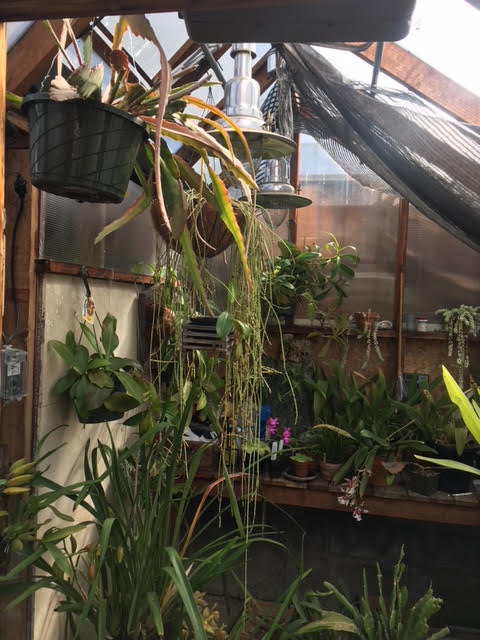 I asked what the plants were.
Well, my wife is the plant person, but I think I can do some general identifications. Let's see, we have orchids of the oncidium, odontoglossum, phalenopsis, and dendrobium varieties, and maybe a couple others. There are epiphylliums, bromeliads, and tillandsias. Carnivorous plants including nepenthes, pinguicula, and drocera (plus a bunch of sarracenias that are kept outside). Finally, as you noted, a few succulents. Plus a few others that I can't identify. Unfortunately not a whole lot of them are flowering at the moment.
Another carniverous plant fan!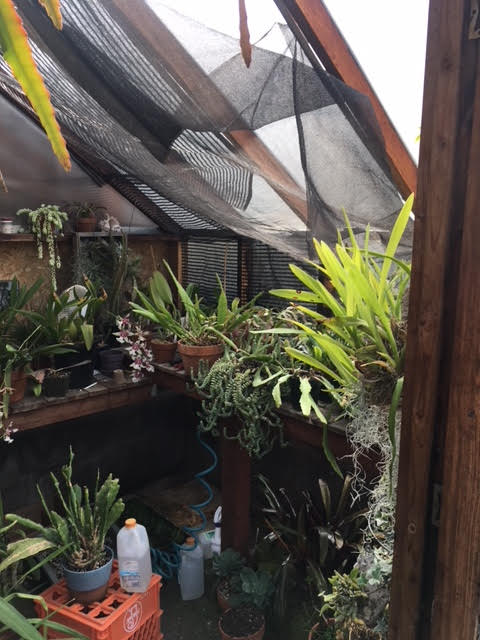 Fantastic greenhouse! Anybody else have greenhouse experiences to share?
He did find some photos to share, too. We'll share more later, but here is a pinguicula (butterwort).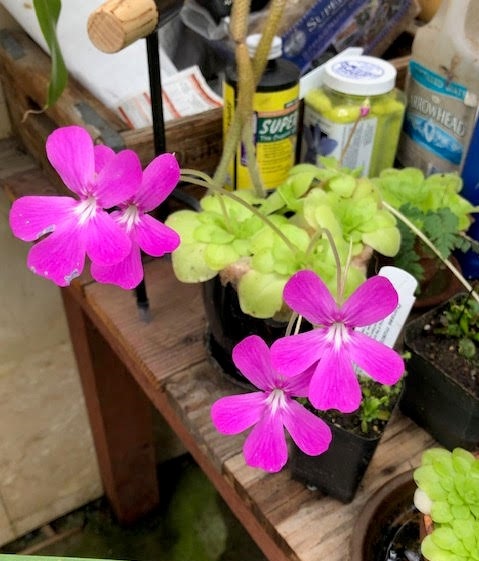 It reminds me of a Streptocarpus.
Common Plant Names

Last week, we posted a photo of some early blooms from Le Vieux Garde. this started a nice conversation about the bulbs of the Narcissus genus. This week, he sent in a new photo of some additional flowers: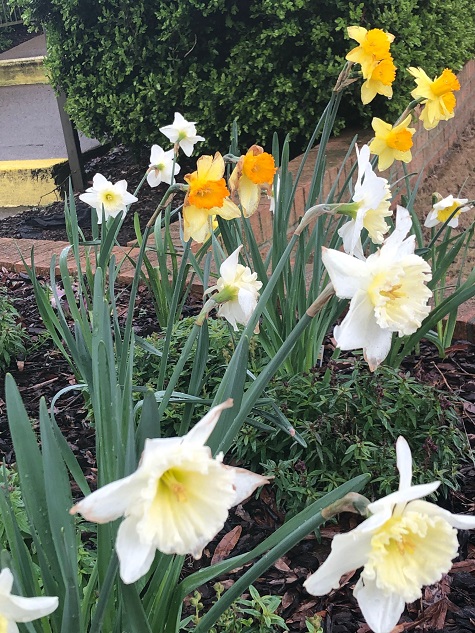 Jonquils (white and cream) interspersed with daffodils (yellow). Same size. Same shape. But different. Even I know that.
But having grown up in the West, I think both types above look like Large-Cupped Daffodils. Maybe some Trumpet Daffodils at the back.
I think people can call these plants what they want, especially in the South, but just for clarification, here's a reasonable explanation of the differences between daffodils, jonquils and buttercups.
The term narcissus (Narcissus sp.) refers to a genus of bulbs that includes hundreds of species and literally tens of thousands of cultivars! The Narcissus genus includes daffodils, jonquils, and paperwhites, among many others, so when in doubt, this is the term to use. . .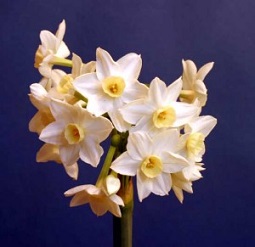 Early Pearl (Tazetta Narcissus or Daffodil, Division 8 )
Division 8 includes those Paperwhite Narcissus bulbs that people grow indoors in winter. They are generally hardy in areas with mild winters and hot dry summers.
As Tammy al-Thor noted, in the South, people sometimes call Tazetta and Poeticus types "Jonquils". Local custom. Maybe because they are locally adapted, maybe because most of them are fragrant, like most of the Jonquils.
Daffodil: This is the official common name for ANY of the plants that fall into the genus Narcissus. So, if the plant is considered a Narcissus, it is also considered a daffodil as well. However, most people use the term "daffodil" when referring to the large, trumpet-shaped flowers of the Narcissus pseudonarcissus. These are those big, showy, familiar bulbs that bloom in spring that we all know and love.. . . .
This explains why the societies in the UK and USA that classify Narcissus cultivars are called Daffodil Societies instead of Narcissus Societies. Well, other that maybe members not wanting to be known as narcissists.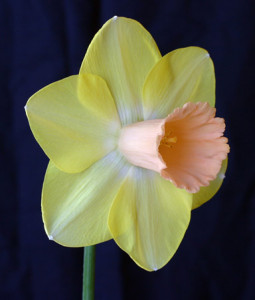 American Dream (Trumpet Daffodil, Divison 1)
Jonquil: This term actually refers to a specific type of daffodil known as Narcissus jonquilla, although the name is often used as a more general term for daffodils in certain parts of the country. They are most easily identified by their dark green, tube-shaped leaves as compared to other types of daffodils which have flat leaves. Jonquils also tend to have clusters of several flowers, instead of just one bloom, along with a strong scent.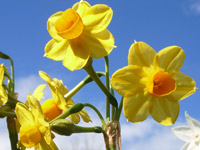 Jonquil, Division 7
Division 7 includes cultivars from two species of Narcissus, plus their hybrids. Usually fragrant.
"Jonquil" is also a shade of yellow, named after the inside of a classic Jonquil flower. And Smyrna, Georgia is The Jonquil City. The flowers are naturalized there.
Division 11 (Split-corona) with its two subdivisions was the most recent group to be described (1969).
Jodi (Division 11b, Split-corona papillion)
Which division(s) do you think Le Vieux Garde's flowers fall into?
As for buttercups, they are Ranunculus. Though we have some yellow Oxalis blooming now around here that are called buttercups. Plant names can be confusing.
Le Vieux Garde also sent in a couple of photos of a Tulip Tree on Sunday. These are actually Magnolias. But he knows that.
Love them.
This is a random tulip tree here in town. (Northern Alabama; Zone 7) We have had 14 out of 16 days of rain. So today's sunshine made me want to take a picture of something. Anything.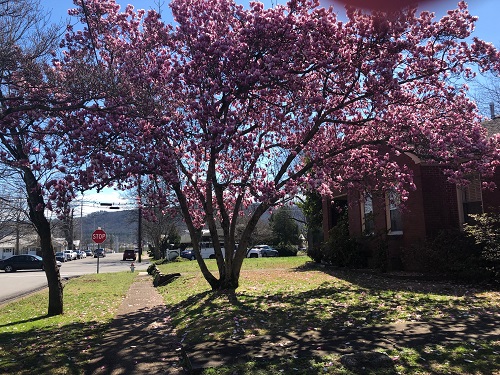 If you would like to send information and/or photos for the Saturday Gardening Thread, the address is:
ktinthegarden
at g mail dot com
Include your nic unless you want to remain a lurker.


posted by Open Blogger at
01:06 PM
|
Access Comments