« Saturday Gardening Thread, March Begins [KT]
|
Main
|
Chess Thread 03-02-2019 »
March 02, 2019
Ace of Spades Pet Thread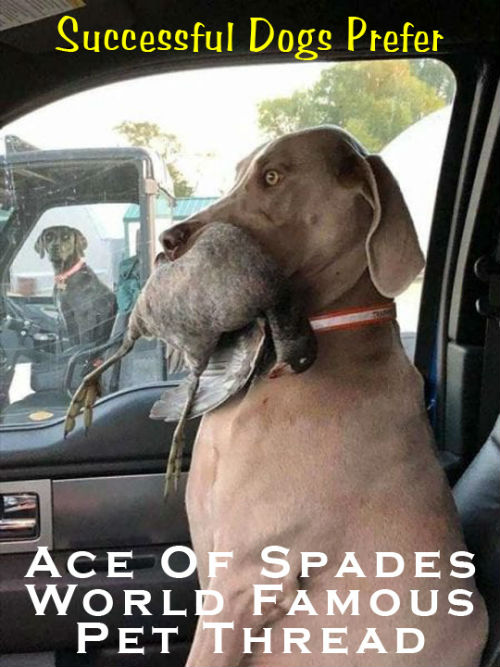 (H/T Hank Curmudgeon)
***

Good afternoon and welcome to the almost world famous Ace of Spades Pet Thread. Gently remove the pet from your favorite spot and enjoy the world of pets.
***
A Little of This. A Little of That.
***
We can all use a good friend, including animals. H/T Jane D'oh
***

I believe in vaccinations. Your pet is depending on you 100% to protect them and insure they have a long and healthy lifeWhy would you not vaccinate your dog?
***

So, that mountain lion you killed wasn't quite a lion, was it?

The mountain lion killed by a Colorado runner's bare hands was confirmed to be a relatively young cat, according to the findings of a necropsy report.

The Colorado Parks and Wildlife report revealed that the predatory cat that attacked Travis Kauffman, 31, was a three-to-four month old mountain lion 'kitten,' the heavily scavenged carcass weighing 24 pounds.

While the word 'kitten' typically refers to a very young cat, the use of the word in the report may simply mean the lion was immature, according to the Coloradoan , as the living weight of the mountain lion may have been 35 to 40 pounds
***
Holy-Moly!!! That's a humongous liter of puppies.

Veterinarians in Arizona performed a C-section to deliver a Great Dane's litter of a staggering 19 puppies.

The Kingman Animal Hospital said it took 11 staff members to perform the procedure Saturday when a Great Dane named Cleo was brought in with a difficult labor.
***

Cats certainly do get into some odd places.
Authorities in Kentucky said a cat was rescued from an old paint mixing truck after apparently falling down a hole in the top of the tank.

Lexington-Fayette Animal Care & Control said a worker heard "unusual noises" coming from inside an old paint mixing truck and discovered a cat had apparently fallen through a hole into the mixing tank.
***

Martha Stewart and CBD (No, not that CBD) and dogs.
***
Meet The PetMorons
Pet lover and regular commenter Hrothgar submitted this photo "The essence of Conor". An adorable French Bull Dog. Thanks for sharing!
***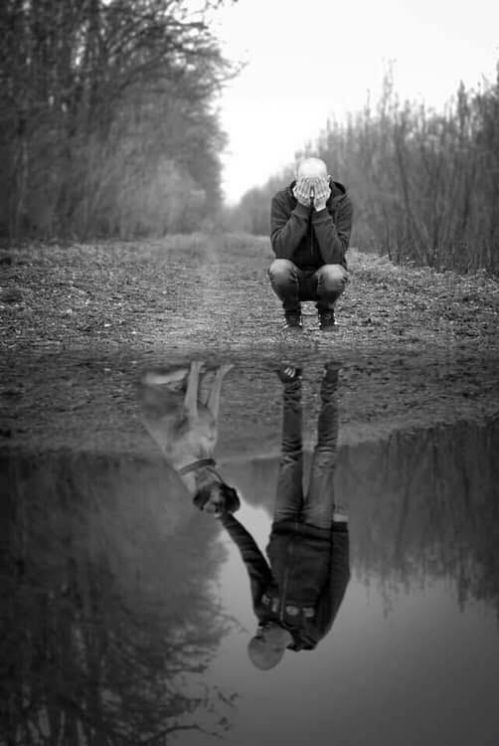 I'm a lurker at Ace.

I recently lost my Labrador BooBear to a brain tumor, my daughter sent this to me.

Andie

So sorry to hear of BooBear's loss. Having lost a dog recently this picture strikes a chord. Thank you for lurking and joining us today.
***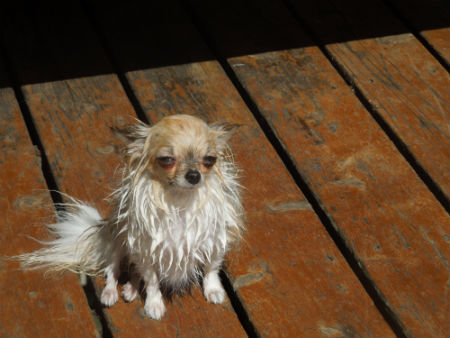 Looks like a quiet week for pets. Never a dull moment around here. I was looking through some pictures on my computer and found this cute shot of poor Little Minette. Six year old long coated Chihuahua. Tiny even for the breed. She always has food in her bib and poop in her doop and just hates to have anyone pick at her. We call her Stinkerbelle. She seems to be saying, "Baths suck!" She was due.

Cheers
Tom
Hey Tom, yes the inbox was a little light last week. Thanks for thinking of us and submitting "Stinkerbelle's" photo. Nice shot, quite the expression.
***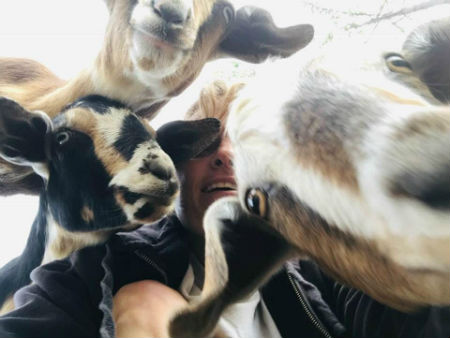 Long time lurker. Love your site. I read it every day. This is my wife with three of our four mini-nubian goats. They're all neutered males and they are literally good for nothing but our entertainment. Yes, America is awesome because I can keep four goats for no reason other than my entertainment. That being said, I'm pretty sure my wife loves them more than me. I'll let you guess which movie she named them after: Maverick, Goose, Joker and Iceman.

Andrew
Summerville, SC
If these fellows entertain you that's all that counts. Pets should be fun. And these guys look like fun.
***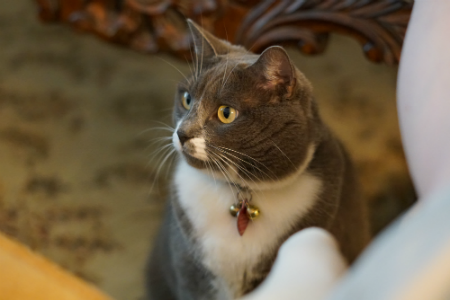 Oh, where do I start? She is a very vocal individual who doesn't waste time on the niceties, until after all the work is done. Madi could easily train the Democratic candidates for president on how to treat the American people over the long haul! It's simple really, force the candidates to take care of a cat, and when they run out of food (i'm looking at you Venezuela/Ocasional-Cortex) they can blame Trump, the big corporations, people who voted for Trump, evil small business, and the dog, because cats won't stand for BS like that, whereas, all the cucks and snowflakes suck down that drivel and run around with their heads cut off. Cats are self-sufficient, just like most Americans used to be, they go out and find their own food and do what they have to do without remorse or blame. Kinda comes back to that old saw, no work no food. Madi sez: quit bitching, take a nap,

Ace, Thank you for everything! you're an island of sanity in an ocean of selfishness
(Coomba)

Ace says you're welcome. Your story about Madi demonstrates that she is quite the cat. She sounds awesome. Thanks for sharing with us.
***
Before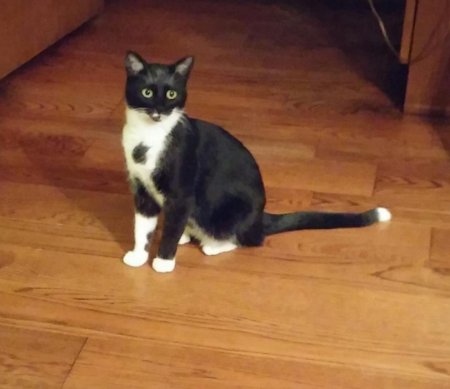 After
This young stray cat showed up on our deck after Thanksgiving begging for food --which we provided in copious amounts several times a day right at the kitchen door. I called her Puck because of the unique round black marking on her bib. We had a nice arrangement going. But with winter cold and snow coming on and many coyotes in the area of course I wanted to get Puck inside to be safe and to a veterinarian to be fixed. I gradually moved the food dish further and further inside the kitchen and left the slider slightly open so the guest would gain trust and not feel trapped. I could not get closer than about 5 feet before Puck would bolt. Then one night I was able to slam the door shut with the cat inside. This is where I made what we now call "the mistake". I foolishly had not planned ahead with respect to what might happen when the cat realized it was unable to go outside again. She went berserk. Screaming like a banshee and hissing, Puck flew around the kitchen and then around the house climbing walls, hurling herself at every window and jumping from surface to surface high and low. In the process Puck knocked over a full cup of coffee, a lamp, a large potted hibiscus tree and broke 3 antique wine glasses. She hid most of the next day but there was still more devastation the following night after we went to bed.

So now, six weeks later here she is posing in the kitchen and looking adorable. A happy ending? I wish. She's still very skittish and is completely unwilling to be touched let alone picked up. She takes off like the roadrunner and skedaddles if you get too close which is actually hysterical to watch. As you can she has an off/on button at the tip of her tail. It is apparently stuck on "on". She is beautiful and healthy and is fastidiously using the litter box and eating our food and following the sunny spots around the house and enjoying soft sofa cushions. She chatters at us pleasantly and mews. She seems quite happy, but I am not. Also, as an adolescent female Puck is flirting and annoying the heck out of our neutered male cat, and he's had about enough and lets her know it. But she persists. Having a feral cat INSIDE my house that I can't catch makes me feel like a total idiot. (And I'm supposed to be the cat expert of the neighborhood.) Hah! Submitted by Corn and Beans
Quite the story there Corn & Beans. Sounds like Puck has been living quite the adventurous life until she met you. Thanks for sharing with us.
***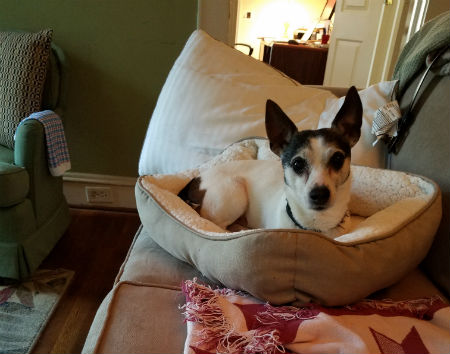 Oskar's human didn't include his/her name. Or a story about Oskar.
***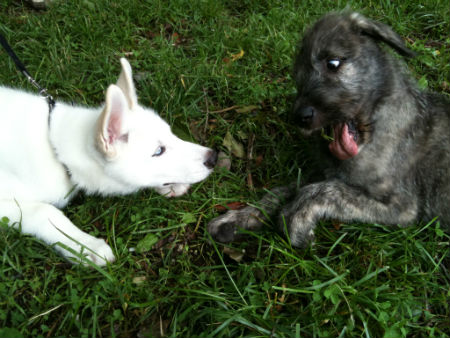 Long time lurker. A couple of pics of one of my Wolfhounds. Magical creatures. - Bob
The photos really expresses FUN Thanks for sharing Bob.
***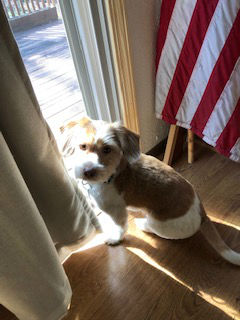 Enjoying the morning with this handsome boy. Our five year old rescue terrier mix hates squirrels, but loves America.

Jmel

My kind of dog, opposes tree rats and loves America. Thanks for sharing Jmel!
***

Thanks folks for sharing stories of your pets this week. We all appreciate your photos and stories.
If you would like to share something pet related with us, you can reach us at petmorons at gmail dot com.
Have a great week!!

posted by Misanthropic Humanitarian at
03:00 PM
|
Access Comments