« Saturday Morning Coffee Break
|
Main
|
Saturday Gardening Thread, March Begins [KT] »
March 02, 2019
Those mesmerizing Russians [KT]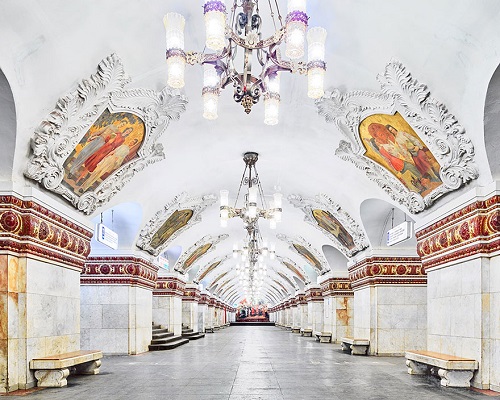 Kiyevsskaya Station, Moscow
More photos at the link
The Moscow Metro opened in 1935, and was meant to be huge Soviet propaganda project. The luxurious architectural designs were intended to predict a bright future for the empire ( "sveltloe budushchee" bright future). Many of the stations feature busts of Soviet leaders or murals with standard Soviet propaganda elements like the Homo Sovieticus.
Well, at least they actually opened a metro. So in this case the Soviets did better that California officials who built that terminal in San Francisco for high-speed rail that will never get there. Still, Homo Sovieticus never made much of an appearance, and the Soviet project pretty much collapsed, much to the surprise of Bernie Sanders, who never saw it coming.
The American Left, Bernie Sanders and Russia
During this century and the last one, our intellectual classes seem to have been mesmerized by Russia for all the wrong reasons. Sometimes politicians have also been oddly transfixed. The hope that President Trump would be proven to be a Russian agent is just the latest example.
Here is some commentary on Bernie Sanders from an unusual source, a Former Prime Minister of Sweden:
Bernie Sanders was lucky to be able to get to the Soviet Union in 1988 and praise all its stunning socialist achievements before the entire system and empire collapsed under the weight of its own spectacular failures.
Check out the little video of Bernie praising the Soviets.
Tetris
Tetris came from the USSR, and its history involves the KGB. There is an explanation for its mesmerizing qualities: It continually supplies you with uncompleted tasks and the space in which to complete those tasks. Crafty Russians.
A note on VDH
After Ace wrote yesterday about "Brand Bulwark" and their friends on the left trying to take out Victor Davis Hanson, I thought it might be interesting to see if VDH had said anything about Russia lately. He has. On the renewed Russia/China/US triangle. Sort of like the one during the Cold War.
For years, Putin and Xi have shared a contempt for the U.S. They have sought to use Syria, Iran and North Korea to check U.S. influence while waging cyberwar against U.S. companies and institutions.

America may be the strongest economic and military power in the world, but it had violated every one of Kissinger's principles. Russia and China both agreed that the willpower of the U.S. was weak, and despite their own existential differences, they found it mutually profitable to collude in reducing American stature.

Our allies noticed. From Scandinavia to the Middle East to Asia, they assumed that America either could not or would not regain its global prestige.

The Trump administration has sought to reverse that descent.

For all the specious charges of Russian "collusion," Trump has boxed in Putin with economic sanctions and military aid to Ukraine. He has beefed up defense spending, demanded greater NATO readiness and accelerated U.S. oil production--but doing so while also reaching out rhetorically to Putin.

Being friendly with a big stick is far wiser than being obnoxious with a twig.
Older Russian history
A reminder that it is dangerous to be an autocrat who tries to be a reformer in Russia. Perhaps this helps explain some recent history. Tsar Alexander II was assassinated in March of 1881. By early socialist revolutionaries. Despite having emancipated the serfs. He had just signed papers directing further reforms.
For more historical tidbits, see the Weird Russia website, whence the photo at the top of the post comes.
Russian Culture
You can't say Russian culture isn't different from ours. This is the Igor Moiseyev state academic ensemble of popular dance. A glimpse into another world. No jitterbug here.
"Popular dance"? I don't see much evidence of ethnic diversity in the state academic ensemble. Here are the men, performing part of the Naval Suite, Day on the Ship.
Trains
Back to trains, where we sort of started this thread: The biggest complaint I heard from that Coast Starlight Amtrak train stuck in Oregon for so long was that Amtrak did not let the passengers know what was going on for a really long time. The crew fed them and took care of them, but headquarters did not let them know much about the status of the train. I have heard similar stories about shorter breakdowns on Amtrak lines here in California. Does this happen in the East, too?
They seem to do a better job of communicating in Europe.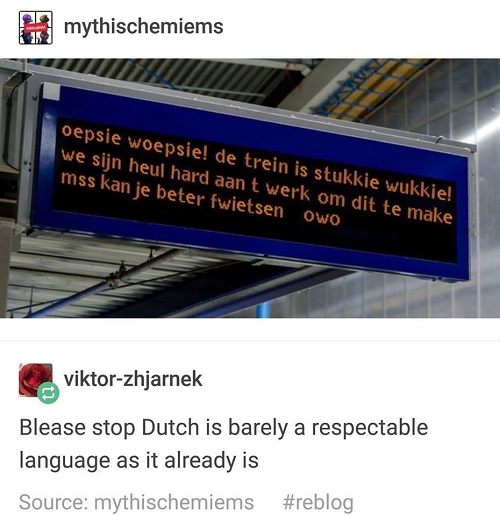 Hope you have not had any recent transportation glitches like this. Hope you don't have nay in the future.
Remember, this is the Thread before the Gardening Thread.

Serving your mid-day open thread needs

posted by Open Blogger at
11:25 AM
|
Access Comments