« Moving beyond Judeo-Christianity [KT]
|
Main
|
Ace of Spades Pet Thread »
February 09, 2019
Saturday Gardening Thread: February 9 [KT]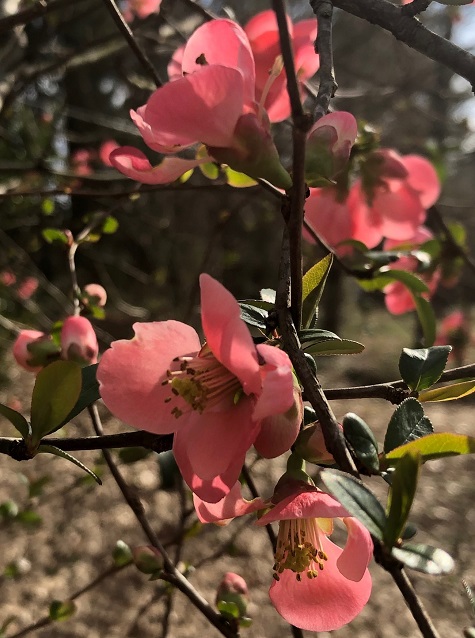 From Le Garde Vieux:
This Crab Apple is a delicate color.
But there's more, from a little earlier:
If you look in the background you can see the redbud trees are blooming also.

Yes, I know that the red buds are actually pink. Don't start with me. This is Alabama.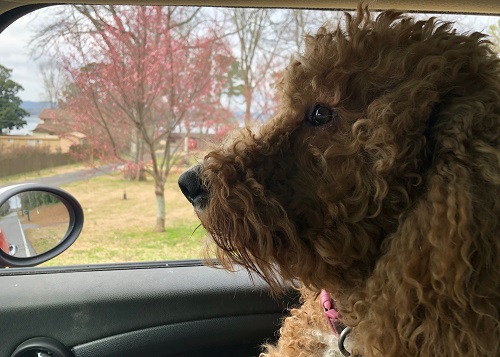 Dogs love red bud trees.
Early Bulbs Bloom
Diogenes sent in the following harbinger of spring last week:
my first bloom of the year. While the rest of the country is locked in ice, here is the Pacific NW it is unusually balmy today (54*) and this little fellow popped up.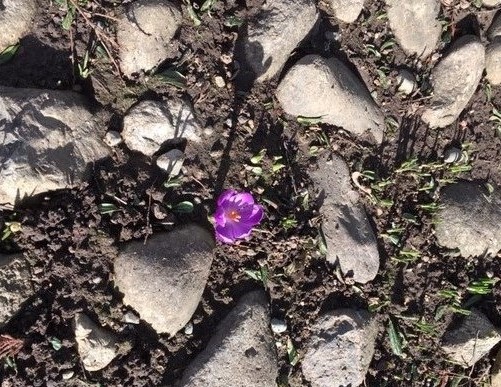 If a crocus comes out and sees its shadow . . . .
I understand that more have come out since, but that they are now under the snow.
And Le Vieux Garde sent the following cheery photo, a follow-up to the photo of the daffodil buds he sent a couple of weeks ago:
They were blooming on 1st of February as I predicted but I was too busy doing less important things to take a photo that day.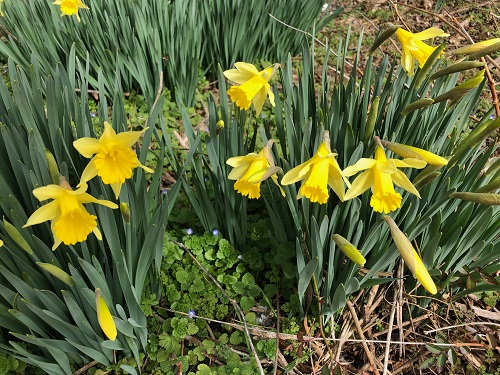 Anybody recognize the little creeper blooming under the main attraction?
Winter Gardening
Don in Kansas has gone indoors for some garden photos: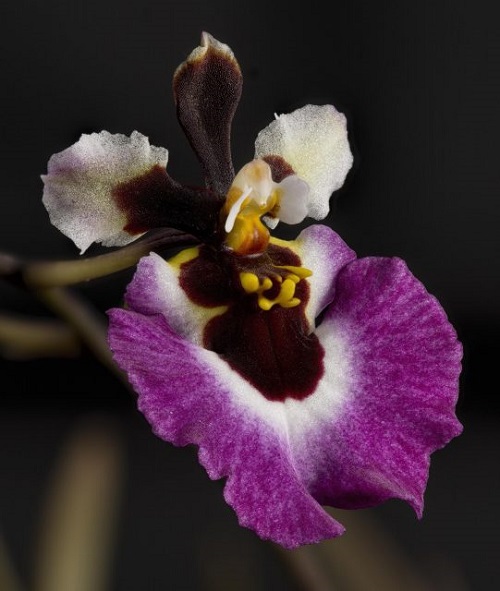 Outside there's snow and ice, but under the lights in the kitchen there's color, such as the Tolumnia above.
Go to the link above to see this and another photo in three dimensions.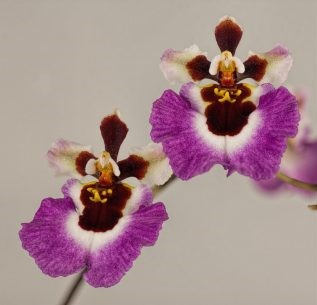 Pink Panther
Gordon in Minnesota is growing basil indoors. He reports that it likes the light.
It likes it so much that the basil is raising this corner of the fixture. It presses so hard against it that it takes some effort to pull the plant away.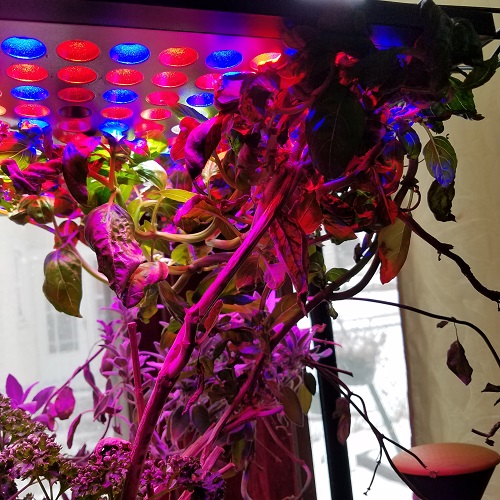 Interesting light array.
Wonder if some of that basil will be trimmed back for use in a Valentines Day treat?
Gordon also has a question. Any ideas for him?
And if you know of a good source for serious info on flower bulbs, I'd like to know more. Do I really have to dig them up every year?
And some nice information and visuals for us:
We purchased a membership to the arboretum, so I will go see their winter show, which is kind of not huge. Think of nine 10x10 displays based on various countries.
Thanks, Gordon.
Edible Gardening
I have seen seed packets on display even in drug stores. Time to get serious.
Hank Curmudgeon sent in an article about an elementary school student who won a thousand dollar scholarship by growing a giant cabbage in a Bonnie Plants program.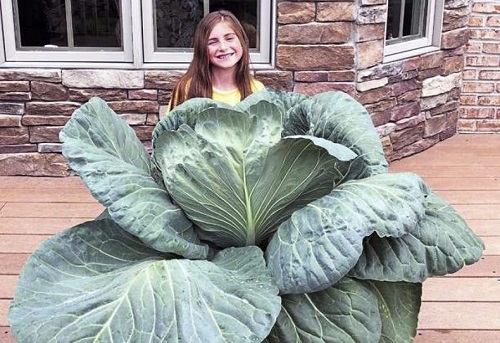 Could your child be a winner next season?
Valentines Day, Travel and Romance
It's winter here, but not in the Southern Hemisphere. How about we visit New Zealand for some information on roses and other flowers for Valentines Day, lush photos plus a legend about St. Valentine that I hadn't encountered before, which is supposed to explain Valentines Day greetings. Anybody heard this one?
So how did Valentine, a Catholic priest, get in on the act? He was a bishop during the time of the Roman Emperor Claudius the Goth, who outlawed marriage as he felt young men would refuse to go off to fight to maintain his empire if they had wives.

Valentine started marrying couples in secret and word got back to Claudius, who condemned the bishop to death. The prisoner supposedly began exchanging notes with the daughter of his jailer and his last message before he was beheaded in AD 270 ended, ``From your Valentine''.
I also didn't know that Robert Burns died when he was only 37.
I wonder if the casual references to death in the piece above are intended to remind us to stop and smell the roses?
Now it's off to the UK for advice on turning your garden into a love nest.
When you live life at full throttle, you deserve some quiet time to yourself. You need to be in pleasant surroundings and the garden is the perfect place. There's no travelling involved, all home comforts are on the doorstep and it's open all hours.

I reckon that any modern garden should generate less guilt and more romance, so with St Valentine's Day upon us, now's the time to be thinking about how to achieve it.

You can add all sorts of self-indulgent touches to your existing garden without doing a major makeover.
However, the article includes a video from the USA with what seems to me to be a major makeover. Beautiful, though.
There are many suggestions in the piece from the UK. Several are much simpler than the designs in the video. Then there are roses.
The ultimate romantic flowers are roses, but they need to be strongly scented to pull it off. My favourites are "Paul Shirville" (a pale peachy-pink hybrid tea) and "Margaret Merril" (a pearly-white floribunda). Both keep flowering reliably through the summer and they're good for cutting.

For fragrance, try "Madame Gregoire Staechelin", a climbing rose with large, blowsy, pale- pink flowers or "Madame Isaac Pereire" with very rumpled flowers in a shade best described as soft puce.

Red roses have a reputation for romance and "Deep Secret" has the wow factor.
Do you have a favorite fragrant rose?
Critters
Not much time to see the Monarch at Pismo Beach. The grove closes at the end of the month. It's quite a sight if you ever have a chance to see them.
Gardens of the Horde
Wee Kreek Farm Girl sent some updates. Here is a sample. More next week:
We are having a bit of a cold spell here, flirting with 32 degrees. I thought I would send you a picture of our freeze precautions we have to take with our mango tree. Also a picture of the heat source we put inside. A mango tree can take cold down to 25 degrees, however it will die back to the trunk and you will not get any mangoes that year as the tree puts all its energy into growing back its limbs, ask me how I know. So now whenever we get below 35 out come the lamps and sheets. This is a Carrie Mango and we got the most unbelievable Mangoes from it two years ago a year after we put it in and last year it got hit by a frost so I am hoping for Mangoes this year again if all goes well. I don't think I ever had a truly ripe mango before I grew one. From what I have read you aren't supposed to pick mangoes you are supposed to let them fall off the tree, then they are ripe.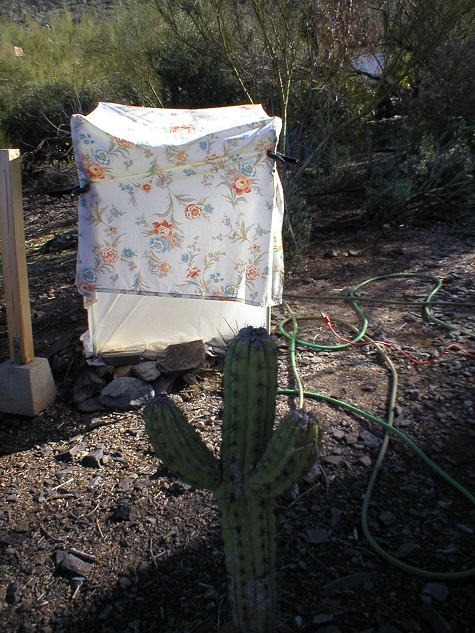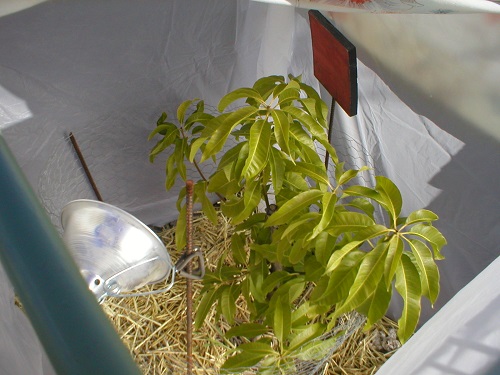 Lastly a picture of one of my lemons on the tree. This is a lisbon lemon, this is the best year we have ever had from this tree which we put in 14 years ago. It has given us many, many lemons this year and they are HUGE. I am not sure if you can tell from the pictures but they are bigger than grapefruit. I have had to freeze some of the juice as we are getting so many at once it is difficult to use them all. We had a lemon cream pasta sauce last night just trying to use up some juice. No complaining however, as it has taken 14 years to get here.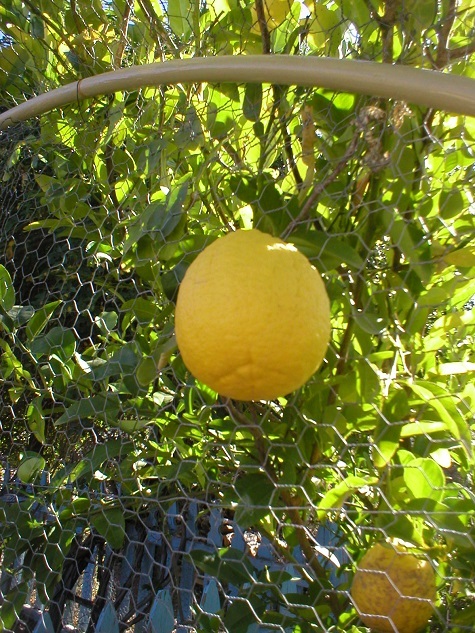 That's not how I normally think of Lisbon lemons. The pasta sounds delicious.

If you would like to send information and/or photos for the Saturday Gardening Thread, the address is:
ktinthegarden
at g mail dot com
Include your nic unless you want to remain a lurker.


posted by Open Blogger at
12:58 PM
|
Access Comments