« Saturday Morning Coffee Break
|
Main
|
Saturday Gardening Thread: February 9 [KT] »
February 09, 2019
Moving beyond Judeo-Christianity [KT]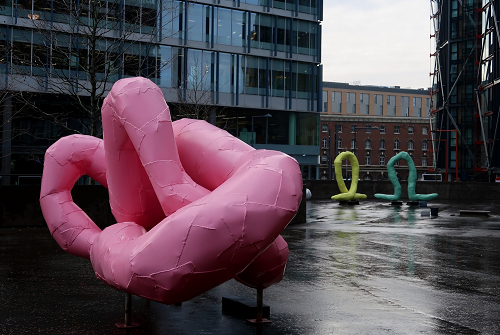 Photo above: One example of our current Western Civilization, promoted by sophisticates at Tate Modern. See first comment. Heh.
Aren't you thrilled that we have moved beyond the benighted artwork of, say, the Sistine Chapel?
In his Thursday Morning Report, J.J. Sefton linked a piece by Victor Davis Hanson on the return of ancient prejudices. It started by describing old prejudices in the USA:
The stereotyped hatreds were battled by the melting-pot forces of assimilation, integration and intermarriage. Civil rights legislation and broad education programs gradually convinced the country to judge all Americans on the content of their characters rather than the color of their skins or their religious beliefs. And over the last half-century, the effort to end institutional bias against African-Americans largely succeeded.

But recently, other ancient prejudices have been insidiously returning. . .
Prominent among these are prejudices against Jews and against serious Christians, particularly Catholics (at the moment).
Progressive senators such as Dianne Feinstein (D-Calif.), Kamala Harris (D-Calif.), and Mazie Hirono (D-Hawaii) have attacked judicial nominees on grounds that they are Catholic, apparently because the Catholic Church and its affiliates officially disprove of abortion and gay marriage.

Feinstein complained that one appeals court nominee, Amy Coney Barrett, was a dubious choice because "the dogma lives loudly within you." Hirono claimed that judicial nominee Brian Buescher was suspect because the Knights of Columbus held "extreme positions." Harris whined that the public-service Catholic organization was an "all-male society comprised primarily of Catholic men."

Recently, a number of newly elected congressional representatives--Ilhan Omar, Alexandria Ocasio-Cortez and Rashida Tlaib--have voiced virulent anti-Israel bias that came off as anti-Semitic. Rep. Hank Johnson (D-Ga.) compared Jewish settlers on the West Bank to "termites." CNN pundit Marc Lamont Hill (who has since been fired) parroted the Hamas eliminationist slogan "Palestine from the river to the sea," which is code for the destruction of the Jewish state.
This made me think of a quote from 1978, a little over 40 years ago. I ran across it on Facebook. It's from an official in the LDS church, the late Neal A. Maxwell:
We are now entering a period of incredible ironies. Let us cite but one of these ironies which is yet in its subtle stages: we shall see in our time a maximum if indirect effort made to establish irreligion as the state religion. It is actually a new form of paganism that uses the carefully preserved and cultivated freedoms of Western civilization to shrink freedom even as it rejects the value essence of our rich Judeo-Christian heritage. . .

Am I saying that the voting rights of the people of religion are in danger? Of course not! Am I saying, "It's back to the catacombs?" No! But there is occurring a discounting of religiously-based opinions. There may even be a covert and subtle disqualification of some for certain offices in some situations, in an ironic "irreligious test" for office.

However, if people are not permitted to advocate, to assert, and to bring to bear, in every legitimate way, the opinions and views they hold that grow out of their religious convictions, what manner of men and women would they be, anyway? . .
That was forty years ago. Now we hear "the dogma lives loudly within you". No longer covert. No longer subtle.
In the piece linked above, VDH also wrote:
And what fuels the return of American bias is the new idea that citizens can disparage or discriminate against other groups if they claim victim status and do so for purportedly noble purposes.
Perhaps the recent virulent form of this disparagement or discrimination is new. The current overwhelming cultural crusade to get people to judge others on the basis of their membership in a victim (or persecutor) group has given the crusaders a sense of righteousness. But the slower campaign to reject the value essence of our rich Judeo-Christian heritage has been ongoing for some time among the intellectual classes.
Watch for additional articles on this general topic in J.J. Sefton's Morning Reports right here on this page. Here's another example from Wednesday: 32 religious groups on probation for alleged discrimination at the University of Iowa. Do you think that the Justice Department under Obama would have filed a statement in support of the religious groups?
Yesterday, a judge blocked the university's action. A win for religious freedom.
The details of both pieces are interesting. Thirty-two groups! The modern university is not real open to heretics from the new secular religion. I expect they wouldn't want to hear much about the charitable work of Mark Tapscott's Baptist group, either.
Note on the Green New Deal
The resolution may have seemed insane, and it may have been filled with typos, but I think Neo is right. It appealed to the activist base which appreciates the "spirit" of the resolution, allowing Democratic presidential candidates to connect with them.
Isn't it very very extreme, so extreme it will alienate people? For the answer, just do what I did: spend a few hours reading MSM sites and seeing reactions from Democrats. It's an education in how the GND is being responded to, and why the Democratic candidates have all hopped aboard the extremist green social justice jobs for everyone train.

Last night I watched a clip of some liberal spokesperson or other being quizzed by a conservative as to what she agreed with in the details of the GND. "Its spirit" was all she could come up with, but for her it was enough. She seemed embarrassed when asked about particulars and couldn't endorse any, but she pooh-poohed--almost ridiculed--the need for details.
Isn't that "spirit" stuff sort of religious language?
The resolution moved the Overton Window. And it will make future Democratic proposals seem reasonable.
Neo will be writing more. What do you think?

Yes, this is the Thread before the Gardening Thread
Serving your mid-day open thread needs
Hope you have a great weekend. Stay cozy if you are in blizzard conditions due to global warming.

posted by Open Blogger at
11:16 AM
|
Access Comments